Vauxhall Cascada
In case you were wondering, Cascada is Spanish for waterfall; a slightly odd choice of name for a convertible, I feel, but there you go.
What isn't strange in the slightest is the way the Vauxhall Cascada looks. In these days of hard-softtops, giving the Cascada a traditional fabric roof has restored a more gracious feel to the genre, not only in terms of the roof itself but by doing away with the need for a gigantic, bulbous bottom to stow a metal assembly in.The Cascada's topless within 15 seconds, at speeds of up to 30mph, too. Impressive.
The severely raked windscreen flows seamlessly into the canvas top without interrupting those elegant lines; you may want to take note of the red hue our test car's roof came in, by the way, as selecting this option will become law when I come to power. Two strong creases run down both of the Cascada's flanks, breaking up what is a fairly large slab of bodywork.
Proud to be its own car
It may be based on the Astra platform but the Cascada sits on a longer wheelbase, leaving it shorter than the Insignia. This makes it a convertible you can actually get four adults into; a long schlep with a quartet of six-footers might be pushing it, but short journeys are doable.
There's a price to pay for this spaciousness in a convertible, though, and it comes in the form of mass. In the Cascada's case, over 1.7 tonnes of mass, and that's quite a chunk of bulk to haul around.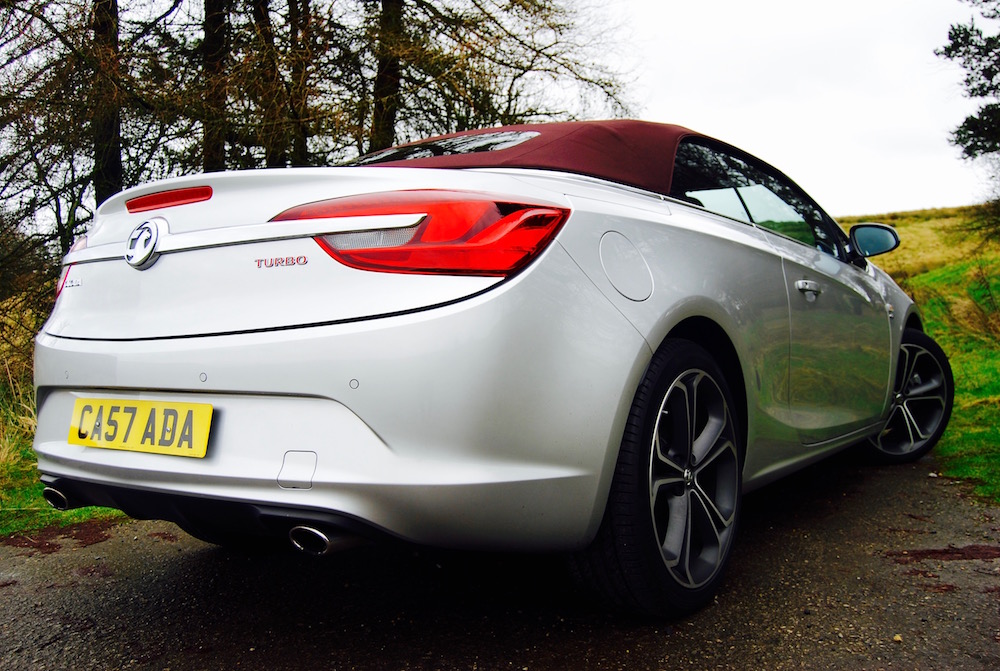 Two trim levels
The Cascada comes in a choice of two trim levels – SE or Elite, but if you opt for the SE you're restricted to the 138bhp, 1.4l petrol engine with a 6-speed manual 'box. The Elite starts at nearly £4K more than the equivalent SE, but it comes with more standard equipment, 20" wheels, a choice of four engines including a diesel. An automatic 'box is also only available in Elite guise.
Our test car came with the 1.6l turbo, 197bhp petrol unit – the most powerful in the range. It'll top out at 146mph and 0-60mph comes up in 8.2 seconds, but do you know what? – you can't tell.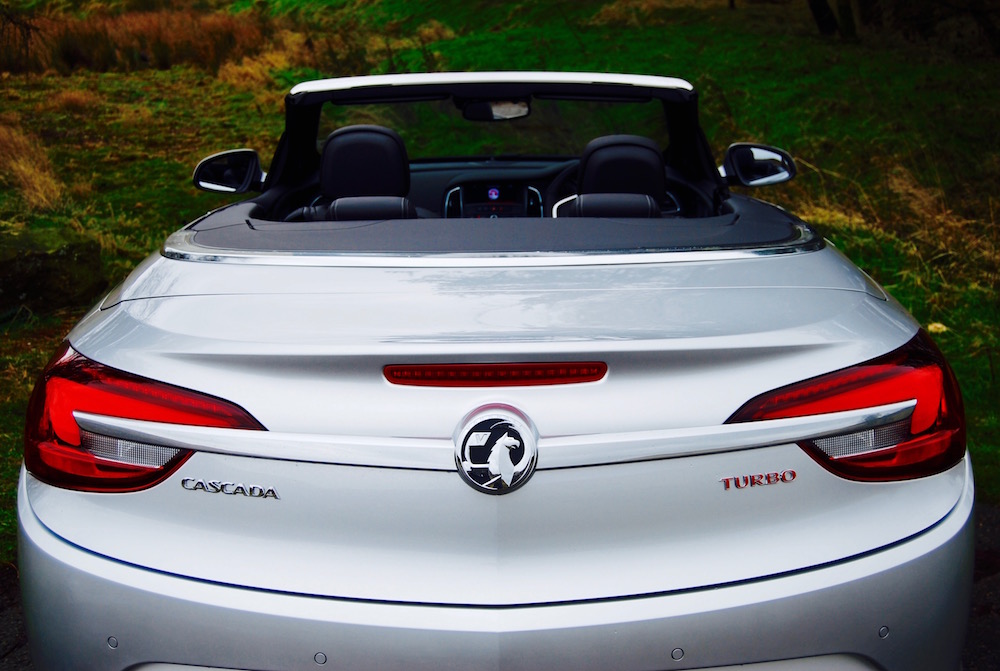 You see, when a car's as hefty as the Cascada, it's difficult to mask that weight and make it respond instantly to inputs from your right foot. Accelerate from low-speed and there's a distant drone from the well-insulated engine, but that's about it. Conversely, the Cascada feels happiest at higher speeds where it uses that mass to get up a head of steam, dropping and gaining pace between 50-70mph with ease.
Low-down grunt in the shape of a torquey diesel would be the obvious solution to the issue, and handily the Cascada is available with a 2.0l unit, producing 168bhp and, more pertinently, 400Nm torque. Diesels and wind-in-your-hair driving aren't comfortable bedfellows in my eyes, though, especially when the petrol unit in this car makes a decent fist of producing the right noises to accompany your drive.
It's the same story with how the Cascada handles and rides; try throwing it down a narrow, windy country road and it gets all unsettled and discombobulated. Go into a series of quick, tight bends and it'll still be working out the first as you negotiate the third; it's just not the Cascada's natural habitat.
Built for comfort
Again, the suspension's set up for comfort on more, shall we say, civilised roads and it'll swallow miles, absorb imperfections and get around long, sweeping bends like a GT. Vauxhall's FlexRide dampers are a £790 option and something you might want to try out if B-road blasts are your thing.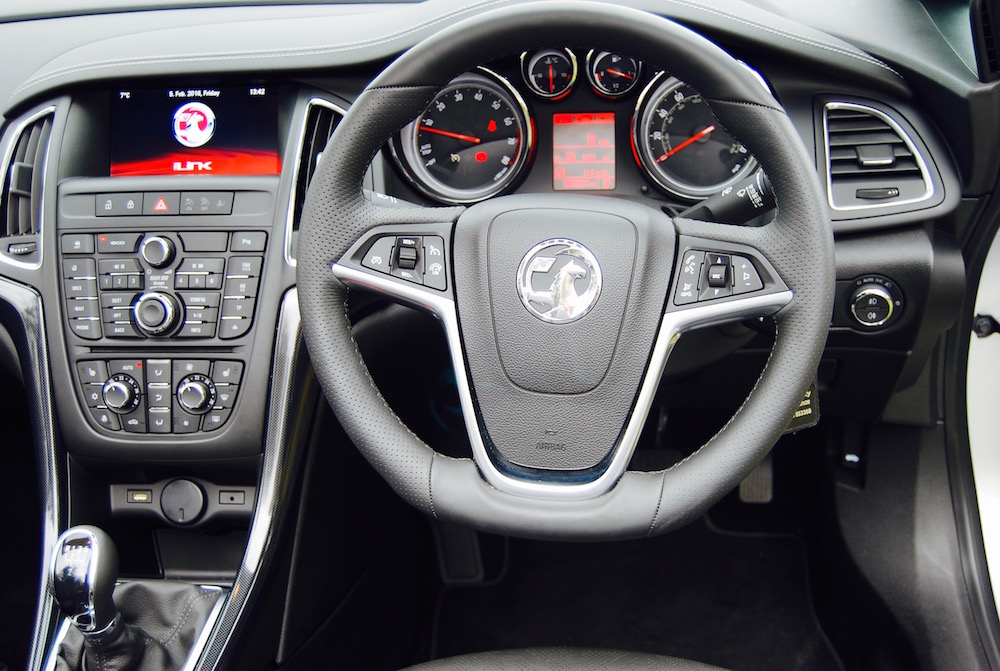 Inside the Cascada is typical Vauxhall, despite a few individual touches here and there. The dials and fascia on eye-level are polished enough for this price-range, but look lower down and the plastics wane to a scratchiness that isn't acceptable in a £30K car. Again, switchgear is tactile and robust, but whomever thought that positioning electric hand brake lever next to roof up/down button was a good idea needs to have a serious word with themselves.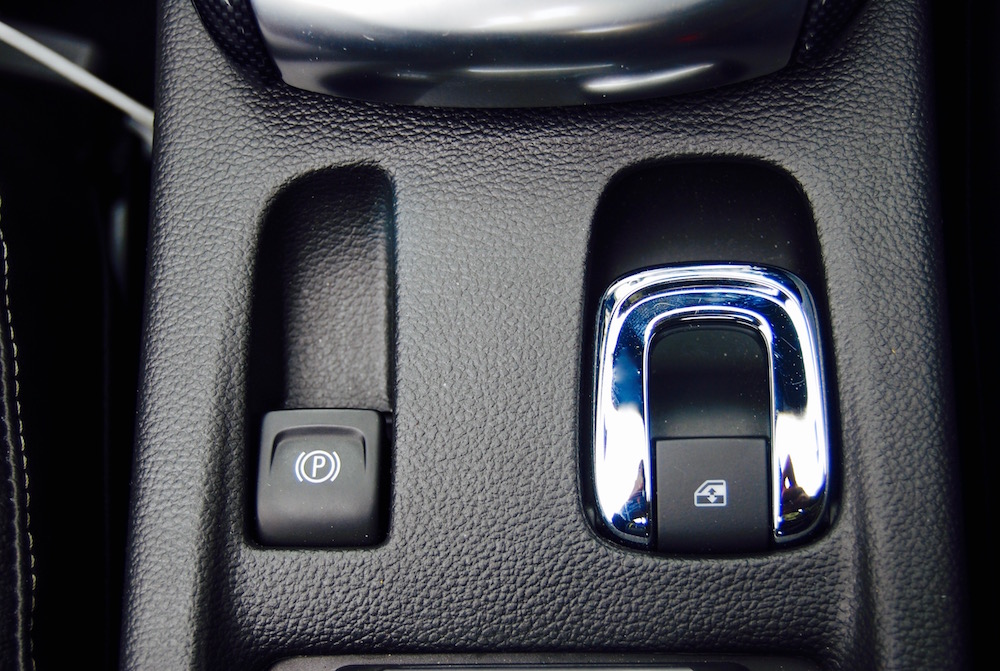 So, the Cascada: A decent size, extremely handsome convertible that'll save you thousands over the equivalent German offerings, and, specced properly, look better too. Just don't expect it to come over all lightweight and Lotussy, as that's really not its bag.
By Ben Harrington
Specifications; Vauxhall Cascada Elite, Engine – 1.6 turbo petrol, Transmission – 6 speed manual, Layout – Front engine, FWD, Power – 197bhp, Torque – 280Nm, Emissions – 158g/km CO2, Economy – 41.5 mpg combined, Maximum Speed – 146mph, Acceleration – 8.2s 0-60mph, Price – £29,760 OTR, £30,960 as tested
The Vauxhall Cascada is available now. For full details go to: www.vauxhall.co.uk