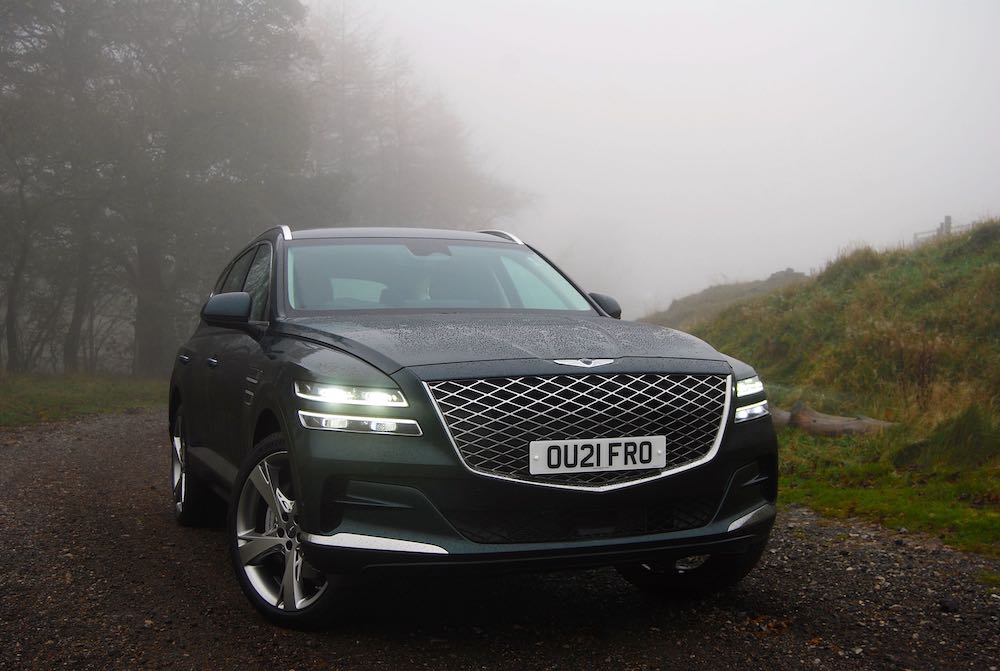 Genesis GV80
"Taking the Bentley for a spot of off-roading, are we?" came the cheery, entirely serious suggestion from a fell-walker as his more than slightly soggy Border Collie gave me a look that promised to turn into a no-holds-barred fur shake at any second.
"Erm, it's a Genesis, actually" I replied, looking up from my camera whilst attempting to subtly shield it, should the star of one man and his dog decided to make good on his threat and instantly cover me with a fleece worth's of cold, muddy water.
This wasn't the only case of mistaken identity I experienced during my week with the Genesis GV80. With its oversized grille it does bear more than a passing resemblance to a Bentayga, admittedly, but once they become more commonplace on UK roads, Genesis the car brand are hoping to become as every day as Mr. Collins' band. Or a book that I believe is fairly popular.
What's in the Genesis range?
The Genesis lineup currently consists of two saloons; G70 & G80 and two SUV's; GV70 and this GV80. There's also a G70 Shooting Brake and electrified G80 in the pipeline, but for now it's a four model range. There's more to choose from in North America where it's been around for a while, whether they make it to the UK in the future remains to be seen.
Another large market for Genesis is South Korea, and that makes sense as it's a branch of one of the country's most popular marques; Hyundai. Yep, this is Hyundai's luxury division. Think of it as what Lexus is to Toyota, or what Infiniti is to Nissan. Let's hope it has more success in Europe than the latter.
So, this is the largest model in the current Genesis lineup, and it really is big. At 1975mm, it's not the widest but being just 55mm short of 5 metres long it trumps both the X5 & Touareg in that particular department. It's not quite up to the gargantuan dimensions of the Bentayga or Q7, but it's not a million miles off.
Big outside, big inside. Strange, that.
And that, perhaps unsurprisingly, translates to a heck of a lot of room inside the GV80. The front seats are suitably voluminous and luxurious for an SUV of this side and there's a whopping central console so rubbing elbows with your passenger need never happen. The rear seats aren't far behind in the space department but it's the boot that's most impressive. Keep the 2nd row of seats in place and you get 735 litres, put them down and it's a wardrobe swallowing 2152 litres. You can pay for a 3rd row of seats in the GV80 should you need them, obviously that'll have an effect on luggage lugging.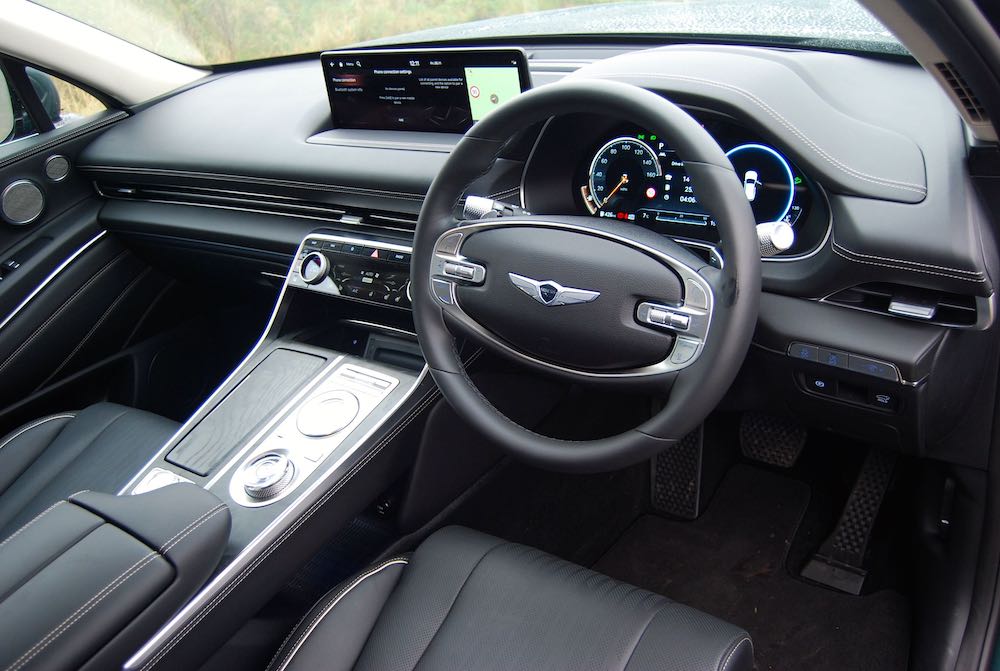 Look closely and you can see the GV80's Hyundai roots, but tick enough boxes and they're well hidden by some truly opulent touches. The huge infotainment screen is crystal clear and easier to navigate than some 'superior' brands' manage. The switchgear isn't up to offerings from Mercedes or Volvo but there's just the right amount of functionality kept away from the touchscreen to reassure you it's not just been put in there to keep the dashboard's aesthetics clean. A very clever touch is the self parking system that you can operate from outside the car via the key-fob.
You can have a diesel!
It may be a particularly dirty word at the moment, so dirty football commentators would sheepishly apologise if the microphones picked it up at a live match, but you can still have your Genesis GV80 with a diesel engine. It'll cost you; all the best things do, but an extra £100 for a 3.0-l, 6-cylinder diesel could be worth every penny. You see, our test car isn't the diesel, it's a 2.5-l, 4-cylinder petrol engine and it does remind us how well suited to big, heavy cars like this diesel really is.
It's quiet and refined enough, definitely, and the 8-speed automatic gearbox doesn't do much wrong at all, but you only get 422Nm torque in the petrol, whereas the diesel comes with a healthy 588Nm. The real issue comes with the effect a petrol engine has on economy; 26.1 mpg is the official line, we managed 24 in the real world. The diesel officially manages over 33 mpg; it's not popular but this brand-new diesel engine does serve a purpose.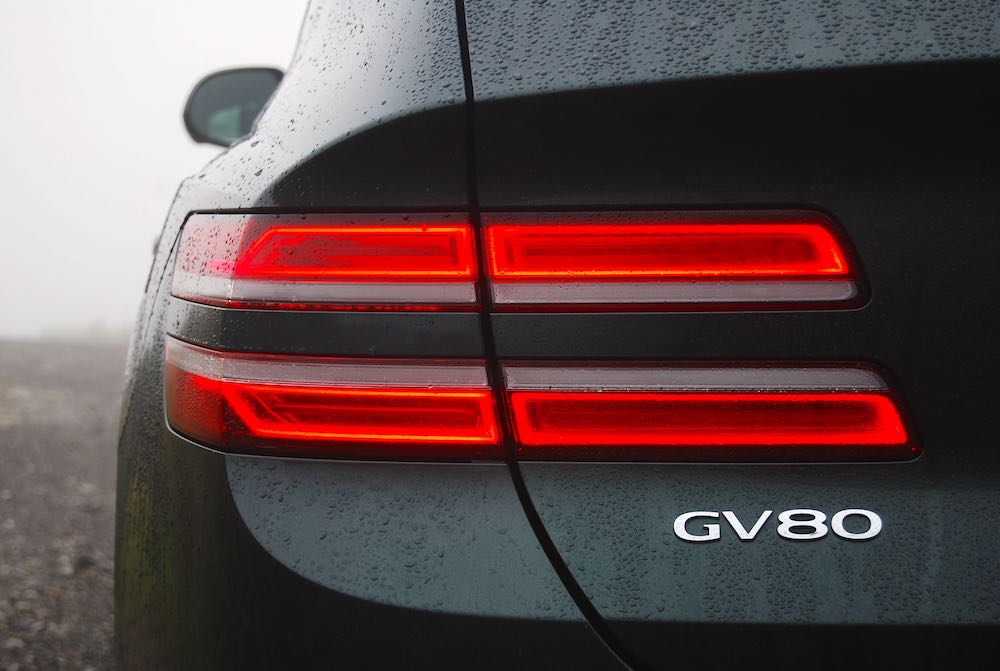 Petrol engine's a touch thirsty
Back to this particular GV80, though. No, its 2.5-l petrol engine may not be the most economical in the world, but it will get you from 0-62 mph in 7.7 seconds, and that's quite impressive. Press for this kind of performance, though, and that in-line 4-cylinder engine sounds exactly like one. Put the GV80 into sport mode and the driver's seat bolsters even grip you into place; a touch unnecessary perhaps, but some will like it.
Around the bends the Genesis GV80 does a good job of disguising its considerable mass and actually rolls a lot less than you might expect. There's little feedback from either steering or brakes, but they do their job well nevertheless.
Should I buy a Genesis GV80?
Being the new kid in town isn't easy, but being closely related to a brand that's currently surfing a wave of popularity definitely helps. With electric versions in the pipeline, hybrids inevitably too, the GV80's economy should catch up with the rest of the car's impressive feel. Time will tell whether Genesis will do a Lexus and tempt people into this circa £55k SUV.
By Ben Harrington
Genesis GV80 2.5T Specifications
Engine – 2.5-l petrol, Transmission – 8-speed auto, Layout – Front engine, 4WD, Power – 300 bhp, Torque – 422Nm, Emissions – 248g/km CO2, Economy – 26.1 mpg combined, Maximum Speed – 147 mph, Acceleration – 7.7-s 0-62 mph, Price – £59,600 OTR, £66,970 as tested
The Genesis GV80 is available now. For full details go to: www.genesis.com