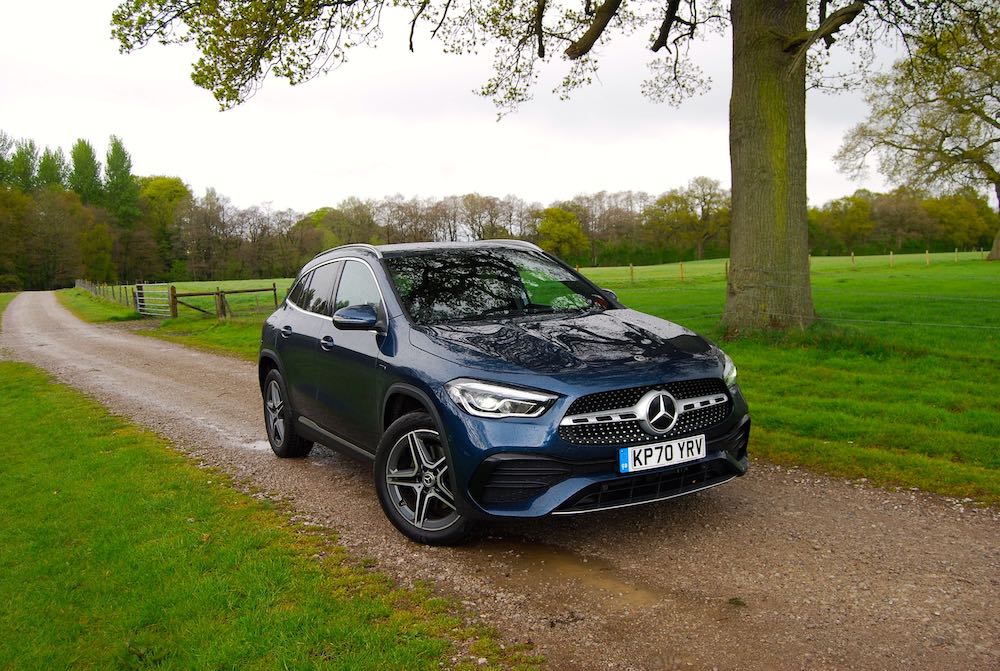 Mercedes GLA 250e
Since the government announced its 2030 ban on all sales of purely petrol and diesel powered cars, it seems barely a day goes past without a manufacturer making some bold step towards electrification. Mercedes has gone with the EQ moniker for any model with electric power involved, which surely will be all of them before too long. Here's the basic overview for the next time you see a Mercedes and want to know what's moving it: EQ is pure electric, EQ Power is a plug-in hybrid, EQ Boost is a mild hybrid. A refreshingly straight forward approach there from a brand not usually associated with simple labelling.
Smoother, more subtle
This, then, is the GLA 250e; the plug-in hybrid version of Mercedes' small SUV that's based on the A-Class. Hybrid power aside, this second generation GLA-Class has a far cleaner look than its predecessor, launched in 2013. As with the majority of the Mercedes range, SUV or otherwise, the GLA's grille that's been made less fussy with a single horizontal bar dissecting it. The bonnet still has two power bulges but it takes on a more severe slope as the GLA's 'face' is now smaller and less imposing. The sides have lost their character creases and the wheels have a better stab at filling some nicely squared off wheel arches. The end result is a simpler, more subtle small SUV that doesn't look like it's screaming for attention over its larger siblings.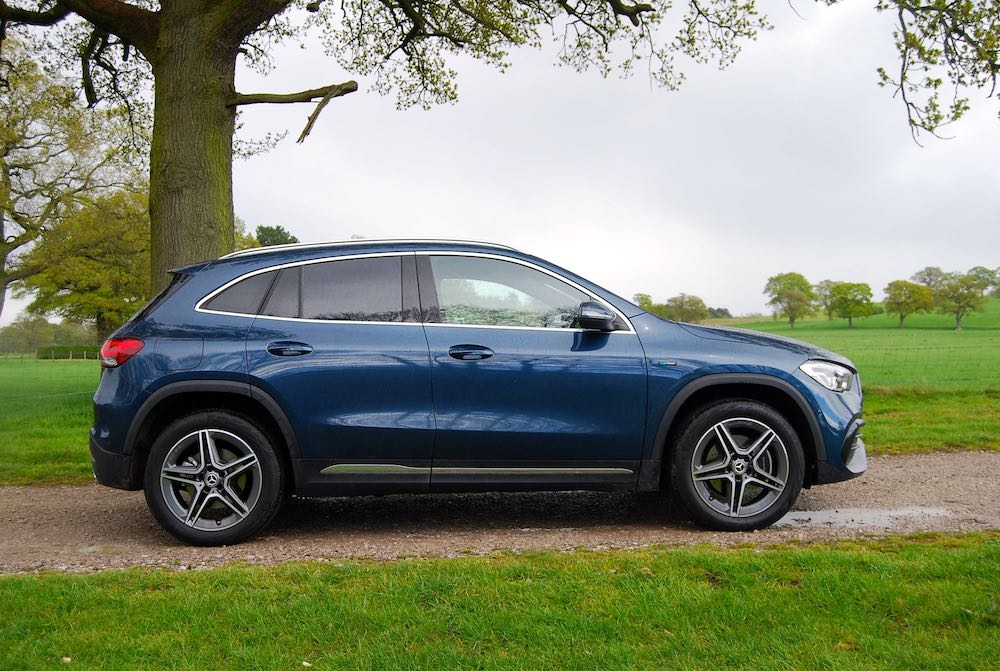 Mercedes rarely gets things wrong on the inside, they're right up there with the likes of Audi and Volvo when it comes down to understated cool. The new GLA is no different. They may have been fitting aircraft inspired air vents for a while now, but they're still ultra contemporary, and more importantly – cool. The infotainment and driver's displays are actually two separate screens but they've been incorporated into what appears to be one that stretches across from the centre to behind the steering wheel. The best bit – the touchscreen is ultra high definition and it just works beautifully.
More room than you may expect
What comes as a bit of a surprise is how much space you get inside the GLA 250e. It's definitely a compact SUV, and it's a hybrid so you may expect room to be compromised, especially in the back seats. Not so; even if you perform the acid test of 6 foot rear passenger behind 6 foot driver, there's loads of space for heads, legs and elbows.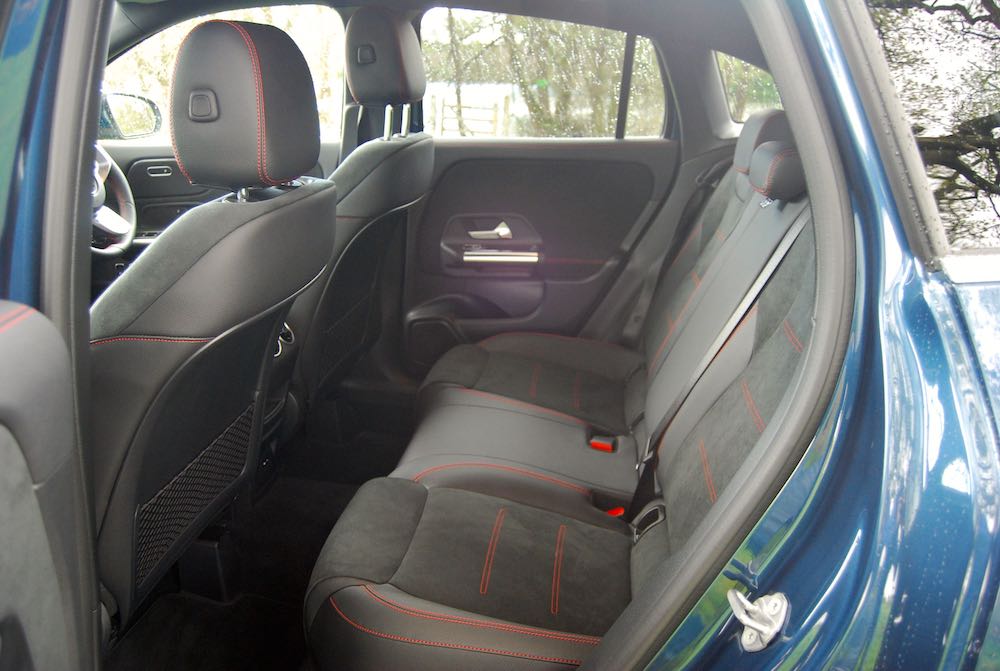 Is the GLA 250e 4WD?
And that may be down to how the GLA 250e is engineered. Electric cars may not offer the same diversity as internal combustion which has brought us many differently shaped approaches over the years, but there's definitely more than one way to skin a cat. For the GLA 250e, Mercedes has bolted their electric motor to its 1.3 litre petrol engine's transmission which is under the bonnet, at the front of the car; how conventional. What this means is they may have to find space for batteries etc, but the interior space isn't compromised by a second motor powering the rear axle. The other, fairly ironic result of this is that this 'SUV' is strictly front-wheel drive only. FWD would undoubtedly have taken the lion's share of sales anyway, even if there was a 4WD option, but there isn't, so that's that.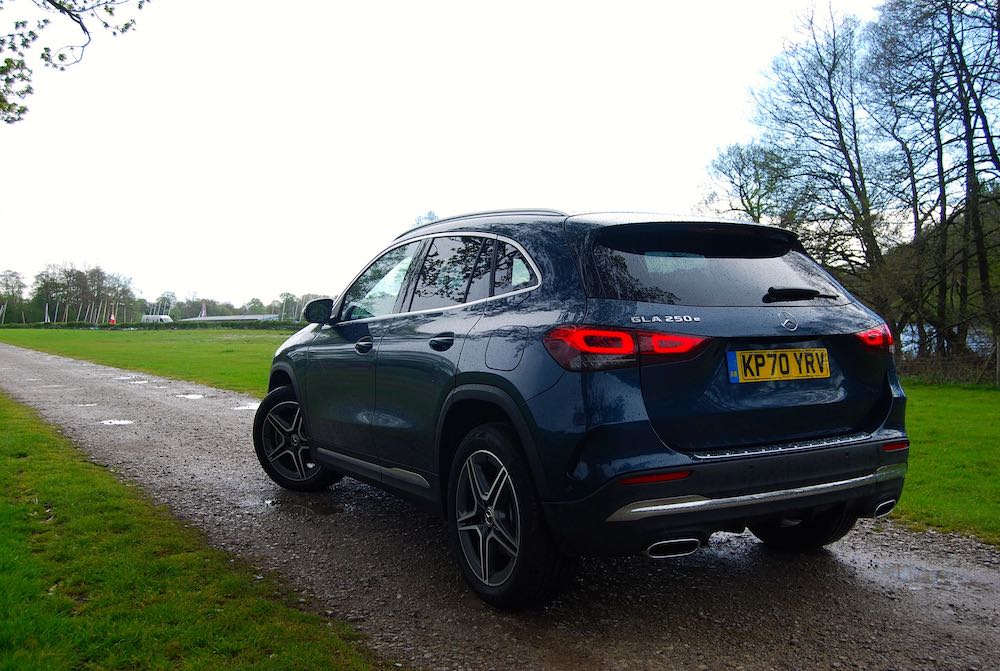 Does the GLA 250e work in electric mode?
So, let's assume you've bought your GLA 250e to actually use it in electric mode, how does it fare? Well, it's a 10.6kWh battery that provides a claimed 37 miles range, weather and environment permitting. a 7kW charger will give you a full charge in two hours and you can happily run around in the electrical 'eco' mode it defers to every time you restart the car. Yes, it's a heavy car and that's noticeable around bends, but as long as your daily commute doesn't involve a forest rally stage, you'll not really notice the extra weight.
The ride is planted and all very Mercedes. The hybrid element only comes unstuck slightly if the road surface is typically British and less than perfect, especially mid corner. And that's due to the GLA 250e having its usual multi link rear suspension replaced by a good ol' torsion beam setup in order to make room for the car's batteries under the rear seats.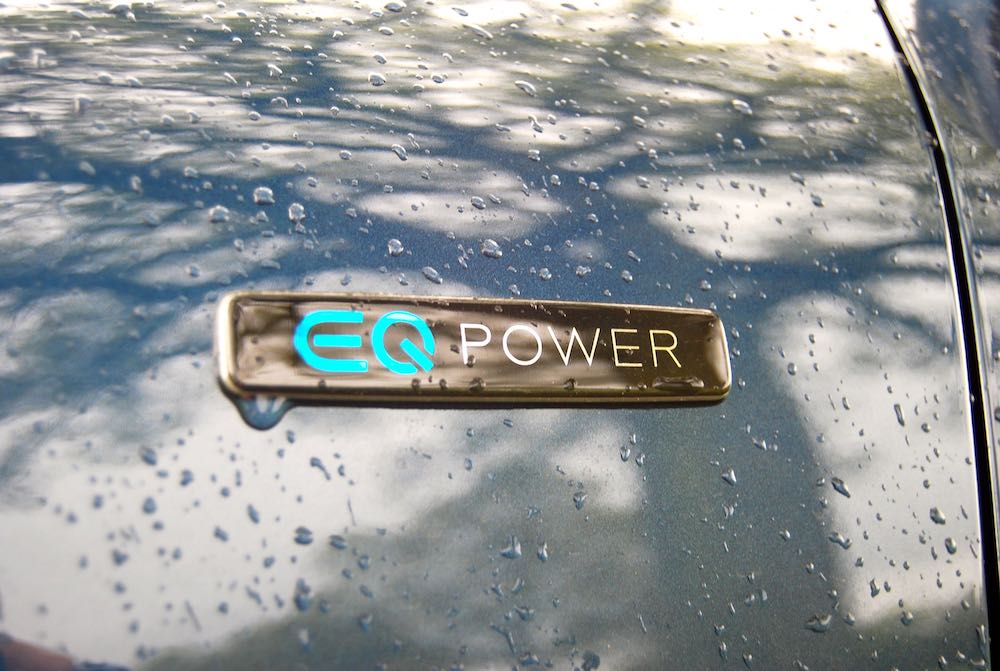 Ok, what about in petrol mode?
Total power is 218bhp; 160 from the petrol engine, the rest from its electrical running mate. That would be the recipe for something very tasty in anything A-Class of old, but when this particular GLA weighs 1775kg, it tends to hamper things somewhat. That said, 0-62mph comes up in 7.1 seconds and its 450Nm of torque is very useful, if slightly tricky for the front wheels to keep restrained on their own on damp surfaces.
Keep the GLA 250e in electric mode and it's the serenely quiet motoring you'd expect from a battery-powered Mercedes. Run out of juice in your batteries or use the ICE engine in unison and the 1.33 litre petrol engine can sound and feel strained. Gearchanges from the DCT 'box aren't as silky smooth as you might hope either, and the way the electric motor channels its drive through the transmission means you can't bypass it, even with the petrol engine switched off.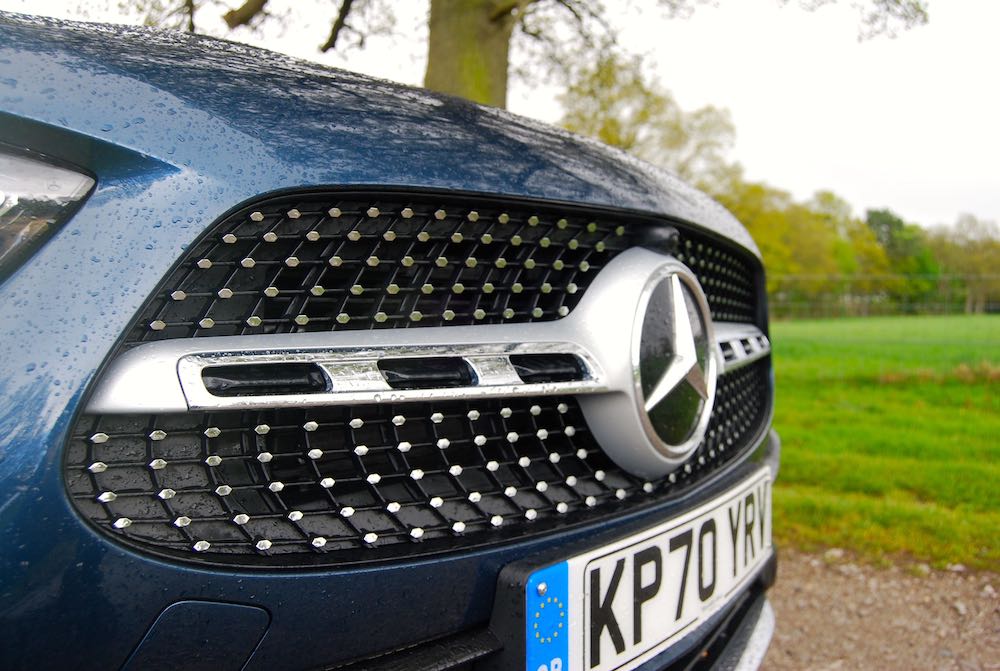 Is the GLA 250e cheap to run?
Of course, the big advantage with all electric and some hybrid cars if we're totally honest is the reduced running costs, and the GLA 250e excels here. Obviously your day to day running costs will be noticeably smaller, especially if your commute is 30 miles or less and there's a charging point at both ends, but both road tax and company car tax are a fraction of the petrol only equivalent.
Should I buy a Mercedes GLA 250e?
Mercedes' electric and hybrid models are very conventionally styled, and because they're Mercedes, that tends to be a good thing. The setup they've used to power this 250 GLAe means its rear seats and boot remain a very decent size and you'll notice a difference in your pocket, it's just not the first word in Mercedes driving refinement.
By Ben Harrington
2021 Mercedes GLA 250e AMG Line Executive Specifications:
Engine – 1.3l petrol & electric motor, Transmission – 8 speed DCT, Layout – Front engine, FWD, Power – 218bhp, Torque – 450Nm, Emissions – 32g/km CO2, Economy – 201.8 mpg combined, Maximum Speed – 137 mph, Acceleration – 7.1s 0-62mph, Price – £31,745 OTR