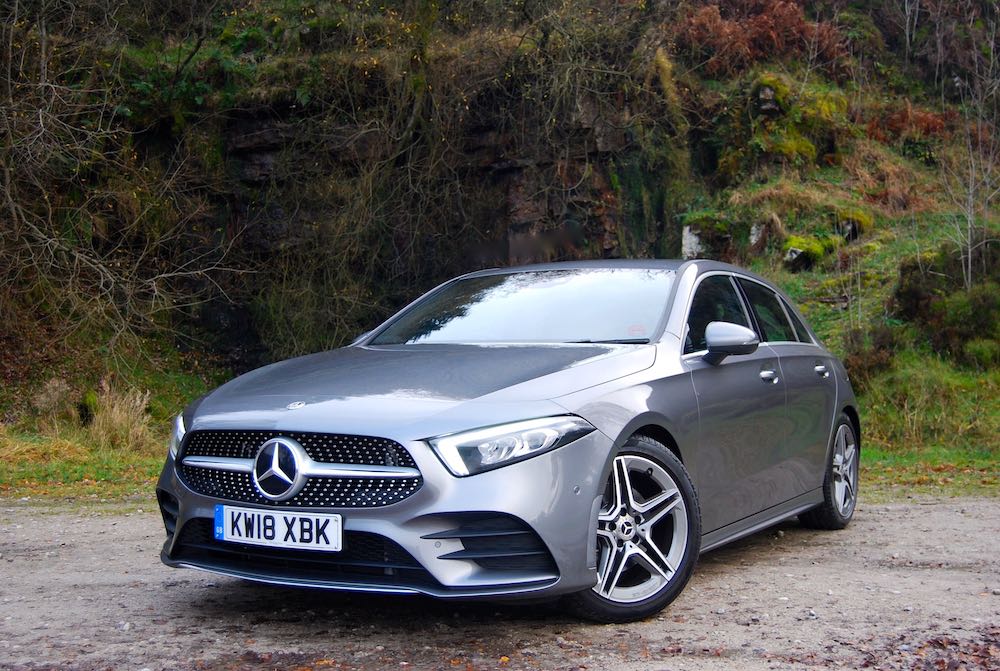 This is the new, 2019 Mercedes-Benz A-Class. One thing's for sure from the get-go, Mercedes aren't playing about with their entry into the C-segment, compact car market. Oh no, they're taking it quite seriously.
Mercedes A-Class
Want to know just how seriously? The best place to start is probably just by plonking yourself into the driver's seat, because this is where the new A-Class's 'wow factor' lies. What'll initially grab you is the cabin design which is based around two infotainment screens that connect seamlessly on the dashboard. They're 7" as standard, but can be upgraded so that either one or both of them are 10.25" via the quite straightforward Executive, Premium or Premium Plus packages – initial spec dependent.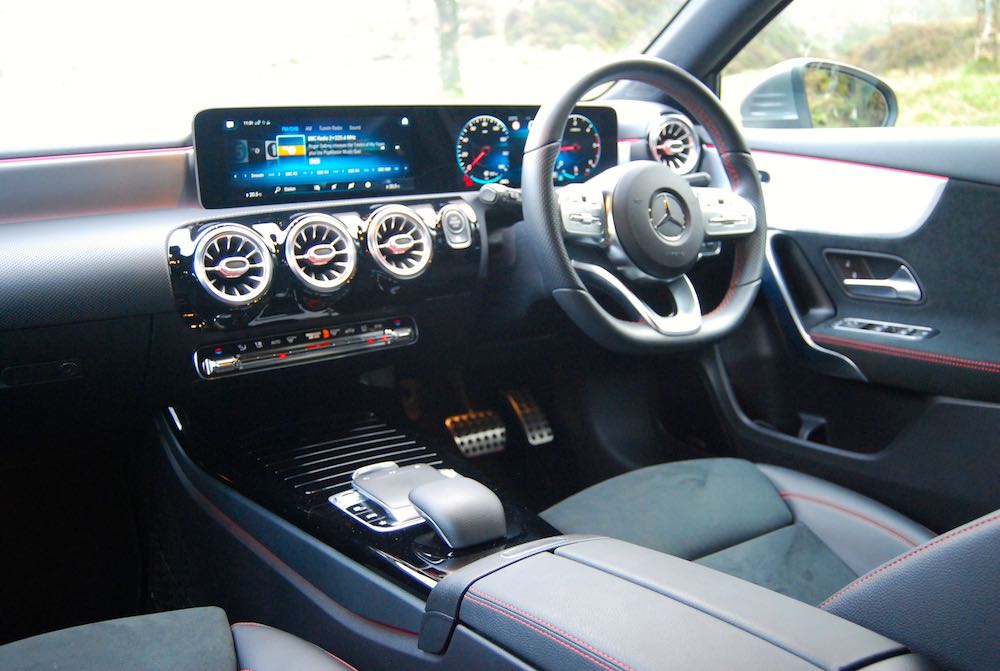 The 10.25" screens in our test car are both ultra hi-def and adjustable to display pretty-much whatever you want them to. There's certain legal requirements around speedometers etc, but this aside, you can customise the screens to show you information about the car, where you're going, what you're listening to, all beamed at you in some lovely blue hues.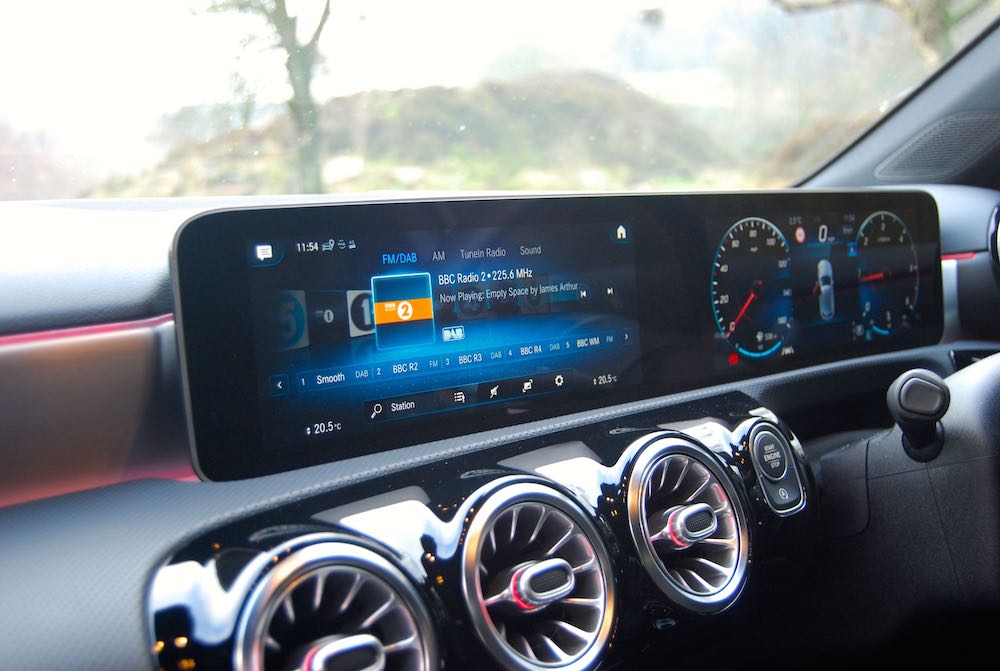 Pretty & Clever Inside
Aesthetics aside, one of the new A-Class's USPs is how you go about controlling all of this technology. You see, it's voice activated – you tell it what you want it to do. You start by saying 'Hey Mercedes', or similar, and then you tell it what you want to do with the infotainment system, nav, etc. Simply say 'Hey Mercedes, I'm hot/cold' and the system understands and acts accordingly. You can even ask to be told a joke, just expect a typically Germanic response. Don't worry about feeling silly, either – you've been talking to Siri and Alexa for years, after all. Is it clever? Undoubtedly. Is it infallible? No – It can get confused and even think you're talking to it when you're not.
Hey Mercedes
You don't have to use the 'Hey Mercedes' system if you really don't want to, of course. There's some new buttons on the steering wheel that you can just drag your thumbs over to navigate through menus if you want – you soon get used to them. Mercedes have also persisted with their mousemat style control pad on the transmission tunnel, although that can get annoying if you just happen to accidentally swipe it or your phone lead comes into contact with it.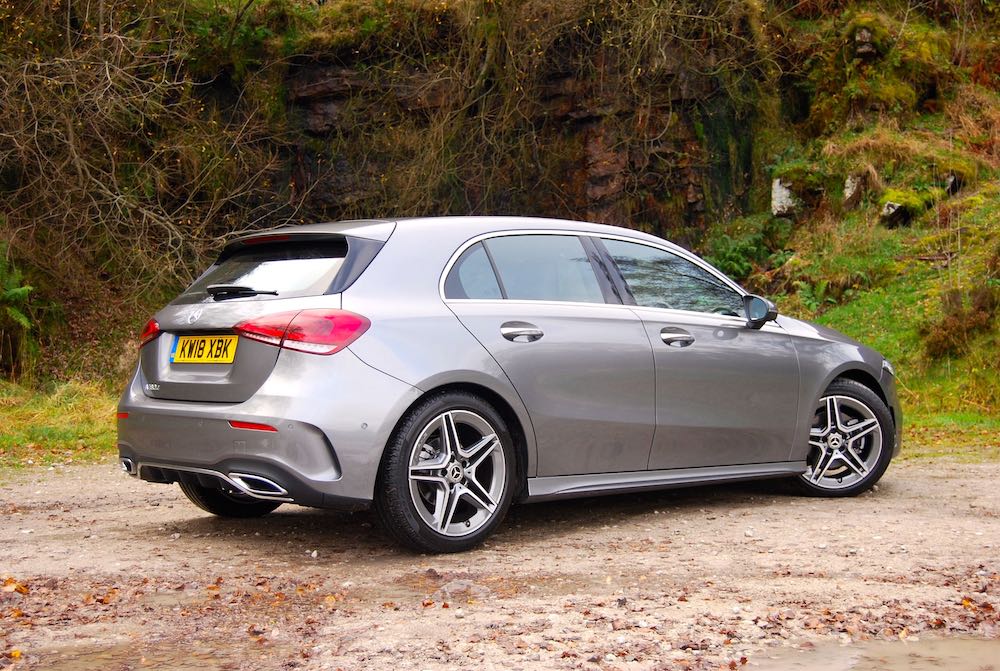 So, the A-Class's infotainment is clever, really clever, but that's just half of this interior's story. The effort and attention to detail that's been put into its design and use of materials is second to none. Think you've seen aircraft-style air vents before? These take it to another level – they're truly beautiful. The perforated leather covering the dual-level dashboard in our test car just look so classy when, done wrong, it could have been distasteful. What absolutely makes the new A-Class's interior, though, is its clever use of lighting. The whole dashboard is lit up by LED strips – you can change the colour to suit your taste, but the way they subtly go about it is light years (sorry) ahead of anything the competition can offer.
That's the interior covered, then, but what about the rest of the car? The exterior design is definitely more evolution than revolution – you wouldn't need to be told it's an A-Class. The headlights are slightly smaller and the bow-tie lower air intake has gone on models with a sportier bent, replaced by some aggressive looking strakes. It's still spearheaded by an oversize tri-star and the sides are still characterised by a shoulder-line that follows an arch from wing to wing, peaking around the rear door handle.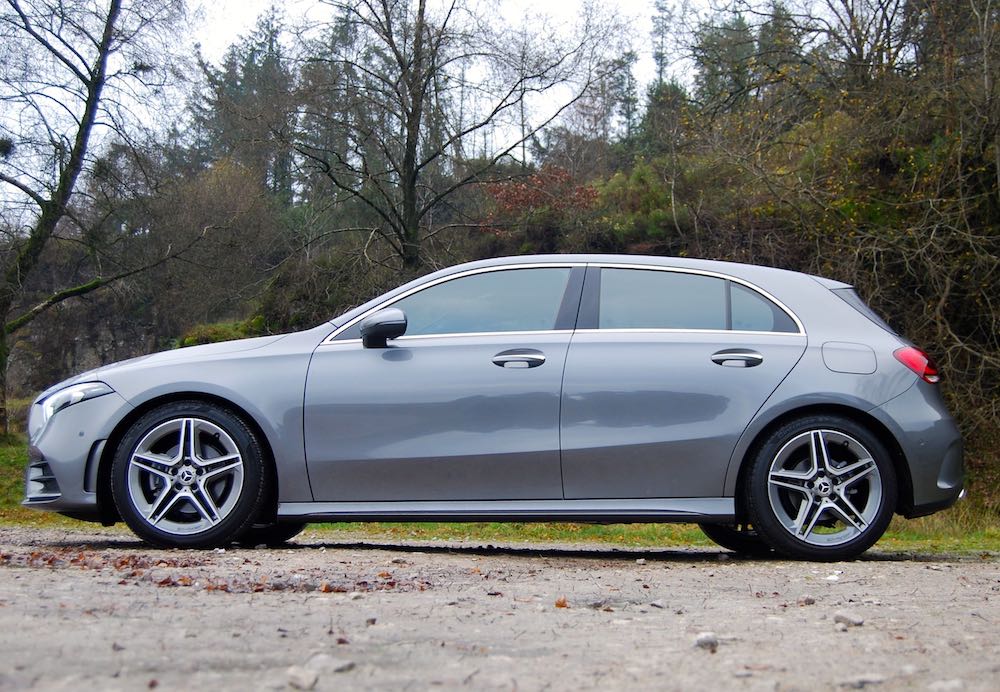 Engine Choices
Engine wise, you can completely forget the old-fashioned Mercedes nomenclature – the badge generally bears no relation to what's under the bonnet anymore. There's two petrol engines – a 1.3l with either 136 or 163bhp (A 180 & A 220), and a 2.0l with either 190 or 224bhp (A 220 & A 250). The 1.3 is 6-speed manual only, the 2.0l is 7-speed automatic only. A 180 is available in SE, Sport or AMG Line spec, A 200 in Sport or AMG Line, A 220 & A 250 is AMG Line only. Got it? Good, because there's also a 306bhp version of the 2.0l called the A 35 AMG that's filling in until the A 45 AMG arrives next year.
Diesel-wise it's a bit more simple. There's a 1.5l (A 180 d) with 116bhp and 7-speed automatic transmission only in either SE, Sport or AMG Line guise. There's also a 2.0l with 150bhp (A 200 d) & 8G DCT in either Sport or AMG Line & finally an A 220 d AMG Line model with 190bhp.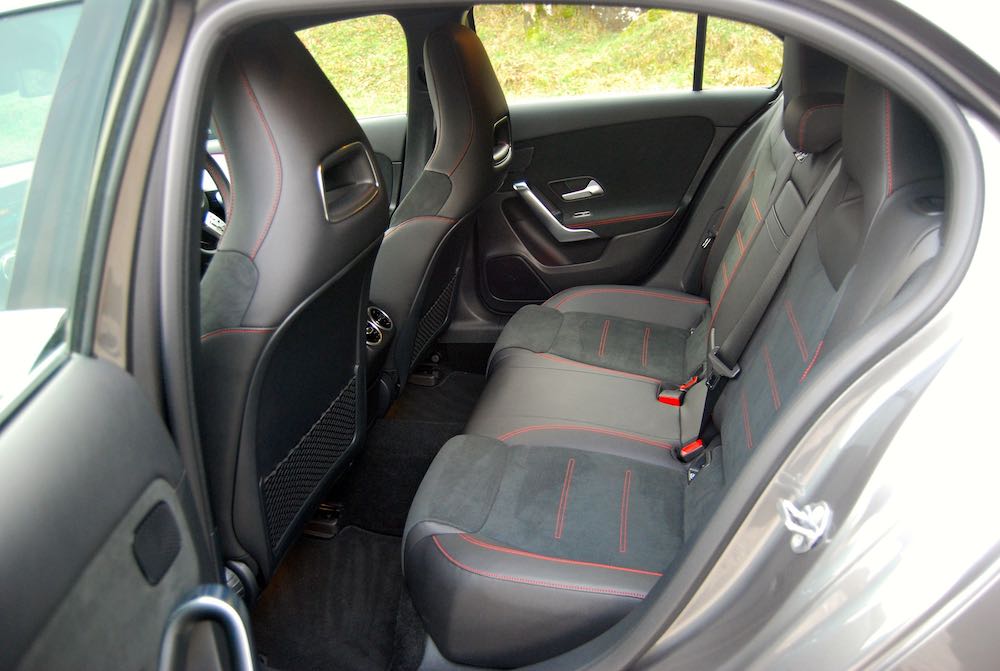 Incredibly Economical
Our test car is the A 180 d AMG Line model with 116bhp & 250Nm torque. It's so quiet, especially from the well-insulated cabin and it feels far quicker than its 10.5s 0-62mph time whilst being incredibly smooth for a 4-cylinder diesel. What's most impressive about this new generation of diesel engines, though, is how clean they are. This 1.5l engine claims 68.9mpg on the combined cycle whilst emitting just 111g/km CO2. We drove on B-roads, motorways and around town during our time with it and we achieved economy figures near-as-dammit what's claimed – this is one frugal engine.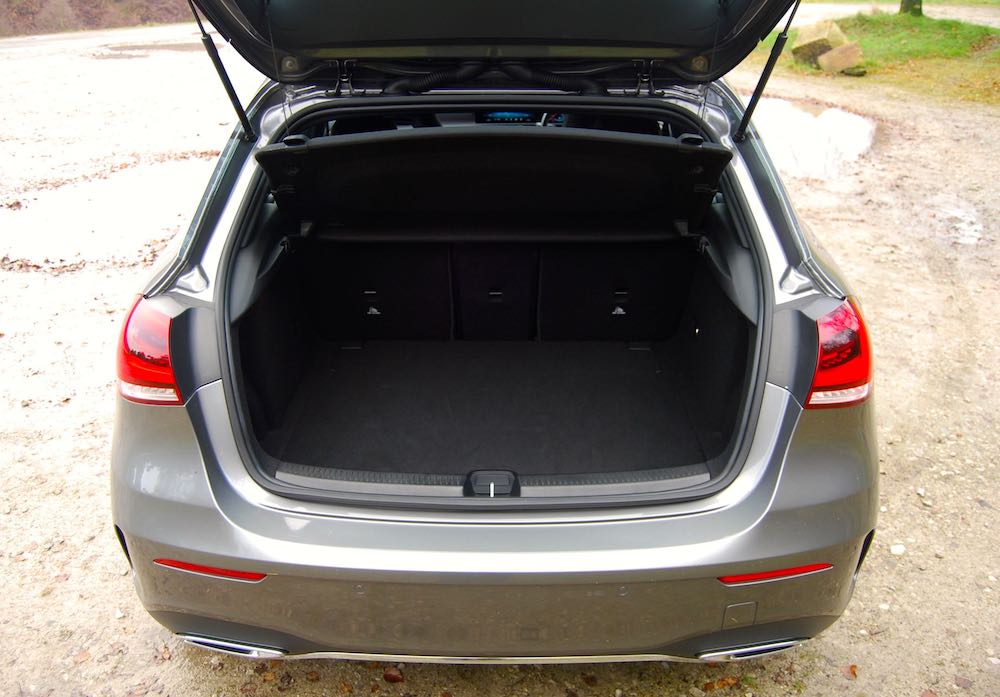 In terms of driver satisfaction, the FWD-only A-Class doesn't feel quite as dynamic as, say, a Focus, and it does feel all of its 1455kg kerb weight. It is comfortable and refined, though, and extra room in the rear will be appreciated by all. The boot's been increased to 370 litres, too, which keeps it right up there with the competition.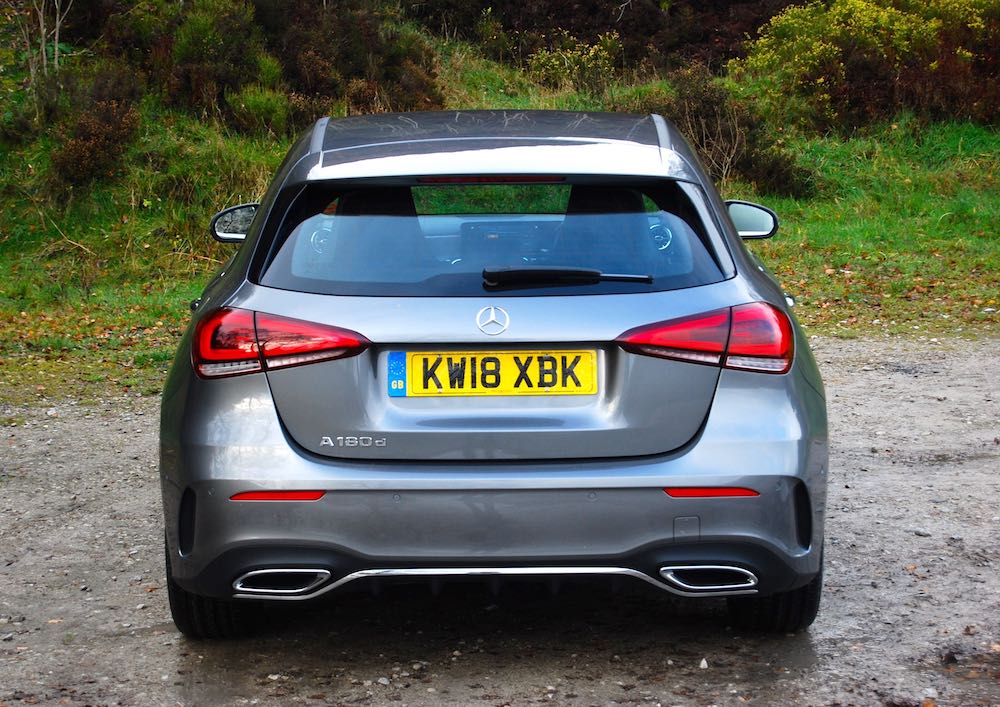 Should I Buy A Mercedes A-Class?
You'll not find an interior to touch the new A-Class in this sector: fact. Obviously it doesn't all come cheap, prices start at £22,195, but for that you're getting as close to an S-Class as possible whilst still driving a mid-size hatchback.
By Ben Harrington
Mercedes-Benz A 180 d AMG Line Specifications
Engine – 1.5l turbocharged diesel, Transmission – 7–speed automatic, Layout – Front engine, FWD, Power – 116bhp, Torque – 260Nm, Emissions – 111g/km CO2, Economy – 68.9mpg combined, Maximum Speed – 125mph, Acceleration – 10.5s 0-62mph, Price – £28,540 OTR, £32,145 as tested
The Mercedes-Benz A-Class is available now. For full details go to: www.mercedes-benz.co.uk