This Mercedes-Benz A 220 d, equipped with a 7-speed DCT gearbox costs just over £30k and does 0-62mph in 7.5 seconds. Volkswagen's Golf GTD, equipped with their 7-speed DSG gearbox costs a few pounds under £30k and does 0-62mph in 7.3 seconds.
What is the Mercedes A 220 d?
The Mercedes may not have 'GT' or 'SR', or any other letters that undoubtedly add a few horsepower in its name, but this should give you some idea of the type of car it is.
It does, of course, have some letters – three very important letters that can't be ignored; AMG. It's an AMG Line so Mercedes' in-house performance gurus haven't had any influence on the engine, it's the styling that they're responsible for.
This A 220 sits 15mm lower at the rear and 20mm lower at the front on 18" AMG wheels so it really hugs the road. Both bumpers are restyled to add to the look, the front sporting gaping air-scoops that mirror the headlights. A splitter brings the front end even closer to the tarmac and some skirts continue the look down the sides.
A Mercedes wouldn't be a Mercedes without a big, shiny grille. The A 220's is made up of temptingly touchable pillars spreading out like ripples from the dominant Mercedes tri-star.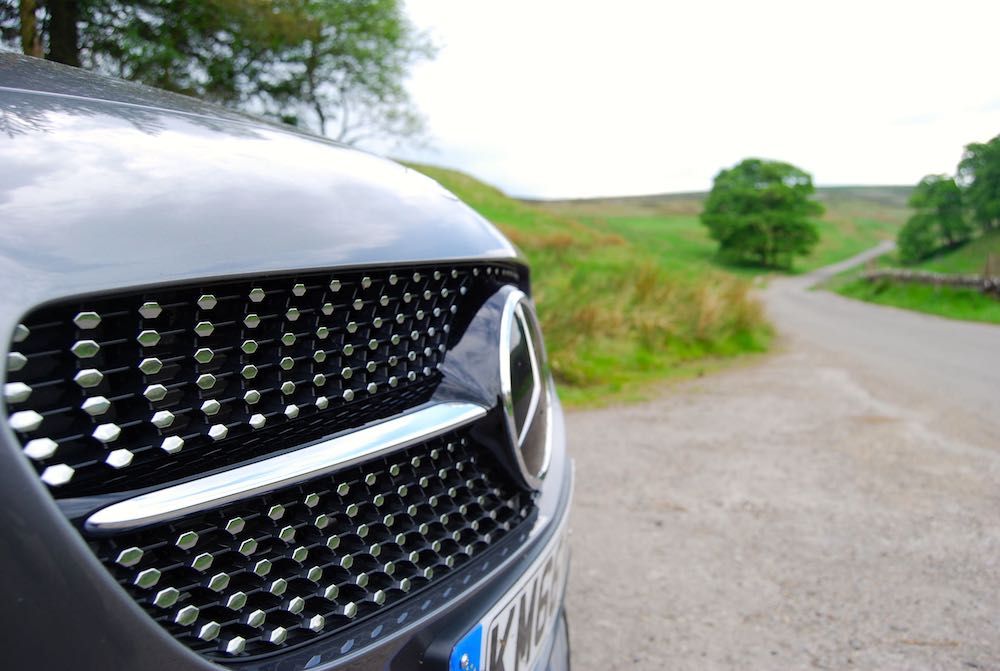 How nice is the A-Class' interior?
Inside the A-Class is where it so clearly stands apart from the opposition. Thought a Golf felt solid? Try the Merc. Everything you come into contact with looks and feels like it was built to last. Like so many cars, there's carbon-fibre-esque material moulded around the cabin. The difference with the Mercedes' is, when you give it a prod (as I must) it's nice to find it's textured and infinitely more robust than your average yogurt-pot.
The dashboard is centred around some aero-style vents and an 8-inch infotainment system that's permanently fixed in position. Once you get used to Mercedes' click-wheel operation, it's simple to use and the screen is one of the clearest I've seen. Buttons and vents are brushed chrome; stylish yet subtle.
What's the A 220 d like to drive?
Despite being an A 220, it's powered by 2.1 litre diesel engine that powers so many Mercedes and  produces 177hp. Torque is what it's all about, though, and it peaks at 350Nm across a wide rev-range from just 1,400 rpm to 3,400 rpm. It's eerily smooth for a four cylinder, quiet and returns 58.9mpg combined whilst emitting just 124g/km CO2.
The 7-speed DCT 'box is smooth and has a knack for generally knowing which gear to be in. You can select your own gear, of course, via a pair of chunky paddle shifters. It will only trust you to a point, though, and you'll find it changes itself to a more suitable gear a bit quickly for my liking.
What does 4MATIC mean?
If it wasn't immediately obvious, the 4MATIC bit means this is a 4wd A-Class, and that's where it really excels. Push into a corner at speed and the front end is allowed to drift out slightly before the rear takes control of things and pulls it back into line.
The steering is designed to adapt based on speed; not a revolutionary idea these days but one that's rarely executed as well as this. There's real weight coming through the chunky, flat bottomed steering wheel when you press-on and it just inspires confidence.
The multi-link suspension does a great job of keeping those 18" rims firmly in contact with terra firma, regardless of surface or conditions. You'd be forgiven for thinking that means a jarring ride; it's definitely firm, yes, but not uncomfortable.
Which mode suits the A 220 d best?
There's four driving modes; Eco, Comfort, Sport and Individual. Pretty self explanatory really. What you might not expect, though, is that even with its impressive performance, the A 220 d feels optimal in Comfort setting. Sport is great 'n all, increasing throttle response and sharpening gear change but Comfort mode just makes the whole experience feel effortless, where Sport mode seems to be trying a bit too hard.
It may sound the dullest, but Eco mode has such a clever trick up its sleeve. When it's not needed, the engine essentially coasts in neutral and 'Gliding mode' is displayed. What's incredible is how seamless the shift between mode is with not even the slightest jump back into gear. It's worth experiencing whether you want to save fuel or not!
Should I buy a Mercedes A 220 d?
There's a massive variety of A-Classes available, from the mundane to the fairly mental. This A 220 d AMG Line definitely sits towards the higher end of the range, both in terms of price and performance but is possibly the best all-rounder.
By Ben Harrington
Mercedes-Benz A 220 d Specifications
Engine – 2.1l 4-cylinder turbo-diesel, Layout – Front engine, 4WD, Transmission – Seven-speed DCT auto, Power – 177hp, Acceleration – 0-62mph – 7.5s, Maximum Speed – 139mph, Maximum Torque – 350Nm, Economy – 68.9mpg combined, Emissions – 124g/km CO2, Price – £30,280 OTR, £37,455 As tested
The Mercedes-Benz A 220 d is available now. For full details, go to; www.mercedes-benz.co.uk