Mercedes GLA-Class
As a rule, a manufacturer develops a mainstream, run-of-the-mill model, has some success with it, and then spawns various 'niche' models based on the back of this success. Mercedes are perhaps the king of this school of thinking, seemingly offering a model to suit every individual's needs. The A class has always been a little different; in an apparent fit of reverse evolution, the original, quirky A class was like nothing previously offered from, well, anybody, with it's current incarnation having been transformed into a regular, Golf sized hatchback.
But, hang on a minute though. What we have here is an apparent return to form – it's  the Mercedes GLA – a jacked up, SUV derivative of their now sensible 'A', fully prepared to jump on the small SUV bandwagon that's taken the world by storm.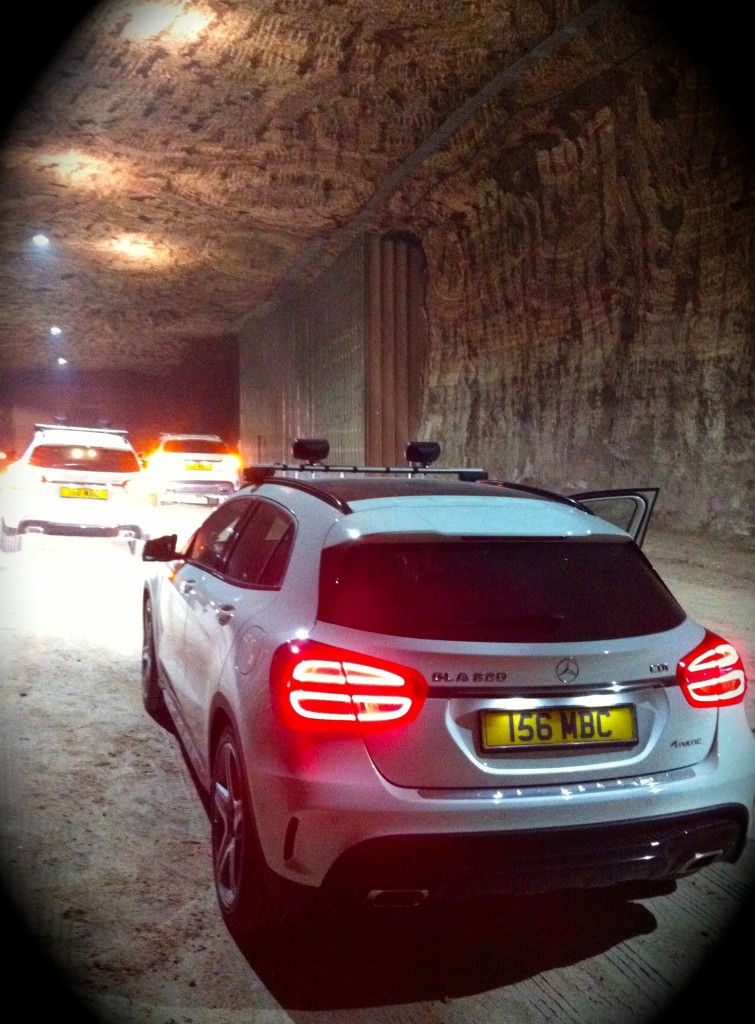 Every manufacturer is keen to emphasise the real-world capability of their off-road models, regardless of size, and Mercedes are no different. I'm fairly sure that 500ft below the roads is a unique location to showcase these abilities but that's where we found ourselves, 500ft down a salt mine in sunny Cheshire, no less.
This might sound a little extreme and, possibly a tad irrelevant, as there was none of the usual mud, deep water and nerve-janglingly steep inclines that off-road courses generally boast. In fact though, it served very well in replicating the demands that are more likely to be made of cars such as the GLA – an uneven, unpredictable surface with a few ascents, all tackled at around 20mph – more school mum than Sahara desert.
Back on top of terra-firma, away from 100% darkness, it's easier to gain a true perspective of what the GLA is all about.
Visually, Mercedes haven't strayed very far away from the A class recipe – it obviously sits higher than the hatch but other differences are subtle, the most obvious being some chunky aprons and wheel-arch extensions. The rise in ride height isn't over-dramatic, rather just enough to make the GLA noticeable next to a regular hatchback.
The GLA comes with a choice of two Diesel engines – 200 or 220 CDI, and one 250 petrol. You can opt for two driven wheels instead of Mercedes' 4Matic AWD system, and a manual 'box, but you'll be restricted to the lesser powered Diesel engine if you do.
Speccing your GLA is fairly simple, with two lines on offer – SE or AMG. A GLA 45 AMG is due out in June, but for now, going for the latter option won't turn your GLA into a 911-baiting monster. The AMG part equates to some sports suspension and a few visual tweaks, inside and out, it also provides you with some AMG sports seats. Having experienced both specs, I'd personally opt for the SE  – the ride seems more appropriate with a bit more 'give', and those AMG seats can pinch a little – especially on those of us with, shall we say, a more generous frame.
With prices starting at £28,850 OTR, I foresee the 2WD, 200 CDI model being the pick of the bunch as it combines an admirable 119g/km CO2 output, with those sought after SUV looks – historically the two most important factors in this genre.
By Ben Harrington
For full details go to; www.mercedes-benz.co.uk/GLA_Class