The C-Class was Mercedes' entry level model when it was released in 1993, replacing the excellent 190 range. It remained the baby-Merc until the A-Class came along in '97, but it was still the smallest Mercedes saloon until the slightly niche-market CLA-Class popped up in 2013.
C-Class vs A4 vs 3-Series
Either way, no matter how many models Mercedes release, the C-Class is their entry into the executive saloon sector. This put it up against old stalwarts like the Audi A4, BMW 3-series, new contenders such as Alfa's impressive Giulia and even top-spec Ford Mondeos and Vauxhall Insignias.
As with all recent Mercedes saloons, the styling has evolved away from their old boxy design. The C-Class was a proper 'set-square and ruler' lead silhouette but its lines are now more swoopy, even slightly echoing the coupe-saloon CLS's more attractive look.
AMG Line
The lineage from the flagship S-Class is also evident, though, and the C-Class isn't exactly that small anymore so it looks far more imposing than previous generations. If it's maximum visual effect you're after, but don't quite have the budget for a mahoosive V8 then this AMG Line C-Class adds 18" alloys and a bodykit. It works well, especially on a white car which accentuates the contrasting sporty air-scoops. AMG Line also adds sports steering and suspension, as well as uprated seats, pedals and steering wheel inside the cabin.
Where many premium manufacturers seem to be struggling at the moment is getting the feel of their interiors just right. Minimalism seems to be the current trend, but then what's luxurious about a slab of 'minimalist' polished concrete, right? With its subtly grained ebony wood, brushed metal highlights and mixture of modern and traditional, Mercedes have stolen a lead on their competitors and created somewhere that feels much more than you might warrant in this sector.
The wizardry of you gadgets and gizmos is an important part of high-end motoring, even if only for pub-talk ammo. If those 360°, birds-eye cameras hold any water, then prepare to impress your mates because the C-Class' optional £335 camera is so clear it's as though you've got a Go-Pro equipped drone hovering 10ft above, solely to help with parking. The infotainment system is clever, too, although we would like to see Apple CarPlay and Android Auto automatically included, not as an optional extra.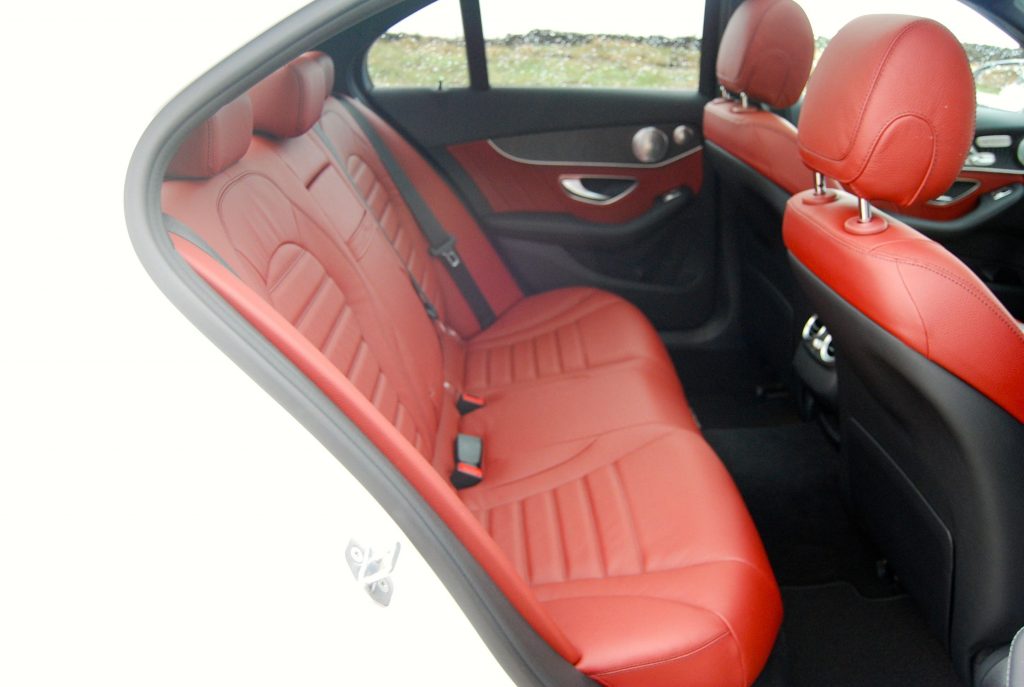 Petrol or Diesel?
There are petrol powered C-Class Mercedes, and even plug-in hybrids, but diesel is still king in the sector. All diesel C-Classes are 4-cylinder, with C 200d models getting the more modern 1.6l unit and C 220d & C 250d cars getting the 2.1l  engine in varying states of tune.
The smaller 1.6l diesel is a newer design and is inevitably the more refined of the two. Accusations levelled by some that the larger engines got an old-fashioned diesel rattle are unfair, though, it's still far creamier than most. This 250d comes with 204bhp and, perhaps more pertinently, a whopping slab of torque; 500Nm no less.
Mid-range power
This combination of power and torque means the C 250d's 6.8s 0-62mph time isn't anywhere near the full story, impressive as it is for a relatively heavy car. What's most noteworthy is the way the C 250d gathers pace on the move; 30-50 & 50-70 are dealt with effortlessly. That 500Nm torque, coupled with a 9-speed automatic 'box that's very rarely unsure of what to do, make both overtaking slower traffic and tackling B-roads no issue whatsoever.
All C-Class' are driven via their rear wheels, but for the first time you can opt for 4-wheel-drive across the entire range. The system is called 4MATIC, and It does help towards faster cornering speeds, sure, but the way the system hunts out any wheel that happens to be losing grip means it feels more focussed on assurance over slippery surfaces than B-road blasts.
The same can be said of the C-Class' Sport and Sport+ modes which sharpen throttle response, gear-changes and suspension (dependent on spec). Yes, it adds an air of driver involvement, but the C-Class has luxurious wafting nailed so well these days that it just seems to be better suited to Comfort mode and automatic gear changes.
Should I buy a C-Class?
The Mercedes C-Class has seen a significant upwards surge in terms of image over the last few years. That's not to say the competition, namely the 3-Series and A4 have been left flailing in its wake but some excellent cabins and ride quality, plus the all-important brand image keep the C-Class a step ahead.
By Ben Harrington
Mercedes-Benz C-Class 250d AMG Line Specifications
Engine –

 2.1l 4-cyl diesel,

Layout –

Front engine, 4WD,

Transmission –

 9-speed automatic,

Power –

 204bhp, 

Acceleration –

0-62mph – 6.8s,

Maximum Speed –

150mph, Maximum Torque –

500

Nm @ 1600 – 1800 rpm,

Economy –

 61.4 mpg combined,

Emissions –

127g/km CO2,

Price –

£39,290 OTR, £47,485 as tested

The Mercedes C-Class is available now. For full details go to: www.mercedes-benz.co.uk