Citan Tourer
Mercedes-Benz describe their Citan Tourer as 'the only small van you need'. In the case of this particular Citan Tourer, they've probably got a point. The reason? Well, to be honest, at over 4.7m in length, this Citan Tourer Extra Long really isn't all that small.
Isn't the Citan just a Kangoo?
The Citan completes the Mercedes-Benz range as they've never offered a compact van before. Anyone who thinks it looks a tad familiar, that's probably because Mercedes-Benz have utilised their long-standing partnership with Renault and the Citan is built alongside the Kangoo in the same factory.
They have made quite a few alterations, though, it's not just a Renault with a fancy badge. The suspension has been tweaked and adaptive ESP comes as standard on all Citan models, working alongside the brake-force distributor to tailor response dependent on the load. The suspension tweaks also make for a settle unruffled ride, even on more twisty roads.
Go for the 6-speed gearbox
Opt for your Citan in Tourer guise and there's a 1.5l diesel in either 90hp or 110hp guise (badged 109 & 111) or a 1.2l petrol with a 114hp output (112) that's even available with a 6-speed DCT automatic gearbox. The lesser powered diesel comes with a 5-speed manual 'box but all other Citan Tourer's can be had with a 6-speed manual and that extra gear will be very welcome on motorway journeys as it makes high speed cruising effortless.
Our test Citan was the more powerful 111 model, linked to that 6-speed 'box. On paper it does fractionally lose out in terms of efficiency and emissions to the 109, with combined mpg of 64.2 vs 65.7 & 123g/km vs 112g/km Co2 respectively, but the extra responsiveness and that 6-speed 'box more than outweigh these losses. Opt for the petrol Citan Tourer and the loss in terms of economy is massive, with combined mpg dropping to the mid-40s, dependent on transmission.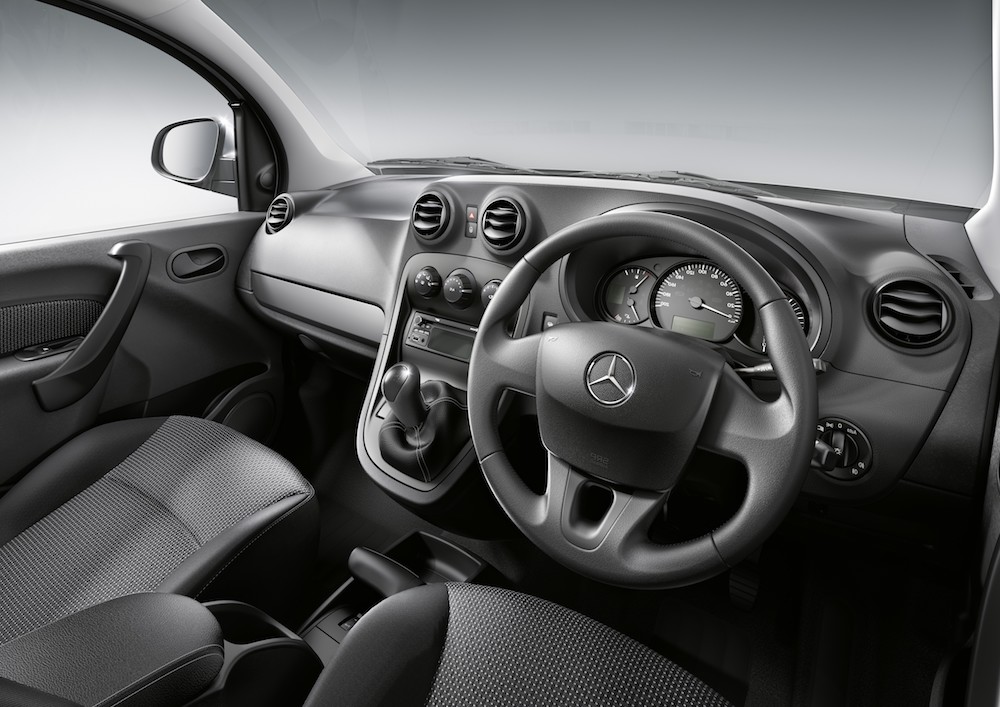 How long are the service intervals?
Those impressive economy figures are backed up by 25,000 mile service intervals, a 3-year warranty and 125,000 miles between cam-belt changes. Have your Citan serviced at Mercedes-Benz and it'll be covered for the following year, up to 30 years, by their very-own MobiloVan breakdown service who claim to be able to fix 80% of issues, should the worst happen.
Inside the Citan Tourer it's hard to escape the fact that this was made initially as a workhorse van and then transformed into a 7-seat MPV. The plastics are tough, really tough, but there's not much imagination put into their design. It's definitely a case of function over form.
Is the Citan Tourer just a van inside?
That said, it's comfortable enough on long journeys and the storage is excellent, especially overhead where glove-box style cubby holes have been added for both front and rear passengers. The only real gripes we found inside the Citan Tourer were the handbrake and the infotainment system. The handbrake lever is handily positioned for drivers of LHD vehicles, not our RHD so you do have to lean over rather to operate it.
The infotainment looks to all intents and purposes like a basic radio/stereo setup. What it actually is is one of the most diminutive touchscreen systems we've ever come across. This is a nice extra but with a screen this small, it's something of a case of hit and miss to navigate to where you actually want to be, and it's not exactly seamless when linked to an iPhone.
Naturally, the Citan Tourer's van roots come into their own when getting stuff from A to B. Our Citan came with the optional twin sliding doors and split rear tailgate, so gaining access to the rear was a doddle. Both rear rows of seats fold down easily and there's a level loading lip, so the transition from moving people to goods is achieved in seconds. A maximum load length of over 2.1m and max payload of 570kg in this extra long Citan means it easily swallows a standard Euro-pallet. We even slid a standard single bed in and the tailgate shut with no problems.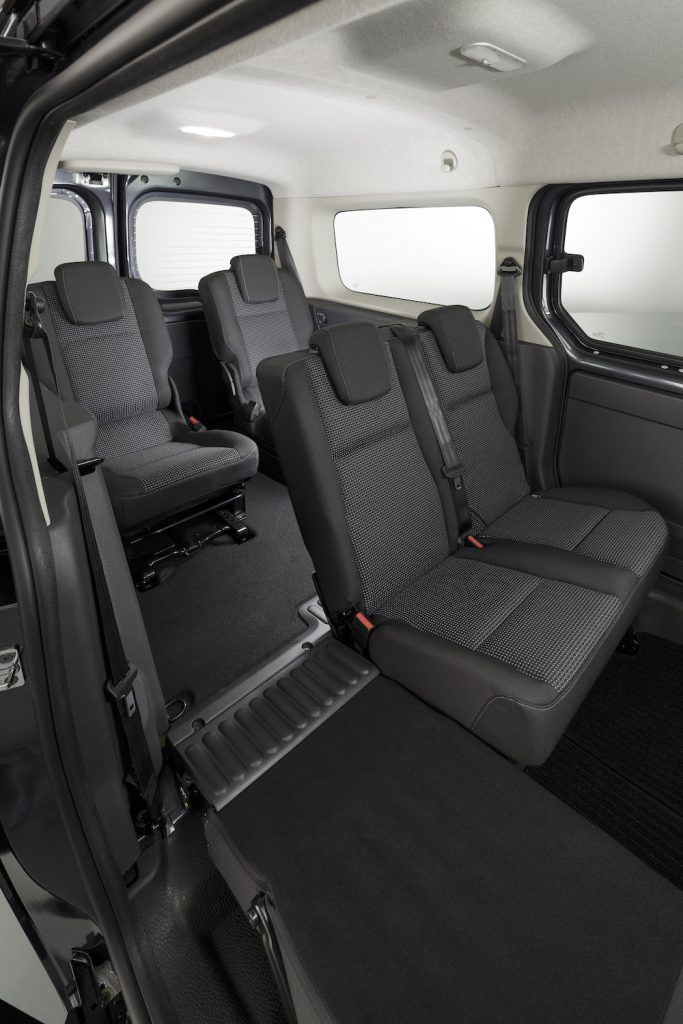 Should I buy a Citan Tourer?
Van-based MPVs are no new thing, and the Citan Tourer isn't the cheapest one available. This extra long Citan Tourer is incredibly practical, though, and it's more pleasurable to drive than most. It's also backed up by impressive service intervals and a great support system, making it a very attractive proposition.
By Ben Harrington
Mercedes Benz Citan Tourer 111 Extra-Long SR Specifications:
Engine – 1.5l turbocharged 4-cyl diesel, Layout – Front engine, FWD, Transmission – 6-speed manual, Power – 110bhp, Acceleration – 0-60mph – n/a, Maximum Speed – n/a, Maximum Torque – 260Nm @1750rpm, Economy – 64.2mpg combined, Emissions – 123g/km CO2, Price – £25,535 OTR