MG HS
Like many manufacturers, MG are claiming to be something of an SUV specialist. The Chinese owners of the once-iconic sports-car brand may not yet have brought us a two-seater roadster, but they've ditched the pretty-awful GS and in its place, we've got their slightly larger SUV; the HS.
In terms of size, it's quite a bit bigger than the crossover yardstick; the Qashqai. It's actually almost identical dimensions-wise to Ford's Kuga, so it does offer more space inside and family practicality than their smaller ZS model.
Impressive Interior
And it's what's inside the HS that MG are keen to emphasise. MG's interiors have been lacking in both quality and imagination since their rebirth nearly a decade ago, but things seem to be looking up. The basic design of the HS's cabin isn't exactly original. There's flashes of Audi and Mercedes with its aircraft inspired vents, and the centre console harks back to the last generation Focus. The quality of plastics used is a huge step up though, They're genuinely squidgy on the dash and don't feel too scratchy, even much further down.
The driver's display is an analogue/digital hybrid – sounds odd but it works. Some information like outside temperature is too small to be able to read quickly, but that seems to be an MG trait. A 10.1" infotainment screen comes as standard, and I can honestly say I've struggled with far worse systems from more 'premium' marques. There's even ambient lighting that changes colour on the Exclusive spec.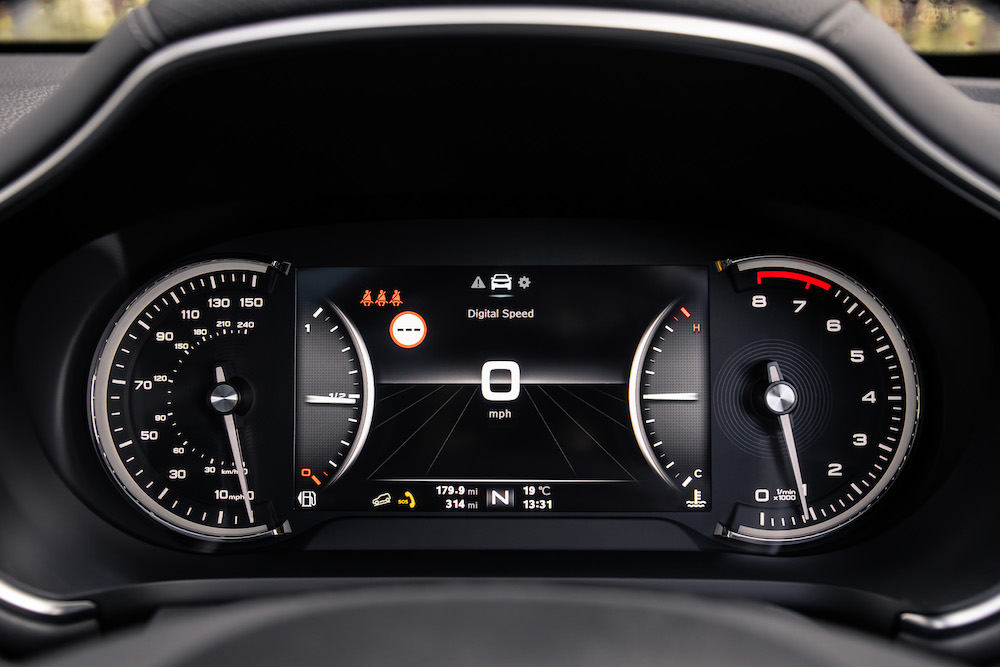 Five Adults: No Problem
There's genuine space for 5 large adults, even with the panoramic roof that comes with this Exclusive model. At 463 litres with the rear seats in place, plus a flat boot floor, the HS trumps the likes of the Kuga and the Qashqai. The driving position is good and even the base model has a 6-way adjustable seat. It's only let down by a rather imposing C-pillar that looms large in your field of view.
So, it's good news in terms of interior space and comfort, but what's the HS like to actually drive?
One Engine
The HS comes with a choice of one engine; a 1.5l, turbocharged petrol unit providing 159 bhp & 250Nm torque. MG claim it's new, in reality it's been totally re-engineered for the HS but it's essentially the same engine that's found its way into many of their UK products. It comes with either a six-speed manual gearbox or a dual clutch transmission with seven speeds.
Our test car came with the DCT 'box. Driving around town at low speeds is as pleasant as you'd want and the powertrain pulls well from standstill with the minimum of fuss. It's when you ask for a bit more urgency that things become unsettled. The engine booms, and not in a good way, whilst our DCT transmission objects to being rushed. Once the turbo's spinning away, the engine isn't happy falling back down the rev range and it can surge unpleasantly.
Try The Manual
The manual gearbox is available on all three trim levels and gives a circa £1,500 saving over the DCT; we'd recommend giving it a go.
Again, the ride is admirably civilised around town, soaking up pretty big bumps without wince-inducing crashes. Press on, though, and the front-wheel-drive only HS tends to typically understeer and becomes quickly discombobulated if you attempt changes in direction it's not comfortable with. Our Exclusive spec HS, with its dual clutch transmission come with a very tempting red button on the steering wheel labelled 'Super Sport'. I'm guessing this is to placate those of us who remember MG's roots, because the effect hardly fits the description; the ambient lighting turns red and performance is improved but hardly super.
MG Pilot Suite
Every HS comes with MG's Pilot suite of driver aides as standard, and it's quite the substantial list. You get autonomous emergency braking, adaptive cruise control, intelligent headlights, lane keep assist and blind spot detection, and that's not exhaustive. Some of the system aren't perfect; the intelligent headlights can be slow to drop from main beam when another car approaches and the many beeps and bongs can become a distraction. For every HS, even the £17,995 one to come with such generous equipment is impressive, though.
Yes, you read that right; the HS starts at £17,995, and you'd be hard-pressed to find another new SUV with as much room and equipment for the money. On top of that, if you've any concerns with the brand's quality, they offer a Kia-esque 7-year warranty across the range. Our test car weighed in at a less tempting £24,995, but lose the DCT transmission and you instantly knock £1,500 off that.
Should I Buy an MG HS?
The HS represents a massive leap forwards for MG in terms of interior design and quality. It's still not an MG in the truest sense of the word, but in a world where the SUV/Crossover is king, it's a lot of car for the money.
By Ben Harrington
2020 MG HS Exclusive DCT Specifications
Engine – 1.5l 4-Cylinder, Transmission – 7-speed DCT, Layout – Front engine, FWD, Power – 159bhp, Torque – 250Nm, Emissions – 157g/km CO2, Economy – 36.2 mpg combined, Maximum Speed – 118 mph, Acceleration – 9.9s 0-62mph, Price – £24,995 OTR
The MG HS is available now, priced from £17,995 otr. For full details go to: www.mg.co.uk