Hot on the heels of MG's full-sized SUV – the GS comes their entry into the competitive world of compact SUVs, the ZS. In truth, the ZS isn't that compact compared to the GS, only losing a few cm in terms of length and width. With direct competition coming from the likes of Nissan's evergreen Juke and Seat's excellent new Arona, the ZS has its work cut out.
How much is the MG ZS?
The good new is that prices start from £12,495 OTR for the Explore model, with the Excite coming in at £13,995 & the range-topping Exclusive costing £15,495. More good news comes in the way of interior space which is positively palatial next to the likes of the Juke, and will be undoubtedly very welcome when ferrying a family around. Couple this extra space with many handy storage areas and cubby-holes and it's looking rather good for the ZS.
The ZS looks quite fetching, from the front at least, if a bit familiar. Yes, you could be forgiven for thinking it's a Mazda CX-5 as the similarity is remarkable, but that's no bad thing and a marked improvement on the GS. It's from the B-pillar backwards that the ZS loses its way slightly; the rear wheels look comically small and there's huge swathes of featureless metal that never add to a car's look.
Spacious but cheap inside
Inside the ZS is where its budget price tag is most noticeable. There's fake carbon fibre trim that's fooling no-one and the plastics are scratchy. On the plus side, the 8" infotainment system is far better than efforts from more 'premium' manufacturers I could mention, despite a quite bizarre hybrid of analogue and digital heater controls. The ZS comes with Apple CarPlay as standard, Android users lose out for the time being, though.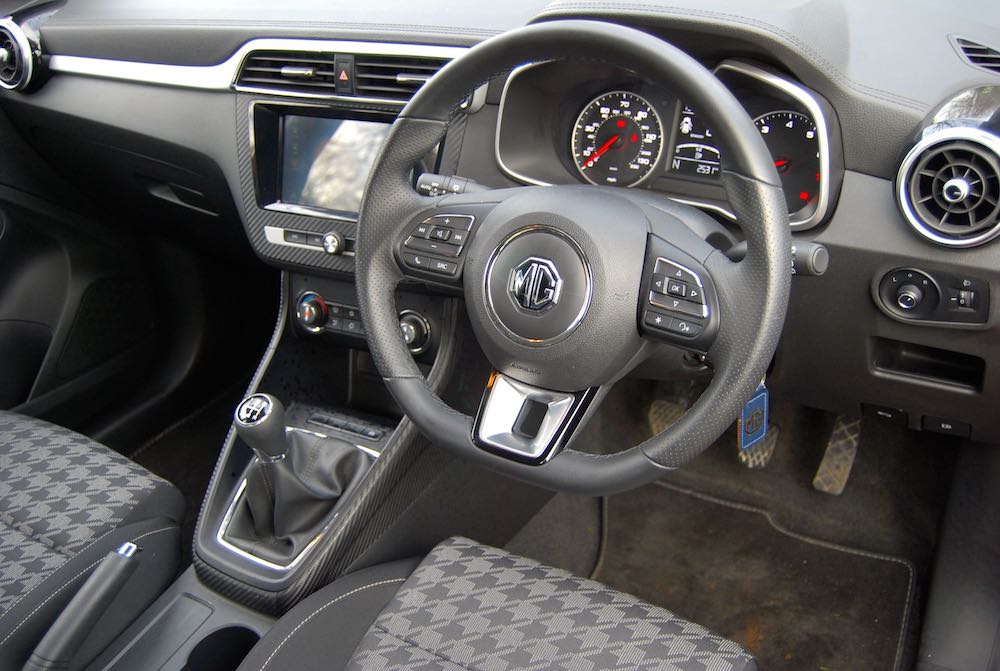 Call it luck or judgement, but there's no diesel ZS on offer, which is quite handy in today's petrol-driven market. There's a choice of two petrol engines; a 1.5l 4-cylinder which is available on all three trim levels and a 1.0l 3-cylinder which is limited to the two higher spec cars; Excite and Exclusive. One point that's definitely worth making is that the 1.5l is mated to a 5-speed manual 'box only, and the 1.0l comes with a 6-speed automatic. Them's your choices.
Limited engine choices
Now, despite being slightly more powerful (110bhp vs 105bhp), the 3-cylinder is hamstrung somewhat by, what by all accounts is a pretty slush-matic transmission. It's not only more sluggish (12.4s – 62mph vs 10.9s), but has more of a thirst for your unleaded, too, with a claimed 44.8mpg on the combined cycle vs 49.6 in the manual.
We say – unless you really need an automatic, stick to the manual and save yourself a couple of grand. It's by no means a slick, perfect gearbox but the manual just makes more sense.
Thankfully our test car is the Excite model with the 1.5l petrol engine and, inevitably, a manual gearbox. The engine isn't the smoothest, no, it's even a little lumpy from cold, and the 5-speed manual is vague at best. It is keen, though, and makes good progress if you push it, although a distinct lack of torque means the 'box gets well used. Just don't be tempted to break the 70mph speed limit on the motorway because it's this precise speed that the engine roar becomes particularly noticeable.
Typically fine handling
All but base-spec models have three-way adjustable power-steering; Normal, Urban and Dynamic. The MG's handling is definitely one of its strong suits and making the steering feel heavier just adds to the feel that this is an SUV that doesn't object to being thrown around. For some reason, the ZS's ride gets wallowy on the motorway and tends to bounce about, but overall it's pretty well set up.
Standard equipment on the ZS Exclusive, which MG claim to be the most popular spec includes Bluetooth, climate control, that rather good infotainment system, rear camera and rear parking sensors that give your actual distance to items i.e. 18" away. What isn't available, though, are safety features such as blind-spot monitoring, autonomous emergency braking and a whole host of modern aides. This has resulted in the ZS achieving just 3 Euro NCAP stars which isn't great.
7-year warranty
As a marker to MG's confidence in their build quality, the ZS does comes with a 7-year warranty; something that KIA have been shouting about for years. This will no-doubt appeal to many buyers.
Should I buy an MG ZS?
The MG ZS is cheap, undercutting its rivals by thousands of pounds. In many ways it's clear where these savings have been made but there's also some areas in which the ZS excels, handling and interior space and especially.
By Ben Harrington
MG ZS 1.5l Excite Specifications:
Engine –

 1.5l 4-cyl petrol,

Layout –

Front engine, FWD,

Transmission –

 5-speed manual,

Power –

 105bhp, 

Acceleration –

0-62mph – 10.9s,

Maximum Speed –

109mph, Maximum Torque – 109Nm,

Economy –

 49.6 mpg combined, Emissions –

129

g/km CO2,

Price –

£13,995 OTR

The MG ZS is available now. For full details go to; www.mg.co.uk