MG3 3Form Sport
MG have come a long way since their launch in 1924. Various mergers and takeovers have taken them all the way from their Morris Garages roots, to a marque that's presently owned by Chinese firm SAIC (Shanghai Automotive Industry Corporation), currently offering two models in the UK – the MG6 and what we have here, the MG3.
We could wax lyrical for hours about MG and its numerous ups and downs, but that's for another time. What's important is the here and now, and right now MG's most recent offering is this rather natty looking 3 model, here for review in Form Sport guise.
Being owned by a Chinese firm, you'd expect MGs to be primarily focussed on offering value for money, and you'd be right. Walk into any of the 40+ dealerships across the UK and you can pick up a five door 3 for the paltry sum of £8399. But, for the meagre sum of £9549, you could have something that looks as good as this MG3 3Form Sport model, and doesn't it look good, too?
Sharing many of its lines with Skoda's Fabia is no bad thing, but the basic shape is where the similarity ends. It may be more for form than function, but that forked front splitter and Venturi style rear splitter, along with the essential strings of LED running lights gives the 3 a real presence on the road. The 16" alloy wheels that come standard on the Sport model fill the arches neatly and make the gap between car and road appear diminutive to say the least.
A car of this nature just wouldn't be complete without a multitude of graphic-based options to ensure that it stands out from the crowd, and the MG3 3Form Sport is no different. Our test car was quite conservatively specced, but go onto the MG website – www.mg.co.uk, and one can opt for stripes, emoticons, or even a somewhat cheeky Union flag decal to add that touch of individuality.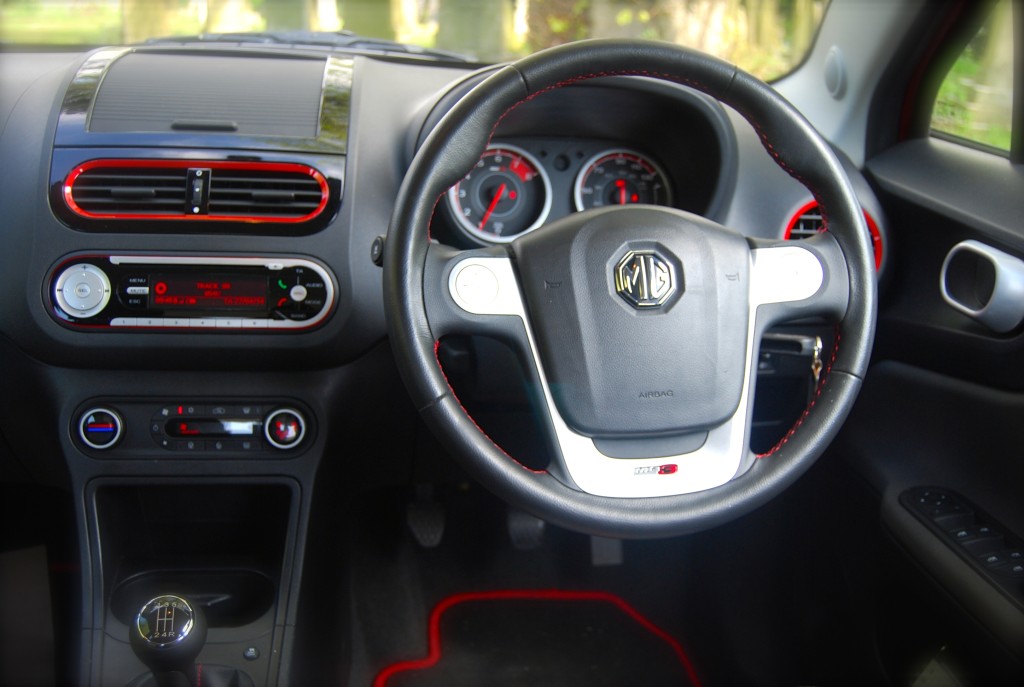 Inside the car is where the 3's budget price tag is most obviously demonstrated – the plastics come in vast swathes and are what you'd expect in this price range. That said though, build quality seems to belie its roots and everything from the way the door shuts with a resounding thud, to the solid feel of the cabin feels reassuringly well screwed together.
There are few aspects of the 3's cabin that aren't just 'ok for the money' – they're excellent. Call me easily impressed but MG's deliciously simple phone holding solution, coupled with a set of display needles that flick around to maximum when the key's turned in the ignition, can go a long way to convincing you that you've invested in your sub £10K car wisely. The steering wheel is another item that deserves special mention; contrary to some of the MG3's plastics, the materials used feel quality and its shape and size are near perfect. This surely isn't an accident; the wheel is obviously the most tactile part of any car's interior and is closest to the driver's eyes – make it stand out and you're subliminally telling the driver that this is a car that's had some love poured into it.
The room in the MG3's cabin is a lot more voluminous than you might imagine. There's genuinely plenty of leg and head space for five adults, and the boot isn't too pokey either (285 litres). This may be considered a small car by modern standards, but when I parked the 3 next to a Mk1 Golf, it was genuinely shocking to see how the MG dwarfed the VW.
The only real criticism I've got towards the MG3's interior is the minuscule gear change indicator. It's so small that I'd say it could actually be dangerous to use it whilst driving, taking the driver's attention away from the road for an inordinate amount of time. It's not an essential item on a car of this class, so I'd say either make it useable or ditch it, as the one provided is neither use, nor ornament.
So far, so good then. The MG3 is a pleasant place to be and this Sport spec looks far more expensive than it actually is, but what's it like to drive? There's one engine on offer across the range – a 1.5 litre, 4 cylinder affair, producing 104Bhp at 6000rpm. It's not the most responsive engine in the world and needs a fair bit of coaxing to reach the top of its power band, but when it does get there its keen enough to move the fairly lightweight 3 from point to point quickly enough to keep one entertained. Producing 136g/km CO2 and managing a claimed 48.7 mpg combined, it's obviously not the most cutting-edge engine in the world, but it's certainly acceptable at this price and I wouldn't let it put anyone off, unless sky-high mpg is your absolute priority.
All of this brings me onto what's undoubtedly the MG3's secret weapon – the way it handles. It's hard to state strongly enough just how satisfying the 3 is around corners, but a car that costs this little has no right to offer the thrills it does. The way it responds instantly to the slightest adjustment is sublime, the power steering being barely noticeable and not intruding at all into the purity of the driving sensation. I don't say this lightly, but the way the 3 handles is comparable to the awesome Fiesta ST – it really is that good. The 3 does come shod with Goodyear's much-lauded EfficientGrip tyres all round – they may not be the cheapest but if they're contributing at all towards the excellent levels of grip – it's worth it, especially in the wet when the car seems to lose nothing in terms of stickiness.
So, to conclude. If you're in the market for a sub £10K car, there's quite a lot of choice at the moment from a broad spectrum of manufacturers. If it were my money, I'd definitely be looking towards this characterful MG3. Some aspects like the engine might be in-keeping with its price-tag, but the quality, combined with a ride that's guaranteed to put a smile on your face are streets ahead of the competition.
By Ben Harrington
Specifications;

MG3 3Form Sport,

Engine –

1.5l DOHC VTI-Tech, Transmission – 5 speed manual, Layout – Front engine, FWD, Power – 106ps, Torque – 137Nm, Emissions – 136g/km CO2, Economy – 48.7mpg combined, Maximum Speed – 108mph, Acceleration – 10.4s 0-62mph, Price – £9,549 OTR, £10,165 as tested
For full details, go to www.mg.co.uk