Originally founded in 1937 by the NAZI party, Volkswagen or VW was a project conceived by Adolf Hitler. Literally translated as 'Peoples car', it was an attempt to make motoring accessible to the general public during the 1930's, an era when cars were considered luxury items for the wealthy. This affordable car was to be made available to members of the Third Reich through a savings scheme costing Five Marks a week – the first known example of car finance.
Having tasked Dr. Ferdinand Porsche with designing the project, his answer came in the shape of a small, rear wheel drive, rear engined car called the Type 1, still instantly recognisable today as VW's most famous model, popularly known as the Beetle. Although Hitler was presented with a Type 1 Cabriolet on his birthday in 1938, only a handful of cars had rolled off the production line at the Wolfsburg factory by the time war broke out in 1939. This meant switching production from the Type 1 to vehicles intended for military use such as the Kubelwagen and Schwimmwagen.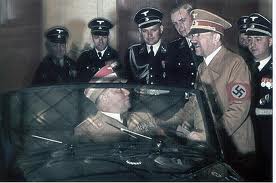 Somewhat ironically, VW wouldn't exist today if it weren't for the efforts of one man, a British army officer, Major Ivan Hirst. Hirst managed to resume production in the war torn factory, even persuading the British army to place an order for 20,000 Beetles.
Between 1948 when control of VW was handed back to Germany, and 1961, only two new models were added to the line up. These were the Type 2, commonly called the camper van, and the Karmann Ghia although mechanically neither deviated away from the original Type 1 layout. During this time VW became a global success, expanding into many countries not only in Europe but across the world, perhaps most significantly selling in large numbers in the Americas.    
Although new models were introduced, by 1974 VW were in big trouble, with other manufacturers offering cars that made VW's range appear antiquated. This brought about a complete revamp of the range in collaboration with Auto Union (Audi) whom VW had recently acquired becoming the Volkswagen Audi Group (VAG). The all new models were front engined, front wheel drive and water cooled, they were called the Passat, Golf, Polo and Scirocco, all of which are existing VW models today. Production of the Beetle and Type 2 did continue in Mexico, South Africa and Brazil with the Beetle only being discontinued in 2003 after Mexican authorities ruled that all taxis must have a minimum of four doors.
The VAG has since expanded to include Seat, Skoda, Bentley, Lamborghini, Bugatti and Scania trucks with their corporate aim to be the world's largest automobile company by 2018. Very recent history has involved a bizarre ownership struggle starting initially with Porsche owning the VAG and ultimately finishing with the VAG owning the Porsche brand.