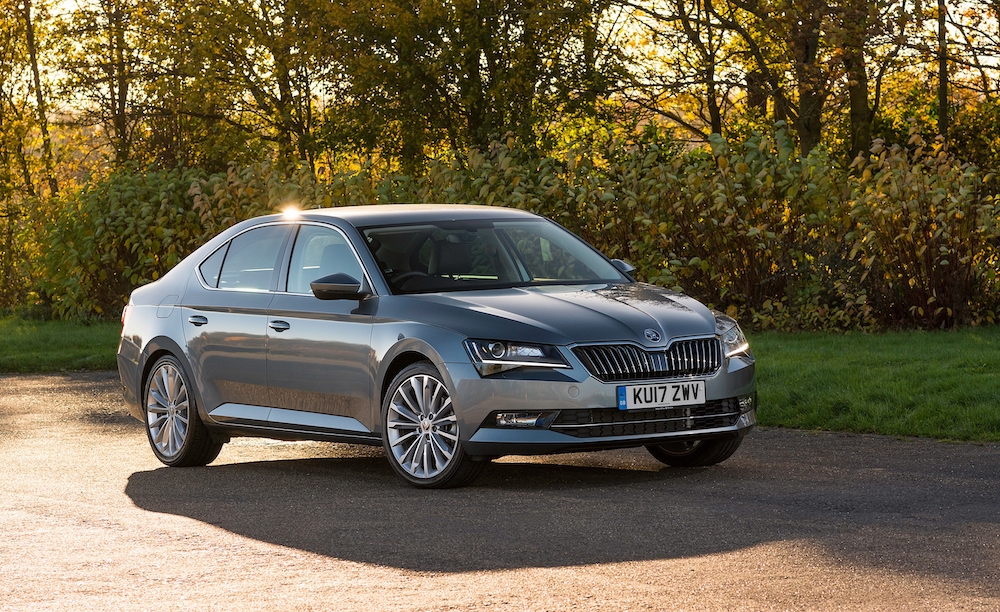 Before the Kodiaq came along with its understated approach to mahoosive SUV ownership, the Superb was the flagship of the Skoda range, hence the name. The Kodiaq may comfortably seat seven people, but the Superb is nearly 16cm longer, so that should give you some indication of what it's all about.
Skoda Superb
Flagship or not, this new Superb seems to have lost its way somewhat in the looks department. Where the last model was fairly easy to identify, this new one really is a 120% facsimile of its little sister, the Octavia. Skodas are never about being flashy or 'in your face', that's the role of Audi in the family, or even Seat, but the Superb's muted looks do seem to represent an exercise in restraint.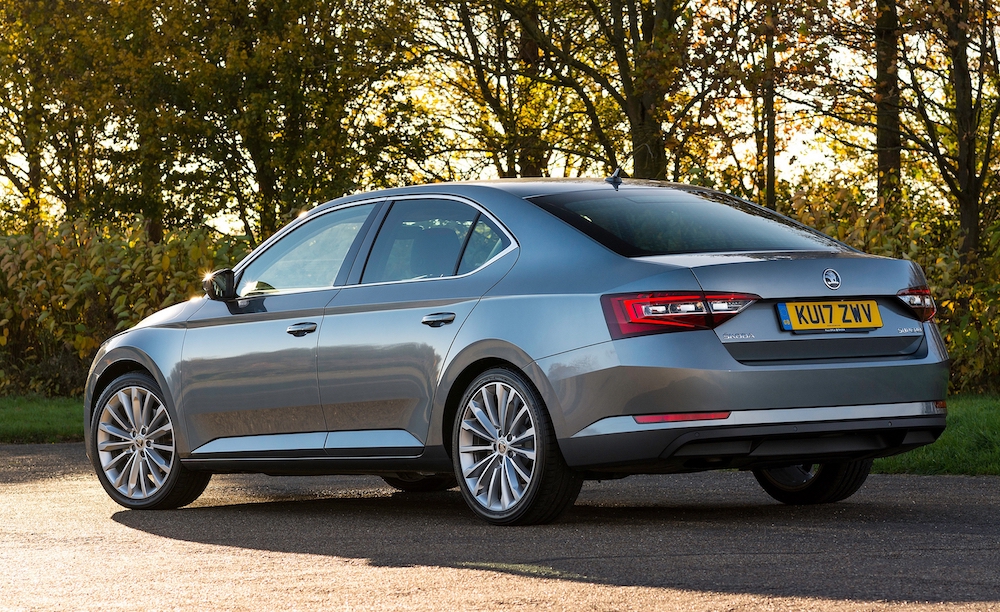 It's How You USE Size That Matters..
So, what is superb about the Superb? Well, firstly let's get back to those dimensions. 4861mm isn't all that long for a car; the BMW 5 Series & the Mercedes E-Class comfortably trump it, but it's the way that length is divided that's important here. Because the Superb's engine bay is reserved exclusively for relatively small, 4-cylinder engines, it doesn't have to be that roomy and therefore doesn't intrude into the car's interior space. Add to this a wheelbase of over 2.8m and the Superb is all of a sudden limousine-like inside – unsurprisingly, especially from the back seats.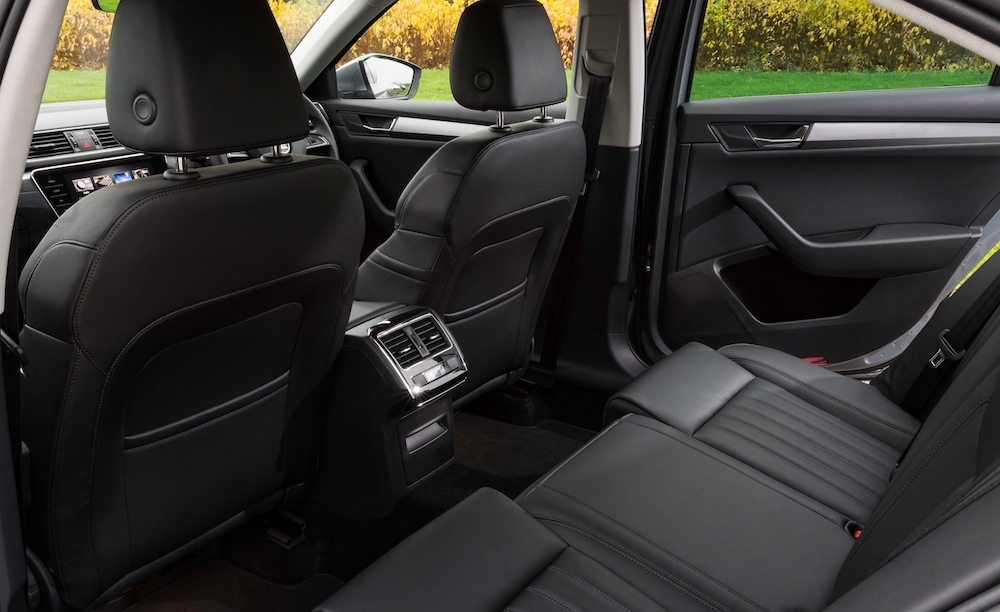 Generous amounts of space aside, the Superb's interior continues the exterior's subtle, understated approach to things. Even the dashboard is a relatively flat design, where the modern approach is increasingly driver-centric. Keeping the dashboard set back adds a real airiness to the cabin, as does vast glass-housing and pillars that, again, are more narrow than we've become accustomed to.
Planning On a Long Trip?
The front seats do away with rib-gripping side bolsters, once the reserve of performance cars but a feature that's somehow become the norm. Instead, you get some of the most comfortable pews you'll come across. They're supportive yet luxurious enough to give reassurance that a cross-country trip is realistically doable without needing to take your own chiropractor.
The ride quality clearly plays a part in how the Superb eats up the miles. No, it's not quite as wafty as, say, a big Jag, and the suspension does tend to judder over road imperfections, but it's certainly composed, probably more composed than anything else in its price-bracket.
Wait, No Saloon?!?
One aspect of the Superb that does stand out, contrarily isn't actually that noticeable at first glance. The Superb is not available in saloon guise, despite its silhouette suggesting so. No, the Superb is primarily a hatchback and also comes as an unashamed estate car. What else is strange is that the hatchback is longer than the estate; only 5mm longer, admittedly, but longer nonetheless.
Cavernous Boot
What this adds up to is a whopping, 625 litre boot in the hatchback and, thanks to its squarer shape, a 660 litre boot in the estate. That's with the rear seats in place, by the way; drop them down and you get 1760 litres and 1950 litres respectively. Just bear in mind that the BMW 5 Series Touring (estate) only gives you 570 & 1700 litres. The Mercedes-Benz E-Class Estate comes a bit closer with 640 & 1820 litres but, well, you get the picture.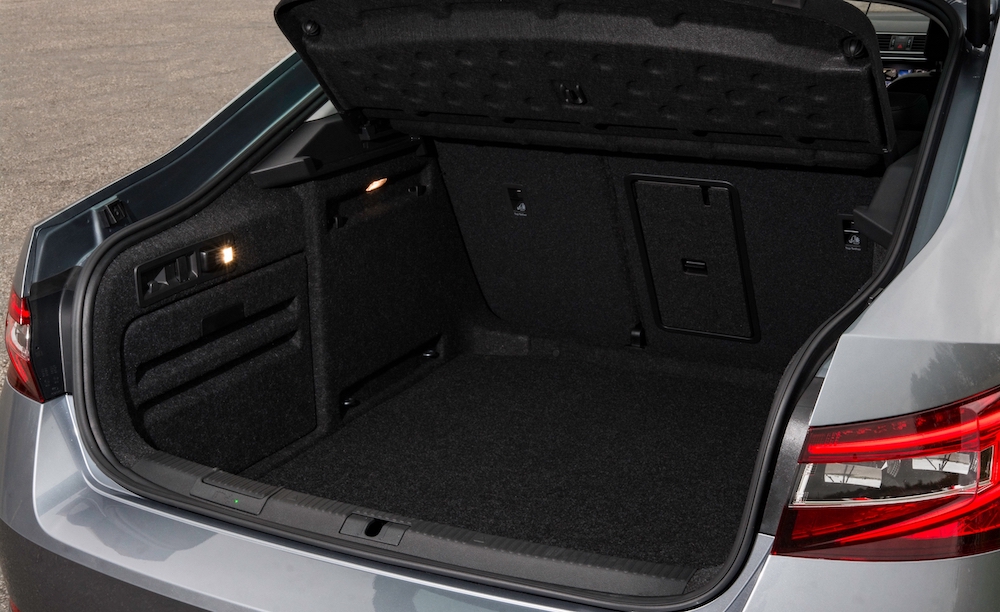 What's slightly odd about the Superb is that, despite being a hatchback, it doesn't come with a rear windscreen wiper as standard – like a Porsche 911. What's unlike a 911, though, is that it's a no-cost option and one that we'd recommend; it might ruin the lines a tad but that's better than not being able to see what's behind you.
On the other hand, being a Skoda, and a luxurious one at that, you do get little niceties like umbrellas in the front doors, a removable torch in the boot and even a good ol' fashioned ski hatch between the rear seats. Nice.
Put Off By Diesel? Never Fear!
The Superb comes with a choice of two petrols engines and two diesels. The 1.4l petrol has gone, being replaced with a the 1.5l, 149bhp unit we've got in our test car, and there's a 270bhp, 2.0l petrol, but that's only available with a 4×4 drivetrain. This more powerful petrol engine has actually lost 8bhp since the previous Superb – blame emissions regulations. Diesel comes in the shape of a 1.6l, 119bhp, or a 2.0l TDi with either 149bhp or 189bhp. Most engines are available with a choice of 6-speed manual or DSG 'box, although the 1.6l diesel & most powerful petrol are DSG only. If you go for the double-clutch unit, it carries a £1,500 premium over the manual and, guess what, we'd still recommend this impressive gearbox.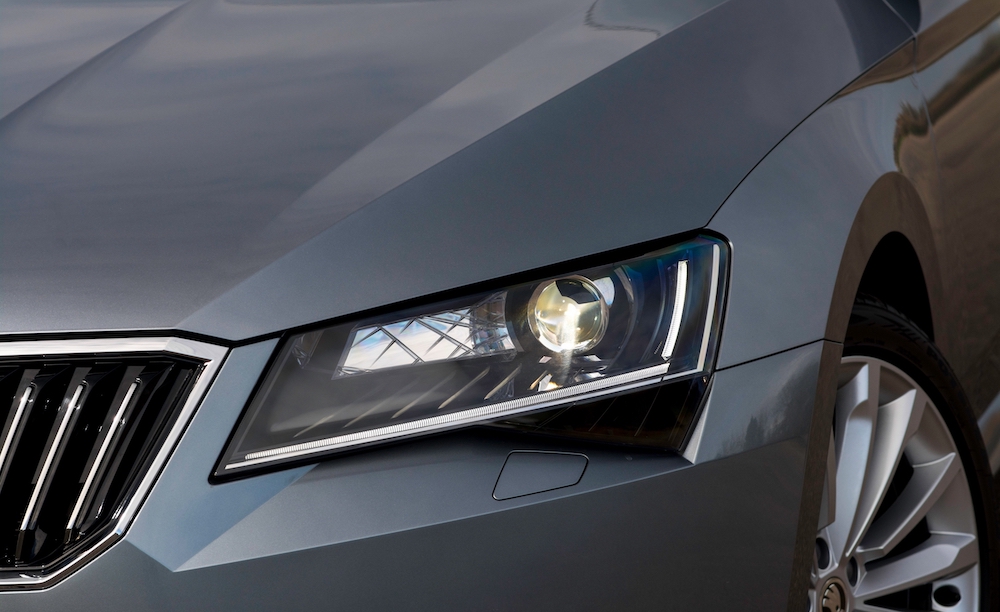 Our test car came with the 1.5l, 149bhp petrol engine and the DSG transmission. It's quiet, smooth enough and responsive. Yes, its claimed 52.3 mpg combined falls short of the 149bhp diesel's 64.2, plus it's only 0.3s quicker to 62mph, but in the real world where it can seamlessly switch to 2-cylinder mode, it's seriously frugal with fuel thanks to the new car being 30% lighter, and it really is whisper-quiet.
Should I Buy a Skoda Superb?
The Skoda Superb has long been the darling of motoring hacks and taxi drivers alike, and with good reason. It's well built, value for money and absolutely palatial inside. Yes, this new one has lost some of its visual presence, but since when did you buy a Skoda to get noticed?
By Ben Harrington
Skoda Superb SE L Executive Specifications
Engine – 1.5l 4-Cylinder petrol, Transmission – 7-speed DSG, Layout – Front engine, FWD, Power – 149bhp, Torque – 250Nm, Emissions – 123g/km CO2, Economy – 52.3mpg combined, Maximum Speed – 134mph, Acceleration – 8.9-s 0-62 mph, Price – £28,275 OTR, £30,100 as tested
The Skoda Superb is available now. For full details go to: www.skoda.co.uk