It's not really the done thing, stepping on a relative's toes, especially when they've been good enough to lend you an engine, and a gearbox. In this case, it's the fastest Octavia yet – the Octavia vRS 245 that's doing the borrowing, the oh-so-good VW Golf GTi (in Performance guise) that's doing the lending.
Octavia vRS 245
You can see why VW have fitted this engine, that's found its way into so many fast Golfs recently, into an Octavia. It actually fills a micro void that existed in the VAG; it's bigger than a Golf, yet it's also a hatchback, it's fast – really fast, and yet it fulfils the old Skoda mantra of offering very good value for money; you'll get a decent chunk of change from £30k.
So, a few figures: Sub £30K, 242bhp, 0-62mph in 6.6s, 155mph, 44.1mpg combined. Just to put this into context, the Golf GTi Performance that shares this engine and power output, yet is smaller will set you back over £1K more. Oh, and that's if you forego the 7-speed DSG 'box; opt for that and you'll be finding yourself well over £2K extra. This Octavia vRS 245 is all of a sudden looking very cheap. It doesn't take that much digging to see where some savings have been made; there's no keyless entry and – shock horror – you'll actually be putting a key into a barrel and turning it. I guess it comes down to how much you value such luxuries.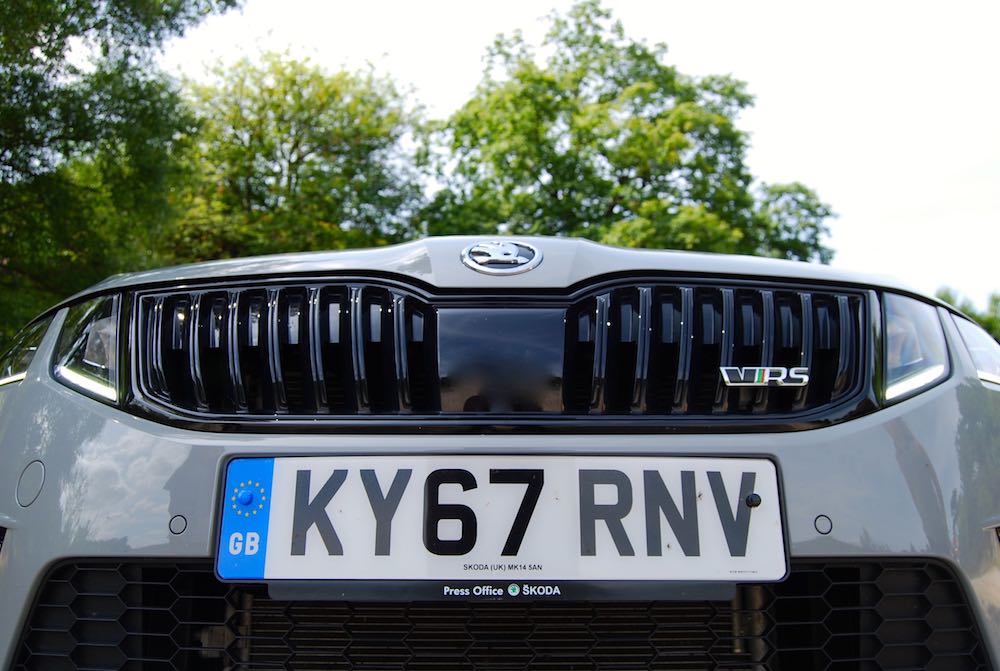 Excellent Engine
So, what's it like to drive? Well, you can't blame VAG for utilising this 2.0l engine in as many models as possible as it's a bit of a masterpiece. It can handle a massive range of power, it's an angel when you want it to be, a whole heap of fun when you don't.  This Octavia vRS 245 will bimble around town all day long – totally effortless driving, hit some quicker tarmac, though, and it'll head for the horizon like a scalded cat. Of course, it helps when the gearbox it's mated to is willing to help, and anyone with any doubts about self-changing boxes should experience ten minutes with this VW DSG; they'll soon see the light.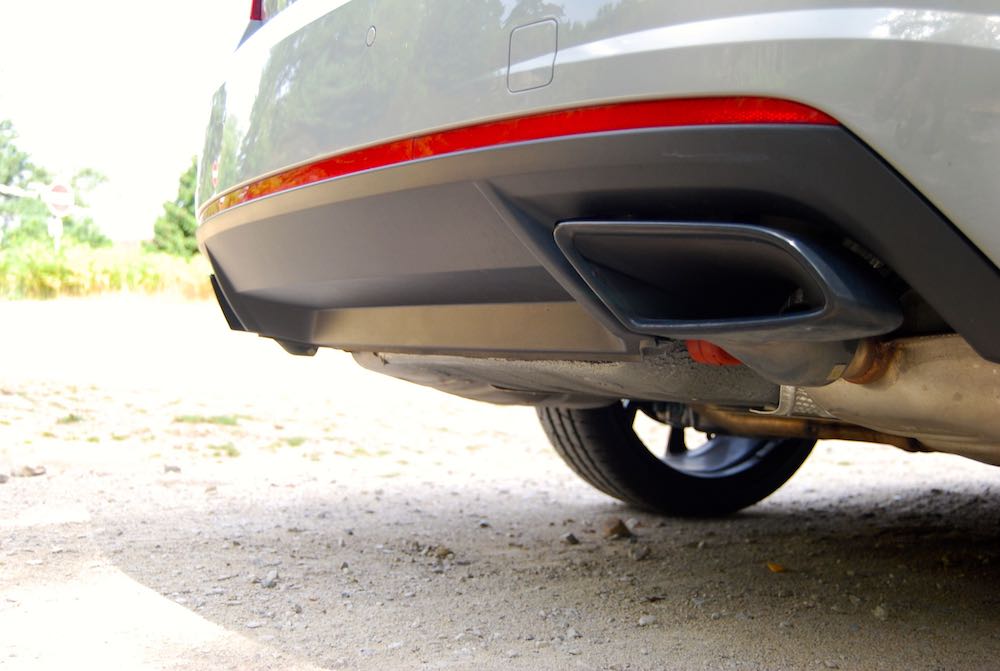 What Else Does the vRS 245 Offer?
So, oodles of useable power aside, what else does the Octavia vRS 245 offer? Well, unlike the lesser (diesel) vRS, this one is FWD only, so how does it go about channeling all of those horses through the front wheels? Well, it uses VW's very clever electronic differential, that's how, and the effect is memorable. You have to really throw the Octavia vRS 245 into a bend to feel the benefit, but that diff is constantly monitoring which wheel to power, and which to restrain, so it handles pretty much any dry corner you dare throw it at. Give it full throttle on the exit from a bend and it will give a bit of torque steer, but nothing that's going to end up in the nearest hedgerow. It is worth noting that our test car came with the £890 Dynamic Chassis Control option fitted, we'd have to carry out a back-to-back test to see if it's worth the money, but it's a tick-box that's definitely worth considering.
To rein in this extra power, there's also bigger brakes all round, and consequentially a set of very distinctive 19" gloss black alloy wheels to house them. This extra wheel size does eat into the car's comfort levels slightly, even in the most compliant of the preset modes. Of course, vRS mode is the one you'll be most interested in, sharpening everything up into full attack mode. You also get a bespoke exhaust system, reducing back pressure and increasing noise, if only when you're really going for it.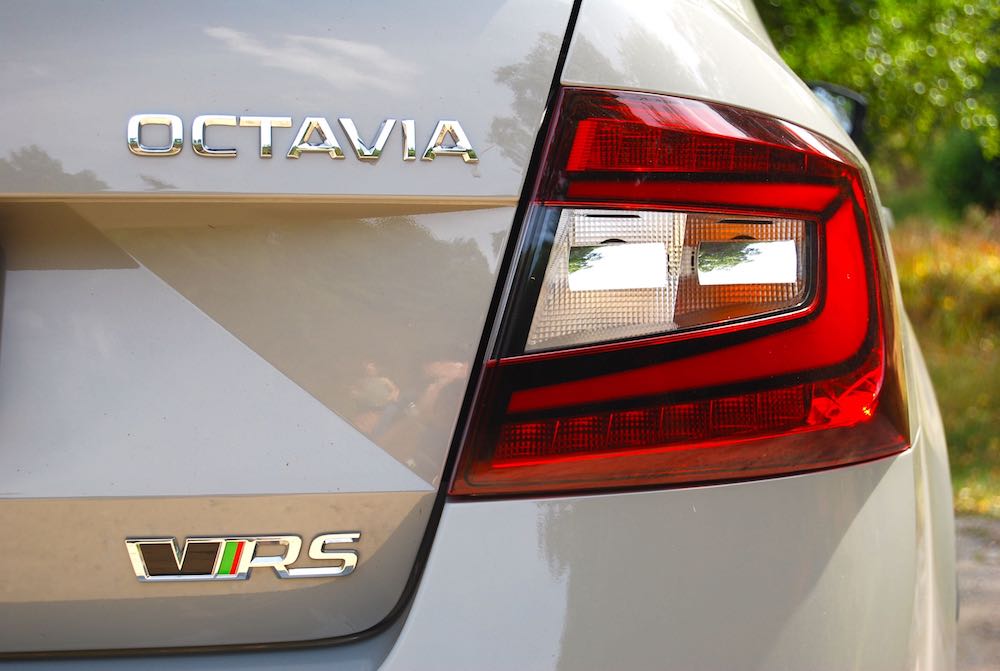 Still a Practical, Large Hatchback
Sporty bits aside, what you're also getting is one of the most spacious, practical hatchbacks on the market with loads of boot space (610l) and room in the back for passengers. The interior lighting can be 1 of 10 different colours, although Kermit's underpants green is the default and it just seems to suit the Octavia vRS 245. The infotainment is high-def and easy to use, and let's not forget that you get an umbrella under the passenger seat – this is a Skoda, at the end of the day!
Should I Buy an Octavia vRS 245?
If you've decided on an Octavia vRS, I guess you've just got to ask yourself how much you really want the extra 15bhp and a clever diff, because you can have the vRS 230, with a 6-speed DSG for £2,400 less. The power increase will only shave 0.1 seconds from the 0-62 time, but that e-diff, plus the larger wheels and brakes could be easily justified once you feel what a difference they actually make.
By Ben Harrington
Skoda Octavia vRS 245 DSG Specifications:
Engine –

 2.0l 4-cyl petrol,

Layout – 

Front engine, FWD, 

Transmission –

 7-speed automatic,

Power –

 242bhp, 

Acceleration – 

0-62mph – 6.6s,

Maximum Speed – 

155mph, Maximum Torque –

370

Nm,

Economy –

 44.1 mpg combined, 

Emissions – 

146

g/km CO2,

Price – 

£29,490 OTR, £33,640 as tested 

The Skoda Octavia vRS 245 is available now. For full details go to: www.skoda.co.uk