The term 'Estate Car' is much-maligned these days. We're all far more keen to be associated with SUVs & Crossovers to fit neatly into our 'Active Lifestyles', or how we want others to perceive our lives, anyway.
But what if you're really after a mid-size, Golf-ish family hatch, but you want a touch more room for your dogs or the kids' 'Active' buggies which just seem to get bigger and bigger? Well, the good news is that the good ol' estate car does still exist, albeit usually under a different moniker.
Leon ST
This, then, is the extended version of SEAT's Leon – a car that's impressive in hatchback form. SEAT have opted to go with the term Leon ST – a clever ploy as ST (Sports Tourer) are two letters that usually conjure images of models with a sporty bent, not just a bigger boot.
So, just how much more space do you get? The Leon ST has exactly the same wheelbase as the 5-door, but the rear overhang has been extended by 264mm. That's a lot, and what it adds up to is a carrying capacity of 587 litres with the rear seats up, 1470 litres with them down. The rear hatch isn't quite vertical which would make carrying fridges etc easier, but the boot floor is flat for easy loading and convenient handles mean you don't have to climb in the boot to put the rear seats down. You can even fold the front passenger seat flat for really long items.
The plus-side of a sloping rear end is that the Leon ST keeps the majority of the good looks of the hatch. There's roof rails as standard and that extra rear overhang doesn't look too ungainly
More glass means better visibility
In these times of ever increasing pillar widths, one of the possibly unseen advantages of the Leon ST over its hatchback equivalent is a lot of glass to see out of. Pulling out of awkward junctions and changing lanes on the motorway doesn't take so much guesswork as visibility is much improved.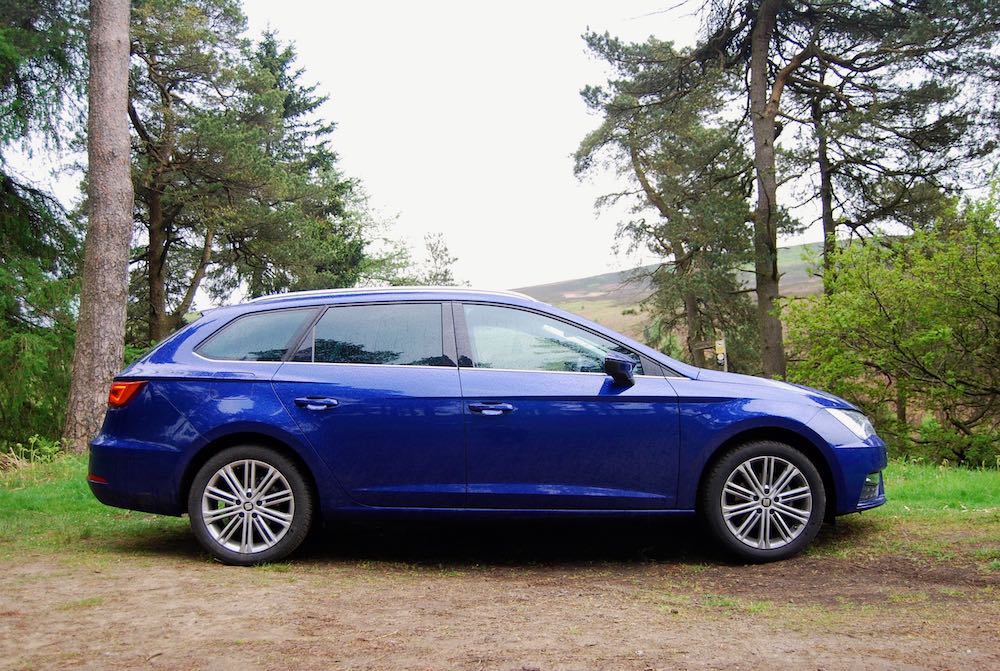 The Leon ST is available with the same range of petrol and diesel engines as the regular Leon hatch. There's a 1.6l & 2.0l diesel with 114 & 148bhp respectively (the 181bhp diesel ST was removed earlier this year) and no less than 5 petrol engines; 1.0, 1.2, 1,4, 1.8 & 2.0l. Also like the hatch, there's S, SE Dynamic, SE Technology, FR Technology, Xcellence Technology & Cupra 300 trim levels. If you go for the hot Cupra, you can even have it with 4WD, not currently an option on the hatch. Prices range from £18,970 and you can expect to pay a circa £1K premium over the hatchback equivalent.
Xcellence
Our test car is the Xcellence spec car, complete with 17" wheels, full LED headlights, Keyless entry and go and wireless phone charging. The leather seats that come standard on Xcellence models are some of the comfiest we've experienced in this class of car. Couple this with the multilink rear suspension that models with 148bhp & more come with and this Leon ST makes long motorway schleps far more bearable. Priced at £26,175, it's not the cheapest but it does come packed with kit.
Our test car's got exactly 148bhp – It's the 2.0l TDI which produces a very handy 320Nm torque. The all-important figures for this engine are 67.3mpg combined & just 112g/km CO2 – both of which are genuinely impressive. This engine is only available with a 6-speed manual gearbox so if you want SEAT's 7-speed DSG 'box, you'll have to look elsewhere.  It's also only an option on higher spec Leon STs. Occupants have been very well insulated from engine noise, it only gets a tad boomy at higher speeds, especially with an empty boot.
Should I buy a Leon ST?
SEAT have done a great job of adding carrying capacity whilst keeping the Leon ST what's probably the prettiest 'estate' in the VAG group. It's cheaper than the equivalent Golf, yet perceived quality in the cabin etc is right up there.
By Ben Harrington
SEAT Leon ST Specifications:
Engine –

 2.0l 4-cyl diesel,

Layout –

Front engine, FWD,

Transmission –

 6-speed manual,

Power –

 148bhp, 

Acceleration –

0-62mph – 8.6s,

Maximum Speed –

134mph, Maximum Torque –

3

20

Nm,

Economy –

 67.3 mpg combined, 

Emissions –

112

g/km CO2,

Price –

£26,175 OTR

The SEAT Leon ST is available now. For full details go to; www.seat.co.uk