Cupra 300
VW's 'youth' brand recently unveiled the rather spectacular looking Cupra R a the Frankfurt Motor Show, and it'll come with a by-no-means unsubstantial 306bhp engine. It's limited to 799 units worldwide though, and it won't be released for a few months. So in the meantime, this is the hottest Leon on the market – the Cupra 300 which packs a 296bhp punch.
Looks-wise, it's more subtle than many of the genre. Hot hatches seem to fall into one of two visual categories these days. On the one hand, you've got the likes of Honda's Civic Type R, Ford's Focus RS and Mercedes' A45 AMG; all of which aren't exactly hiding their lights under any bushels. On the other hand, there's the VW Golf R, Peugeot 308 GTi and the BMW M140i; this group are a lot less shouty.
The Leon Cupra 300 undoubtedly hangs with the latter of these two gangs, its 19" machined alloy wheels, rear spoiler and diffuser sprouting twin exhausts being the biggest pointers towards the car's intentions. You'll notice that the rear of the car simply sports the legend – Cupra, too, no mention of the Leon that spawned it: I'm not really sure why I like this approach, but I do.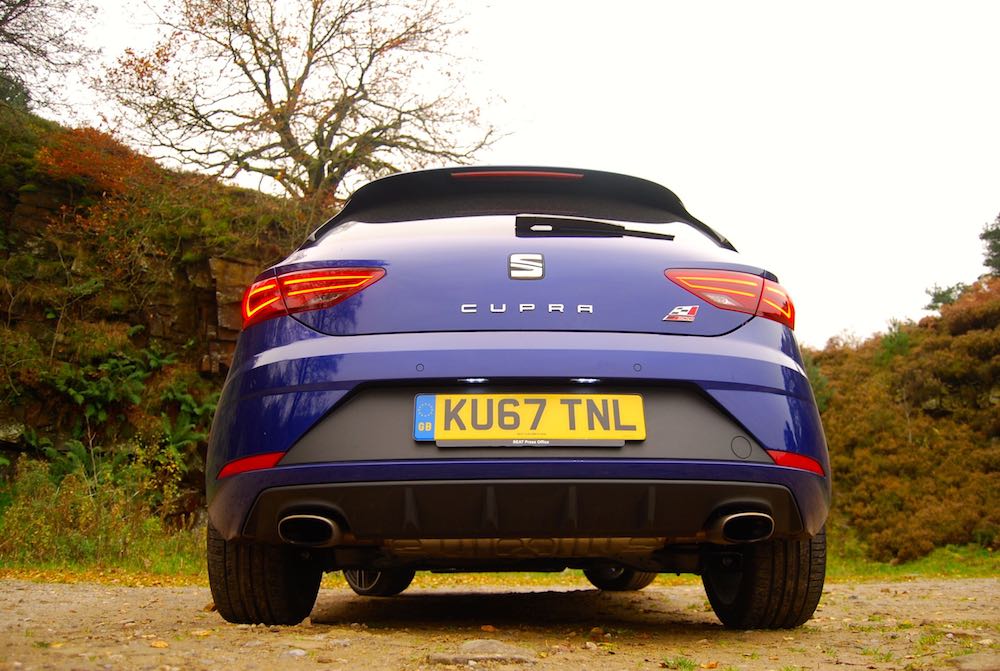 Can I have a 3-door?
This is one of the few hot hatches that's still available in 3-door guise (SC); always regarded as the purer, more desirable model in their 1980s heyday. The 5-door is obviously far more practical and there's even an estate version (ST) for timed tip-runs. Opt for the ST and you can even have it with 4WD, an option not available on hatchback versions.
Inside the Cupra 300 is all classy black plastics which are robust if not quite up to Golf standards. The interior space looks best at night time when multi-coloured LED slashes of light in the doors add a certain something that's classier than it sounds. The Cupra 300's brilliant DRL signature is also instantly recognisable as they burst into life.
296bhp through the front wheels
Front-wheel-drive only the hatchback may be, but gone are the days of anything over 250bhp becoming practically undriveable and those front wheels handle the 296bhp well. This is thanks to Seat's 'Progressive' variable ratio steering and a mechanical diff, as well as being 55mm lower than a standard Leon. There is torque steer right at the very top of its 380Nm maximum, but you'd have to really search to find it and the handling is sublime and predictable, even on damp surfaces.
Four settings; Individual, Comfort, Sport and the very tempting – Cupra alter the dampers, throttle, steering, exhaust and DSG 'box to suit your driving style. I'd be willing to bet that the majority of drivers will leave their Cupra 300 in Comfort for 90% of the time to preserve their spine and licence, with Cupra mode being stabbed at for maximum B-road effect. It's nothing to be ashamed of if this sounds like what you'd do – the Cupra 300 doesn't all of a sudden handle like a swollen cloud in Comfort, it's just not as engaging as full-fat Cupra mode.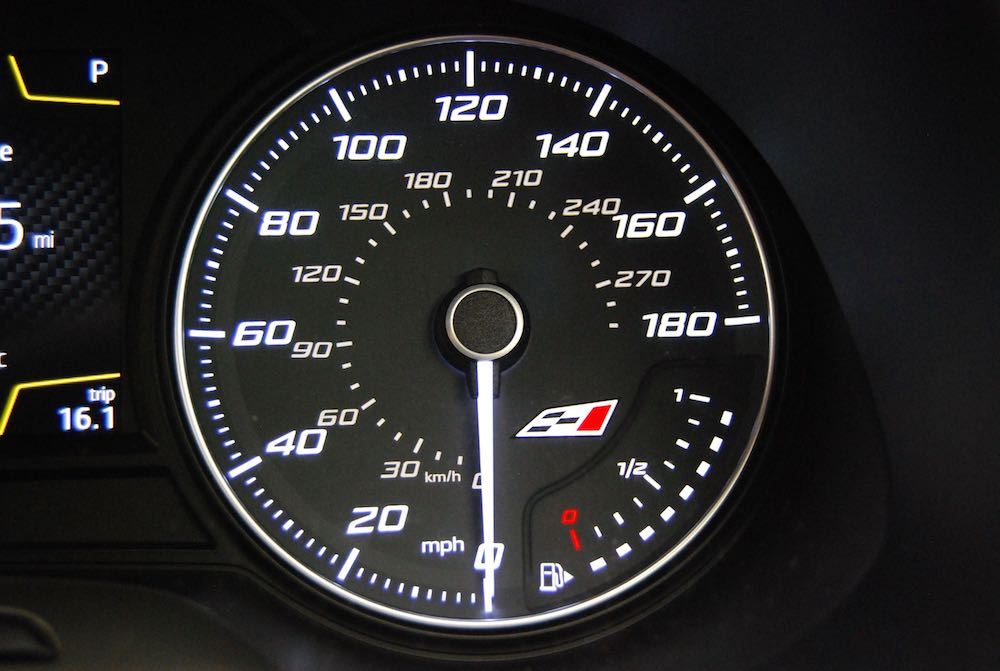 How fast is the Cupra 300?
The Cupra 300 will do 0-62mph in 5.9 seconds and is limited to 155mph. Figures like this keep it more than relevant with the competition, even if it doesn't win any Top Trumps categories. What always impresses is the 6-speed DSG 'box that's familiar in so many VW products. You can have your Cupra 300 with a 6-speed manual and it'll be £1,400 less expensive & minutely more economical: we say spend the extra.
VAG have used this 2.0l TSI engine to power many quick VWs, Audis, Skodas and, of course, Seats. What's so clever about it is how adaptable it is, with the ability to turn the power up or down to suit the nature of the car it's in. What you get in the Cupra 300, then, is one of the most powerful guises the engine comes in but, in this hatch at least, it's powering the front wheels only. Yes, the S3 and certain Golf Rs produce an extra 10bhp, but they're both 4x4s. By keeping the Cupra 300 FWD, Seat have carved themselves a little niche for it in the VAG range.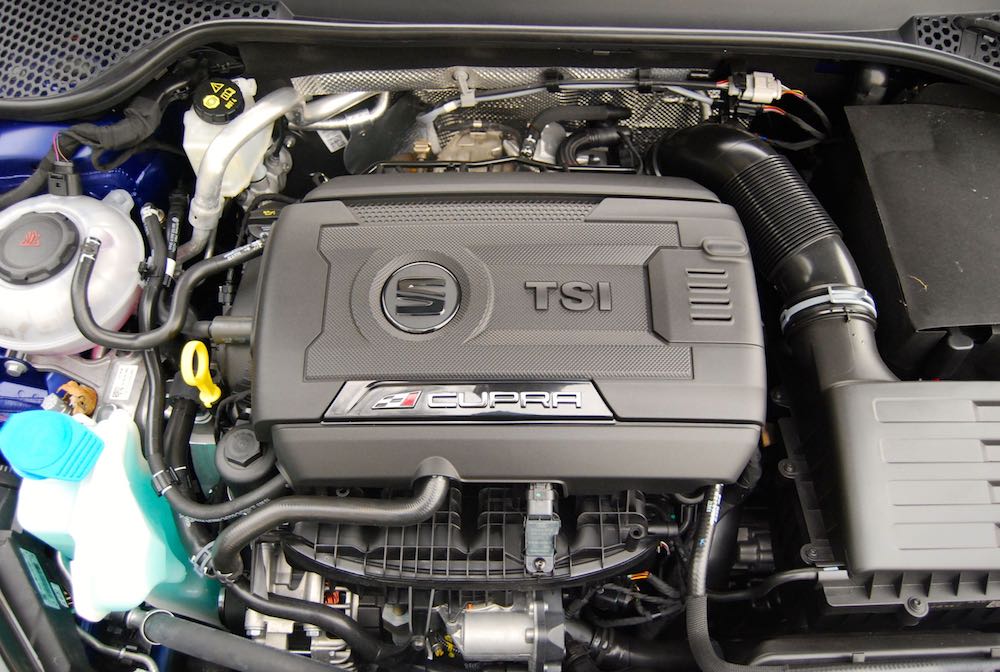 Should I buy a Cupra 300?
With 296bhp and front-wheel-drive, on paper at least the Cupra 300 is one of the most loopy hot-hatches on sale today, even if its looks are more subtle than most. In reality, it goes about its business very efficiently, its business being getting from point to point extremely quickly. Even without 4WD, it handles sublimely, it just requires a lighter touch when getting all of the power down to stop those front wheels spinning.
By Ben Harrington
Seat Leon Cupra 300 Specifications:
Engine – 2.0l turbocharged 4-cyl petrol, Layout – Front engine, FWD, Transmission – 6-speed DSG, Power – 296bhp, Acceleration – 0-62mph – 5.9s, Maximum Speed – 155mph limited, Maximum Torque – 380Nm, Economy – 41.5mpg combined, Emissions – 156g/km CO2, Price – £31,805 OTR, £34,635 as tested
The Seat Leon Cupra 300 is available now. For full details go to: www.seat.co.uk