308 GTi by

Peugeot Sport
Just as super-cars aren't actually that super anymore, giving rise to the hyper-car, it's a similar story in the world of hot hatches. A 0-60mph time of circa 9 seconds won't cut the mustard these days – that'd put you in more of a tepid hatch category; if you want to stand any chance of avoiding embarrassment in a red light duel, your weapon of choice needs to be capable of 0-60mph in 6 seconds or less: bring on the new breed.
The New

Breed
So, what do we have to choose from? Well at the top of the tree there's the Focus RS (0-60 4.6s), but that's pretty-much sold out. Then there's the Golf R (5.0s), the Civic Type R (5.6s), and now we've got the 308 GTi 270 by Peugeot Sport thrown into the mix.
There are lesser 308 GTis available – producing a measly 250hp, but what we're interested in is The Daddy: the 270. Admittedly, the 250 doesn't lose that much in terms of performance to the 270, but with 0-60mph taking 5.9s in the full-strength car, we'll leave the diet version to play with the likes of the Golf GTi and Focus ST.
Straight

Cut
And besides, you're only allowed the subtle half red, half black colour scheme if you go for the 270. (It's actually called Coupe Franche, by the way, which translates as Straight Cut – a reference to where the two colours meet).
Binary paintwork aside, the 308 GTi adds some purpose to the mix by way of being lowered by a not unsubstantial 11mm and the addition of a more aggressive front grille and rear splitter which is flanked seamlessly by two fairly meaty exhausts.
The 19" aluminium 'Carbone' wheels look great and lop a hefty 2.3kg per corner off the car's weight when equipped with alloy equivalents. What they also do is give a great view of the massive 380mm front brakes, complete with compulsory red calipers.
Enough about the show,

what about the go?
So, it looks loud enough to be a bona-fide Peugeot hot hatch, but what's it like to drive? Well, it's actually a bit of a pussy-cat. In the not too distant past, 270hp was way more than you'd get from your whale-tailed Porsche 911, and that was a bit of a handful. The 308 GTi will happily meander around town with its nice, light (possibly over-assisted) clutch and steering, and you'd never know what temptation was lurking under the bonnet.
That's until the pussy-cat bares its claws, though. Get the 308 GTi out of town, press the Sport button and the whole car comes alive. Throttle response belies the fact there's a turbo spinning manically at all, and that pygmy steering wheel which I've always insisted should be reserved for sportier 308s only, makes real sense as the car reacts so quickly to every input, no doubt helped by those lightweight wheels.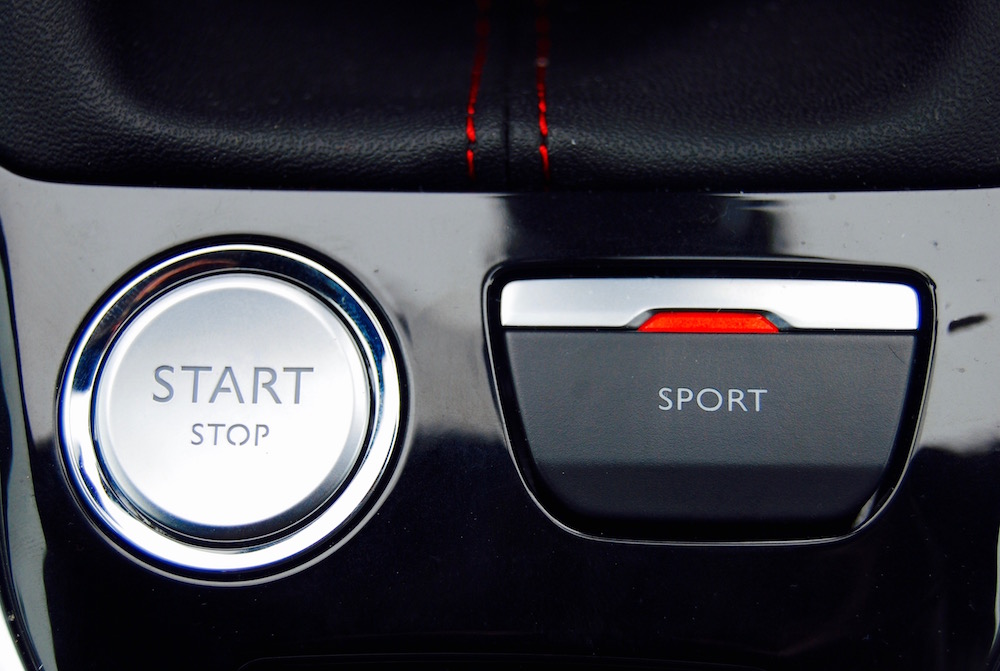 The Sport button apparently increases engine noise, too, but if it does the difference is barely discernible, and that's a shame. Open a window and there's one noise that will make you smile, though; the unmistakable whoosh of the turbo's wastegate – there really should be more whooshy wastegates in the world.
Peugeot have fitted stiffer springs and shocks to the front of the 308 GTi but, again, around town it's no bone-shaker – unlike its 208 GTi by Peugeot Sport little sister.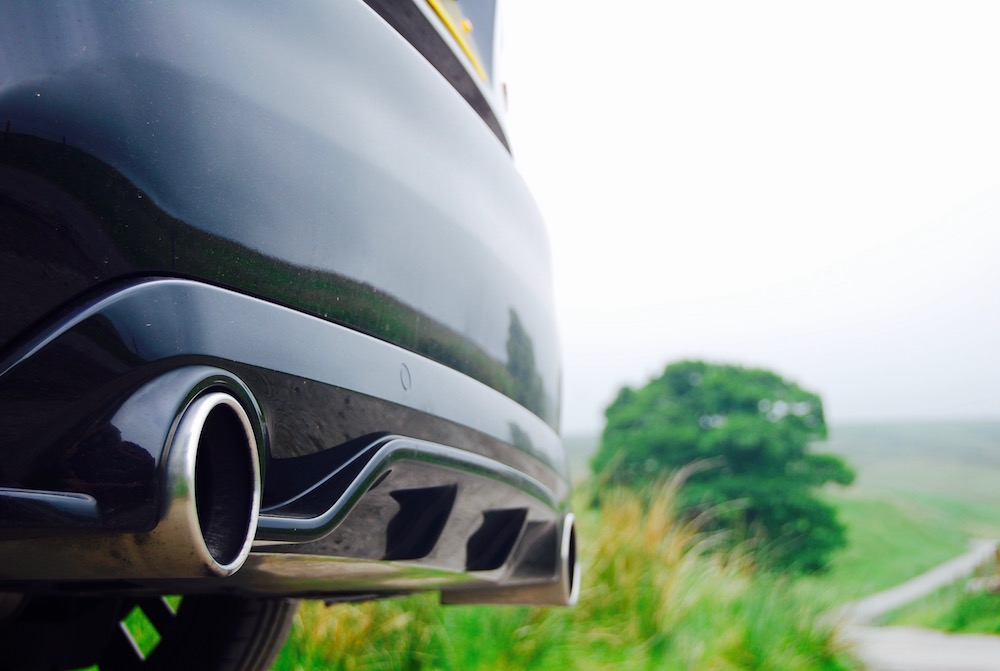 "when is this car going

to run out of grip……"
This lack of harshness mean it comes as something of a surprise, then when you throw the 308 GTi into a quick corner. The lack of feedback through the steering wheel does bring with it an unnerving 'when is this car going to run out of grip' kinda feeling, but, you know what, it just keeps on gripping, and gripping, and gripping, way beyond the point you'd reasonably expect it to let go.
This is undoubtedly down to the 308 GTi's very clever Torsen limited-slip differential which adds a mechanical assistance that stiffer suspension alone can't match.
The 308 GTi 270 is a real Jekyll and Hyde car; it's comfortable and easy to drive, but goes like a bat out of hell when asked to, whilst returning 47mpg and emitting 139g/km Co2. There probably shouldn't be a place in a hot hatch review for comfort or economy, but I say sod that; they are important when the car in question's for everyday use.
Is the 308 GTi 270 as exciting as a Focus RS? – no, but as we've already established, you can't have one of them anyway. Is it as manic as a Civic Type R? – no, but is that a bad thing? Is it as complete as a Golf R? – no, but it feels more alive and costs over £3K less. And that's what quick Peugeots are all about, and always have been – they just feel alive.
By Ben Harrington
Specifications; 308 GTi by Peugeot Sport THP 270, Engine – 1.6l turbocharged petrol, Transmission – 6 spd manual, Layout – Front engine, FWD, Power – 272HP, Torque – 330Nm, Emissions – 139g/km CO2, Economy – 47.1mpg combined, Maximum Speed – 155 mph, Acceleration – 6.0s 0-62mph, Price – £28,455 OTR, £29,955 as tested.
The 308 GTi 270 by Peugeot Sport is available now, for full details go to; www.peugeot.co.uk