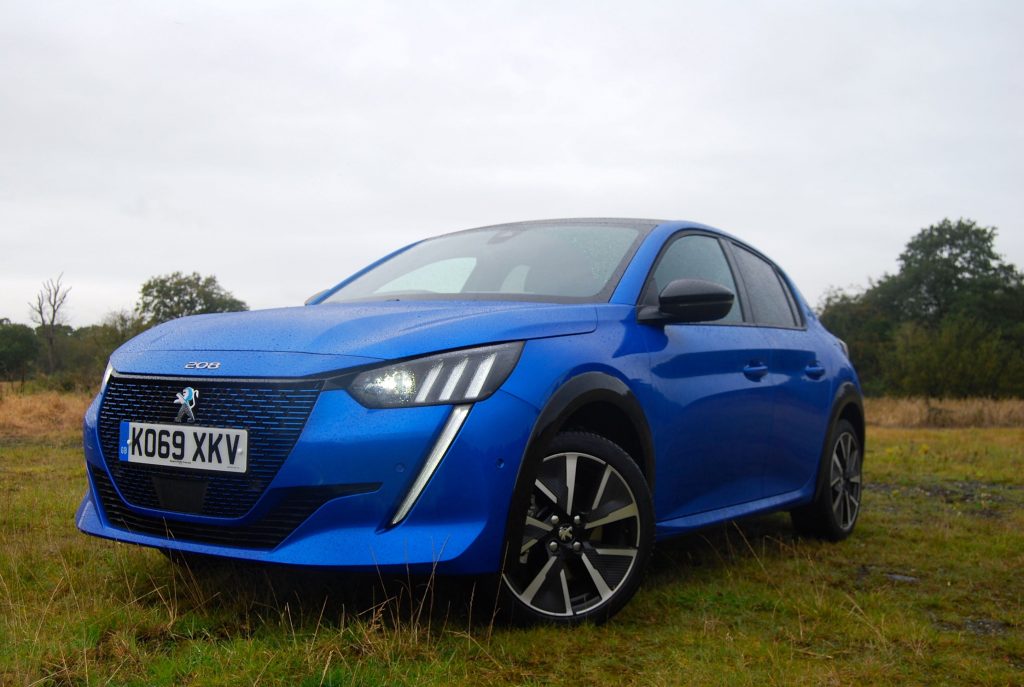 Peugeot e-208
Electric cars tend to come in two distinct flavours: ones that were designed with a big battery and the associated gubbins from the get-go, and those that have been adulterated to squeeze it all in. This is the Peugeot e-208 and it falls firmly into the first category, allowing for electric propulsion from the ground up.
At first, and possibly second glance though, you might not think this to be the case. That's because it's all-but identical to a fossil-fuel burning 208, and that's a good thing. People still look back to the iconic 205 as the zenith of Peugeot's small hatchback designs; I know, I'm one of those people. The 208 is undoubtedly as good as anything Peugeot has done since, probably because from the wheel-arches to the C-pillar to the rear light strip there's massive chunks of the Pininfarina styled 205.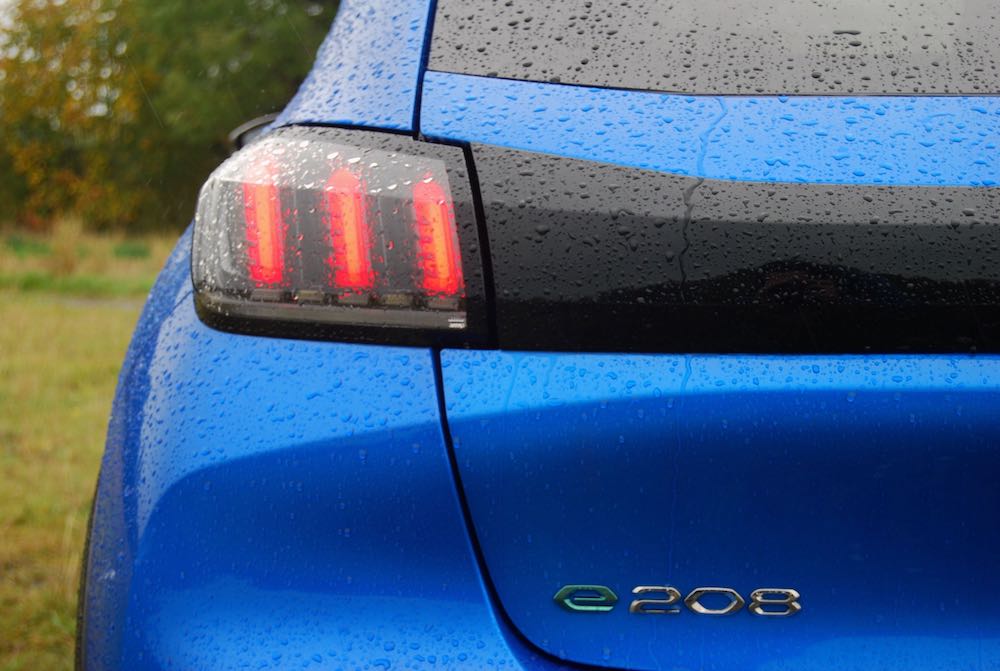 What's the difference?
The only things to separate the e-208 from a 'regular' 208 are some more aerodynamic alloy wheels, an 'e' on the C-pillar, a blanked off radiator grille that looks exactly the same as a normal grille and finally, the Peugeot Lion standard has some flashy blue bits on it, but only the eagle-eyed will spot them.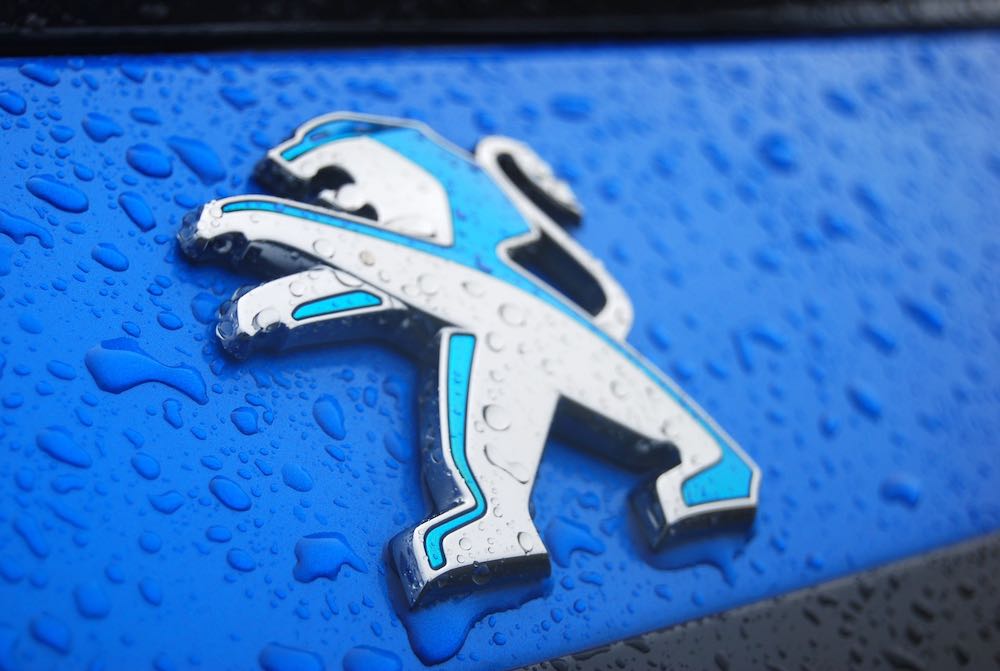 Are there disadvantages to making electric and internal combustion 208s look almost identical? – yes – it could cut through the air more efficiently, thereby adding precious range with a more aero-driven design. On the flip-side, are there advantages? – absolutely, this pretty, beautifully proportioned design goes across the range and you can save the planet without necessarily shouting it from the rooftops.
3D binnacle
Peugeot's cabin design and quality of materials used has progressed massively over the last decade. The e-208, like all 208s picks up where the last model left off and takes things to another level. The first thing you'll notice from the driver's seat is Peugeot's 3D binnacle. No, it's not as impressively large as Audi and Mercedes' huge screens but it actually is 3D so you get proper depth to what you're looking at – it's probably most effective in sat-nav mode.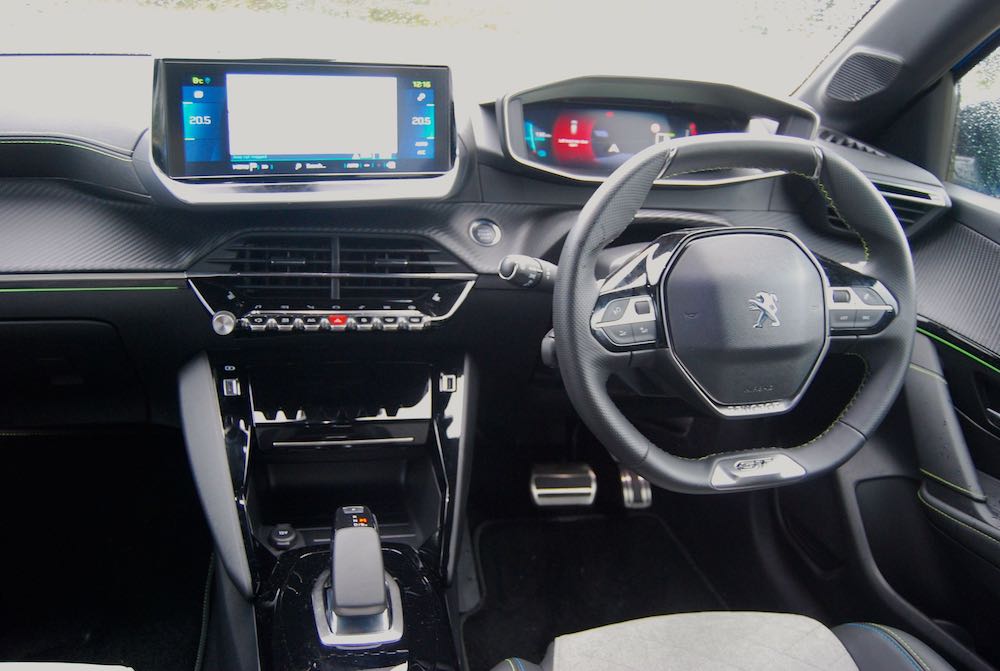 Toggle switches and that little steering wheel that I just can't grow to love have been carried over from other Peugeots. What's new is the overall feeling of sturdiness and attention to detail that takes the 208 right into the realms of what have traditionally been more premium brands.
No loss of boot space, but rear seats are tight
Because of the way the e-208's electrical components have been distributed around the car, rather than laid out flat under the floor, the e-208 loses no space in the boot or rear seats to accommodate them. So, you get the same 311 litre boot as the regular 208, although you will have to find somewhere to put your charging cable. Despite not losing any space in the back for batteries etc, it's by no means the most spacious in the sector back there and the actual door aperture is a horrible shape to negotiate.
How fast is the e-208?
The e-208 comes with a 50 kWh motor and it's obviously point-and-go automatic only. What this gives you is 136bhp & 260Nm torque, but only in Sport mode. Choose Normal or Eco and you lose power for the sake of all-important range. Choose Sport, however, and your e-208 will get you from 0-62mph in 8.1 seconds, and that's perfectly respectable, as long as you're sure you can get to a charge point because it'll soon stop being fun if you can't.
How far will the e-208 go?
Maximum range is a claimed 208 miles which is impressive. By not overdoing things with the loud pedal we achieved more like 180 miles from a full battery. The e-208 is capable of receiving 100kW charging which takes 0-80% charge time down massively, should you be lucky enough to find one. It rather annoyingly doesn't come with a standard 3-pin adapter but buy an e-208 now and Peugeot will fit you a subsidised home-charging point for £149 which makes overnight charging a wholly realistic proposition.
It's not exactly lightweight
It's no secret that electric cars are heavy, and the e-208's no different. It gains a hefty 408kg over the lightest petrol powered 208, weighing in at 1918kg, and it doesn't go unnoticed. The power steering is more than powerful enough to make negotiating bends a cinch, but there's a distinct absence of feedback and that extra mass is evident should you hit a bump as the e-208's suspension deals with nearly two tonnes.
One mode you do get to select on the 'gearbox' is to have more regeneration from the brakes. Shift the lever to 'B' and the e-208 does a fairly good impression of a one-pedal car as it puts power back into the battery when you lift off the accelerator. The brakes do have a regenerative effect whether you're in D or B, but why you wouldn't go for the higher level is something of a mystery.
Speaking of brakes, one aspect that could do with some fine tuning on the e-208 is when you do actually press their pedal. There seems to be little effect to around half of the pedal's travel and then everything comes on all at once in a slightly unrefined fashion.
Should I buy an e-208?
The 208 represents a major step forward for Peugeot, and this e-208 takes the biggest step of all. It's pretty, practical and fun to drive. Yes, at £26,025 including the government's grant, the cheapest version is roughly £5,000 or £80 per month more than an equivalent petrol 208, but you'd soon make that up in fuel and other electric-car incentives.
By Ben Harrington
Peugeot e-208 GT Specifications:
Battery – 50kWh electric, Transmission –  auto only, Layout – Front engine, FWD, Power – 136bhp, Torque – 260Nm, Emissions – N/A, Economy – N/A, Range – 208 miles, Maximum Speed – 93 mph, Acceleration – 8.1s 0-62mph, Price – £30,275 OTR with £3,000 government grant
The Peugeot e-208 is available now, priced from £26,025. For full details go to: www.peugeot.co.uk