When is an MPV not an MPV? – When it's an SUV, apparently. This is the new Peugeot 5008, and it seems to be the approach they've adopted. Anyone familiar with the previous generation 5008 will know exactly what I'm talking about. Anyone not – Google it and enlighten yourself. You can't blame Peugeot for radically adjusting the 5008's image; after all, the basic shape of a Jeep is far more attractive than that of a house-brick.
Does the 5008 look familiar?
Think you've seen the 5008 somewhere before? That's possibly because it bears a striking resemblance to its sister car, the 3008, and that's not a bad thing. Put them side-by-side and the 5008 is more than a 130% facsimile of the 3008, but the similarity is undeniable.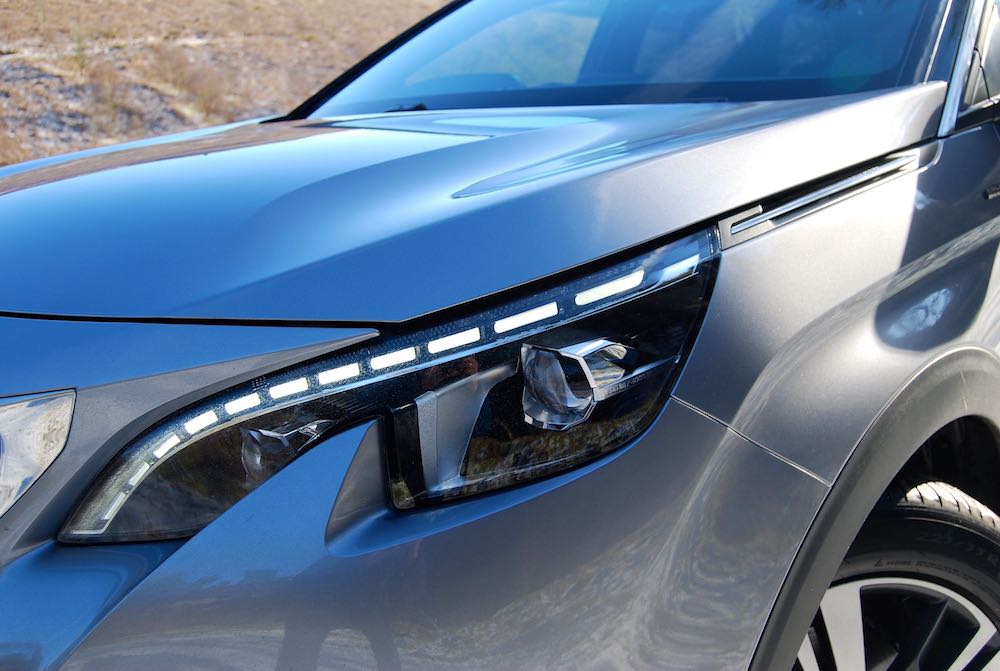 The 5008's 'face' is pure Peugeot i.e. that smiley, concave-looking grille and headlights with their own shark-fin features. As with the 3008, the top of the 5008's headlights sport a string of LED running lights, the shape of which continues towards the door mirrors, leaving a gap between bonnet and wing. Glass is kept to a minimum so there's a fair amount of metal making up the sides of the 5008, visually broken up by some well placed creases above the wheel arches.
It's a sleek SUV rather than a monstrous one, in a similar mould to VW's Touareg. Peugeot have even made what's quite a flat rear end appear more rakish by not allowing the polished roof line to actually follow the shape of the boot. Instead it cuts diagonally through the wide D-pillar, meeting the 'three claw' rear lights that Peugeot are so fond of using these days. They do look neat.
Excellent interior
So, it's pretty sorted on the outside but, to be honest, it's what's going on inside the 5008 that impresses most. The driver-centric cabin is lifted straight from the 3008 but, again, this is no bad thing. The design is striking enough, yes, with its toggle switches and angular brushed metal liberally splashed around, but the upsurge in quality of materials over previous Peugeots is most noticeable. It all just looks, and feels for that matter, like Peugeot have had enough of flimsy plastics and replaced them with something more robust and cleverly placed swathes of cloth. What's also welcome is how much room there is inside, not just for passengers. There's plenty of knee and elbow room for the driver, and the large transmission tunnel means you'll never feel cramped.
There's some great little touches like the copper effect dials on the digital display; a minute but very cool nod to Peugeot's Onyx concept. The only switchgear that still doesn't make the grade is the indicator and wiper stalks, and the cruise control, erm, controller that seems to be inconveniently bolted onto so many cars' steering columns. These are still crap. I'm still not sure about this tiny steering wheel approach, either; it looks even more out of place in such a large car. It does make getting in and out of the 5008  easier, though.
Every 5008 has 7 seats
I think it's a fair assumption that anyone interested in the 5008 will have a few people to lug around in its 7-seats. If this is you, prepare to be impressed, particularly with seat rows 2 and 3. The second row of seats are all fully individually adjustable which means they can slide forward on their rails to get access to the third row, too. Every seat is designed to be 'operated' with one hand, so you can hold something else in you free hand. Like shopping. Or a baby.
This is the GT Line 5008 which sits firmly in the middle of a 5-spec lineup with Active and Allure below, and GT Line Premium and GT above. All 5008s come with Peugeot's i-Cockpit and safety pack, DAB with Mirror Screen infotainment (Apple CarPlay etc), automatic lights and wipers & rear parking sensors.
Being a GT Line, this 5008 also comes with part leather interior, sportier bumpers, wireless phone charging, full LED headlights, and my personal favourite; puddle lamps featuring Peugeot lions. I don't usually pay any attention to optional extras, but if you appreciate music, you should definitely consider the £590 Focal Hi Fi system. I've heard car audio that costs far more than this yet can't touch it for clarity.
Diesel or petrol?
There's a 1.2l, 129bhp or 1.6l, 163bhp petrol engine to choose from & 3 diesels – 1.5l, 129bhp, a 1.6l which comes with either 99bhp or 119bhp, or a 2.0l with either 148bhp or 177bhp in GT spec only. This is the 148bhp 2.0l engine and with its 9.6s 0-62mph time, it's quite good fun, especially with the extra boost of power Sport mode provides. It returns 61.4mpg combined, too, so it's not overly thirsty. The only drawback for me would be the lack of automatic 'box with this engine; I feel a car this size is better suited to it. I'd therefore be tempted to either go for the 1.6l diesel, albeit losing some performance, or even drop down to an Allure spec which would make the excellent 1.2l petrol with auto 'box an option.
Should I buy a Peugeot 5008?
The 5008 is clever, especially on the inside which is where it really counts when 7-seats are involved. No, it's not exactly pretty but it's certainly striking and it feels more premium than 99% of Peugeots that have gone before it. There's no 4WD available but every 5008 can be optioned with Peugeot's Advanced Grip system for less-than-perfect surfaces. If that's SUV-ish enough for you, the 5008's definitely worth a look.
By Ben Harrington
Peugeot 5008 GT Line BlueHDi 150 Specifications:
Engine –

 2.0l 4-cyl diesel,

Layout –

Front engine, FWD,

Transmission –

 6-speed manual,

Power –

 148bhp, 

Acceleration –

0-62mph – 9.6s,

Maximum Speed –

129mph, Maximum Torque –

3

70

Nm,

Economy –

 61.4 mpg combined, Emissions –

118

g/km CO2,

Price –

£31,245 OTR, £35,670 as tested

The New Peugeot 5008 is available now. For full details go to; www.peugeot.co.uk