Over the course of a car's nameplate, some evolve subtly (see Porsche 911), some disappear to later be reincarnated, whilst others go through something of a change in direction.
This is the new Peugeot 3008 and despite only being the second generation, it's quite different to the original. Where the Mk1 was a sort-of mid-sized MPV, this Mk2 has morphed into a mid-sized SUV, and quite a pretty one at that.
Bit Evoque-ey?
With its high waistline, defined wheel-arches and floating roof, there's more than a hint of Range Rover Evoque about the new 3008, especially the strip of chrome between bonnet and front wing. Stepping back from the whole SUV-thing, though, stick an image of a Peugeot 308 in a photocopier, set it to 130% and you're not far off, either.
i-Cockpit interior
Inside the 3008 is quite different, though, and a real feature area of the car. There's lines of shiny, angular plastic heading off in all directions, ergonomically designed around the driver. The 'piano key' toggle switches are Mini-esque, if not quite as robust, and the high points of the dash and doors are cloth covered, rather than the usual bare plastic. Peugeot deserve credit for stepping away from the norm here, although I could still do without that minute steering wheel.
All of this dashboard design is part of Peugeot's 'i-Cockpit' mantra which places the driver firmly as the focal point. An 8.0" touchscreen in the centre of the dash is used to control climate settings, as well as the all important communication with your smartphone via Apple CarPlay or similar Android setup.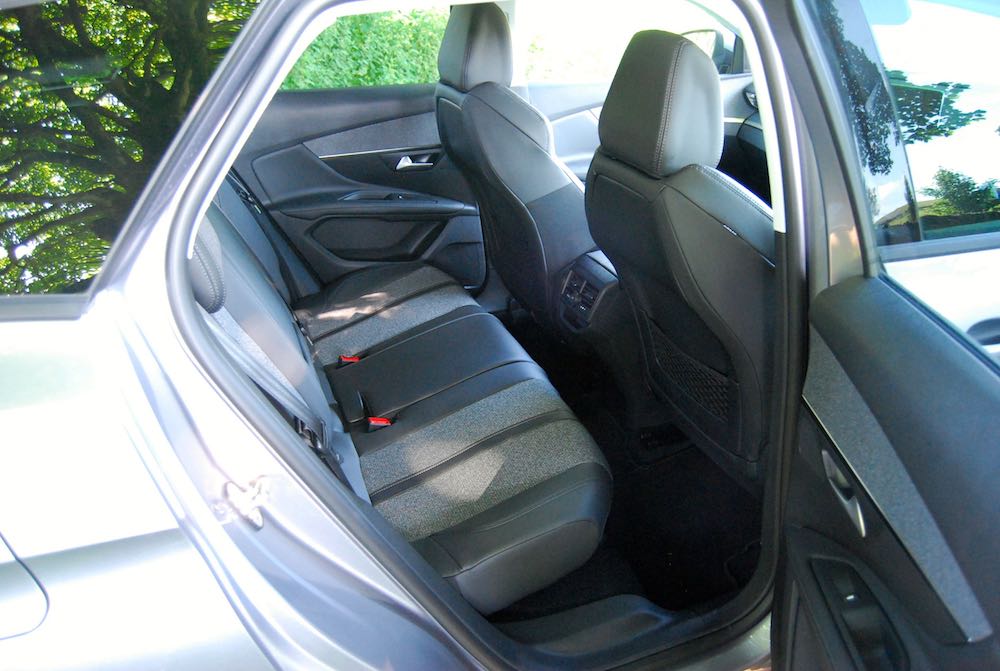 The instrument binnacle is now fully interactive and adjustable, too. In much the same way as Audi's virtual dashboard system, the dials and display on the 3008 can be rotated through 'Dials', ' Driving' or  'Navigation' modes, dependent on the situation (essentials such as your speed are permanently on view).
In higher spec GT Line and GT versions there's an i-Cockpit Amplify system with 'Boost' and 'Relax' settings, linked to lighting, piped-in engine volume and even the car's in-built air freshener system!
Clever boot and seating features
The 3008's boot will swallow a pretty impressive 591 litres with the rear seats up and and equally voluminous 1670 litres with them folded flat. It's not just the size of the boot that'll come in handy, though, it's the regular shape with minimal intrusions such as wheel arches. With 60/40 split rear seats and a clever boot floor that can be raised and lowered, it's all very user-friendly. There's even a way of flattening all seats except the driver's with the pull of one lever – very handy for longer items.
Engine and transmission choices
There's a choice of two petrol engines; a 1.2l 3-cylinder producing 131hp or a 1.6l with a 165hp output. There's also two diesel engines available; a 1.6l with either 99hp or 120hp & a 2.0l HDi which provides 150hp in GT Line spec or 181hp in the range-topping GT spec. A choice of 5 or 6-speed manual & 6-speed automatic transmission is available, dependent on engine choice.
Our test car is the 1.2l 'Allure' spec model, mated to a 6-speed manual transmission. This 129hp 3-cylinder petrol engine suits the car perfectly and it feels a lot quicker than its 10.8s 0-62mph time would suggest. Official economy is 55.4mpg combined with 117g/km Co2 emissions, not as conscientious as the less powerful diesels but that raspy 3-pot adds a certain level of cheeky French charm.
No 4WD option
Despite looking like an SUV and even having the option of coming with hill descent and an 'Advanced Grip' rotary dial with snow, mud and sand modes, the 3008 is not available with 4WD. If serious off-roading is your thing, this isn't the car for you, but, really, was it ever going to be?
What the 3008 does do is handle excellently on-road. It not only looks like an enlarged hatchback, it grips and handles like one, too, and Peugeot have something of a reputation for sorting FWD cars' handling. There's less roll than I've ever experienced in a tall car and the front wheels always let you know where their grip limit is, way before you exceed it.
Should I buy a Peugeot 3008?
Prices for the 3008 start at £22,495 for an 'Active' spec car (or £288.99 per month, as Peugeot are very keen to point out). Even this entry level car comes with many safety features such as auto emergency braking, distance alert, lane departure warning, Isofix and seatbelt reminder, which meant an all-important 5-star Euro NCAP rating being awarded.
By starting again from scratch, Peugeot have taken a good yet dowdy family car and made it not only practical, but fun and desirable, too.
By Ben Harrington
Peugeot 3008 1.2 Allure Specifications
Engine – 1.2l 3-cylinder turbo-charged petrol, Layout – Front engine, FWD, Transmission – 6-speed manual, Power – 129bhp, Acceleration – 0-62mph – 10.8s, Maximum Speed – 117mph, Maximum Torque – 230Nm, Economy – 55.4mpg combined, Emissions – 117g/km CO2, Price – £24,079 OTR
The Peugeot 3008 is available now. For full details go to: www.peugeot.co.uk