Peugeot RCZ R
When we drove the RCZ last year, it 'only' had 200bhp on tap, and there was always that sneaking feeling that this curvy coupe had more to offer. Bring on the RCZ R; there used to be a general rule of thumb that front wheel drive cars could handle anything up to 250 bhp before the inherent torque-steer made them downright dangerous. This has 270 bhp. Oh.
More on that power-hike later, though, lets look at what the RCZ R consists of. Hugely necessary facelift aside, this RCZ shape has graced our streets since 2010, and what a shape. The minimal glass housing and its symmetrical position as close to the nose as the tail makes for such a pleasing silhouette, and an RCZ wouldn't be an RCZ without that undulating rear window. Visually, the 'R' element hasn't ruined that graceful shape with huge, lairy arches or spoilers; it's 10mm closer to the ground than the standard model and there is a bit of a wing on the boot, but it's just subtle enough to look like it was always meant to be there.
What is the 'R' bit, then?
Other visual clues regarding the R's intent are a pair of shiny twin exhausts, wider front and rear tracks culminating in R-only 19" wheels on each end, and some of the most colossal, grooved front brake discs this side of a WRC car. If stopping power of that calibre is needed, you kind-of get the feeling that this isn't some half-baked effort – Peugeot mean business.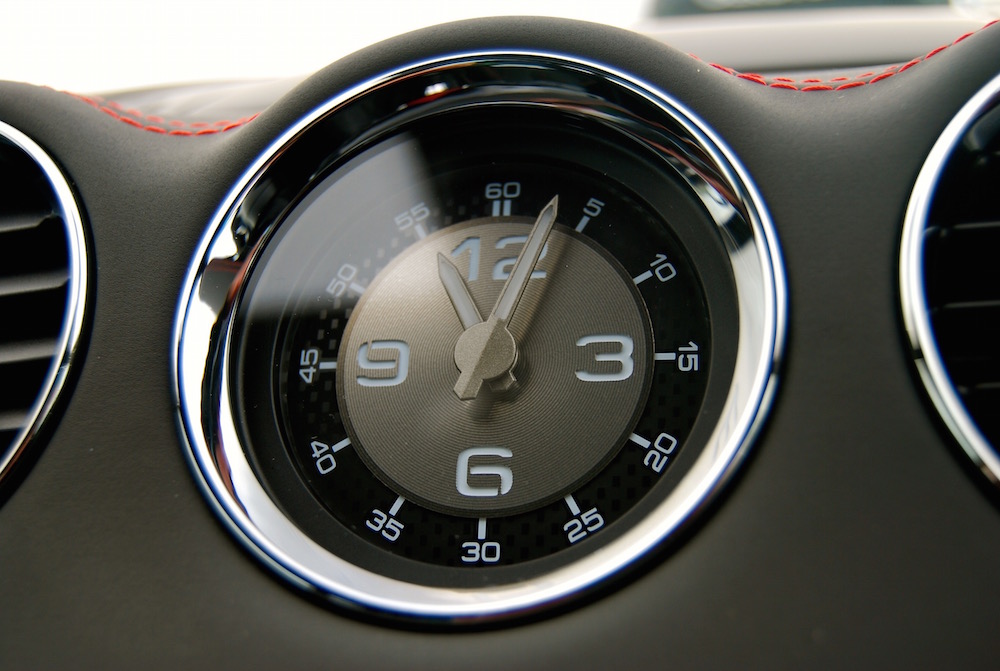 Inside the RCZ R, it's much the same story. You get the chunky red stitching and a quality timepiece on the dash, just like the standard RCZ,  you unfortunately also still get the not-quite-special-enough steering wheel and a clutch pedal that's so high it requires some serious getting used to. The R touches include a metal plaque on the hand-brake surround and some lightweight, slimline convex sports seats that are actually far more comfortable than their appearance would suggest.
Race-car style starter buttons find themselves in so many cars these days that they've kind of become the norm for anything with a hint of performance about them. It's a bit of a let down, then, when a car with all the promise of the RCZ R comes with a key and an ignition barrel to turn it in. I know it's only a small insignificance, but when you're up against some pretty stiff competition, sometimes the small things matter.
Rolling thunder
Turn this key, though, and everything's right in the world again. Yes, the rumble of engine is force-fed into the cabin via some clever acoustics, but you won't care about that, all you'll care about is that your coupe is making a noise that no 1.6l four-pot has any right to yield. This thing makes no apologies for being thunderous and shouty.
Now, back to the subject of just how 270bhp feels through a set of front wheels. To get that sort of power out of a 1.6, you'd be forgiven for expecting some large dollops of unfriendly lag whilst the bin-lid sized turbo got itself whirring, but it just doesn't come. Engine technology has moved on and turbo propulsion is so much the norm that with a satisfying woosh, the RCZ R responds quickly to what you ask of it. Possibly a little too quickly; plant that right foot over-enthusiastically and you'll soon discover that the clever engineers at Peugeot may have all-but eradicated the dreaded turbo-lag, but torque-steer is still alive and well, and if you don't hang onto the wheel, bushes and walls will soon become very familiar bed-friends.
What's called for is a more subtle, feathering approach to acceleration – feeding power in, in easy-to-digest, bite-size chunks, that's how you get the most out of the RCZ R.
Massive stopping power
Those wider tracks, coupled with some tuned suspension mean the RCZ R's handling is as pinpoint accurate as ever and it really does change direction with the minimum of fuss. The ride could definitely be described as firm, but there's no painful sounding crashing and banging over bumps, and even longer journeys aren't overly taxing. It does get a little skittish over a bumpy country road if you get some speed up, though, and that exhaust note could possibly do with a mute button for motorway driving. The good news is that if you do over-cook things in the go department, those colossal brakes the RCZ R comes with are more than up to the task in the stop department, reigning things in with minimal fade. That's reassuring when you're in something that'll hit 60mph in 5.9s and go on to a limited 155mph, making this the most potent Pug ever.
Should I buy an RCZ R?
So, what price all this beauty and performance? Well, it's £32K, and a little bit. Let's not ignore the elephant in the room here – I know what you're thinking – 'I could afford a decent Audi TT for that', and yes – you could, and it would perform nearly as well as the RCZ R (6.0s – 62mph vs 5.9s), whilst being even more ozone-friendly (137g/km CO2 vs 145g/km), but would it look or sound as good, or turn as many heads – I think not.
By Ben Harrington
Specifications:

 Peugeot RCZ R THP 270,

Transmission –

6 spd manual,

Layout –

Front engine, FWD,

Power –

270bhp,

Torque –

330Nm,

Emissions –

145g/km CO2,

Economy –

44.8 mpg combined,

Maximum Speed –

155mph limited,

Acceleration –

5.9s 0-62mph,

Price –

£32,250 OTR, £33,430 as tested.
For full details, go to; http://www.peugeot.co.uk/showroom/rcz/r/
For all your Peugeot needs in the North West, go to; http://www.jjcookson.co.uk