The Peugeot RCZ GT – Can it out-coupe the TT?
Coupe. Once a term reserved exclusively for the type of car that set pulses racing, conjuring up images of sleek, swoopy lines and dramatic performance to do them justice. It may be fair to say that the coupe ideal has been somewhat diluted in recent times though, with manufacturers applying the moniker to anything with two doors and a roof. Two doors isn't even a prerequisite though, with certain German manufacturers doing their best to cash in on the desirable, non-staid – coupe image by giving some large saloon cars 'fastback' lines and thereby transforming their silhouette from '3 dull boxes' to 'sculpted by artists'.
What we have here though is the real deal and it comes in the shape of Peugeot's RCZ GT, complete with new, non silly mouth. This is one of those cars that somehow makes the arduous journey from motor show concept to finished article, pretty much unscathed, and – oh my, pretty it certainly is.
Lets get one thing clear though. Since its inception, the RCZ has drawn direct comparison with the ubiquitous TT, with certain corners even accusing Peugeot of a lack of imagination as their car simply apes the Audi. Even during my week with the car, many folk would glance over and dismissively state 'oh yeah, it's that Peugeot that looks like a TT'. I'm not saying there's anything wrong with the TT and there are certainly worse cars to be accused of looking like, but if one actually compares the two, the similarities magically disappear before ones eyes. If anything, the RCZ's squat stance and potent looking rear arches are more reminiscent of the achingly pretty Volkswagen Karmann Ghia. But personally, I think it's only fair to let the RCZ  stand up on its own two feet, without any help from Bavaria, thank you very much!
The Peugeot RCZ is one of those cars that impressively achieves the difficult balance between grabbing ones attention with a plethora of pleasing features, without falling into the 'so busy, my eyes don't know what to look at first' trap. The basic shape is pleasing by its very nature, with an apparent symmetry achieved between front and rear, and a living space that seems to fit into the ideal shape with minimal fuss or disruption, as though the designers refused to compromise their beautiful creation with something as inconvenient as room for seats. Or people.
It's impossible to discuss the RCZ without being drawn to that 'double bubble' glass roof. Peugeot should be commended for their perseverance in seeing this pleasing yet – surely, vexatious feature all the way through to production. Mounds in roofs were originally provided on racing cars to enable any inhabitants to fit their helmets in and this purpose is still valid in the RCZ – not necessarily for helmets maybe, but the extra headroom the bubbles provide in the typical 2+2 rear seats is very welcome. Aside from this, it's 'wrap around' nature aids the introduction of natural light and also eliminates around 80% of the C-post blind-spot which all too often takes away from the coupe experience when negotiating a tricky T-junction.
So, a big tick in the looks box, but what about the other, all important aspect of the coupe brand – the way it drives?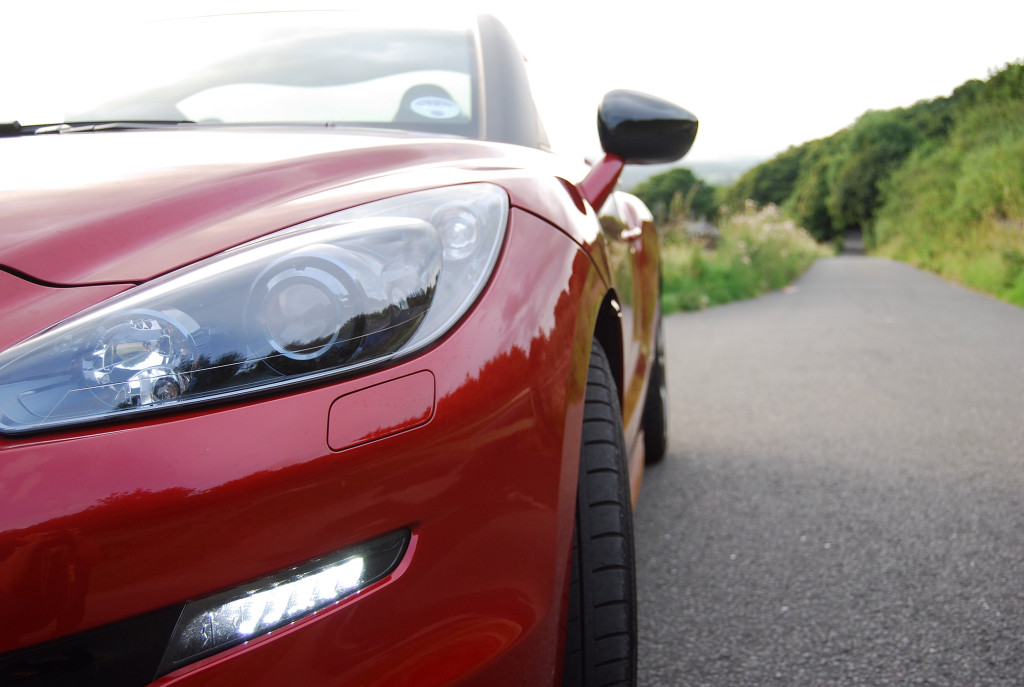 This particular flavour of RCZ – the GT THP 200, shares many of its oily bits with its stable-mate – the 208 GTi. The engine, gearbox and much of the running gear are the same and yet, the whole experience is somehow……better. That's not to say faster though – the RCZ loses nearly a second to the 208 whilst dashing to your 62mph destination, but the journey is preferable in every way. The slinky, low nature of the Peugeot RCZ must go someway towards enhancing the experience, as it's hard to imagine anything less than a comprehensive RCZ victory in that particular race.
It's whilst negotiating the twisty stuff that the similarities with the 208 really dissipate though. The set-up of the RCZ somehow swaps the driven wheels from front to rear – or that's how it feels, anyway. There's very little in the way of understeer, possibly due to the wise decision to restrict the role of the driven wheels to harnessing 200bhp, whilst also tackling their directional duties – any more than this and things usually come unstuck.
One of my particular bugbears with, not only the 208 GTi, but many modern performance cars is the lack of aural experience. I appreciate that the shackles of todays legislations are restrictive to say the least, but there are ways round them (see Fiesta ST). The RCZ GT is pleasantly satisfying in this department though. Push the needle past 4000rpm and there's an initial thrum, followed by a resonating roar that enters the cabin and seemingly bounces off every internal surface with acoustic aplomb. It's obviously no screaming F1 car from the outside but hey, I guess you can't have everything.
Peugeot have been desperately trying to abandon their dull, lifeless image for a few years now and this RCZ GT, especially with its new face makes huge steps in this direction. That's not to say its perfect – some nice interior touches (clock, leather dash etc), that you wouldn't necessarily expect in a Pug are let down by some very low-grade cabin plastics, not to mention the generic, non-special steering wheel, and that's a shame. It's certainly not the end of the world though and shouldn't put any potential buyer off, although the price tag of the higher specced models such as this RCZ GT (£26,635 OTR) could possibly justify greater attention to detail.
Peugeot have recently confirmed the future production of a 267bhp 'R' model, so if outright power's your thing, that may be worth holding onto your money for. Less is very often more though, and if it's understated beauty, useable power and poise that delight – this GT model is possibly more for you.
By Ben Harrington
Specifications; Peugeot RCZ GT THP 200, Transmission – 6 spd manual, Layout – 

Front engine, FWD

, Power – 200bhp, Torque – 275Nm, Emissions – 155g/km CO2, 

Economy – 

42.2 mpg combined,

Maximum Speed – 

146mph,

Acceleration – 

7.6s 0-62mph, Price – £26,635 OTR, £29,970 as tested.
Related articles