Ford have enjoyed so much success with the Fiesta for so long now, regularly seeing it top the sales charts in the UK and elsewhere. It's been such a big seller, in fact, that it'd be easy to assume that they could just churn out any old car, stick a Fiesta badge on it and watch it fly out the showrooms, regardless of how good, or otherwise, it actually was.
Will the Fiesta ever be knocked off its perch?
That would be laxness of the highest level, though. Many manufacturers have rested on their laurels and then wondered why the competition has overtaken them. With people queuing up to take their slice of this ultra-lucrative pie and making a really good stab at it, Ford couldn't afford to take their eye off the ball.
So, unsurprisingly, the new Fiesta is bigger than the car it replaces, despite being based on the same platform. It's 71mm longer, 12mm wider and an extra 4mm in the wheelbase. That's actually quite a lot in a car this size and it all goes towards giving more room to occupants.
Does it look any different?
Looks-wise, you can still tell it's a Fiesta, but it's quite different to the last one. The last ten years has seen new Fiestas change very little, with subtle movements of grilles etc that could actually be tricky to spot. Trapezoid grille and sweeping headlights aside, this Fiesta sees some substantial design changes. The headlights have been updated with halo-style running lights but it's the rear which has seen the most dramatic update. It's more upright than before and the once vertical light clusters are now horizontal.
Big changes inside
The Fiesta will always be very much B-segment, but this one just looks more grown up than before. This is most evident on the inside which is unrecognisable next to the previous car. Gone is the 1990s mobile-phone-alike, multi-buttoned approach that Ford used for so many year, in its place is a far more modern look. As with so many dashboards these days, it's based around a central infotainment screen on all but base-spec Style models, and actual physical buttons are kept to a minimum. What Ford have stuck with is the light blue hue that the dash is bathed in, and that's a good thing as it still looks fresh and modern.
What many people will appreciate is the extra room inside the new Fiesta. Not only is it larger in every dimension, but the more steeply raked rear end gives both more useable boot space and extra head room for rear seat passengers. The grade of plastics has been kept the same, i.e very much middle of the road but there's some really useful new additions in the storage department and you now get two all-important USB ports.
For £85 you can now opt for those very clever door protectors from the Focus that pop out and disappear when the door's opened or closed – every car should have these! What ever car should also have is a graphic next to the speedometer that counts how many seat belts are fastened. It's so simple but as long as that figure matches the number of people in the car, you know all's good. As with the exterior, it's all just a bit more grown up inside the new Fiesta.
Which spec Fiesta?…….
Keeping this more mature theme going, there's now even a Vignale spec Fiesta, as well as a quasi-crossover looking 'Active' model coming soon. This is the Titanium model which sits very much in the middle of the range. For £16,595 you get 16" alloys, automatic wipers & LED front lights, keyless start, 8" touchscreen infotainment and a heated front windscreen. The base-model Style Fiesta is priced from £13,165.
……and which engine?
There's a new 1.1l, 3-cylinder petrol engine available for the Fiesta but it only produces 69bhp so progress is pedestrian to say the least. There's also a super-economical 1.5l diesel engine (88mpg), but the engine that suits it best is the peppy, turbocharged 1.0l 3-cylinder that's been around for some time now. It comes in 138bhp, 123bhp or 98bhp guise which is what we have here. The Fiesta now weighs over 1.1 tonnes so, given the choice, we'd go for the extra oomph the 123bhp or 138bhp engine provides as this 98bhp unit feels laboured and doesn't do justice to the Fiesta's excellent handling which is better than ever thanks to widened tracks and improved steering.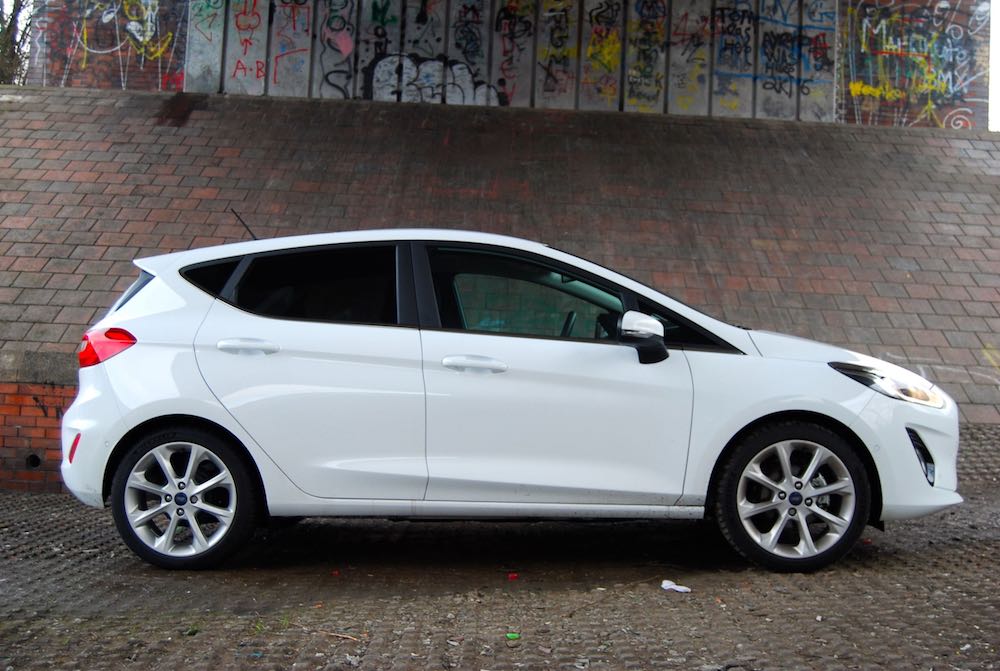 Should I buy a new Fiesta?
We loved the old Fiesta and, If I'm honest, we think it looked better than this one. Certain areas of the last car really needed updating, though, despite impressive sales figures, and that's exactly what's happened. Be prepared for the Fiesta to stay firmly on top of its perch.
By Ben Harrington
Ford Fiesta Specifications:
Engine –

 1.0l 3-cyl petrol,

Layout –

Front engine, FWD,

Transmission –

 6-speed manual,

Power –

 98bhp, 

Acceleration –

0-62mph – 10.5s,

Maximum Speed –

113mph, Maximum Torque –

170

Nm,

Economy –

 65.7 mpg combined, Emissions –

9

7g/km CO2,

Price –

£16,795 OTR, £18,705 as tested

The New Ford Fiesta is available now. For full details go to; www.ford.co.uk