F-Pace
Jaguar are putting the Sports firmly back into SUV with their first ever take on the genre: the F-Pace. Having recently won the coveted World Car of The Year award, they're obviously doing something right. So what is it about the F-Pace that makes it so good?
Firstly, and there's no getting around it – the F-Pace looks special. The front is unmistakably Jaguar, with more than a hint of XJ. The glass-housing is so minimal and sleek, and the car's sides are smooth and uncluttered. This visually shrinks what is actually a long, tall car (4731 x 1651mm), and your eyes are drawn to highlights such as those large wheel-arches and F-Type inspired rear lights.
How much?
The F-Pace also does an excellent job of looking more expensive than it is. Our test car is the 20d R-Sport model, starting at £41,330. Want it to look like this one? The extras including those very smart 20" black wheels only bring it to £45k. Nobody else I told could believe that, either.
The F-Pace is available with a range of engines, mainly diesel with power outputs starting at 161bhp, going all the way up to 297bhp. There's also a couple of petrol engines, with the 376bhp 'S' sitting at the top of the range.
This is the 178bhp, diesel F-Pace which sits pretty-much in the middle of the range. It's a 2.0l, 4-cylinder unit which is one of JLR's much-lauded Ingenium engines.
A rear-driven SUV?
Labelled as a '20d' F-Pace for obvious reasons, this model can be supplied with either an automatic or manual transmission and a choice of 4WD or rear-wheel-drive.
This is the automatic, and that's a good thing. The 8-speed ZF 'box has found its way into many vehicles now and with good reason; it's seamlessly smooth and seems to instinctively know what gear to be in without any fuss.
Our F-Pace is also 4WD. Let's get one thing straight here, though; having all four wheels driven isn't some nod towards the F-Pace's ability to scale mountain ranges – that's sister company Land Rover's job and quite rightly so.
As I said, RWD F-Paces are available, albeit restricted to lower output engines, but that gives you some idea of the car's mantra. 4WD is to aid performance, a point reinforced by the lack of genuine off-road options in the F-Pace's drive selector, or a hill descent button.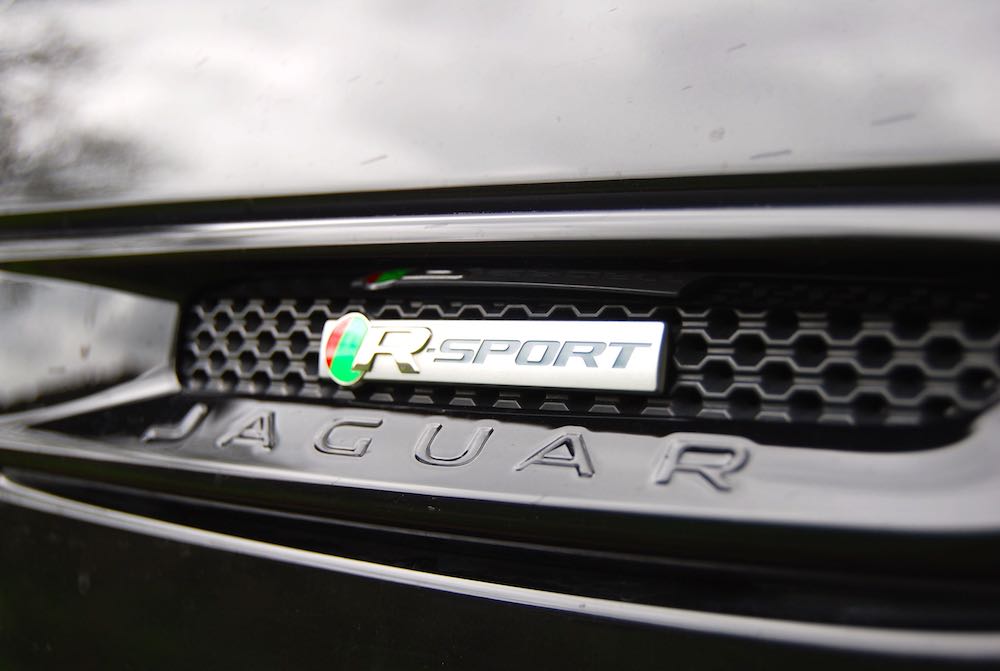 Isn't it a Land Rover underneath?
The F-Pace is based on the platform used in Jaguar's XE and XF models, again, this is no dressed-up Land Rover. What this translates to is a sublime, car-like ride, even on the optional 20" alloy wheels that our test car came with.
What really sets the F-Pace apart from other comparably sized SUVs is the way it changes direction. It may take some styling cues and half a nameplate from the F-Type, but, ultimately, this is a tall car that weighs in just shy of 1.8 tonnes. Point that bulging bonnet in the direction you need, though, and it reacts. Quickly.
How does is handle?
There's non of the body-roll one might expect, neither is there a wooly approach to where you want to go. The F-Pace is direct and it inspires confidence, in the same mould as the far smaller Porsche Macan. Even this 4WD F-Pace drives like a rear-wheel-drive car. The front wheels detect when they're needed and seamlessly, up to 50% power is supplied.
In many ways, though, the F-Pace is reminiscent of a well-sorted Grand Tourer. To compare it to a 'proper' sports car is a tad unfair and possibly doing it a disservice as it always had to offer big-Jag levels of comfort. A harsh, jolting ride and vibrations through the steering wheel wouldn't do at all.
Inside the F-Pace is typical Jaguar with its ambient blue lighting that I won't apologise for still finding very cool. The overall design, materials used and infotainment system is of a high standard, but it will be familiar to anyone who's sat in a modern Jaguar.
Sit IN it, not on it.
The F-Pace's driving position might not be what you're expecting, though. As you climb up into that high body for the first time, it's quite a surprise to find yourself settling into a feet-out-in-front posture. The transmission tunnel is also elevated meaning you feel cocooned and part of a real automotive experience, not a quasi-driver as with many SUVs.
Back to every-day practicality for a moment; the F-Pace's boot is a very roomy 650 litres and the rear seats very comfortably seat two, with a smaller fifth seat should it be needed. That huge space for luggage and generous head and legroom reinforces the F-Pace's capability as a modern-day grand tourer.
World Car of The Year?
So, to sum up the F-Pace, then. It's a large SUV that handles with some serious sports-car traits, is big and comfortable enough to easily swallow up a cross-European jaunt and it looks a million dollars. Oh, and this one returns 53.3mpg combined and emits 139g/km CO2.
World Car of The Year? Yep, I'd go along with that.
By Ben Harrington
Specifications: Jaguar F-Pace R-Sport, Engine – 2.0l turbo-diesel, Layout – Front engine, AWD, Transmission – Eight-speed automatic, Power – 178bhp, Acceleration – 0-60mph – 8.2s, Maximum Speed – 129mph, Economy – 53.3mpg combined, Emissions – 139g/km CO2, Price – £40,360 OTR, £44,770 as tested