Jaguar F-Type S
Put a Jaguar E-Type in front of pretty-much anyone and there's a good chance they'll be able to tell you what it is. Regularly voted 'The prettiest car in The World, EVER', it's one of the most iconic cars to have seen the light of day.
That car was launched over 50 years ago, though, and although Jaguar have introduced performance orientated GTs in the meantime (XJS, XK8), a true successor has been conspicuous in its absence. Until now; say hello to the next in the bloodline – the Jaguar F-Type. No pressure, then.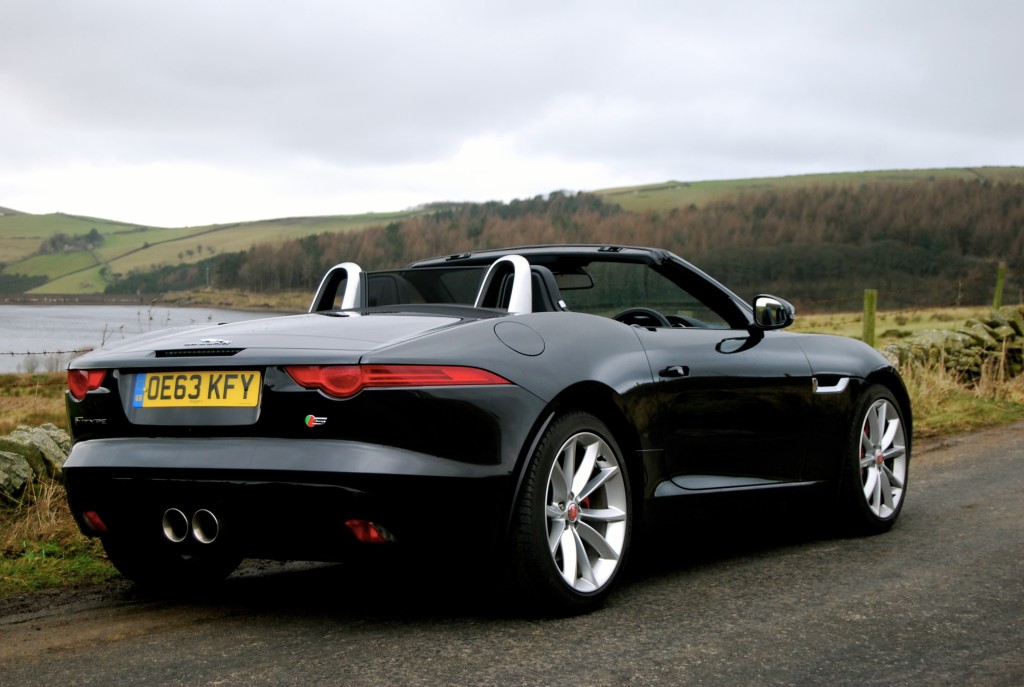 It's no carbon-copy pastiche of the E-Type, but the Jaguar F-Type has got undeniable heritage on show with its prominent shoulder-lines and gaping grille. Is it as pretty as the original? – No, that's unlikely to ever be bettered, but it's undeniably a head-turner. The rear-end in particular is going to draw looks wherever it goes; wrap-around lights, subtle boot-lip and muscular haunches all add up to something truly beautiful. Go for an F-Type V6, and you also get those central-double-barrel-shotgun exhausts which, and no arguments here, always look better than the normal side-mounted affairs.
It might be slightly akin to saying Cameron Diaz' face isn't up to the same standard as her bottom, but I don't find the F-Type S quite as achingly pretty from the front. With its various air-intakes and spoilers, I think the whole thing is a bit generic – not quite special enough to live up to the rear. It also looks a bit cross-eyed when viewed head-on.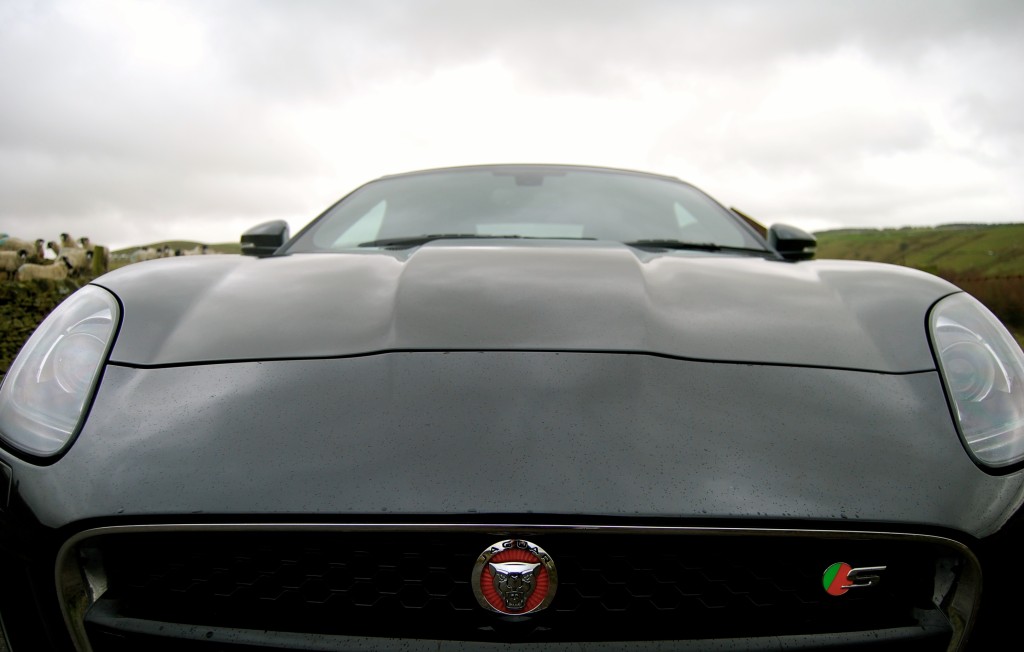 This is no GT – that's still the XK's job; you sit pretty low in the Jaguar F-Type, feeling cosseted like you should in a sports car. Don't expect any deep, sumptuous armchairs to disappear into, either; these are proper, firm, gripping seats, again, like they should be in a sports car. The interior is obviously Jaguar; there's that cool-blue lighting they're so keen on using everywhere and there's some clever air-vents that rise up from the dash when rapid hot (or cool) air is needed. There's splashes of copper on many buttons and levers which is individual to the F-Type range, but the rest of the interior is a combination of usual Jaguar fare, combining digital and analogue dials with their usual infotainment system that's showing its age a bit now.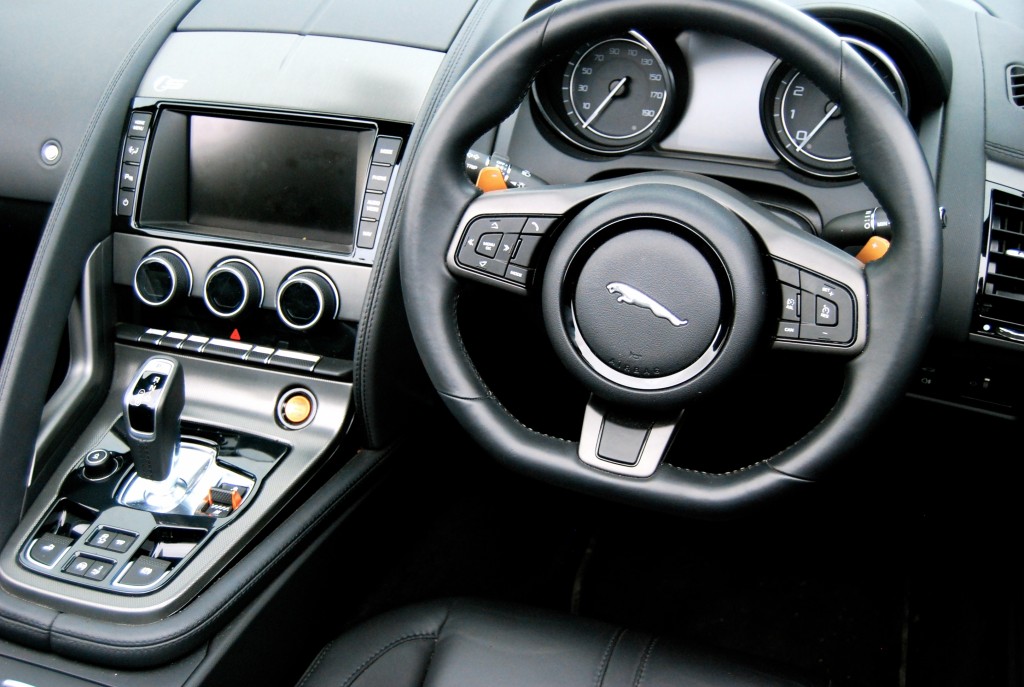 Coupe and AWD models aside, the F-Type S represents the middle of the range – There's also a standard V6 and a larger V8 called the 'R'. You can opt for a manual 'box in your Jaguar F-Type, as long as it's a V6 and not AWD, and that's an admirable move from Jaguar that's sure to keep the purists happy. I'm going to say that when the auto option is as good as this one, though, I'd swallow your manly pride and forego the manual. You see, it's that 8-speed ZF 'box that finds its way into many JLR products these days, and not only will it officially return more mpg, but if you want to select your own gear, you can treat your fingers and ears simultaneously to some delicious up and down changes via a pair of rubbery gear-shift paddles that bring an instantaneous, perfectly placed response from the 'box.
Now, traditionally when there's a V6 or a V8 to choose from, the V8 is the hairy-chested, must-have option, and the V6 is the watered-down, bit-cheaper model that people who can't afford to buy or run the V8 are stuck with whilst wishing they'd tried a bit harder for that promotion at work. I'm not convinced this applies here, though. Yes, the full-fat V8 is quicker to 60mph and it'll not run out of quick until 186mph, vs 171mph, but this V6 Supercharged engine feels useable. It's no softy, though – there's a lingering air of menace to remind you that it's got big, pointy teeth and it will bite, should ambition outweigh talent.
Let's get something else clear about the F-Type S, too. I like my music loud, sorry – very loud, and the Jaguar F-Type's Meridian system is more than happy to satisfy my need when I want to tempt the onset of tinnitus via one of the shoutiest of shouty bands – Metallica. What is surprising, though, is the way that no-matter how much you turn up the tunes – even if your ears might be bleeding – step on the loud pedal and the engine's booms and wails, with semi-terrifying crackles on down-shifts drown out 'Ride the Lightning' and dominate the whole cabin.
And that's without pressing the little button that turns the exhaust up to 11; press this and those trumpet-like twin tailpipes turn into a pair of Heckler & Koch submachine guns being discharged in a steel shipping crate. There's no sound symposer cheating going on here; if you like your sports car to sound like it looks and goes – the F-Type S will not disappoint.
So, you've got nearly 380bhp that's available almost instantly thanks to the constantly spinning supercharger, but does the ride live up to the performance? In contrast to the raw, animal-like engine, the way the Jaguar F-Type handles is a bit artificial. The ride is firm enough, and the nose will turn from point to point without much delay, but the whole drive could do with more feedback through the wheel to let you know what's going on and complete that 'proper sports car' feel. It's the same story with the brakes, too; they work well enough, even without the optional £9K ceramic stoppers, but they're a bit wooden and lack real feel under hard braking.
Much has been said about the Jaguar F-Type's bootspace, or lack of, and, well, it's all true. At 196 litres, if you need your sports car to lug around much more than a Samsonite briefcase and a pre-packed petrol station sandwich, the coupe (315 litres) might be more your cup-of-tea. I was quite surprised, then, to find an illuminated 'escape handle' in the boot. The handbook says it's provided just in case some unfortunate soul should accidentally get trapped in there, but unless you've employed a team of Borrowers to carry your Samsonite briefcase, I'm not entirely sure how you could fail to notice a human being in that less-than-voluminous boot.
We've all waited quite a long time for the Jaguar F-Type – was it worth it? Yes, unquestionably – this is a beautiful car with real grunt and a rich vein of Jaguar aggression. There are a couple of elements I'd change, but since the original car's release there's been an AWD version, a manual and even an SUV (F-Pace), so Jaguar obviously aren't resting on their laurels and I wouldn't be surprised to see a couple of revisions to the F-Type soon.
By Ben Harrington
Specifications;

Jaguar F-Type S V6,

Transmission –

8 speed automatic,

Layout –

Front engine, RWD,

Power –

376bhp,

Torque –

460NM,

Emissions –

211g/km CO2,

Economy –

31mpg combined,

Maximum Speed –

171 mph,

Acceleration –

4.9s 0-60mph,

Price –

£67,535 OTR, £72,405 as tested
For full details, go to; www.jaguar.co.uk