Jaguar XFR-S
With the release of the Mk11 in the late '50s, Jaguar could easily be credited with the invention of the Q-car – otherwise known as a wolf in sheep's clothing. The XF is the spiritual successor to the Mk11, and this XFR-S is not only the fastest XF, it's the sprightliest saloon car Jaguar have ever made. A Q-car it ain't though. Just look at it; this is a wolf at a wolf-pride march, wearing a "CANIS LUPUS" T-shirt. With matching hat.
Potential buyers shouldn't be put off by the rice-rocket-esque rear spoiler, though (it is carbon fibre, by the way), a far more subtle affair is a no-cost option. Our test car's 'Ultimate Blue' hue might not be to your taste either, fear not – a traditionally discreet black can be ordered with the deft click of a mouse.
Matching bright-blue piping is available on the inside of the Jaguar XFR-S, if your heart desires. But again, if it's the more sombre side of owning a Jaguar that floats your boat, it can all be toned down to suit. The carbon fibre theme also continues with aplomb in the cabin, and that can't be changed; it's on the fascia and the pattern's even stitched into the seats – not my taste, personally, but it's dark enough to fade into the background.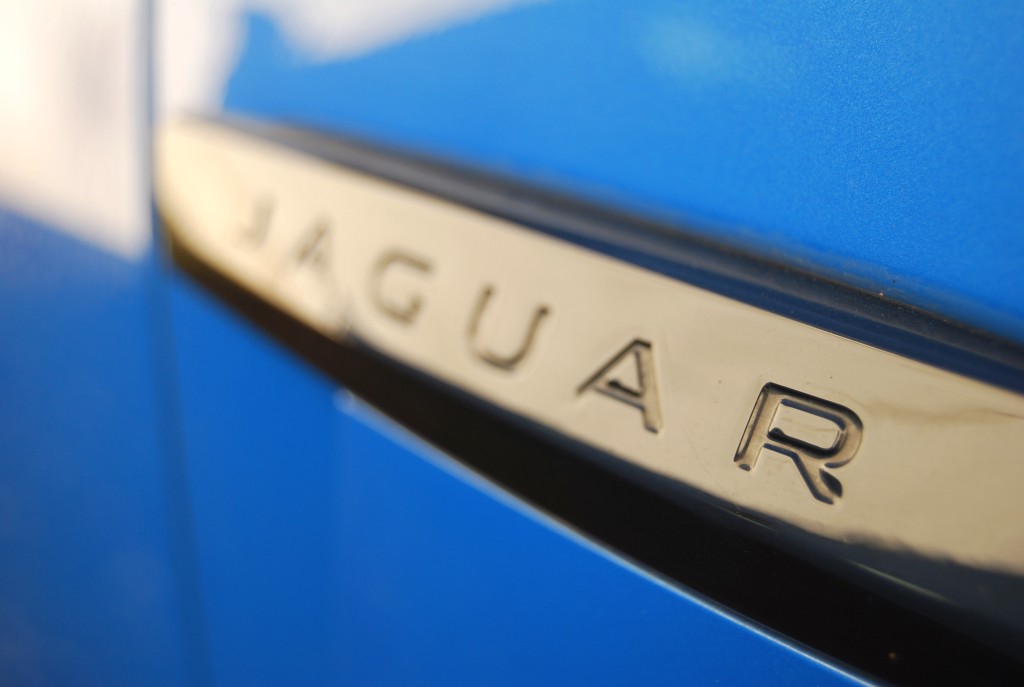 The base XF's interior was one of the class-leading aspects of the car on its release in 2007, with its cool-azure lighting and swivelly air-vents. That was over seven years ago though, and that's plenty of time for the competition to catch up. The infotainment system looks a bit lo-res these days and we've become accustomed to moving knobs and buttons in this class of car – the vents just don't wow like they used to. 
The Meridian sound-system that comes as standard never fails to impress, however. I'm occasionally underwhelmed with the 'premium' stereos that cars are fitted with – they just don't seem to be set-up properly. Not so in this case. Loudness is nothing if the clarity and quality don't match, but every aspect of this 825W Surround Sound system is impressive. A word of warning though; don't be overly eager with the volume knob – you might just miss something very special………..
……….'What?' I hear you cry. Well, the 'heartbeat' start button that could be considered something of a gimmick in lesser XFs becomes slightly more pertinent in the Jaguar XFR-S; press it and the whole car comes to life with a jolt that's reminiscent of a heart attack victim being jolted back from the light. The bark and crackle from the quad performance pipes is more Modena than Midlands, and I challenge anyone with a modicum of petrol in their veins to ever tire of finding a long tunnel, opened the windows and dropping down a cog or two.
So, what is the Jaguar XFR-S like to live with? Well, let's cut to the chase; one aspect that can't be toned down, not that you'd want to, is the 550bhp, supercharged V8 that lurks underneath that power-bulged bonnet. This is one hell of an engine. Linked to the hugely popular ZF 8-speed 'box that's been peppered up a bit for the R-S, acceleration is life-affirmingly brutal, even in everyday 'D' mode. Put it in 'S' and the realisation of just how 550bhp feels with precisely zero delay between order and delivery may take you by surprise, as the instant surge towards the horizon is like no other car I've ever driven.
This car will spin its wheels for fun, and if the surface you're on is anything less than sahara-dry I'd think twice before planting the loud-pedal. With no lag to consider, what you ask for is what you get and a hasty exit from a junction could result in some snaking and the unmistakable smell of burning rubber. There is, of course, a trade-off for this very useful performance, and that's economy; with all eight cylinders and a supercharger constantly working, even Jaguar's official 24.4mpg combined seems somewhat optimistic.
The good news is that this V8 beast's drivetrain is fully prepared for what the engine can throw at it and it reins things in in an instant. Even in non-dynamic mode, the rear end steps out slightly but then comes back into line before you know it, leaving you looking and feeling like something of a hero.
Handling is point-to-point fantastic, especially in Dynamic mode, and you'll soon forget that you're in what's ultimately an executive saloon on steroids. What's quite surprising is how civilised the ride is when you're not setting lap-times and you just want to get home in comfort. The revised suspension is a fairly considerable 100% stiffer than a standard XF, and those 20" wheels don't look like they were designed with wafting in mind, yet the R-S is no bone-shaker and even negotiating speed-humps doesn't result in the grimace-inducing sound of bodywork on tarmac that you might expect.
In a company with a history of fast saloons like Jaguar, the title of 'fastest ever' holds a large volume of water. At a shade under £80K, it's not cheap – over £6K more than the more powerful M5. The question is, would the M5 make you smile as often as the R-S? Somehow, I doubt it.
By Ben Harrington
Specifications;

 Jaguar XFR-S, 5.0l V8 Supercharged,

Transmission –

 8 spd auto,

Layout –

Front engine, RWD,

Power –

 550bhp,

Torque –

 680Nm,

Emissions –

 270g/km CO2,

Economy –

 24.4 mpg combined,

Maximum Speed

– 186mph limited,

Acceleration –

 4.4s 0-60mph,

Price –

£79,995 OTR, £81,795 as tested
For full details, go to; http://www.jaguar.co.uk/jaguar-range/xf/xf-models/xfr-s.html