Looking at the Grandland X from Vauxhall, you wouldn't know that it represents anything particularly special for the brand. What it is, though, is one of the first products for the brand since the acquisition of the Opel group by PSA in 2017 for a not inconsiderate $2.2 billion.
Grandland X
The Grandland X is a mid-size SUV/crossover that shares many of its parts with Peugeot's 3008. This is a good thing – we like the 3008 and, perhaps more pertinently, we prefer it to Vauxhall's previous SUV offerings.
It sits on the 3008's platform, uses 3008 engines and is even built in France. You can so tell, too – not the built in France bit but if you've ever driven a 3008, you'll not fail to notice the similarities in how it performs.
So Much More than a Rebadged 3008
This is no rebadging exercise, though. Just by looking at the Grandland X, it's more distinctive than many recent Vauxhalls and bears absolutely no resemblance to the car it's based on. Even sat on the 18" alloy wheels that this mid-range Sport Nav model comes with, the word chunky comes to mind when describing its looks. The standout feature of the Grandland X is its C-pillars which are some very cool looking sharks fins, on top of which sits a 'floating' roof.
Some very familiar looking creases run across the bottom of the doors; pure Vauxhall. They have been turned upside down for the Grandland X, though. There's really nothing to dislike about the way the Grandland X looks, they've done a fine job of making it a bit more distinctive than most Vauxhalls, without it being vulgar.
Interior: Pure Vauxhall
Inside the Grandland X has been altered beyond recognition from the 3008 it's based on. This does mean it's a tad conservative where the Peugeot's innovative, but you can't fault the perceived quality of materials used. The front seats are extremely comfortable, although a dedicated cup holder wouldn't go amiss. There's loads of room in the back, but larger passengers may have a bit of a struggle to actually get there thanks to some relatively small door apertures.
Intelligrip
The lack of a properly sized cup holder in the front can be blamed on the addition of the IntelliGrip system. It's part of the £200 All Road Pack and, along with some 5-spoke, 18" alloy wheels, adds a dial which is lifted straight from the Peugeot parts bin, allowing the traction control to alter its behaviour for mud, snow, sand or tarmac. The Grandland X is strictly FWD only, there's currently no 4×4 option, so if you plan on leaving the blacktop, the All Road Pack is your only help.
Engine Choices
When it comes down to engines, there's essentially one diesel and one 3-cylinder petrol, both of which produce 128bhp. There is a 174bhp diesel but that's restricted to the range-topping Ultimate spec model only. Our test car came with the petrol engine which pulls well, once you've gotten past the lag. It does feel like the Granland X's mass is about the limits of its capabilities, though. There's 6 or 8 speed automatic transmissions available, or the 6-speed manual our car's got. The manual's nothing to write home about and restricts somewhat what's a really good engine.
It's Full of Gear, But it Comes at a Price
This mid-range Sport Nav model comes absolutely packed with safety and convenience features, although for £25,360, it possibly should be. You get lane assist, forward collision alert, front & rear parking sensors, driver drowsiness alert, lane departure warning, power tailgate, dual-zone climate, multiple power outlets and 8.0" infotainment with CarPlay & Android Auto, although it's not the easiest system in the world to navigate. The list of standard equipment is generous to say the least, but the Grandland X is priced higher than the competition to start with.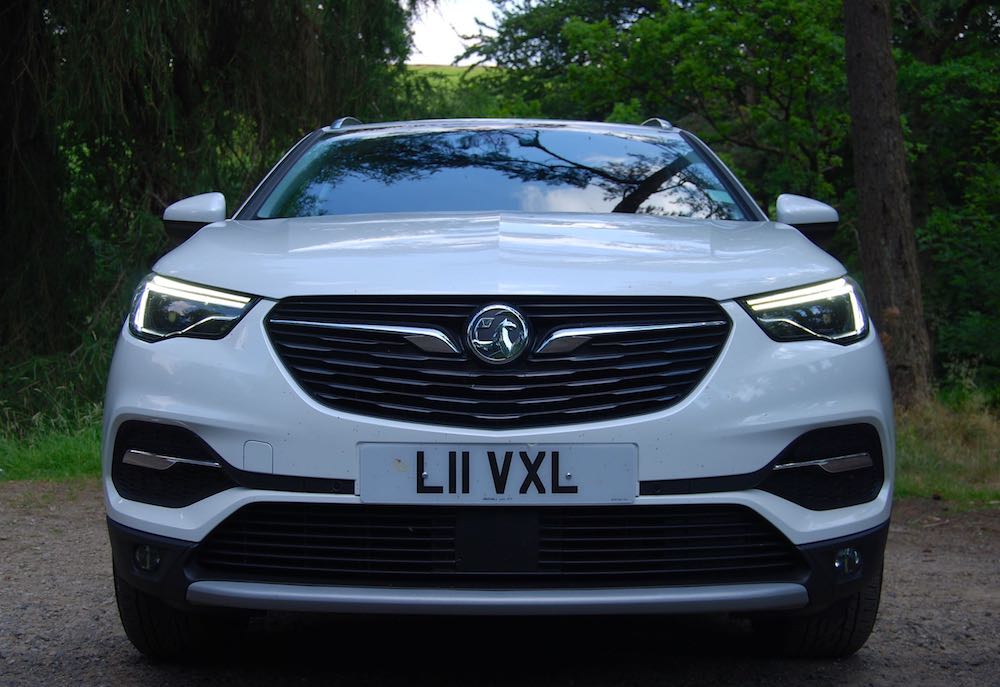 Should I buy a Grandland X?
This mid-size SUV sector is possibly the most competitive of all at the moment. Yes, the Grandland X shares a lot of components with the Peugeot 3008, but that's no bad thing as it's a major step forward from Vauxhall's previous offerings in this sector.
By Ben Harrington
Vauxhall Grandland X Sport Nav Specifications:
Engine –

 1.2l 3-cylinder petrol,

Layout –

Front engine, FWD, 

Transmission –

 6-speed manual,

Power –

 128bhp, 

Acceleration –

0-62mph – 11.1s,

Maximum Speed –

117mph, Maximum Torque –

230

Nm,

Economy –

 53.3mpg combined, 

Emissions –

121

g/km CO2,

Price –

£25,360 OTR, £28,460 as tested

The Vauxhall Grandland X is available now. For full details go to; www.vauxhall.co.uk