2019 Suzuki Jimny
We may have only had this diminutive 4×4 on our shores since the second generation (SJ410 & SJ413) was launched in the 80s, but the Suzuki Jimny has been around since 1970, so this is definitely no cash-in on the unstoppable popularity boom of SUVs.
Too Big To Be a Kei Car?
Just to give you a brief background, the Jimny was originally designed for the Japanese Kei car market, with its tight regulations on size. This fourth generation Jimny may seem small when compared to most UK 4x4s, but it's actually sold as the Jimny Sierra in Japan as it's too big to be a Kei car. Its bumpers and wheel-arches are outside regulations, apparently, but you can buy it without them, and that's the 'regular' Jimny.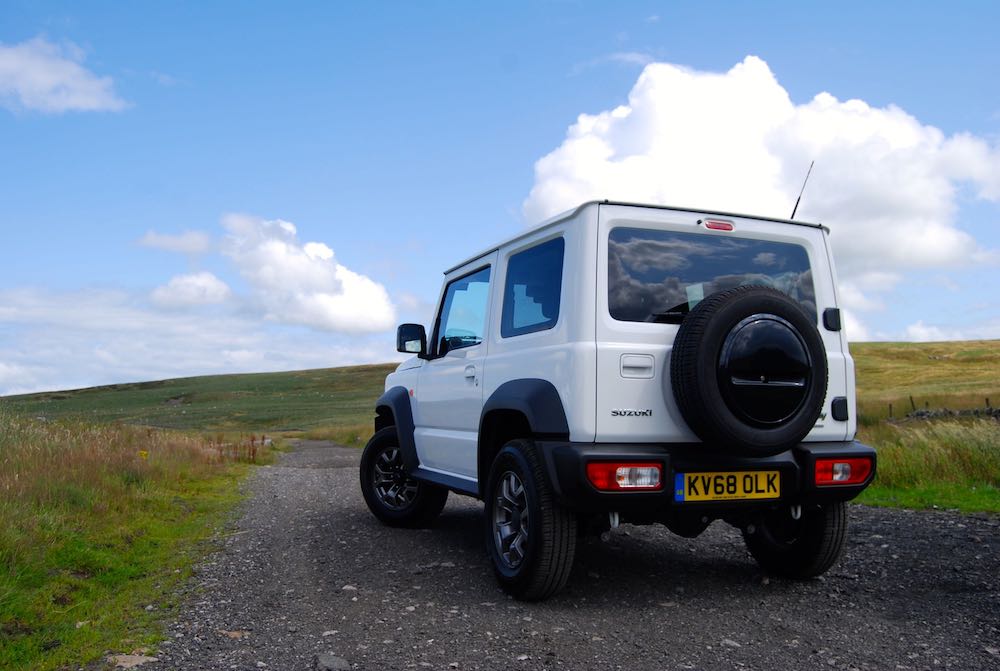 They say size doesn't matter, though, and when it comes down to off-road ability, they've got a point. The Jimny has always been a firm favourite amongst the green-laning community because, even as standard, it's very, very capable thanks to a proper 4×4 system, short wheelbase and relatively high ground clearance. Spend a bit modifying your Jimny or SJ, and it's virtually unstoppable. Spend a hell of a lot modifying one, as an adventurous group of Chileans did in 2007, and it'll hold the record for altitude driving, knocking a certain Jeep Wrangler off the top, literally.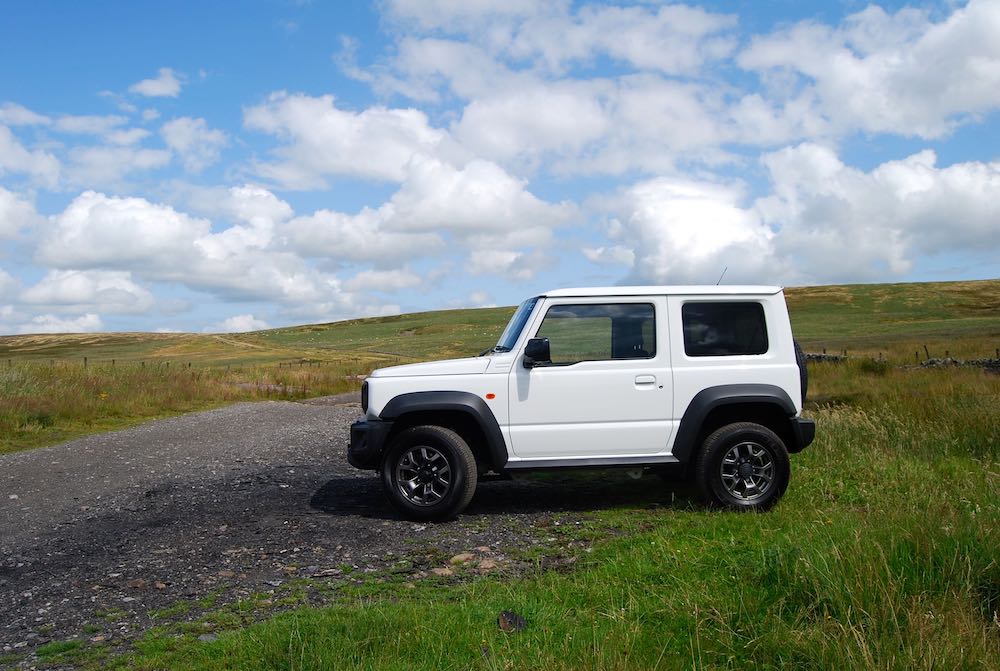 Two Specs, One Engine
Back to this, the modern-day Jimny, though. It comes in either SZ4 or SZ5 spec in this country, both come with Suzuki's ALLGRIP Pro 4-wheel drive system with selectable low-ratio for more technical off-roading. Whichever spec you go for it'll come with a 1.5l, 4-cylinder, 101hp petrol engine – there's no diesel option.
A 5-speed manual 'box comes as standard and is your sole choice on SZ4 models. You can spec a 4-speed automatic on SZ5 models, but it carries a £1,000 premium.
Other features that come standard on all Jimnys include hill-descent, lane departure warning, hill-hold control and a bluetooth audio unit. If you want alloy wheels you have to upgrade to the SZ5, but I can't help but feel that the 15" black steel wheels that the cheaper SZ4 is shod with add a certain understated cool.
Inside The Jimny
Inside the Jimny is all functional, wipe-clean black plastic. It has a shine to it that wouldn't ordinarily scream quality, but if you use the grab-handle and poke around a few panels, it's actually very sturdy. Add to this the large controls for heating, windows etc, that Suzuki are keen to point out can be used whilst wearing gloves, and they've got the tough 4×4 image just about right.
The Jimny isn't some kind of tardis, though, and those dinky proportions outside inevitably translate to inside too. The seats are some of the smallest I've sat in and there's not exactly an abundance of elbow room. There's some neat storage solutions but, again, they're relatively diddy.
Passengers Or Luggage; You Decide
There's a surprisingly generous amount of room for rear-seat passengers, though, but that's because the boot will comfortably swallow a couple of Samsonite briefcases, and that's about it. If you want to carry anything bigger, it's rear seats down and your Jimny's a two-seater, I'm afraid. Suzuki have been good enough to extend the heavy-duty boot liner up the back of the rear seats, though, so you don't have to worry about getting them grubby. Nice touch.
Being small does have its up-sides too, though. Weaving through tight gaps in traffic is a joy, as is parking thanks to feather-light steering, a tiny turning circle and the fact that you can easily see all four corners. Parking sensors aren't even a cost option on the Jimny, something that I'd normally score a car down for. If you need sensors to park a Jimny, though, I'd seriously consider the validity of your driving licence.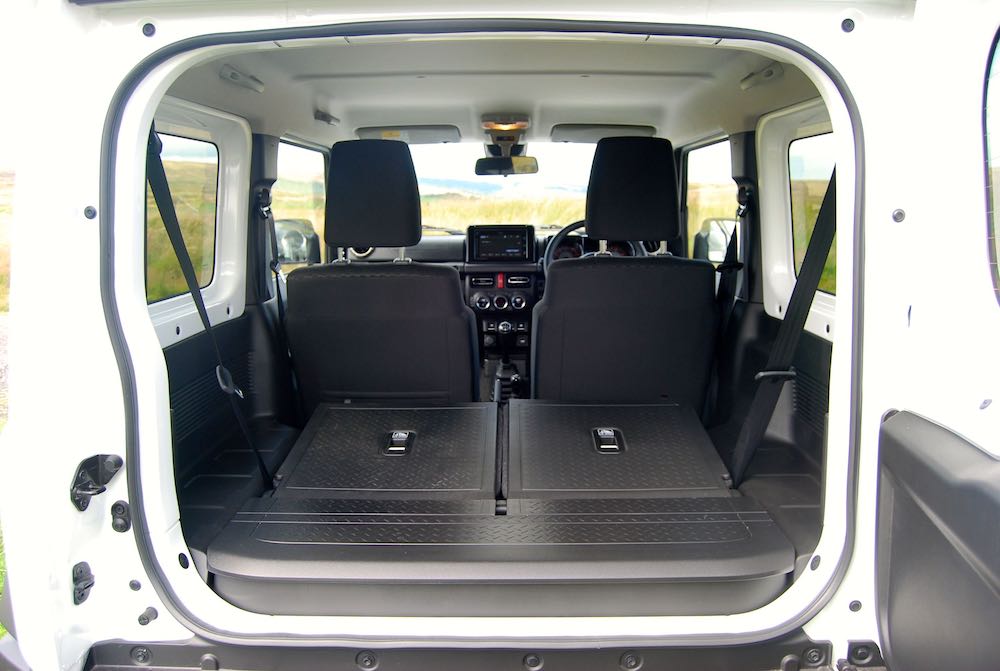 No Motorway-Lover
Take the Jimny outside of the environment it was designed for, i.e. onto the motorway, and it feels distinctly out of place. Get up to 60mph-ish, and the 1.5l engine is distractingly loud. Those angular looks don't do much to help matters, either; the Jimny doesn't exactly cut through the air and there's plenty of buffeting.
Kept around town or off-road, and that 101hp engine is nippy and civilised. Remember, there's no diesel option, though, so – despite the Jimny being small, massively impressive economy isn't part of the package. This manual version returns 41.5mpg, the automatic manages under 38mpg, with CO2 emissions 154 & 170g/km respectively. What that equates to is an initial 'showroom tax' of over £500.
Should I Buy A Suzuki Jimny?
Call it retro, call it what you like, but there's no denying the Suzuki Jimny's visual appeal. Add to this some genuine off-roading pedigree, whether you plan on using it or not, and with the price of used Defenders sky-rocketing, it's no surprise there's a waiting list.
By Ben Harrington
2019 Suzuki Jimny SZ5 Specifications:
Engine – 1.5l 4-Cylinder Petrol, Layout – Front engine, 4WD, Transmission – 5-speed manual, Power – 101hp, Acceleration – 0-62mph – Circa 12s, Maximum Speed – 90mph, Maximum Torque – 130Nm, Economy – 41.5mpg combined, Emissions – 154g/km CO2, Price – £18,499 OTR
The 2019 Suzuki Jimny is available now, priced from £15,999. For full details go to: www.cars.suzuki.co.uk