There's two classes of hot-hatch in this world, and the originators of the genre; VW are a great case in point. At the top end, you've got the Golf GTI & R which will set you back £30 – 35K, depending on how deep your pockets are. Then at the other end, the affordable, spiritual successor level if you like, you've got the up! GTI, which will cost less than half that at > £14K. Is the Golf twice as good? That's a question for another day.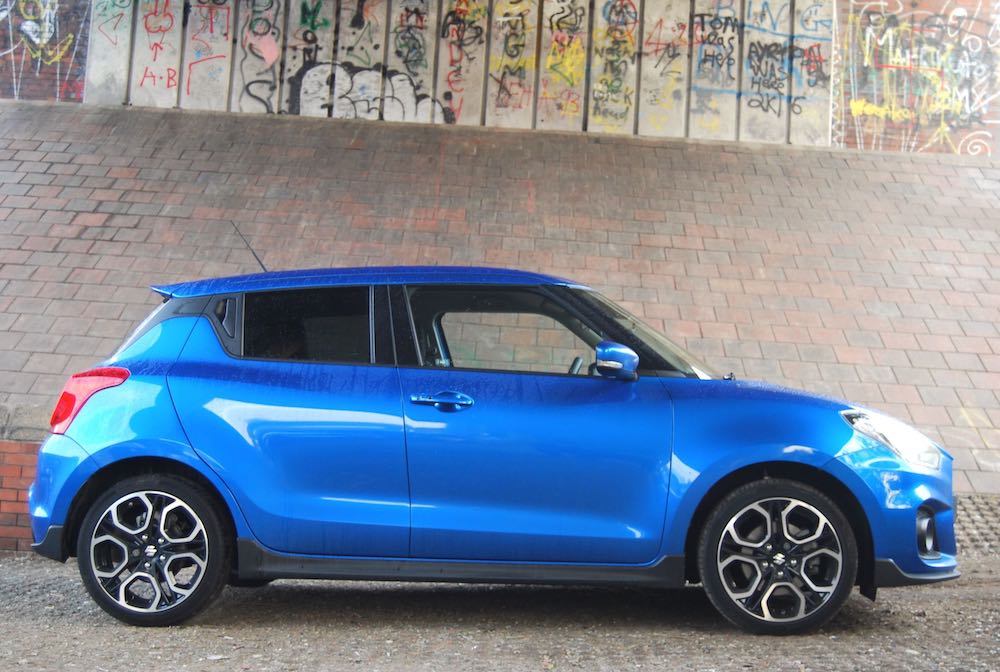 Suzuki Swift Sport
The Suzuki Swift Sport has slotted neatly into budget hot-hatch territory since its introduction as the Swift GTi in the early '90s. Back then it was the quickest 1.3l engined car on the market. Not a lot of people know that.
This latest Swift Sport comes with 17" alloys, carbon fibre effect bodywork & dual exit exhausts, so it certainly looks the part, even if it is kept firmly on the subtle side. Like 'normal' Swifts, it's 5-door only for the Sport, but those well-hidden rear door handles mean it's got a modicum of cool by doing a good impression of a 3-door.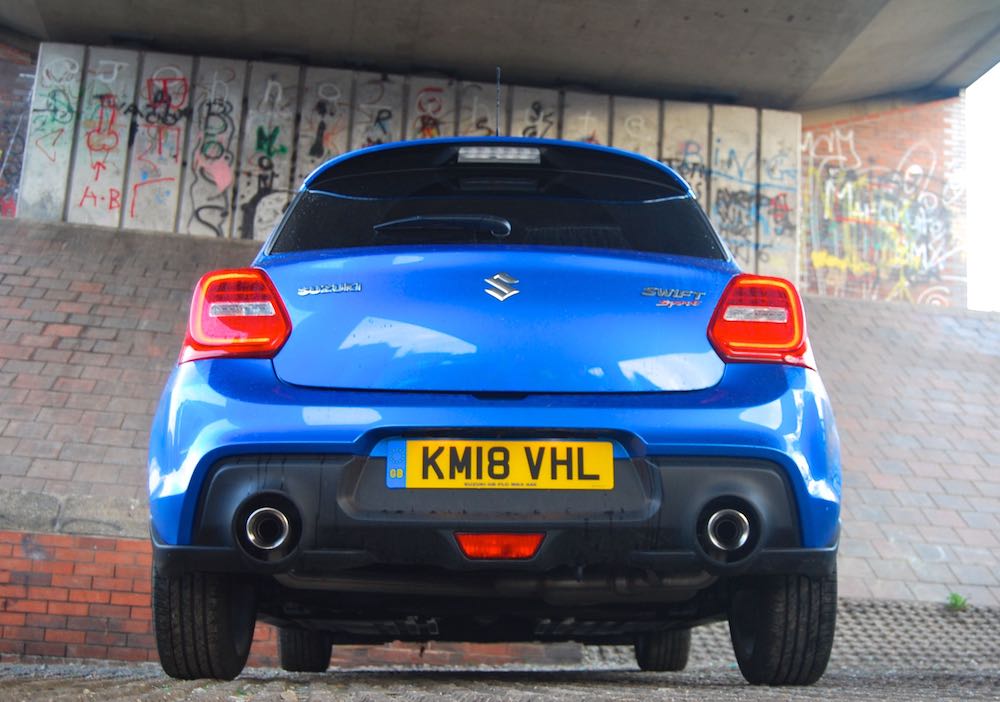 What's New Inside?
Sit in the Swift Sport's grippy seats and you'll see a few splashes of red around the place and a leather-trimmed 3-spoke steering wheel with the essential red stitching, all of which makes it stand out a bit from the standard model, as does a boost gauge/power/torquegraphic between the dashboard binnacles. Suzuki's 4.2" infotainment system is one of the most user-friendly you'll find, even if it does nothing particularly spectacular. The rest of the Sport's cabin is standard Swift fare, so it's ok but quality's not quite up to the likes of the Fiesta's standards and you'll probably wish the seating position was more in than on.
1.4l Turbo Boosterjet
Perhaps more importantly than all of this, though, Suzuki have stuffed a 1.4l, turbocharged, Boosterjet engine under the bonnet, giving us 138 horsepower to play with, in a car weighing in at less than one tonne. It's front-wheel-drive only, and you'll have to change gear yourself via a 6-speed manual. This is proper driving, like it used to be.
Suzuki have done a fantastic job of disguising any unwanted aspects of turbocharging an engine; this little unit feels about as naturally aspirated as they come. 230Nm torque & 138bhp might not sound like much these days, and 0-62mph in 8.1s & 130mph top-end won't win many pub-bore battles. My advice: ignore the figures. When max torque comes around at 2500rpm and max power at 5000rpm, the useable power band is impressively wide. Want proof? Stick the Swift Sport in 3rd gear at 25mph and it'll pull, and pull, and pull, and not show any signs of running out of puff before you run well out of UK speed limit.
Back To Basics: Good
So, the Swift Sport's fun, and it's not even the guilty type of pleasure as it'll return over 50mpg combined whilst emitting just 125g/km CO2, but what about the handling?
Well, just as Suzuki have eradicated the unwanted turbo-ness of the engine, they've pulled off a similar trick with the steering feel. Get above 20mph and any assistance in the steering is a silent partner, quietly doing its stuff in the background. There's so much feedback through from tyres, through suspension, up to driver that you could quite easily believe that the Swift Sport didn't have power-steering at all. Is there a higher compliment than this? I don't think so. A wheel in each corner and a distinct lack of flab means you can just point the Swift Sport at an apex and it'll kiss it readily, leaving you feel like a bit of a driving god.
How Much Is It, Though?
Now for the fly in the ointment, though; what cost, all of this unadulterated fun? Well, the Swift Sport officially retails at £17,999. Yep, you heard it right, one solitary quid short of £18K, or just £500 less than the sublime Fiesta ST. Oh. But just hold on; go on to Suzuki's website and they're knocking £1K off that price right now, making it a far more realistic £16,999. I kind of get the feeling that the RRP is a bit like a DFS sofa's RRP i.e. nobody ever actually pays it.
Should I Buy A Suzuki Swift Sport?
In terms of driving feel and pure fun, the Swift Sport is one of the greatest iterations of the supermini hot-hatch you can buy today. Its lowbrow interior plastics make the full asking price hard to justify, but we're sure that a little effort and research will knock this down quite a bit anyway.
By Ben Harrington
Suzuki Swift Sport Specifications
Engine – 1.4l turbocharged petrol, Transmission – 6–speed manual, Layout – Front engine, FWD, Power – 138bhp, Torque – 230Nm, Emissions – 125g/km CO2, Economy – 50.4mpg combined, Maximum Speed – 130mph, Acceleration – 8.2s 0-62mph, Price – £17,995 OTR
The Suzuki Swift Sport is available now. For full details go to: www.cars.suzuki.co.uk