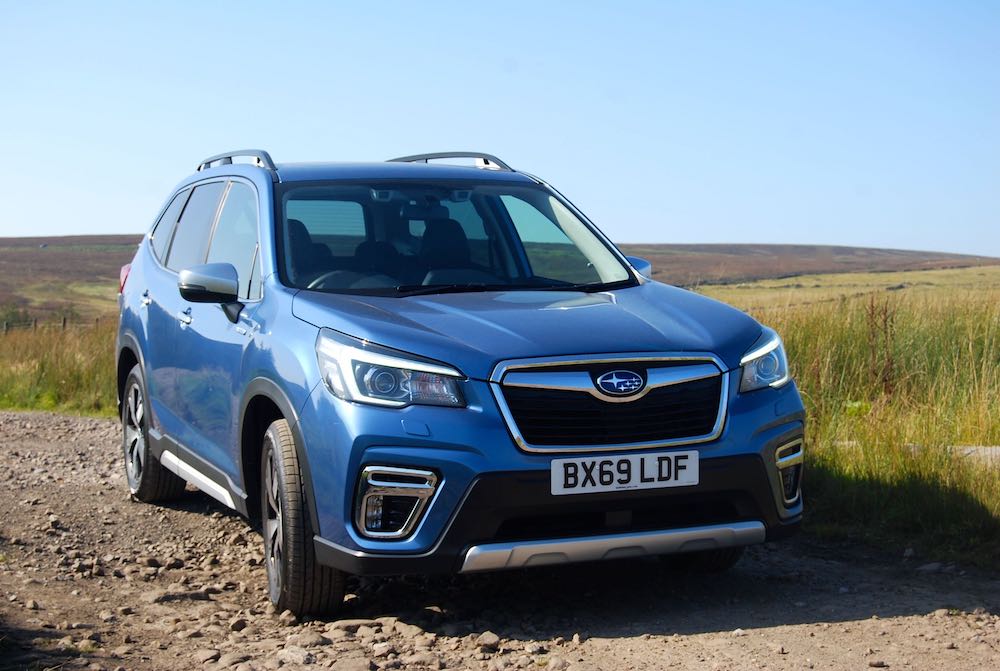 Forester e-Boxer
Subaru doesn't make diesel engines anymore, either that or they're keeping it very quiet in preparation for the accepted opinion on clean fuels to flip-flop back to heavy oil, then they'll get them out of mothballs and shoo petrol back into the crates.
They've gone a step further with their chunky estate – the Forester. It now not only comes with a 2.0l petrol engine in Boxer formation, as is Subaru's wont, but it's grown an 'e'; that's right, it's a hybrid. It is only a little 'e' in the official e-Boxer title, though, and that's probably about right; more on that later.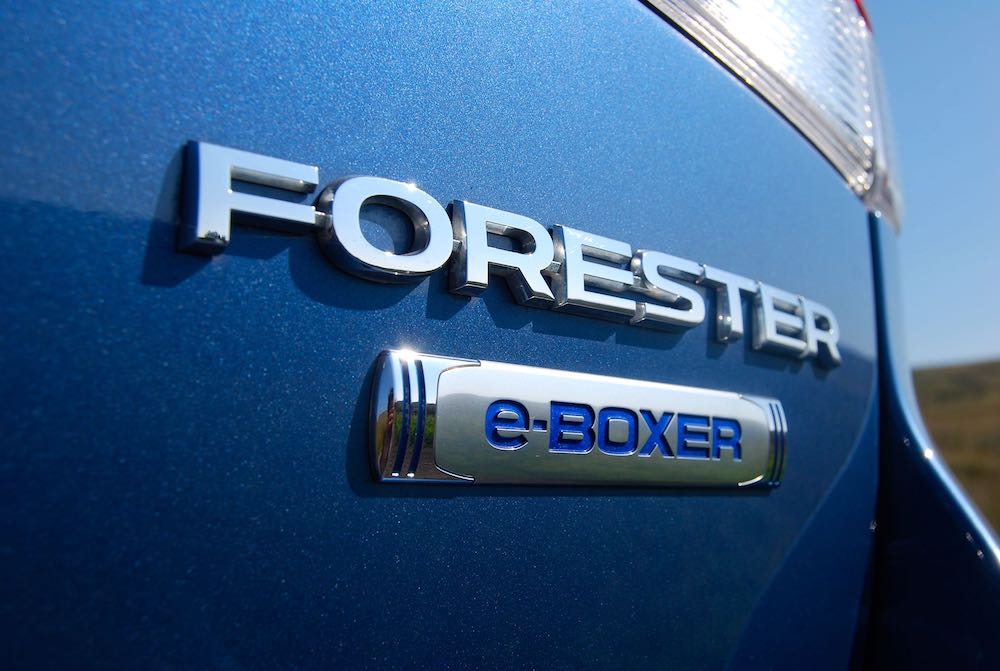 SUV or Estate?
Visually, the Forester e-Boxer hasn't changed much. It may boast some genuine off-road prowess but Subaru is still the king of the estate cars and that's the shape the Forester's sticking to. Subaru calls it a 'No nonsense SUV,' but the SUV title is so watered down these days it could almost be applied to anything – we say, call it a go-anywhere estate car, it holds more credibility.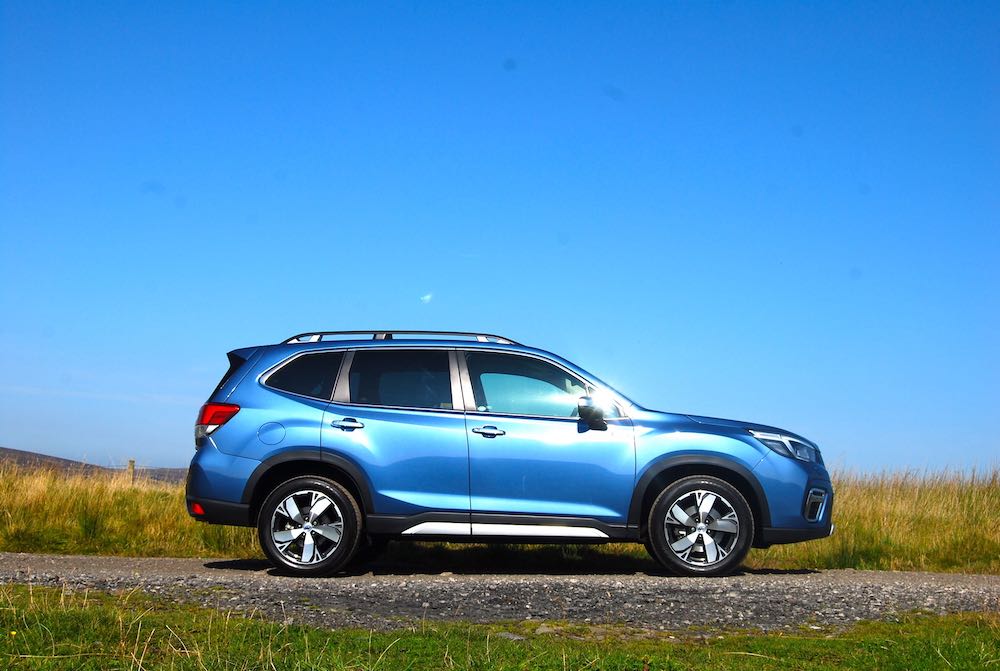 A head for heights
The Forester was always tall and narrow, and at 1735mm (h) x 1795mm (w), the e-Boxer carries on the tradition. For comparative purposes, Audi's A4 Avant is 1847mm wide and 1435mm tall, so you can see how the Forester stacks up. What this means on the inside is acres of headroom, couple this with the 30cm of extra rear legroom using their new Global Platform provides, and it's a dream for taller passengers.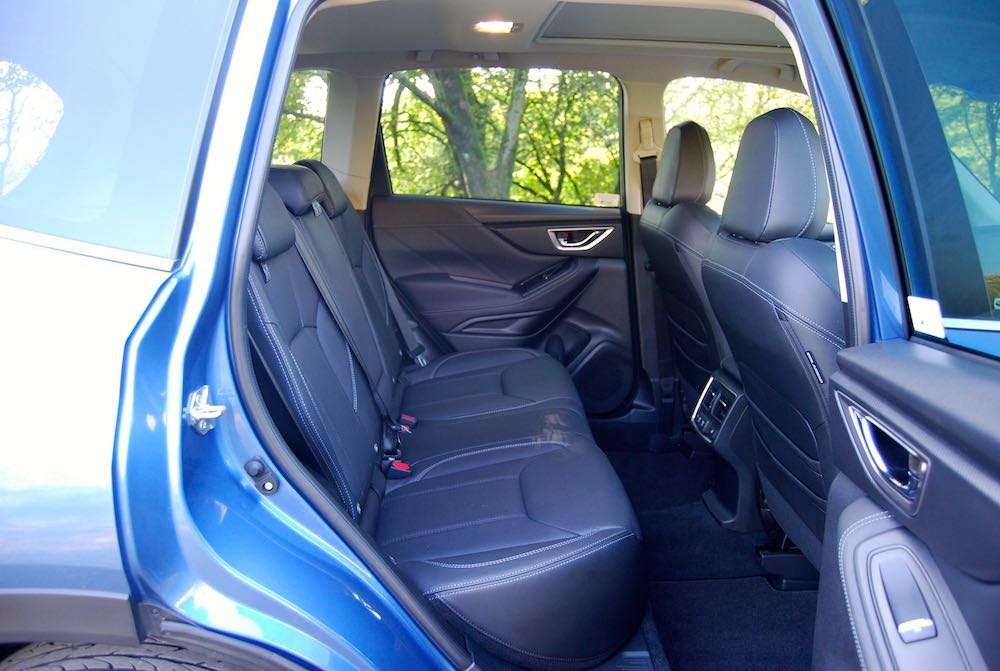 Full of safety tech
The quality of plastics inside the Forester e-Boxer still leaves something to be desired, despite some additional thought going into the dashboard design. There are only two specs to choose from; XE & XE Premium. Equipment is generous, even on the base model which gets dual-zone climate, an 8″ multifunction touchscreen and heated front seats. Perhaps more importantly, Subaru has packed it with safety equipment including their EyeSight system that monitors your behaviour and incorporates adaptive cruise, pre-collision braking, lane keep assist and lane sway and departure warning.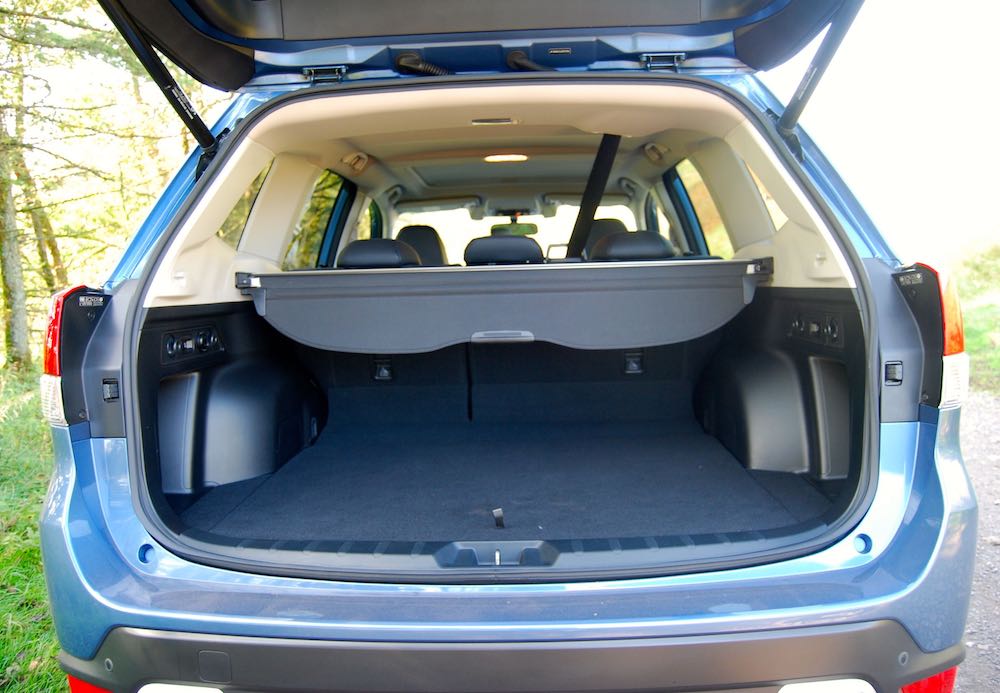 One very clever item of standard equipment across the Forester range is a side view monitor incorporated into the near-side door mirror. During slow speed manoeuvres it shows you a view of the near-side front wheel and wing on an additional 4.3″ screen positioned in clear view just under the windscreen. This isn't just a potential kerbed wheel saver, it could save lives.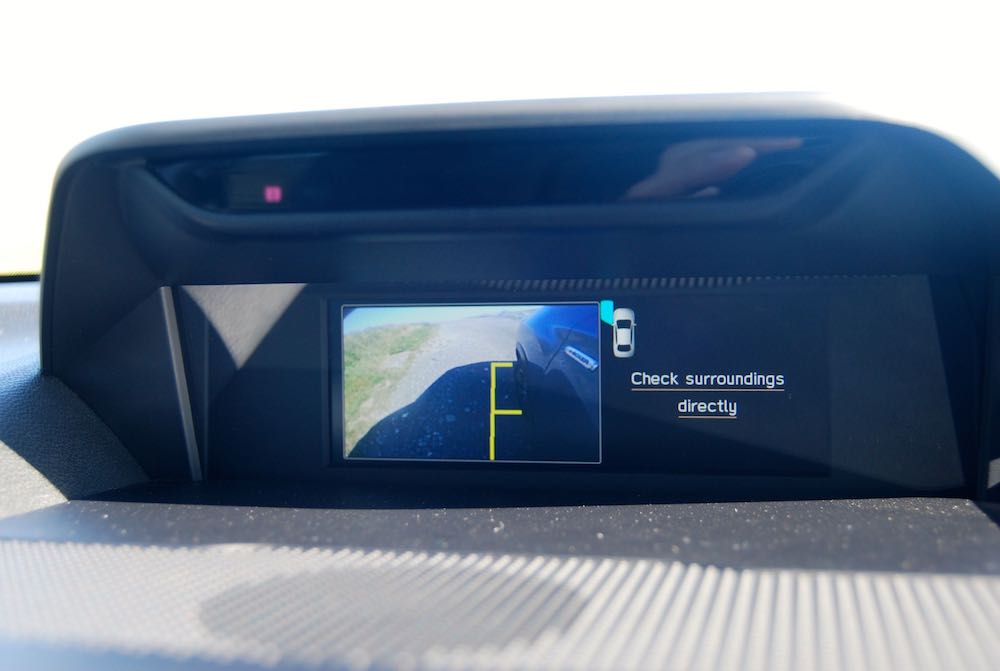 Go for the Premium spec Forester like our example here and you get, amongst other things; 18" wheels rather than 17″, a sunroof, sat-nav, a power tailgate, heated rear seats and leather upholstery. The leather feels comfortable rather than premium but we would ask for a bit more adjustment in the driver's seat, especially around the lower back area.
Back to that 'e'
The big news with the new Forester, though, is that little 'e' we mentioned earlier. Under the bonnet there's now an electric motor, powered by a lithium ion battery. It's a self-charging hybrid so you don't have to worry about plugging it in; so far, so good. Subaru has steered away from the term 'mild hybrid' for their Forester e-Boxer, but in reality it's about as mild as they come.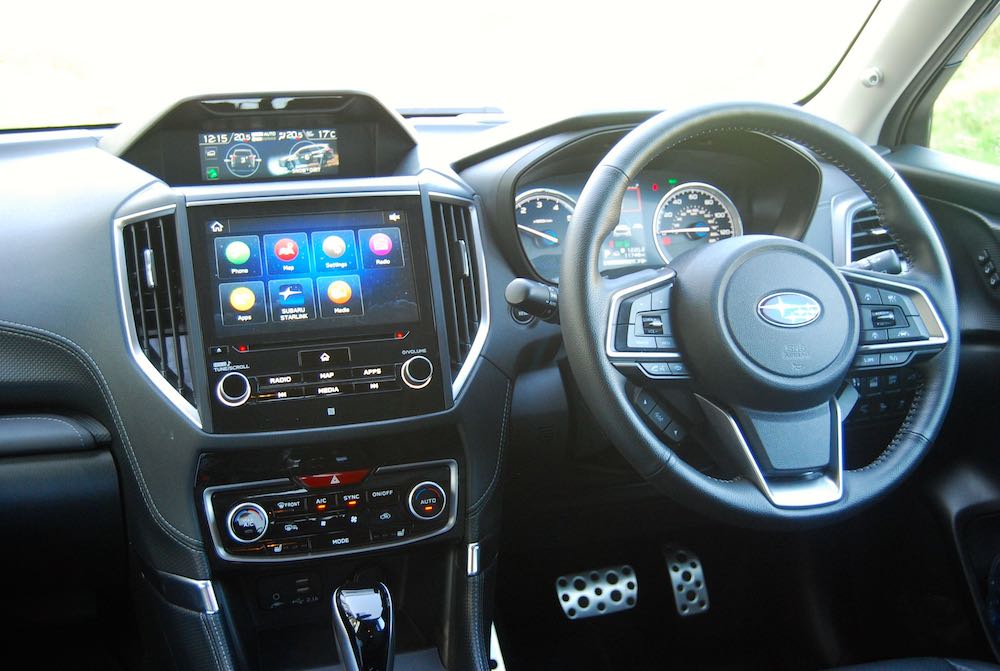 How far is the electric range?
Electric range is supposedly around a mile; in reality we only managed to get the Forester e-Boxer moving without the petrol engine for a few feet and when carrying out low-speed manoeuvres. It also kicks in when you're coasting, but as soon as you touch the accelerator pedal again, the petrol engine starts back up.
Subaru claims a combined mpg of 37.7, during our test we managed real world economy of 37.9, so they've got that pretty-much spot on. What's not overly impressive is the Forester's emissions. At 185g/km CO2, it's not exactly saintly.
In-keeping with the one choice of engine, there's only one transmission, too. It's a CVT unit and, as much as we've driven worse, it does tend to hang on to gears and is typically drone-y.
Permanent AWD
0-62 mph comes around in an uninspiring 11.8 seconds, but this isn't supposed to be a performance Subaru, it's a lifestyle one. On that note, they all come with permanent, symmetrical AWD, there's plenty of tough looking plastic protecting the underside and sills and the suspension sits suitably high, giving a ground clearance of 220mm.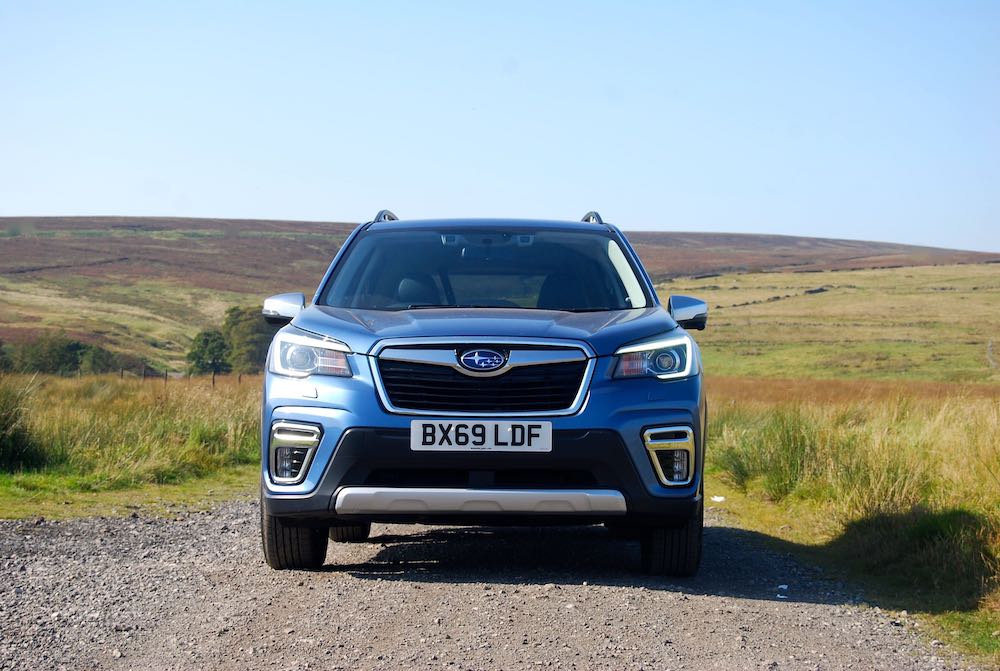 Subaru's X-Mode also comes as standard fit, giving you a snow and dirt mode, as well as a deep snow and mud mode. Hill descent is also standard, so the Forester e-Boxer should have some proper off-road ability. Anyone who's previously used a Forester for towing may lament the loss of a torquey diesel engine, but Subaru claims it'll happily haul up to 1870kg, so all's not lost.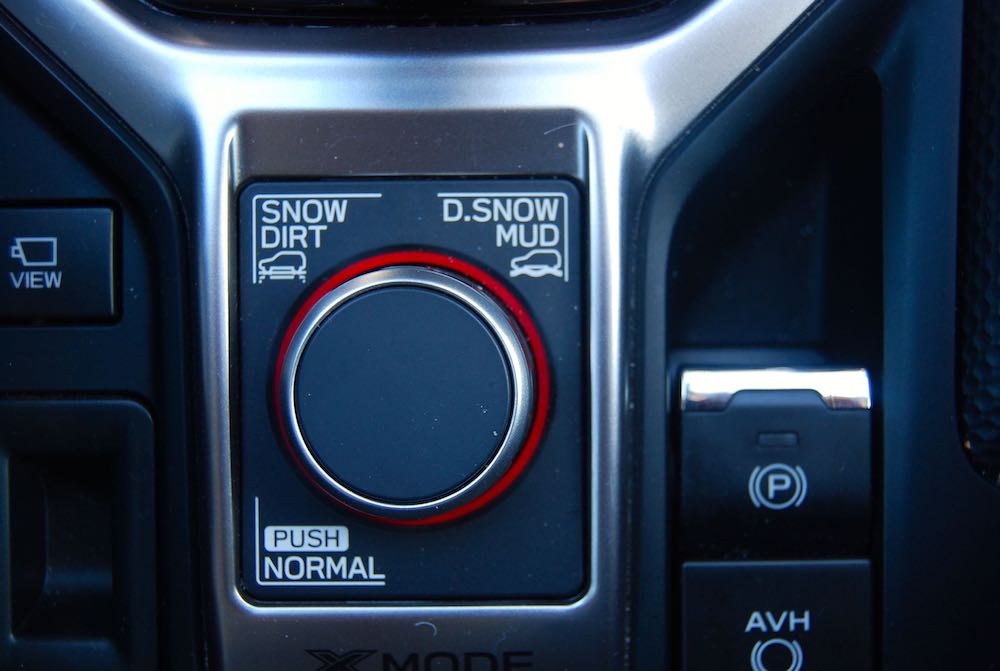 Should I buy a Forester e-Boxer?
Starting at £36,335 and going all the way up to £39,335 for the XE Premium, the Forester e-Boxer is no cheap option. It still holds real off-road credibility and, being a Subaru, it'll be built properly, just don't go expecting much in the way of electric-only range.
By Ben Harrington
2020 Subaru Forester e-Boxer XE Premium Specifications
Engine – 2.0l petrol + electric motor, Transmission – CVT, Layout – Front engine, AWD, Power – 147bhp, Torque – 196Nm, Emissions – 185g/km CO2, Economy – 37.7mpg combined, Maximum Speed – 117mph, Acceleration – 11.8s 0-62mph, Price – £39,335 OTR
The Subaru Forester e-Boxer is available now. For full details go to: www.subaru.co.uk