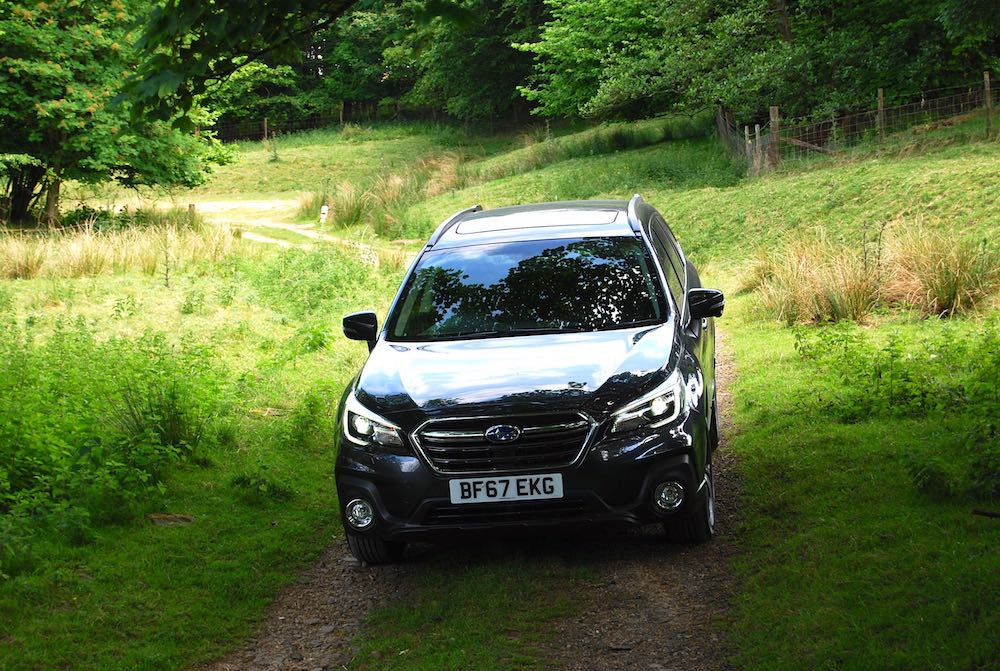 BRZ aside, Subaru could now be regarded as a manufacturer whose main focus is estate cars, or compact SUVs as they're now more commonly labelled. Yes, there's the WRX STI, but that's as good as dead in the UK, and even the 'hatchback'  Impreza has an air of elongated boot about it.
Outback: A Rugged Estate
This is the New Outback – a car Subaru have labelled as a 'Rugged Estate'. What this means in reality is a slightly raised ride height, some genuinely tough looking trim to protect the body work and, perhaps most pertinently, Subaru's symmetrical, permanent AWD system.
AWD systems can be designed and set up to fall into one of three sets of requirements; proper, go-anywhere off-roading, light off-roading with increased confidence in poor conditions & finally, improved grip in performance cars. Subaru themselves describe the Outback as being 'as comfortable on muddy fields as it is on city streets', so that gives you some idea about where the Outback fits into the Subaru 4×4 ideology.
One Engine, One Gearbox. Simple
Speccing your Outback couldn't really be much more simple; it's either Premium at £33,010, or not at £29,995. There's one engine – unsurprisingly, Subaru's 2.5l Boxer unit (non turbo), and it will be mated to a CVT gearbox or as Subaru call it – Lineartronic. No manual 'box, and no diesel – no surprise there!
The good news is that Subaru know more than a thing or two about boxer engines. This one has 173bhp and 235Nm torque @ 4000rpm; maybe not figures to set the world alight but it's extremely useable and smooth, plus you get the merest whiff of that unmistakeable Subaru sound. The CVT 'box is also one of the better ones we've tested; it's as smooth as these gearboxes should be with absolutely no juddering or hesitation.
Running Costs
No diesel option inevitably means it'll cost more in fuel if you're covering long distances. That said, the Outback officially returns 38.7mpg and we achieved pretty close to that on the combined cycle. Emissions are 166g/km so that first year VED isn't exactly cheap.
There may be plenty of grip from that 4×4 system, but the Outback is undeniably about passenger comfort, not Nurburgring records. There's plenty of travel in the suspension, too, and despite being on 17" wheels as standard (Premium models get 18"s), theres plenty of sidewall rubber to help absorb any road imperfections.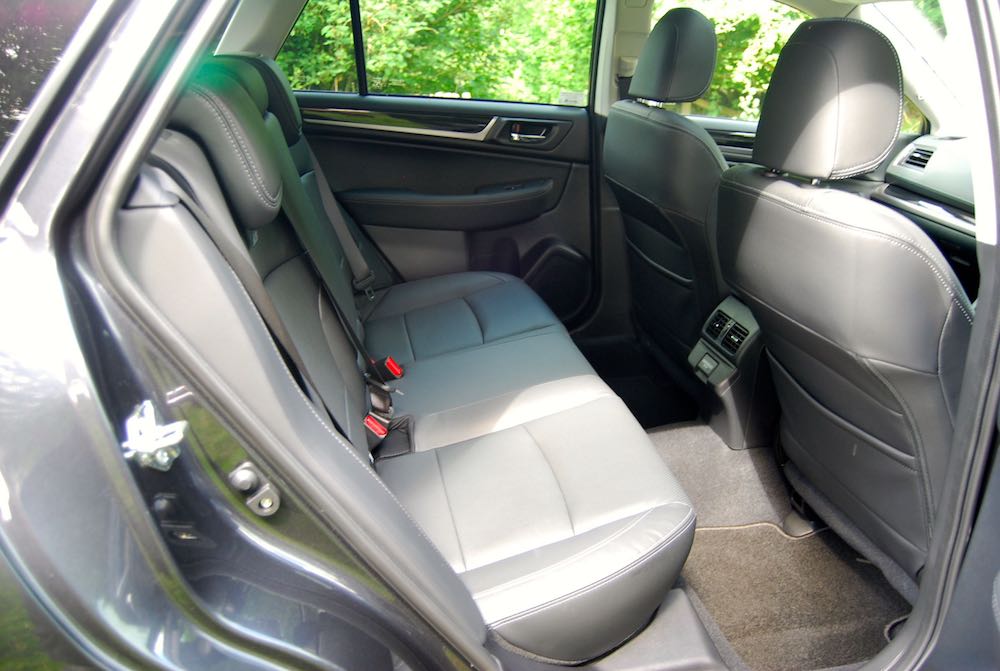 X-Mode
Subaru's 'muddy fields' may be them coming over a bit modest when it comes down to the Outback's off-roading prowess. That symmetrical AWD system sits 200mm above the ground so clearance shouldn't be a problem. If things do get a bit more serious, though, the Outback has something called X-Mode. What this does is turn the 4×4 system's setup, as well as the engine and transmission into a proper piece of kit for getting grip where lesser cars will struggle. X-Mode also incorporates a hill-descent system so the Outback won't run away from you when negotiating steeper downhill tracks. Essentially, it comes with road tyres as standard, though, so don't expect Defender capability.
5* Euro NCAP
Whichever Outback you go for, it comes packed with safety equipment and is rated as a maximum 5 stars by Euro NCAP. There are cameras and sensors all around the car to assist with detecting other road users, as well as blind spot monitors. Every Outback has a reversing camera, the only difference is the infotainment screen is 6.5" or 8", dependent on spec. Oddly, though, reversing sensors are a £384 option; a strange decision in a relatively long vehicle in my opinion.
Not only is the Outback well equipped, it feels like a quality item. Plastics are of a high standard and everything just feels properly screwed together and well engineered; something Subarus of old fell down on. Comparing the Outback to the big three Germans is unrealistic, but it's no budget item. Maybe looking at Subaru as the marque to step into the left-field gap left by Saab would be appropriate.
Impressive Load Capacity
One of the all-important figures for any estate car is just how much you can squeeze in the back. Rear seats in place, the Outback manages 559 litres, but put those rear seats down via a very handy lever cleverly positioned just inside the boot area, and it'll swallow an impressive 1848 litres. Just to put that into context, the Audi A6 only manages 1680 litres.
Should I Buy a Subaru Outback?
There are plenty of tough, 4×4 estate cars on the market, but the likes of the Audi A6 Allroad don't come cheap. No, the Outback's interior refinement doesn't compare to the Audi, but if you want understated, go-anywhere ability, without breaking the bank, the Outback is worth a look.
By Ben Harrington
Subaru Outback SE Premium Specifications:
Engine –

 2.5l 4-cyl diesel,

Layout –

Front engine, 4WD,

Transmission –

 CVT Auto,

Power –

 173bhp, 

Acceleration –

0-62mph – 10.2s,

Maximum Speed –

123mph, Maximum Torque –

235

Nm,

Economy –

 38.7 mpg combined, 

Emissions –

166

g/km CO2,

Price –

£33,010 OTR, £33,560 as tested

The Subaru Outback is available now. For full details go to; www.subaru.co.uk