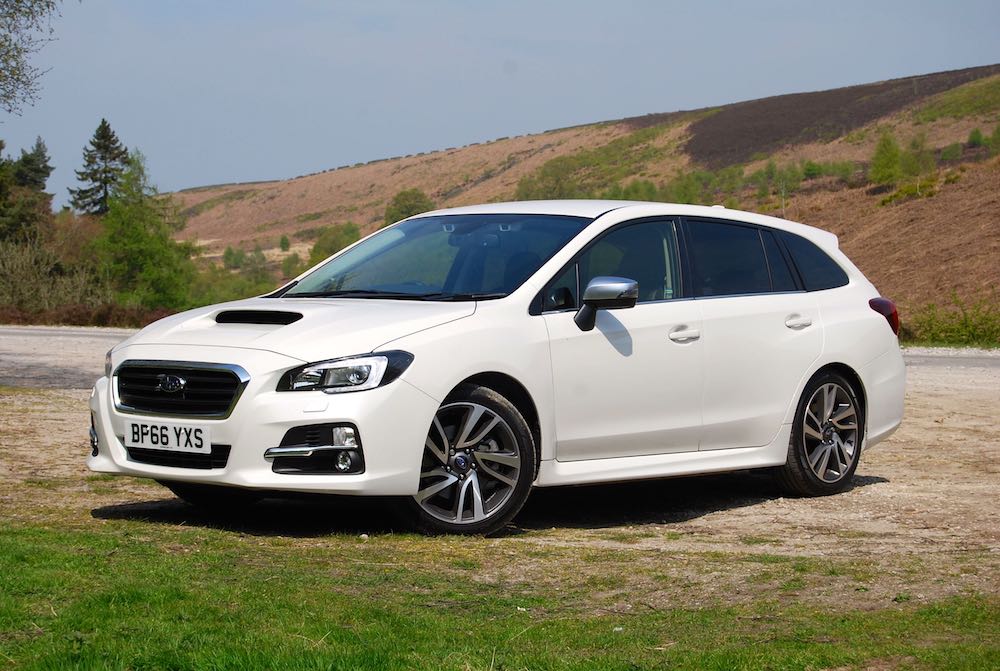 Subaru don't make many dull vehicles. They've got a track record for taking ordinary, small saloons and estates and adding a bit of spice. Obviously there's the Impreza Turbo that really thrust Subaru into the spotlight but there's also been the likes of the Forester and BRZ. Both of which are more interesting than the sum of their parts.
Then there was the Legacy. Something of a Q-Car that did a good job of blending into the background whilst, if spec'd correctly, going like the proverbial stink.
What does Levorg mean?
The Legacy is no more, though, in its place is this: the Levorg. Odd name? We thought so too. Apparently the fact that Levorg is grovel spelled backward is irrelevant, it's an amalgamation of Legacy, touring and revolution. Hmmm…….
Can I have a diesel Levorg?
Slightly convoluted nameplates aside, the Levorg follows on the Legacy's estate-only format. There's very little in the way of engine/drivetrain choice, in fact there's no choice as such. The Levorg has a 1.6l turbocharged petrol engine mated to a 6-speed CVT 'box. Being a Subaru, the engine is a flat-four 'boxer' and the whole setup drives all four wheels, naturally.
How fast is the Levorg?
The 1.6l engine produces 169bhp and 250Nm torque so performance is brisk rather than breath-taking. 0-62mph comes around in 8.9s and top speed is 130mph. On the plus side, claimed combined mpg is 39.8 and we achieved 34.2mpg during our week with the Levorg.
Performance would probably improve if a manual 'box was an option. This 'Lineartronic' CVT transmission never feels rushed and changes between ratios seem to take an age. If you select the Levorg's sports mode in its 'Intelligent drive', things sharpen up and gears are held for longer, but it's still not exactly a snappy 'box.
Subaru's excellent 4-wheel-drive system keeps the Levorg planted, even in slippery bends and the low-slung boxer engine stops the nose dragging wide. It weighs nearly 1.6 tonnes, though, and that transmits through the relaxed steering that's not overly assisted or edgy.
I think it's important to remember what the Levorg is all about. It's badged a 'GT', and that's exactly what it feels like. Long journeys take very little effort in this planted, surefooted estate. The suspension is set firmer than much of the competition but it certainly never jars or shakes over uneven surfaces.
Is the Levorg interior any good?
Historically, Subaru haven't often been noted for the quality or imagination of their interiors. The Levorg is a real improvement over previous efforts, though. The 8-way adjustable seats are grippy yet comfortable and the position gives a great view out without the need for a chiropractor at the other end.
There's some lovely, oversized blue stitching keeping the leather together, and that adds some character to Subaru's otherwise sterile interiors. A reversing camera comes as standard but, oddly, parking sensors are unavailable. A few buttons are dotted around in slightly odd places but overall, the Levorg's cabin has stepped up a few notches over its predecessor.
One downside is Subaru's infotainment system; it really doesn't cut it. It gets confused with iPhones in particular and Apple's CarPlay isn't available. The sat-nav works well enough but Subaru's Starlink function with downloadable app is way behind the competition.
How much room is there inside the Levorg?
There's loads of room in the back seats and the boot is a generous 522 litres with a flat floor for easy loading/unloading. One great feature is the little levers that flatten the back seats, positioned just inside the boot. No more scrambling in or going around to the side doors when you need the extra room. Makes you wonder why more manufacturers don't use a similar system.
Should I buy a Levorg?
There may not be many choices to be made when speccing the Levorg but it is a good GT, equipped with another one of Subaru's sweet, petrol boxer engines. Subaru have a fantastic reputation for reliability so it probably won't let you down. A good, quick estate car that's just that little bit different.
By Ben Harrington
Subaru Levorg GT specifications
Engine – 1.6l 'boxer' turbo-charged petrol, Layout – Front engine, 4WD, Transmission – Six-speed CVT auto, Power – 169bhp, Acceleration – 0-62mph – 8.9s, Maximum Speed – 130mph, Maximum Torque – 250Nm, Economy – 39.8mpg combined, Emissions – 164g/km CO2, Price – £29,680 OTR
The Subaru Levorg is available now. For full details go to: www.subaru.co.uk