Subaru Forester
Say 'Subaru' and the majority of people will in all likelihood envisage a fire-spitting, blue and gold rally car with a certain legendary Scotsman piloting it through dense woodland. Albeit sideways. Or airborne.
Call this being victims of one's own success if you will, but the majority of Subaru's business is far more sensible and everyday than their WRX STI (the Impreza name is now reserved for the non-performance hatchback models), this Forester being a good case in point. Or it would be.
It would be 'sensible', except….
It would be, except this particular Forester is the XT model, and while the entire range is powered by a selection of 2.0l, four-cylinder 'boxer' engines, either petrol or diesel, this one's got a turbocharged petrol unit producing 240bhp. That equates to 0-62mph in 7.5s and onwards to a 137mph top speed.
Unfortunately every yin must have its yang and the XT also equates to a claimed 33.2mpg combined and emissions of 197g/km CO2, so it may be more of an exception than a rule when it comes down to the Forester population on our roads.
Lofty Forester
Early Foresters were very much in the 'pumped up estate-car' category, and it was only when I parked this fourth gen Forester in my local crossover/SUV-heavy supermarket car park that I noticed just how much it's grown. The Forester stands 1735mm tall, and just to put that into context, the new KIA Sportage is 1635mm, the Discovery Sport is 1724mm. You get the idea.
Where the Forester loses out to the hordes of crossovers is in terms of width (it's 10cm narrower than a Discovery Sport), and that's what keeps its image more car-like than SUV.
Q-car
This Forester XT is actually something of a Q-car, keeping its 240bhp light well and truly hidden under the bushiest of bushels. Where Foresters of old with performance car aspiration were easily identifiable thanks to an Impreza-style bonnet scoop, there's non of that in-your-face lairiness here, thank you. Even the trademark, boxer engine 'thrum' is toned down to near extinction; in fact, the only clue as to the Forester XT's intentions are a pair of purposeful looking exhausts poking out from under the rear bumper.
It's what's found lurking underneath the front end that's a more accurate indication of what this Subaru's all about, though, in the shape of a weighty sump protector. You see, the clue's in the name: the Subaru Forester is designed to handle the rough stuff off-road, regardless of what engine's in it, and it's not just paying lip service to the task, either.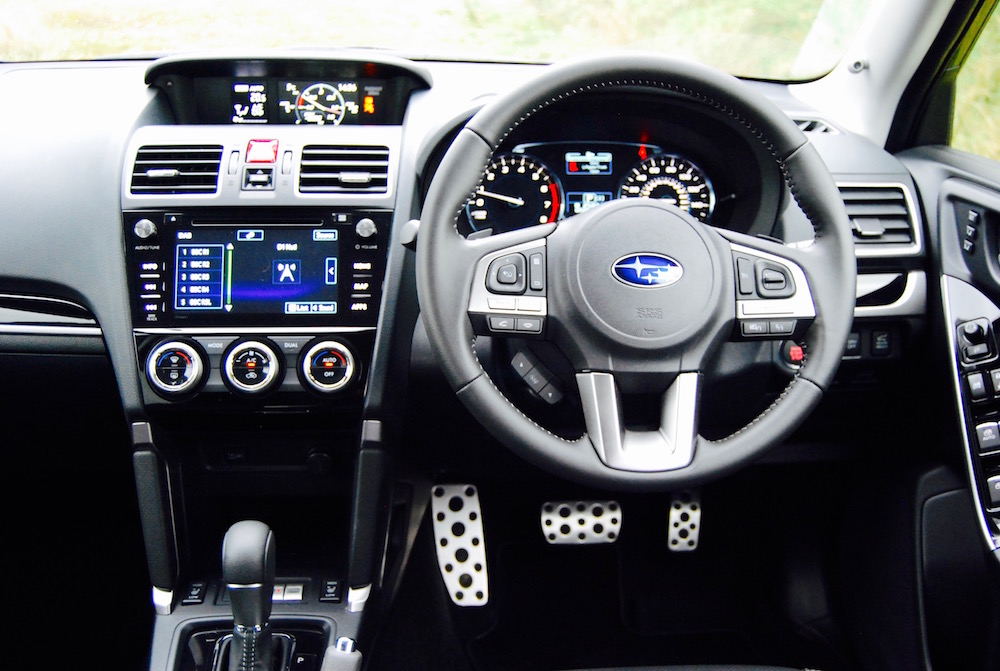 Made to primarily be capable off-road
That raised ride height means the Forester has a tendency to lean around bends, even with the boxer engine keeping the centre-of-gravity nice and low. The plus-side is clearance over obstacles and greater approach angle capability, and the obvious improvement in visibility over the road (or dirt-track) ahead.
All Foresters come with a sport mode, and this XT comes with an added sport# mode, sharpening throttle response and making the CVT more aggressive with increased definition through its 8 'gears'.
Again, there's a more salient mode in the Forester's armoury, and that's X-mode. What X-mode does is adjust the characteristics of the engine, braking, transmission and drivetrain (basically the whole car, then) up to 25mph to make negotiating your typical off-road hurdles a far simpler affair. Amongst other aides, it senses whether you're driving up or down hill, and if you come across obstacles it alters throttle response accordingly: now that's clever.
Any bad points?
So, what's wrong with the Forester?; it goes almost anywhere, it's roomy, easy to drive and park, built to last and, in the case of the this XT, it's fast. There's honestly not much wrong with it is the answer; some interior plastics are still way too brittle, the driver's seat's lower back bolster could do with an adjuster and the reversing camera is next to useless when it rains.
None of these minor issues would put me off Forester ownership, though, and even though you'd probably buy the diesel, I think we should all be grateful to Subaru for the Forester XT's continued existence.
By Ben Harrington
Specifications; Subaru Forester XT, Engine – 2.0l four-cylinder, turbocharged boxer, Transmission – 8 speed CVT, Layout – Front engine, 4WD, Power – 240bhp, Torque – 350Nm, Emissions – 197g/km CO2, Economy – 33.2mpg combined, Maximum Speed – 137 mph, Acceleration – 7.5s 0-62mph, Price – £30,995 OTR.
The Subaru Forester is available now, for full details go to; www.subaru.co.uk