Honda e
A wise man once said "If you want to know the future, look at the past". A very wise man in fact, possibly the wisest: a certain Mr. Albert Einstein. Now, as bright as ol' Bert was, I don't think even he had the foresight to be referring to Honda's new all-electric vehicle – simply named the 'e', but the phrase still fits. You see, the e is ultra modern and super clean, using the latest technology to make ownership of an electric car an even more realistic proposition. To look at, though, it's as retro as stack heels and flares, and that's coming from Honda; a brand that tends to focus firmly on the future, not what's come before.
Contemporary retro
When I look at the e's design, I purely see flashes of the original Civic, but more than one person has commented on its similarity to the Mk1 VW Golf; not a car prone to less than complimentary comments about its looks. Look closely, though, and you'll see flashes of the most contemporary in its form. There's no grille – electric cars don't need air to cool things down, and there's no door mirrors – an update manufacturers have toyed with for years on concepts but Honda has brought it into the mainstream with the e. It might not look it, but the Honda e is five-door only, too, its rear door handles disguised amongst the C-pillars.
You thought it was cool outside?
Inside the Honda e follows in exactly the same vein; a very tasteful blend of period Honda cabin space and current tech. The first thing to strike you probably won't be the dual infotainment screens that span most of the dash; we're fairly used to that kind of thing now. No, what grabs your attention is the use of (fake) wood on the facia and centre console. And it's not some polished piano black walnut effect either; this is a somewhat raw looking grain last seen on the case of your parents' first colour tv and, well, a Mark 1 Civic.
Just as with the original Civic, the centre console doesn't quite meet up with the dashboard so the carpet is full width and there's a particularly canny pull-out cup holder. The seats are comfortable, easy affairs with next to no side bolsters but plenty of surface area to park yourself on. Anyone who ever sat in a Citroen Cactus will find it very familiar. The steering wheel rim looks spindly, just like most cars from pre 1980, and this gives it the impression of being oversized. It's not as delicate as the original Civic's, of course, but compared to our recent obsession with sports-style, flat bottomed wheels, it's got a charming innocence that's the cherry on top of this nod to interiors gone by.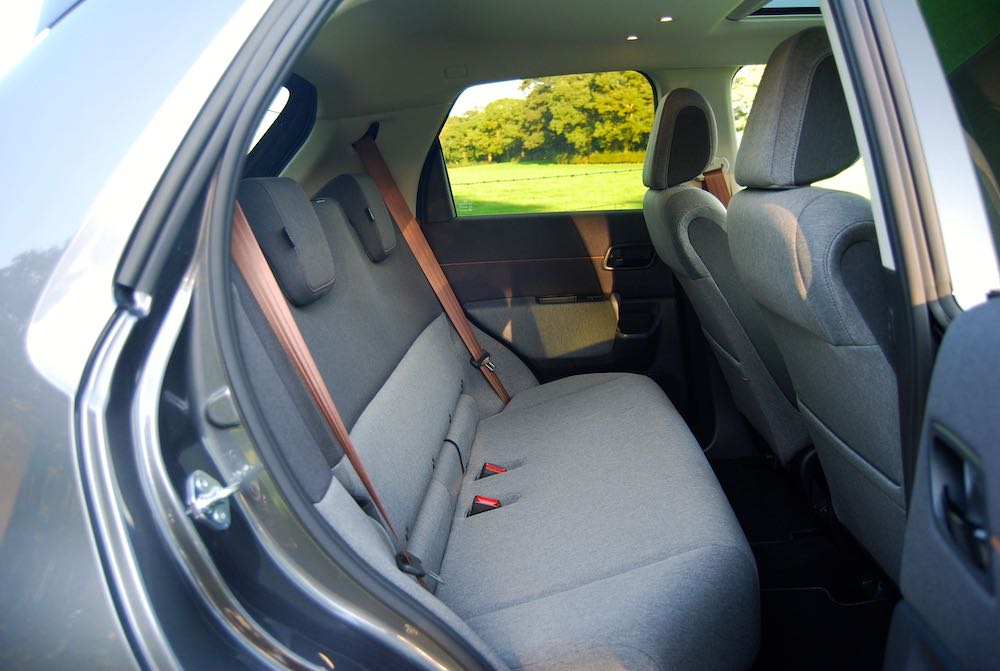 Rear view camera vs mirror
But it's not all a dewy-eyed view of better times through rosy-lensed spectacles. That dual screen infotainment system we mentioned is superbly high res and what's displayed can be flipped back and forth, dependent on whether you've got a willing and able passenger to sort things out. Flanking this screen are two more that sit nearly flush with the side windows. They're angled towards the driver and that's because they display images from the 'door mirror' cameras. We got used to their position far more quickly than we did in the similar system in the Audi e-tron; they just seem to be in the right place. That said, they aren't as reassuring on an unlit country road as 'proper' mirrors. There's also a camera on this Honda e Advance's boot lid that provides images to the rear-view mirror – that's a screen too. This one we don't like, it's just a step too far and the images somehow don't look authentic. Thankfully you can flip the screen upwards and it becomes a proper mirror again.
What's moving the e?
There's nothing old-worldly about what's providing drive to the Honda e, however. A 35.5 kWh lithium ion battery powers a 134 bhp, 315 Nm motor, but it's where everything's located that's the charm. The motor is at the back of the e, driving the rear wheels, and by sticking all the heavy cooling system up front, the Honda e has a 50/50 weight distribution for accurate handling and despite its fairly small wheelbase and 'green' tyres, handling is pinpoint with no nasty surprises. Not only that but the being rear motored makes the Honda e possibly the easiest car in the world to park thanks to a minuscule turning circle.
So, the Honda e's got the sporty setup, but what about performance? Despite having a quite unnecessary sport mode it manages the 0-62 mph dash in 9.0 seconds and tops out at just 90 mph. Not exactly figures to worry a modern hot-hatch, sure, but instant torque and a flat, regular power curve feels a whole load of fun and this quirky EV will take its fair share by surprise from the lights.
Regen braking is a welcome feature that enables single-pedal driving whilst putting charge back into the battery. It needs to be switched on every time you get back in the e and the default is the most effective of three settings. This is fine if you're used to it, if not it can feel like the first time you tried left-foot braking and the system isn't overly helpful when you want a bit of roll whilst parallel parking.
So, it's perfect then?
It makes sense that small electric cars come with little batteries, and that's the slight fly in the ointment here. The Honda e has a claimed 137 miles of electric range from a full charge, and when range anxiety is still something of a stumbling block, it's going to be the Honda e's Achilles heel, especially when the cheapest version costs over £28k and this Advance spec takes it to nearly £31k. We did manage 130 miles from a charge without being overly careful so the figures are accurate, plus it'll charge up to 80% in half an hour from a 50 kw charger should you be able to find one.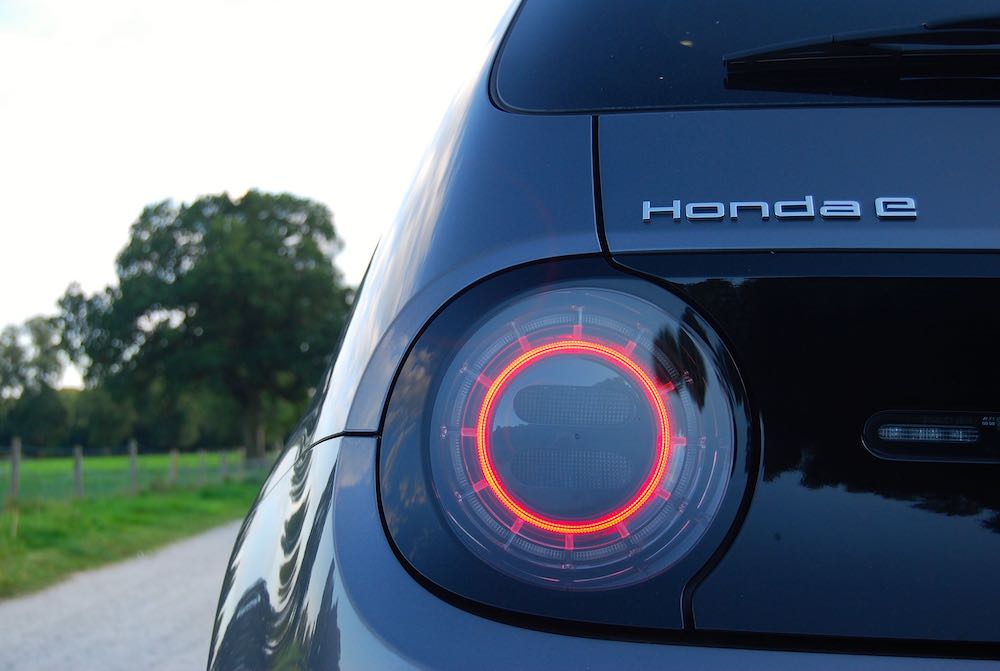 Should I buy a Honda e?
The big question here is how long it'll take for the charging infrastructure to catch up, as at the moment the Honda e is ahead of its time. If you've got a charging point at home and one at work and you're certain you won't need to do any more than 130 miles without stopping, the Honda e is a beautiful car to look at, be in and drive.
By Ben Harrington
The Honda e is available now. For full details go to: www.honda.co.uk