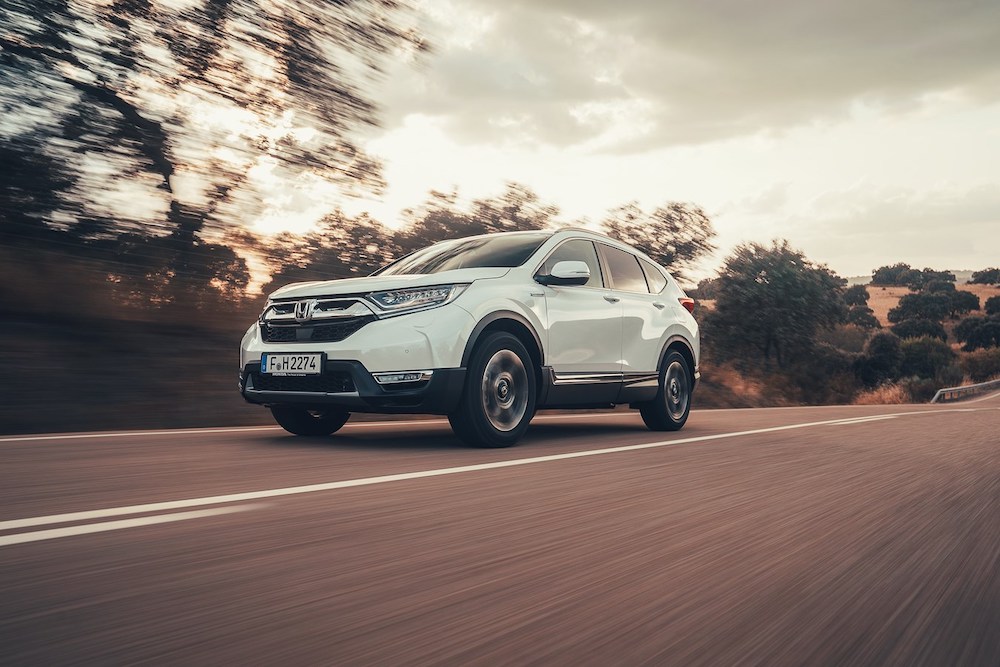 CR-V Hybrid
One aspect of coming out of this global mess that we've not really considered is the return of the proper traffic jam – never thought you'd miss them, eh? The next time you're stuck in one and you've fiddled with every knob and dial your heart desires, take a look around. There's a good chance you'll see one of these; the Honda CR-V – they go so far under the radar that they should really be military grade, but this is the biggest selling SUV on the whole planet. Statistically, you're never more than two meters away from a CR-V.
Not being one to rest on their laurels, though, Honda has brought this fifth-gen CR-V right up to date with this; the CR-V Hybrid. It's available in 2WD or AWD, dependent on spec and it combines a 2.0l Atkinson cycle petrol (diesel was dropped entirely from the range) with two electric motors.
How does it work?
The way the wheels are driven isn't exactly what you'd call conventional, though. The engine is only directly connected to the wheels at higher speeds, when a clutch engages a single gear providing what's essentially direct drive. The batteries can provide drive to the electric motor on its own via an EV mode button, giving around a mile of range. What's really clever, though, if a tad nonsensical sounding, is that most of the time the engine runs but only to provide power to a generator that drives an electric motor that drives the wheels. Rev the engine more and it gives more power to the generator and, presto – more speed. When the engine doesn't need to provide as much power to the generator for actual driving purposes, the excess is diverted to the battery for electric power when it's needed. The engine can be left to run at its most efficient levels to charge the batteries or it can shut down entirely if it's not needed. Coasting or braking will also recharge the batteries via a regeneration system.
Oh, that's how
Sounds complicated, doesn't it?, but all you really need to know is that it just gets on with the job in the real world, behind the scenes and with the minimum of fuss. Of course, the whole point of all this is to use less fuel, and the CR-V Hybrid manages 53.3mpg combined for the lowest spec S model in 2WD mode and 51.4mpg for the cheapest 4WD version which is only available in SE grade and higher. Not only does it not cost the earth, literally, it doesn't cost the earth figuratively either. The 2WD S costs £30,810 or £264 a month, the 4WD SE will set you back £34,330 or £318 per month.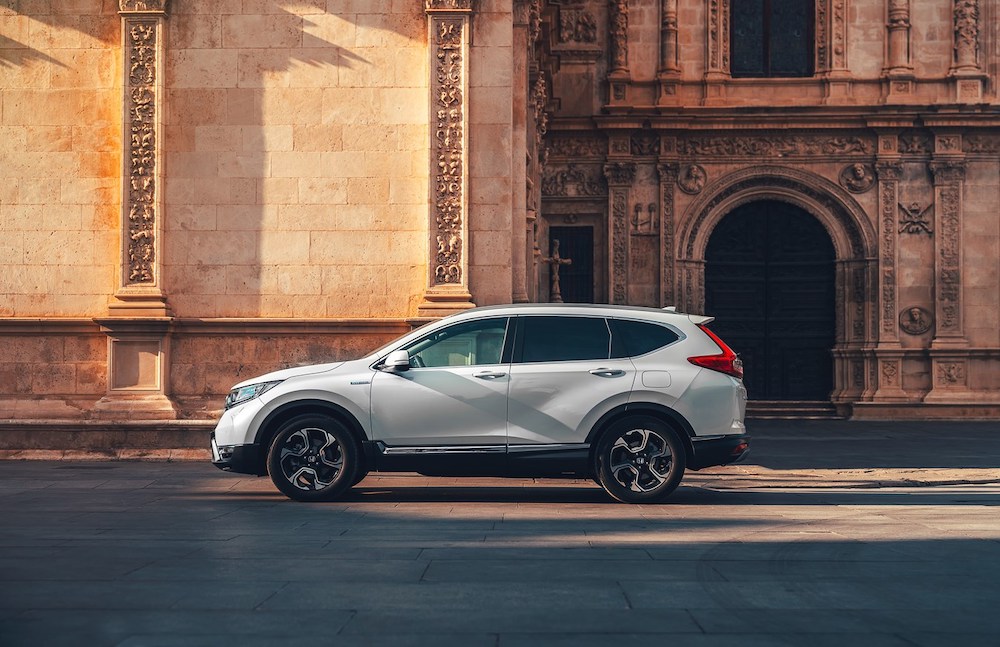 First it giveth…….
So, downsides? Obviously that electrical system with its hefty motors adds weight to the CR-V Hybrid, around 100kg , give or take. Is it noticeable in real world driving? – not really. The CR-V wasn't built for performance driving and, if anything, that extra weight could actually be beneficial when it's doing what many of them were bought for – towing.
What some CR-V users will miss is the third row of seats. They've been sacrificed to make room for the hybrid element so if you want to ferry more than five people around, you're stuck with an ICE CR-V only. If two rows of seats is sufficient for your lifestyle, every seat has plenty of leg and head room and the boot is a very useful 497 litres with the rear seats up, 1638 litres with them down.
Should I buy a CR-V Hybrid?
Removing the diesel option from the CR-V was always going to hit it in the miles per gallon stakes. No, making it a hybrid doesn't get it into hypermiling stakes and you forego a couple of seats, but it improves mpg from the 1.5 litre CR-V's mid-thirties to the fifties in this one, and you won't pay a fortune for the privilege.
By Ben Harrington
2021 Honda CR-V Hybrid EX AWD Specifications
Engine – 2.0l Atkinson 4-cylinder & 135Kw electric motor, Transmission – CVT auto, Layout – Front engine, AWD, Power – 144bhp & 182bhp, Torque – 315Nm, Emissions – 126g/km CO2, Economy – 51.4mpg combined, Maximum Speed – 112 mph, Acceleration – 9.2s 0-62mph, Price – £39,050 OTR, £39,600 as tested
The 2021 Honda CR-V is available now. For full details go to: www.honda.co.uk