The original C4 Cactus was both a breath of fresh air and a return to the quirkiness of Citroens gone by. It was lightweight, unashamedly comfortable and had some whacking great squishy bits on the side to ward off evil shopping trollies.
2018 C4 Cactus
This is the New C4 Cactus and, while it's easily recognisable as such, does it still have enough of the mark 1's kookiness that made it so popular?
Where Have the Bumpy Bits gone?
Let's start with the elephant in the room: the Airbumps. Yes, they're still there, but they've been dramatically reduced and now just cover the very bottom section of the doors. I appreciate it's to make the C4 Cactus more mainstream as it slides gracefully into the space left by the outgoing C4, but this is a mistake. I'd rather park as far away as possible than run the risk of some careless oik ram-raiding the side of my car or opening their own door onto it. With the last Cactus, that risk was removed, and I for one liked it. Either have them or don't; this half-hearted attempt just doesn't cut it.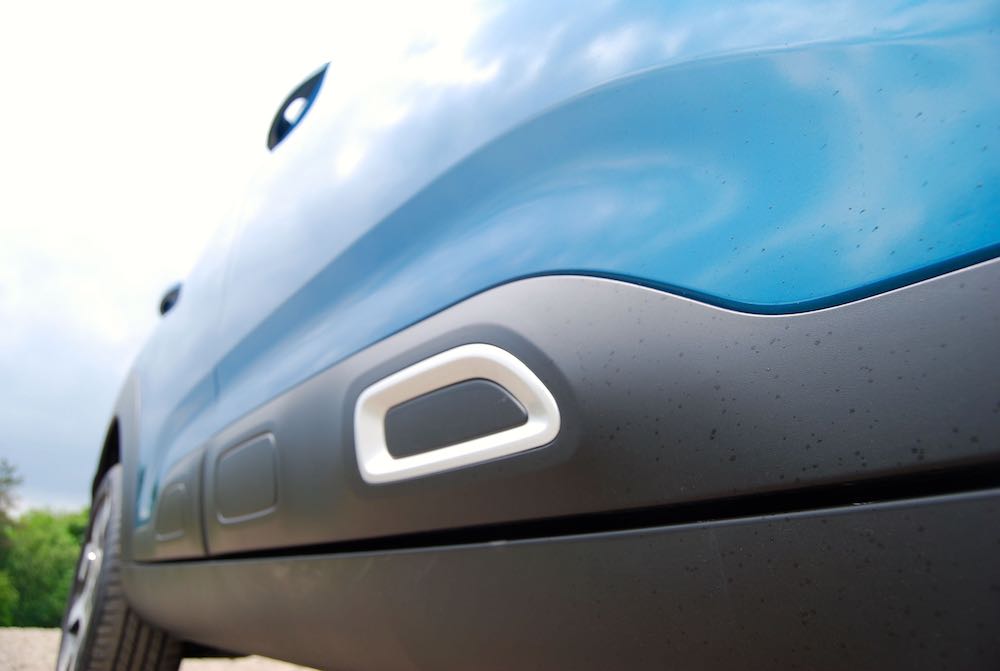 Right, rant over, what's the rest of the car like? Well, like I said, the Cactus' USP was pure, unadulterated comfort, and that's been ramped up even more. Citroen know a thing or two about compliant suspension and they've worked their magic again with some 'Progressive Hydraulic Cushions' that come on all but the most basic model. They may sound like something to make watching Netflix for hours on end in your living room more bearable, but they're actually for smoothing out the Cactus over particularly aggressive potholes and bumps. They slow down the suspension's reactions and the result is a wonderfully level ride that you just wouldn't warrant from a sub-£20k car.
Minimalist yet Comfortable
The interior of the New C4 Cactus is very similar to the original, so it's still an exercise in minimalism. You still pull the doors shut with some leather straps and those surprisingly grippy pads still sit on top of the luggage-style glovebox. The good news is that the seats are now even more armchair like than before. They offer precisely zero in terms of lateral support but that's not the point; the important bit is how you sink into them and enjoy a genuinely soft, well-sprung ride.
Rear Passengers Suffer
Any rear passengers may still feel the whole minimalist approach goes a bit far, though. There's not much room to spread out, and if you go for the Flair spec, it comes with a panoramic sunroof which eats into headroom even more. Not only this, but the sunroof doesn't have a retractable blind to keep the interior cool in summer; it's thermally insulated but it's not the same. Just to compound this, if you want to let a bit of heat escape, the rear windows are still hinged like a 1980s 3-door hatchback. It saves weight and expense on window motors but doesn't exactly scream luxury. One saving grace are some extra-large rear door bins so at least you can keep hydrated with a 2 litre bottle of water.
Engines are predominantly petrol, with 82, 110 or 130bhp available, there's also an ultra-economical 100bhp diesel which returns over 70mpg on the combined cycle. Transmission is via either a 5 or 6-speed manual 'box, or there is the option of an automatic but that's limited to the 110bhp Flair model only.
3-Cylinder Petrol
All petrol-powered Cacti are 3-cylinder units, either turbo-charged or naturally aspirated, dependent on output. Our test car is the most powerful, 130bhp unit which achieves 0-62mph in 8.2s & a maximum 120mph. It's not the smoothest engine, even for a 3-cylinder and, despite its 230Nm torque, it can labour at low revs in second gear.
Should I Buy a C4 Cactus?
Prices for the C4 Cactus have risen steeply, with the most basic Feel Edition model starting at £17,270. It's only available with the 82bhp engine, though, which is sluggish to say the least and it also comes with 'normal' suspension, not the cushions. For an extra £700 you get the Feel which has a selection of engines and the uprated suspension: worth every penny. Either way, the C4 Cactus is around £4000 more than the original, which pulls it firmly out of the budget-hatch genre.
By Ben Harrington
Citroen C4 Cactus Flair 130 Specifications:
Engine –

 1.2l 3-cyl petrol,

Layout –

Front engine, FWD, 

Transmission –

 6-speed manual,

Power –

 130bhp, 

Acceleration –

0-62mph – 8.2s,

Maximum Speed –

120mph, Maximum Torque –

230

Nm,

Economy –

 58.9 mpg combined, 

Emissions –

110

g/km CO2,

Price –

£20,670 OTR, £21,715 as tested

The Citroen C4 Cactus is available now. For full details go to; www.citroen.co.uk