C4 Picasso
The Xsara Picasso was a huge seller for Citroen, offering loads of space and features for young families at an affordable price.
The original C4 Picasso replaced the ubiquitous Xsara in 2007, with a design that was very much a sharpened take on its predecessor. This is the latest C4 Picasso and it's really picked up from where the others left off.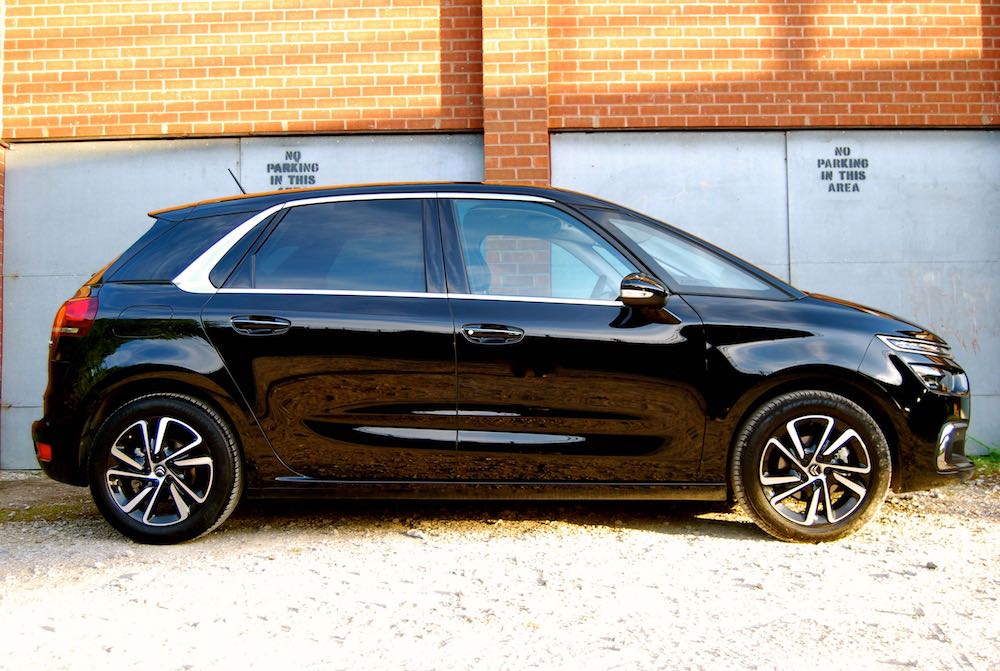 Why so serious?
Visually, the Picasso is very much a modern Citroen and has lost most of its 'cutesy' image; where was once bulbous and rotund is now keen and sleek. Nowhere more so than the headlights – divided into one narrow, feature-slit and another less obvious light that melds into the bodywork.
Raising the C4 Picasso's belt and shoulder lines has also given the car an altogether more serious look. Glass is still an essential part of its design, and there's lots of it, but it's no longer the car's dominant, egg-like facet.
So clever inside
Inside this MPV is really what matters most in this type of car. Speaking from personal experience having once owned a Xsara Picasso when our children were very young: the smaller the child, the more room is needed. The C4 Picasso is strictly 5-seater only (it's Grand Picasso if you need 7 seats), but it's the way those seats are utilised that's pertinent.
There's three 'proper' seats in the rear and they can all be individually moved, adjusted and even removed if necessary. This adaptability is infinitely helpful when transporting child seats, buggies and the vast amount of potential accessories young children come with these days. All of the rear seats have Isofix and the 537 litre boot has a flat floor so no lifting in or out over a boot-lip.
Any help is welcome when young children are involved and the C4 Picasso is full of quirky, clever ideas to lighten your load. There's a second, smaller rear-view mirror so you can keep an eye on the little darlings and the boot-lamp is a removable torch. There's storage all over the place, even under the floor and a built-in air freshener for…….well, you know why.
Better

quality cabin
It's not all about the kids, though, the C4 Picasso is for grownups, too. The quality of the cabin is massively improved, getting on for sister company – DS levels of refinement. No longer are there vast swathes of cheap, featureless plastic; there's real attention to detail that's impressive.
All the information the driver needs is in a central, dash-mounted display with Apple CarPlay, park-assist and cameras available, dependent on spec.
Great vision
From the inside, the ingenious way Citroen have gone about glazing the C4 Picasso becomes obvious. The windscreen is a huge, panoramic piece of glass that stretches back above the front seats. The outlook ahead is like nothing else – even a convertible has a window-frame interrupting the view.
Both the A and C-pillars are divided into two with a proper piece of glass separating them, this adds to an all-around field of vision that inspires confidence.
The C4 Picasso is available with a 1.2l 3-cylinder petrol engine with 110 or 130bhp, and a choice of 1.6l or 2.0l diesel engines with 99, 120 or 150bhp. We've driven the 130bhp 3-cylinder and, although it inevitably loses out to the diesels in terms of mpg, it's what we'd go for. It's easy to drive and that pop-pop noise adds character where a clattery diesel can grate.
Picassos are, and always have been the definitive mini MPV. This C4 Picasso is a great tool, especially for families. It's grown up a bit, too, not too much, though.
By Ben Harrington
Specifications: Citroen C4 Picasso Flair Puretech, Engine – 1.2l three-cylinder petrol, Layout – Front engine, FWD, Transmission – Six-speed manual, Power – 131bhp, Acceleration – 0-62mph – 10.1s, Maximum Speed – 125mph, Maximum Torque – 230Nm, Economy – 56.5mpg combined, Emissions – 116g/km CO2, Price – £24,595 OTR, £26,865 as tested
The Citroen C4 Picasso is on sale now. For full details, go to: www.citroen.co.uk