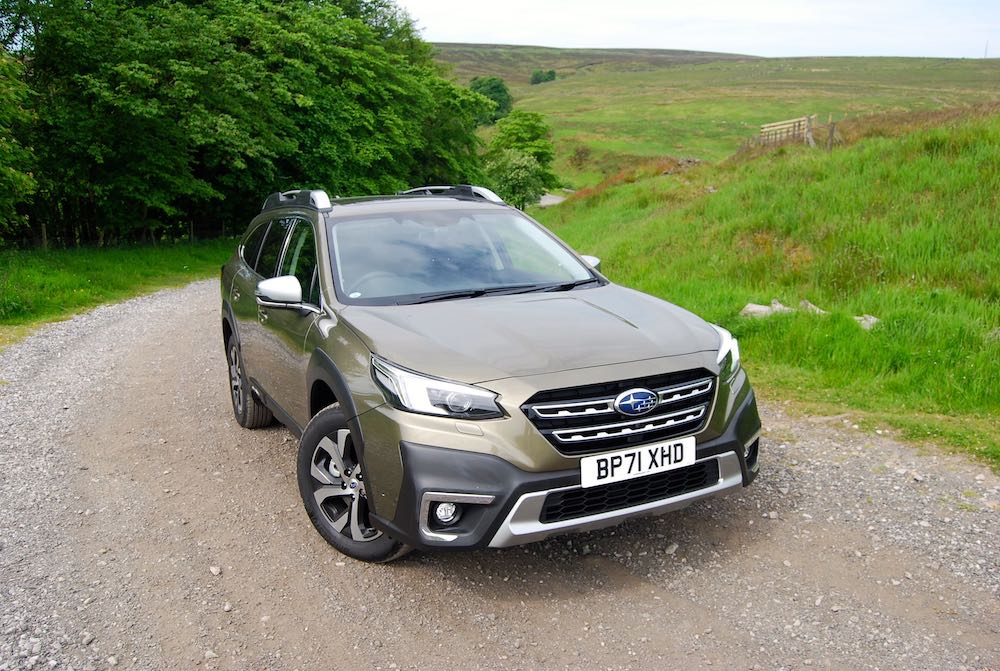 Subaru Outback
Long before Volvo and its Cross Country and Audi's (now discontinued in the UK) Allroad, Subaru were making tough, go anywhere estate cars, and this all-new Outback is their latest. No, it's not as unashamedly fashionable as an SUV and, no, it's not a super-slippery eco-warrior EV either. What the Outback is, as the Antipodean name implies, is a versatile large estate car that can handle surfaces a tad trickier than damp tarmac. The Outback is the original crossover.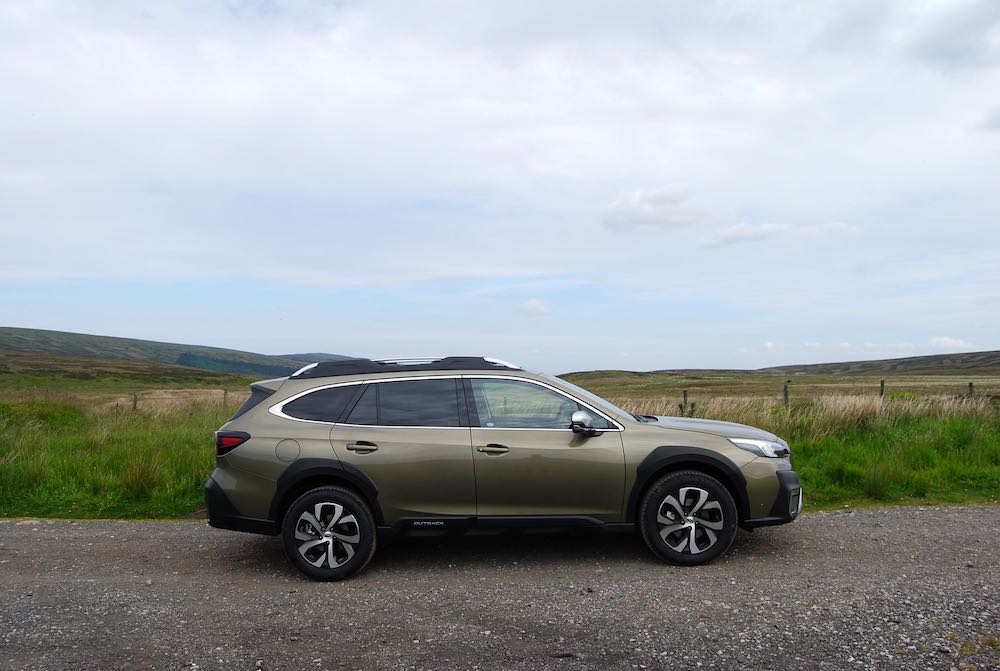 Starts at £34,070
The Outback starts at £34,070 in Limited spec and goes all the way up to £39,499 for the Touring variant. There's also a fairly oddly named Field version and that's £38,070. Whichever Outback you go for, they're all exactly the same under the skin. They're all powered by a 2.5 litre, 4-cylinder petrol 'boxer' engine, because this is a Subaru after all, and they all come with symmetrical all-wheel drive because, again, it's a Subaru.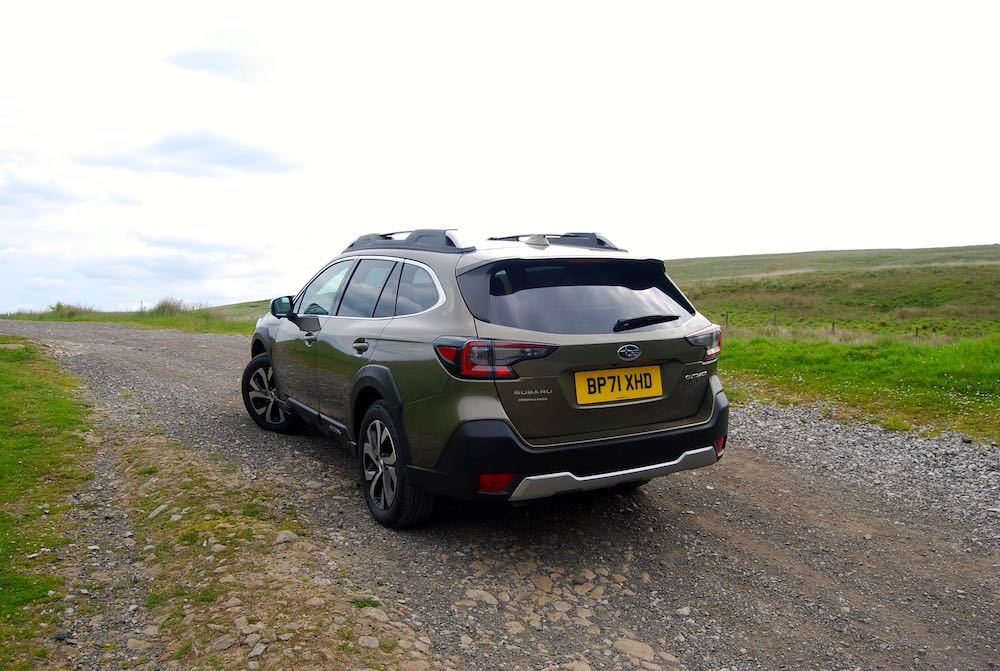 So, in terms of performance, your 168bhp Outback with its 252Nm torque will do 0-62mph in 10.2 seconds and go on to a top speed of 120mph. Not exactly blistering but this was made to cope with challenging terrain, not necessarily particularly quickly. Should you wander off the perfectly clean, dry, undamaged section of tarmac that must surely exist somewhere in the UK, the Outback has something called an X-MODE system to help you out. At low speeds you can flick between snow/dirt & deep snow/mud settings which alters the characteristics of the AWD system to either keep you out of trouble or get you out of it if it's too late. There's even hill descent included.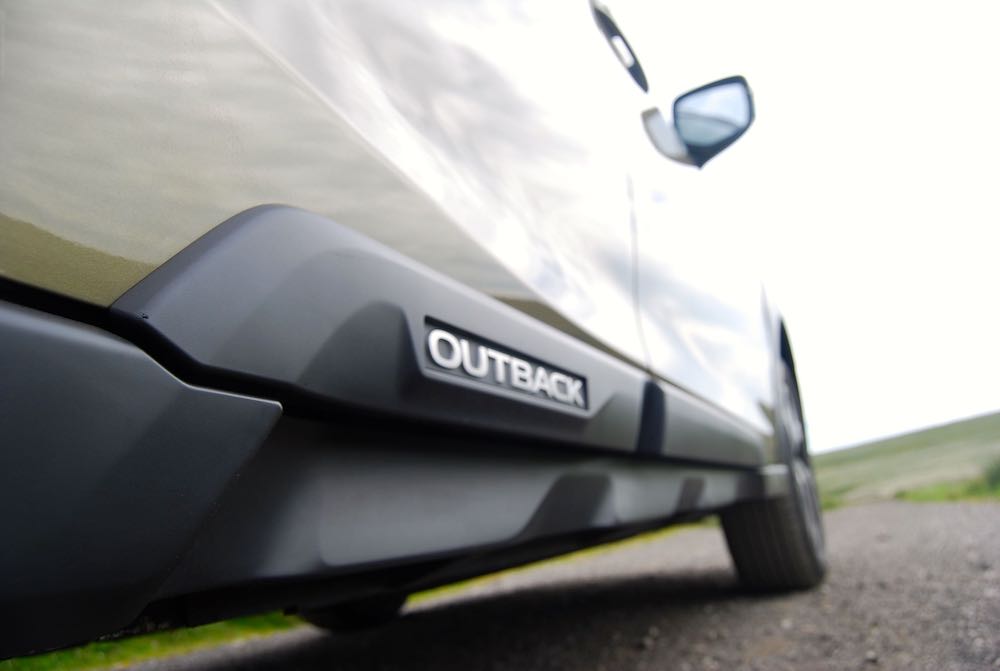 No ordinary estate
In terms of appearance, the Outback could never be confused with your average, run-of-the-mill estate car. It sits nice and high to give better ground clearance and to allow for more movement in the suspension and the AWD gubbins underneath. There's a black plastic guard lining the bottom edge of the bodywork to protect it from any boulders and wildlife you may come across, it's even serrated along the sills – this is the AWD crossover Blade would go for. Even the roof rails have been beefed up, should the need to transport a buffalo, or a block of flats up there arise.
Sit inside the Outback and whichever grade you've gone for your seat will be heated and fatigue-reducing, apparently, and that's front and rear. What the seats are made of does change with spec; Limited gets fabric, Field gets water-repellant leather-esque and Touring gets actual Nappa animal skin. The driver's seat is large and accommodating; the kind of pew you could easily cover long distances in. Visibility is good and everything including the steering wheel is adjustable to suit your needs.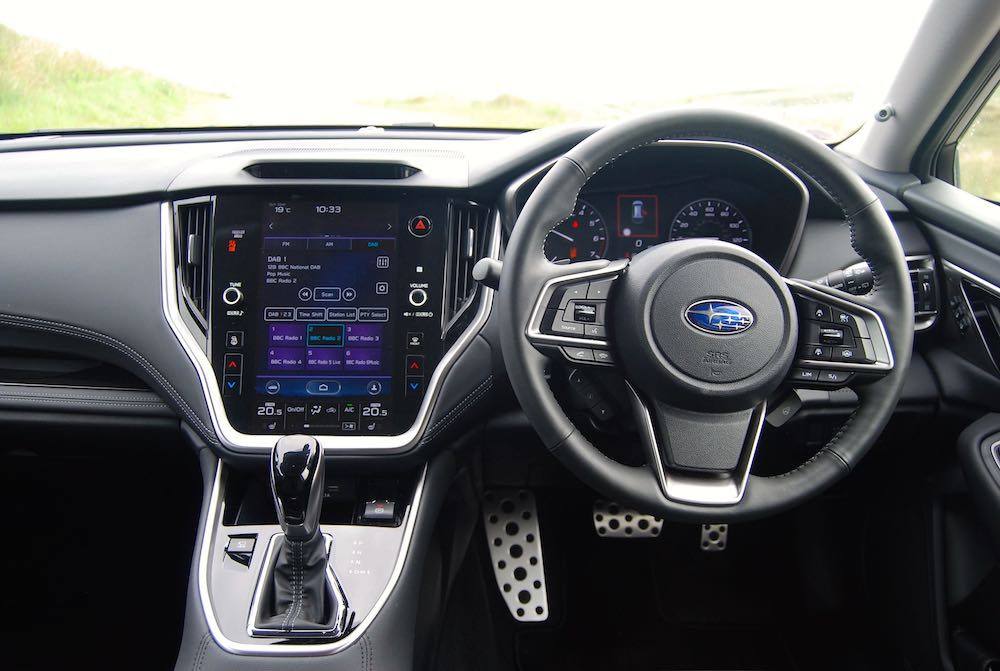 Updated dash & infotainment
The Outback's dash design has been updated and now features a large, portrait orientated screen that controls just about everything except stereo volume. The software isn't as intuitive as some and the graphics are a little grainy, but it's a straight forward system to use once you're used to it. The only grumble we found about the Outback's driving controls was the indicator stalk that immediately returns to centre; how hard you flick it determines whether you indicate to turn or for a three-flash lane change and the two are easily confused.
5-star Euro NCAP
The Outback comes with a 5-star Euro NCAP safety rating and the safety tech that comes as standard is generous. All grades come with Eyesight driver assist which monitors the road ahead, autonomous emergency steering, lane centering, traffic sign recognition, speed limiter and a driver fatigue monitor to make sure you're not nodding off. With every system switched on, the bongs and alerts can get a bit much in heavy town traffic but you can pick and choose which ones are active. One we found most helpful was the system that alerts you to oncoming vehicles from the side as you're reversing; great for avoiding those multi-storey F1 wannabes.
2.5 litre boxer engine
The demise of diesel has left the Outback with that one engine; a 2.5 litre petrol with 252Nm torque which should be just enough to keep the towing community happy as it's rated up to 200kg braked and 750kg unbraked. The AWD system is primarily set up for light off-roading but it's also reassuring on a slippery back road. Don't go thinking this is some Subaru rally-special, though, the suspension does tend to wallow around when pushed.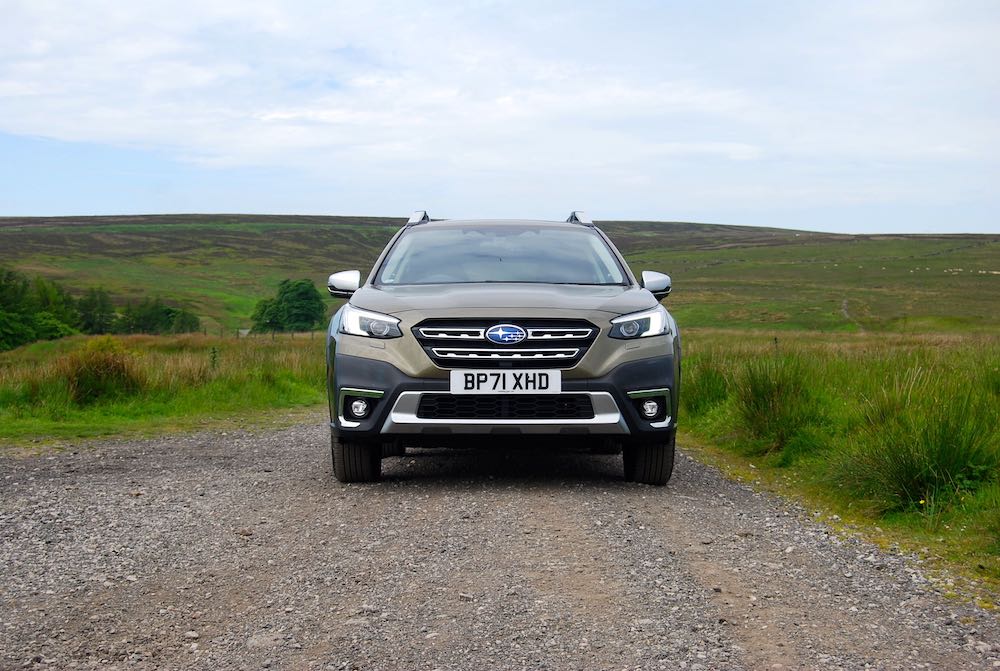 The boxer engine is a good one, as it should be coming from Subaru. No, performance isn't set-your-pants-on-fire but progress is smooth. It's just a shame it's hamstrung by a CVT transmission that you're stuck with. It's definitely a more relaxed ride than CVT's of old, but there's still no getting away from that distinctive drone under hard acceleration.
Should I buy a Subaru Outback?
The Outback is useful in so many ways and Subaru's excellent reputation for build quality means it won't fall apart. This is the crossover it's ok to be seen in, it's just a shame there's no choice of engine or transmission.
By Ben Harrington
Subaru Outback Specifications:
Engine – 2.5-l, 4-cylinder petrol, Transmission – CVT, Layout – Front engine, AWD, Power – 168bhp, Emissions – 193g/km CO2, Economy – 32.8mpg combined, Maximum Speed – 120mph, Acceleration – 10.2-s 0-62 mph, Price – £34,070 OTR
The 2022 Subaru Outback is available now. For full details go to: www.subaru.co.uk