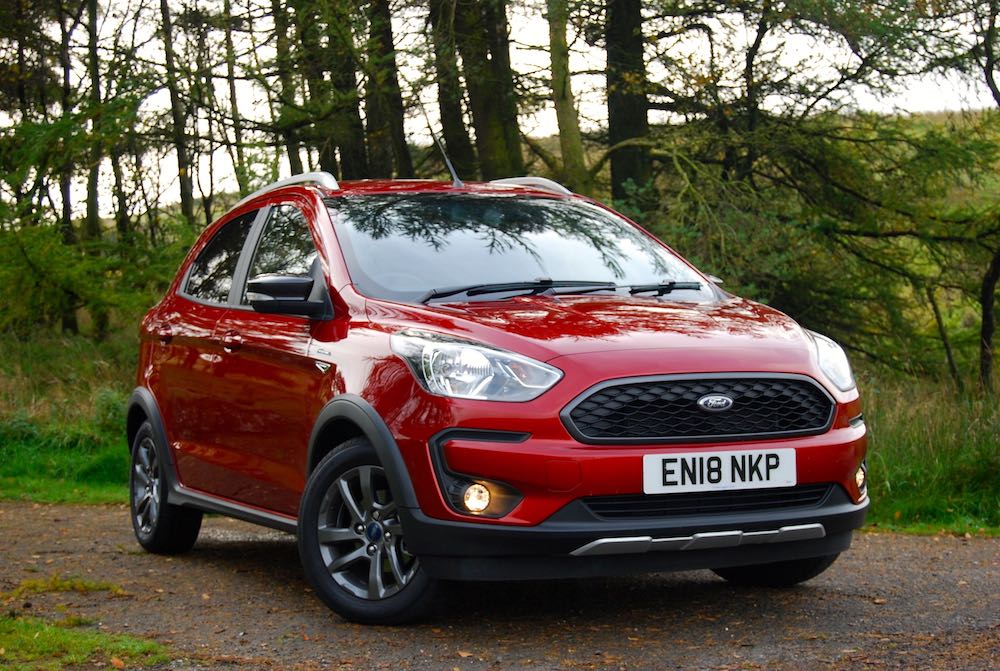 Let's face it, since its launch in 1996, the Ford KA has been an outstanding success in terms of sales, but it's never been a looker. Even the short-lived yet superbly named, Pininfarina designed, 2-seater convertible StreetKA was, shall we say, awkward? In short, the KA sold well because it was a right hoot to drive, and it was cheap – very cheap.
Ford KA+ Active
The KA isn't a city-car anymore, though, it's grown up into a B-segment offering. In the process it's developed an extra character – it's now the KA+ –  and two more doors (which probably explain the extra character). What it's not done is grown into its looks, quite the opposite in fact, it's now gone into it's awkwardly out of proportion phase – let's call it the KA's teenage years.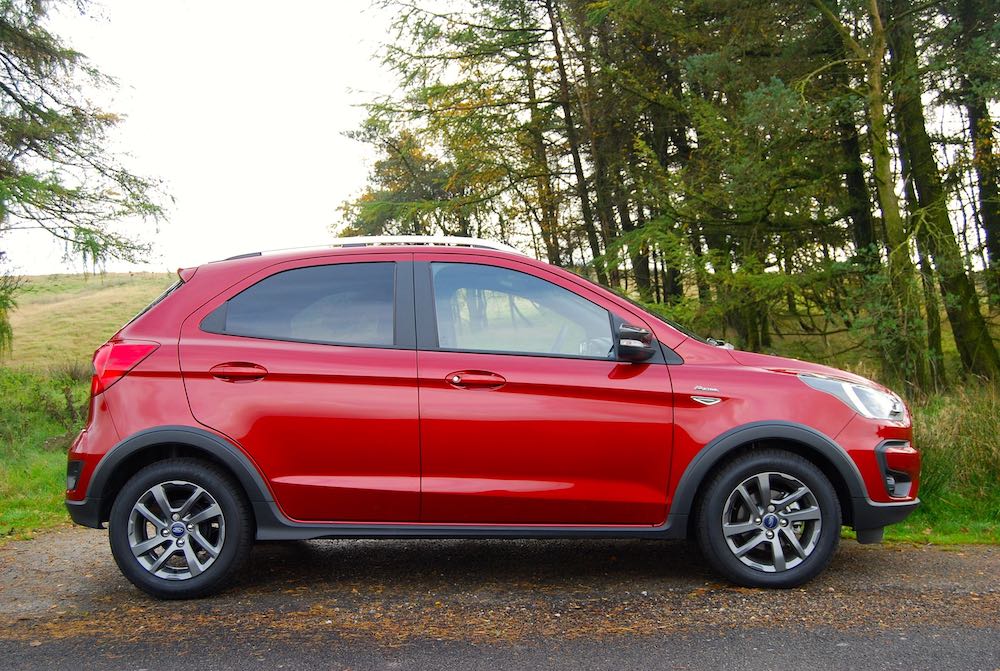 So, what does any self-respecting teenager do to in this situation? – they accessorise of course; I give you the KA+ Active. 'How does it differ from a regular KA?', I hear you cry. Well, visually, it really is a case of SUV-lite, as, on the outside at least, the Active bit means you gain some rugged plastic wheel arches, a redesigned front end with scuff plate, roof rails and 15" alloys. On the inside, there's some Active logos, a unique wooden trim and some all-weather mats throughout.
More Than The Sum of Its Parts?
Doesn't sound like much, I know, and it's not, but it's amazing what some 4×4-ish bits can do to improve a look, and the KA+ Active is way better looking than the KA+ it's spawned from. Plus, you not only get these bits, but the all-important lift in ride height (23mm) that not only looks the past, but also raises that seating position for better visibility and driving confidence.
The least powerful engines from the KA+ range have been dropped for the Active, so you've got a choice of either a 1.2l petrol producing 84bhp or a 1.5l diesel that gives you 94bhp. Both are available with a 5-speed manual transmission only, and it'll probably come as no surprise that it's front-wheel-drive only. Whether a 4×4 option comes along is another matter, but I personally don't see the point so I wouldn't hold your breath.
1 Petrol, 1 Diesel; Go For The Petrol
The petrol returns 49.6mpg on the combined cycle, which isn't bad at all. With just 84bhp & 115Nm torque, don't expect much in the way of outright performance, though; 0-62mph comes about in 13.5 seconds, which isn't going to set even the most tinder-dry barnet on fire. If you want even more miles for your gallon, you can go for the diesel which returns 68mpg combined. It's quicker, too – its 215Nm torque & 94bhp will do the 0-62mph sprint in 11.3 seconds. The diesel will set you back an extra £1,600 over the £13,045 entry-level petrol, though, and there's no savings in VED anymore. You'd have to really want the marginally quicker diesel to spend the extra, either that or plan to do some serious mileage to justify the initial outlay.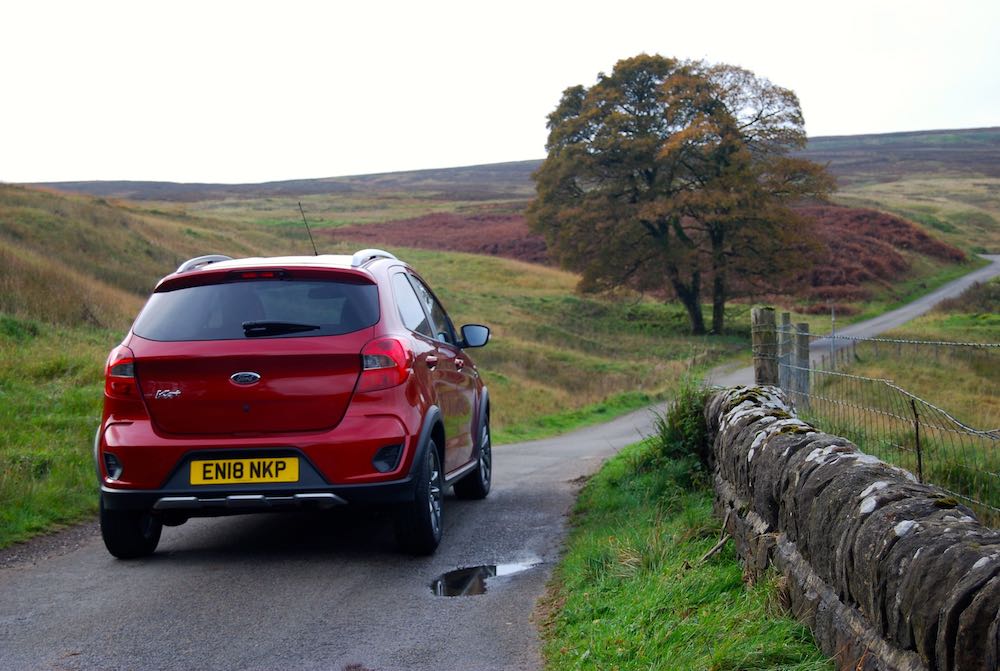 The raised ride height of the KA+ Active does make for a more comfortable, forgiving ride than the standard model, and you'll find little to complain about. Ford have somehow managed to also keep the KA+ Active fun, though, a trait the model has always been able to brag about.
Rugged mats and wooden trim aside, the inside of the KA+ Active is the same as the standard KA+, albeit the Zetec spec. It has seen a big improvement over the last few years, mainly in terms of technology with USB ports, Ford's MyKey & Sync3 systems built in & a 6.5" touchscreen infotainment system; it's all highly reliant on a smartphone being plugged in, though.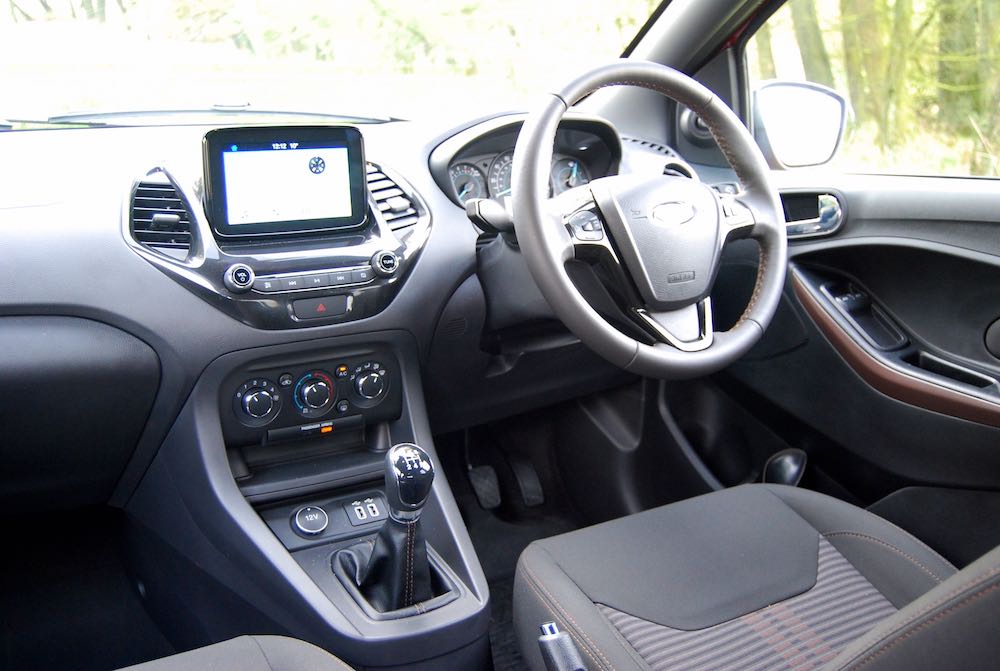 Want Luxuries? There's a Pack For That
Ford's usual high standard of interior quality & design is missing slightly, though, and the KA+'s budget background does shine through. There's no climate control or automatic anything built in; they're part of a £275 Temperature Control pack & £350 Technology Pack respectively. There's not even electric rear windows; that'll be another £350 for the City Pack, please, although that also gives you rear parking sensors & heated folding door mirrors too. On the plus side, the KA+'s upright shape does have a reason behind it; there's plenty of room in the back, even for taller passengers.
Should I Buy a KA+ Active?
The KA+ Active is a better car than the base model in all respects. It's also a very affordable way into SUV-lite ownership. You'll have to spend a bit of money on upgrades if creature comfort are your thing, but it'll still not break the bank. Add to this a ride that could be considered entertaining and the KA+ Active stands up well against the competition.
By Ben Harrington
Ford KA+ Active Ti-VCT Specifications
Engine – 1.2l three cylinder petrol, Transmission – 5-speed manual, Layout – Front engine, FWD, Power – 84bhp, Torque – 115Nm, Emissions – 129g/km CO2, Economy – 49.6mpg combined, Maximum Speed – 105 mph, Acceleration – 13.5s 0-62mph, Price – £12,950 OTR, £13,845 as tested
The Ford KA+ Active is available now. For full details go to: www.ford.co.uk