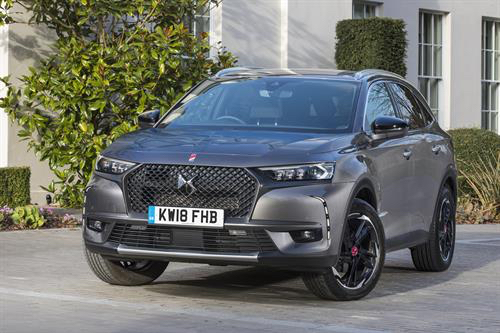 DS7 Crossback
One point I'd like to clarify: the D in DS does not stand for Design. In the case of this DS7, though it really could. Just look at it – go on; there isn't one angle you can view the DS7 from, inside or out that isn't stimulating, though-provoking, or any of the many other adjectives the Oxford Thesaurus cares to throw at it.
Quite what the S would stand for is another matter……………..Something – yeah, that sounds right; the Design Something 7. On the other hand, maybe not.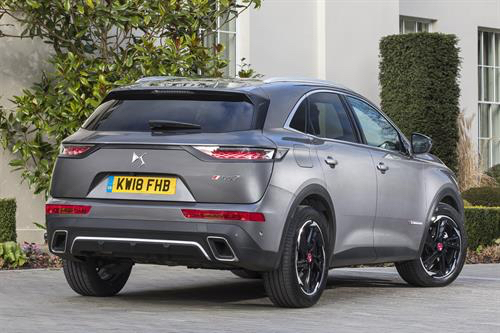 Anyway, back to the case in point. The DS7, or DS7 Crossback to give it its full title is a luxury SUV from Citroen's luxury arm. The DS7's basic shape, with its sleek, pointy glass-housing and shoulder line that roughly follows the arches is reminiscent of Audi's Q5 or the beautiful Alfa Stelvio. That gaping grille is a bit Audi-ish, too, but then things get far more interesting – far less Germanic.
Feature Lights All Around
You see, that imposing grille is flanked on both sides by some quadrantal headlights that bear more than a passing resemblance to the Bugatti Chiron, no less. That, and the infinitely more interesting Alfa Romeo SZ. Not only are they a feature, all but the lowest spec DS7's headlights are active LEDs that bend around corners. Very DS.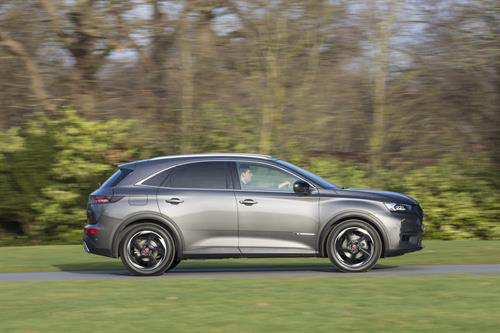 The DS7 is patterned with the brand's trademark diamonds that echo the iconic Pyramide du Louvre. The rear '3D' lights are another standout feature that set the DS7 apart from the likes of the Peugeot 5008 it's based on, wrapping around the rear, joining tailgate to rear wing.
Think The Outside's Special?…
If you thought the DS7's exterior was eye-catching, wait until you sit inside. Yes, it's missing some of the sadly now defunct DS5's fighter-jet style but there's some genuine originality which many car-makers struggle to achieve or just get plain wrong.
Obviously it's dominated by a central touchscreen, what car isn't these days, but even the basic DS7 gets 8 inches. Higher spec models like the Performance Line we have here get a whopping 12" screen that's hi-def and easy to use.
It's the rest of the cabin that most noteworthy, though. The quality of materials is a step up from anything else in the Citroen/Peugeot stable and those oh-so-unashamedly-French shapes are found in everything from the air vents to the gearstick. Even the switches on the transmission tunnel that control the electric windows etc are beautifully creased affairs.
Believe It Or Not, It'll Soon Be a 4X4
The DS7 Crossback is an SUV, they say so themselves. It's kind of ironic, then, that it's a surprise to find that you'll soon be able to order it as an actual 4×4, albeit a hybrid one. For now, though, it's typically FWD only, and comes with either a 130 or 180 bhp diesel, or a 130, 180 or 225 bhp petrol. It's primarily 8-speed automatic 'boxes across the range, although you can go for a 6-speed manual on the 130 bhp petrol and diesel models.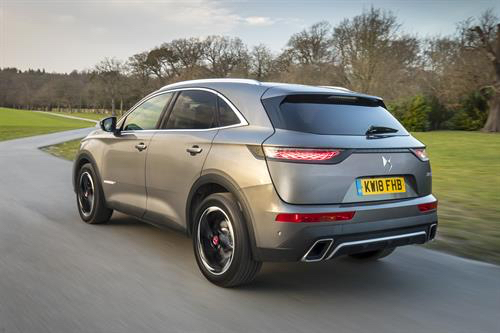 This is the most powerful model and it feels every bit of its 225 bhp, getting from 0-62 mph in 8.3 seconds. It is only a 1.6 litre, 4-cylinder engine, though, and if you really want to get it to perform, the engine and gear-changes can feel harsh – quite contrary to the rest of the car's premium feel.
Proactive Suspension
Speaking of premium, one of the DS7's plus-points is how much tech you can spec it with. There's the usual gadgets; wireless phone charging, DS puddle lamps, plus active braking & lane departure warning for safety. What you might not expect, though, is the optional suspension that reads the road ahead via a camera and adjusts as necessary so it's proactive rather than reactive. I mean, that's S-Class stuff, on a Citroen – Sorry! – on a DS.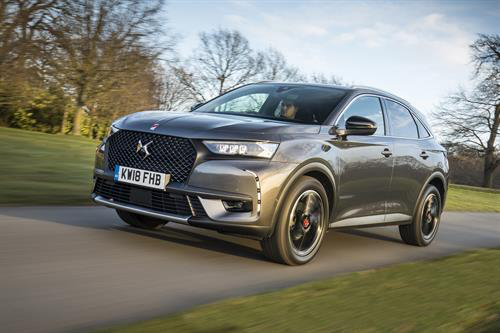 So, what price, all this Gallic nicety?, and bear in mind that large French vehicles have a tendency to bomb. Well, the DS7 can be yours from £27,435 OTR for the Elegance model with a 130 bhp petrol engine and manual gearbox. This Performance Line 225 DS7 automatic is a slightly more hefty £35,350, and even that doesn't come with the trick suspension. If you want all that, you have to go for the 180 HDi Performance Line and that's £36,920. Top spec Prestige? – £39,530, and that's serious money.
Should I Buy A DS7 Crossback?
As usual, the French have taken an existing (incredibly popular) genre i.e. the SUV, and added their own unique twist to it. The DS7 looks different to pretty much anything on the road, both inside and out, plus it adds some really high-end technology into the mix. As is also usual, though, you have to be careful that you don't overspend. Getting on for £40K before options is a bit high end for something with a range of power-plants found in almost every Peugeot and Citroen on the market.
By Ben Harrington
DS7 Crossback Performance Line 225 Specifications
Engine – 1.6l 4-Cylinder Petrol, Transmission – 8–speed automatic, Layout – Front engine, FWD, Power – 225bhp, Torque – 300Nm, Emissions – 135g/km CO2, Economy – 47.9mpg combined, Maximum Speed – 141mph, Acceleration – 8.3-s 0-62-mph, Price – £35,530 OTR
The DS7 Crossback is available now. For full details go to: www.dsautomobiles.co.uk