With even habitual SUV deniers – Ferrari finally caving into popular demand, albeit without being pinned down to any specific date, or decade, Alfa Romeo were always going to add an SUV to their lineup: fact. So here it is, the Stelvio, a name that evokes visions of the famous Northern Italian mountain pass, with its twisty hairpin bends set to a stunning backdrop, even if you're with the vast majority who've never been anywhere near it.
Alfa Romeo Stelvio
But just what type of SUV is the Stelvio, because it's far too broad a spectrum these days to take a guess at the nature of the vehicle from just a raised ride-height alone. Well, that's thankfully an easy one to answer. The Stelvio may be available with 4WD (RWD is also an option), and it may feature a token nod towards off-roading in the shape of hill descent control, but make no mistake; Alfa Romeo have designed the Stelvio with road-use in mind. The clue's in the name – the Stelvio Pass is tarmacced.
Is The Stelvio The Prettiest SUV?
The visual connections to Alfa's excellent saloon – the Giulia are plain for all to see. That traditional triangular grille and offset registration plate, flanked by some pretty serious looking headlights over lower, gaping air inlets are carried straight over from the saloon, they're just a bit further from the floor. It's when you look at the Stelvio from the back that you get its prettiest angle, though. The way the boot-line slopes gently is almost shooting-brake like, reminiscent of the far-from-ugly Ferrari FF, even.
Two Petrols, Two Diesels
Engine choices are pretty simple; there's a 2.0l petrol in 200bhp & 280bhp guise, and a 2.2l diesel in 190 & 210bhp outputs. All are mated to an 8-speed automatic transmission and the vast majority are 4WD only. If you really want a RWD Stelvio it'll be the lower powered diesel only; it's clearly not going to be the one to bring the widest smile to your face but it'll definitely be the cheapest to run as combined mpg & emissions are 51.4 & 145g/km CO2 respectively. The same setup with 4WD returns 46.3mpg combined & 160g/km CO2.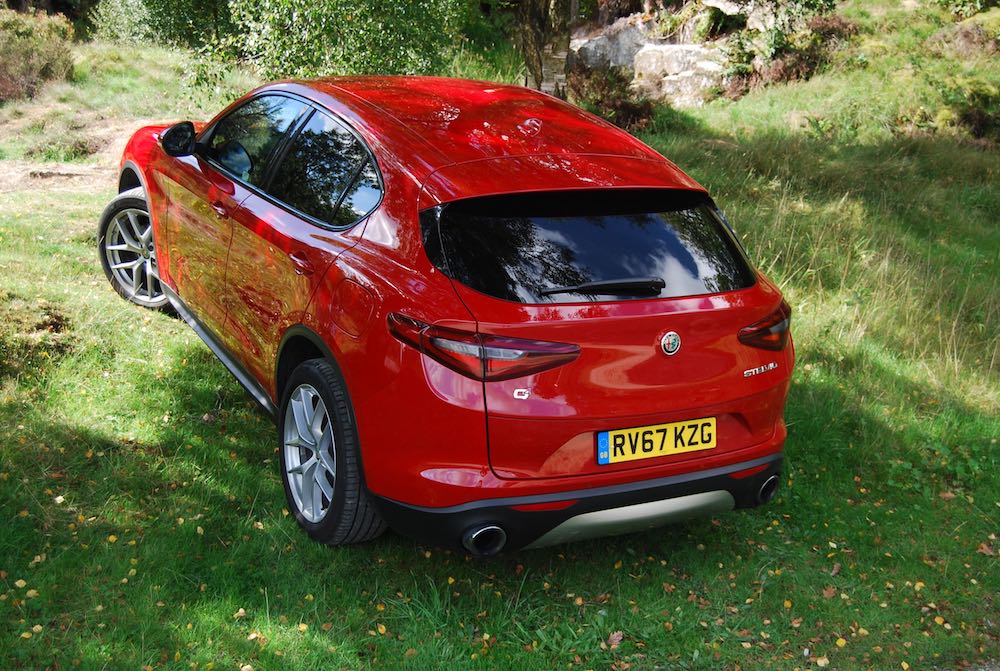 Milano Edizione Stelvio
This is the full-fat 280bhp model in 'Milano Edizione' spec, which is undoubtedly one of the coolest names I've ever heard attached to a car. 0-60mph comes around in 5.7s & top speed is 143mph; not exactly your usual SUV figures – this is the fastest Stelvio this side of a Quadrifoglio. The engines may all be 4-cylinder units but the burble coming from those louvred exhausts is suggestive, if not overly guttural.
With performance figures like that, you'd be seriously hoping that the Stelvio's not just going to topple over at the first sight of a bend. It doesn't. You navigate the Stelvio via a steering wheel with a relatively small diameter rim by today's standards, and that suits how precise and tactile the car feels. Every steering input is dealt with in an instant, and if you go for the £1,700 Performance Pack that's fitted to our test car, you get a Limited Slip Diff and Alfa's Synaptic Dynamic Control suspension which go towards making the Stelvio's handling on a par with some sports cars; could it be described as twitchy? – Yes, but you certainly won't call it lazy.
Stiff Ride
What you might call the Stelvio, though, is stiff, by SUV standards, anyway. The tradeoff for such car-like handling is a suspension setup with very little in the way of give, and our typically scarred roads tend to find you looking for a clear path through the pot-holes.
Apple CarPlay & Android Auto Now Standard
Inside the Stelvio is all very familiar to anyone who's sat in a Giulia. A pair of exaggerated deep-dish binnacles stare at you from behind the flat-bottomed steering wheel, their form even continuing into the dashboard. Other neat little Alfa-esque touches include the arrowhead door handles and you can even have embossed headrests if you like. The infotainment system is integrated into the sweeping fascia and, from this month onwards will include Apple CarPlay and Android Auto as standard fitment. This Milano Edizione comes with the Convenience Pack as standard, giving you rain sensors, keyless entry, a cooled glove box and, perhaps most importantly, an extra pair of USB ports for your little darlings in the rear seats.
Speaking of rear seats, there's plenty of room in them, they're just not the most accessible thanks to some relatively little rear doors. Boot-space also suffers due to its beautifully sloping lines. It's 525 litres, which is big enough for quite a bit of stuff, but you'll struggle with larger items unless you the rear seats down.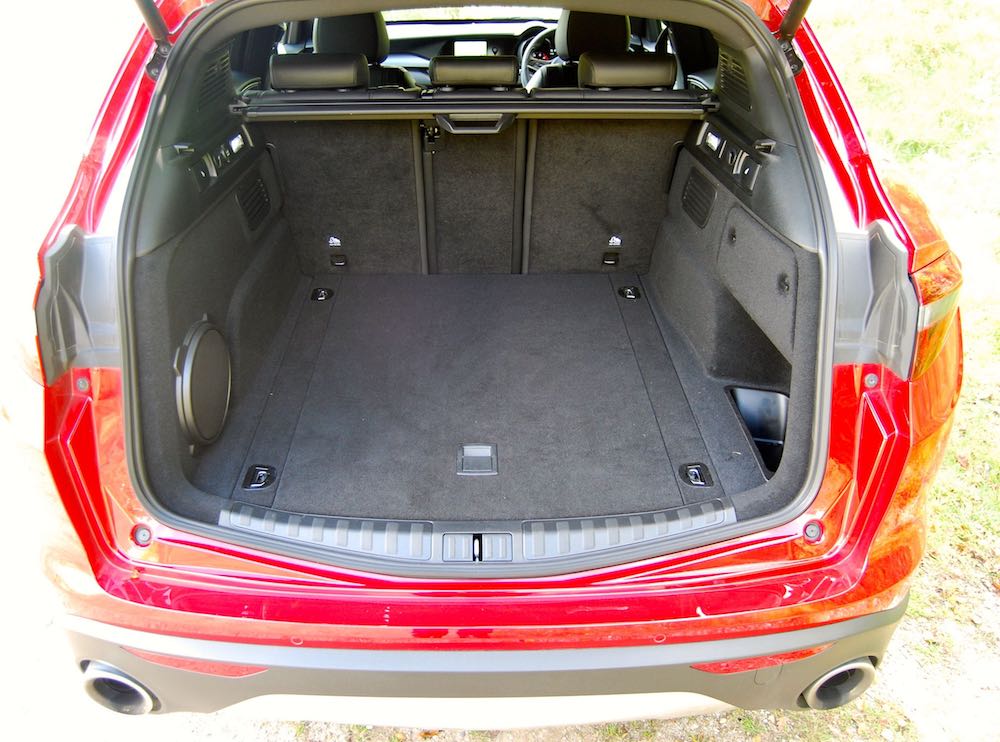 Should I Buy An Alfa Romeo Stelvio?
There are many medium-sized SUVs on the market, and it's sometimes hard to differentiate. The Stelvio is undeniably on the Sports side of SUV, probably getting closer to the excellent Porsche Macan than anything else thanks to its more car-like setup. The gearbox isn't faultless, sometimes struggling to make a decision, but if everything was perfect, would this be a real Alfa Romeo?
By Ben Harrington
Alfa Romeo Stelvio Milano Edizione 280bhp Specifications:
Engine –

 2.0l 4-cylinder petrol,

Layout – 

Front engine, 4WD, 

Transmission –

 8-speed automatic,

Power –

 280bhp, 

Acceleration – 

0-62mph – 5.7s,

Maximum Speed – 

143mph,

Maximum Torque –

400Nm,

Economy –

 51.4 mpg combined, 

Emissions – 

145

g/km CO2,

Price – 

£46,490 OTR

The Alfa Romeo Stelvio is available now. For full details go to: www.alfaromeo.co.uk