DS 4
Look at the DS 4: just like the rest of the DS range, you'll struggle to find a Citroen chevron. This is obviously no accident as the two marques have been prised apart as separate brands; one everyday, the other upmarket. Think Toyota and Lexus, Nissan and Infiniti – you get the idea.
And do you know what, the plan appears to be working. As many as two people approached me to inquire just what this unfamiliar craft was: 'Why, it's a DS 4' I'd reply. 'What's that, then?' The problem is, I'm still not entirely sure.
According to DS themselves, the DS 4 is a sporty,premium 5-door with coupe-esque styling cues, yet it also sports a slightly raised ride height which I'm guessing is supposed to appeal to the currently insatiable crossover market.
Sporty, premium, 5-door, coupe crossover?!?
I'm actually wondering if the DS 4 is the first example of automotive styling to go full-circle and end up back where it started. What I mean is, for all it's catchy, coupe/crossover buzzwords, aesthetically speaking the DS 4 bears a striking resemblance to a good ol' 5-door hatchback, albeit a sparkly one.
It does have a nicely sloping rear end that could just be described as coupe-esque, but unfortunately the real similarity lies in how damned inconvenient the rear seats are. Not only are they woefully lacking in headroom, but the rear apertures themselves are such an awkward, diminutive shape that once you've negotiated them and are actually sat in the thing, you'll possibly be a trifle disappointed to find that the rear windows don't open due to the shape of the doors..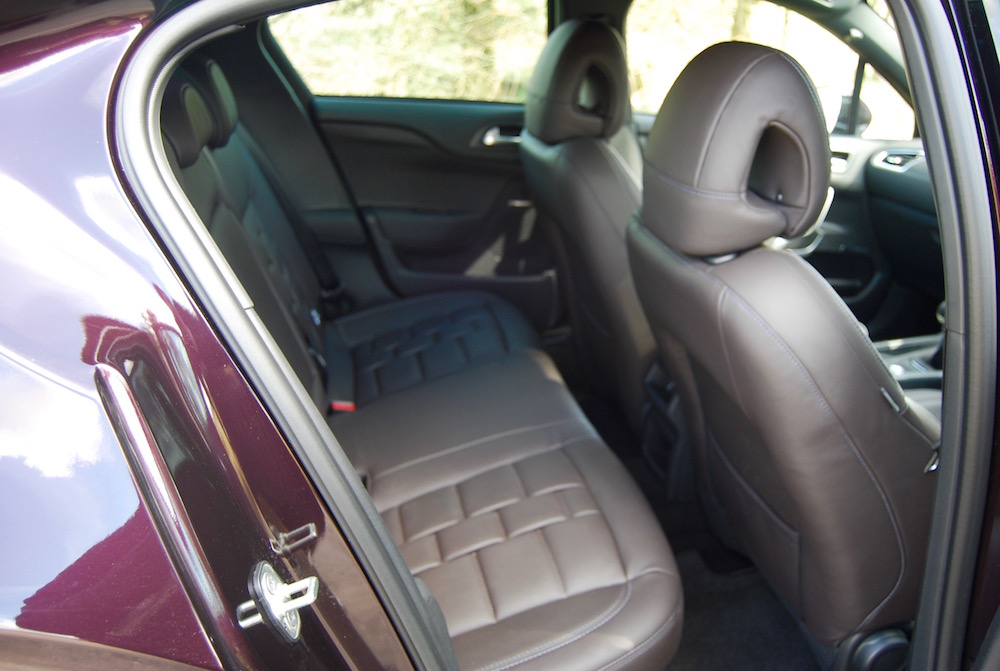 The cabin does live up to the DS 4's 'premium' tag quite well, with grades of plastics used that have been taken from the very top of parent company Citroen's spec sheets. The front windscreen stretches back, forming a decent section of the roof, allowing light to flood in when you want it to, but with natty pair of retractable sun visors for when you don't. The leather seats look smart with their multi-segment design, although they're not the most giving and long journeys could prove to be a drag.
That slightly raised ride height and panoramic windscreen make for a confident driving position and decent visibility, as long as you're looking forwards or sideways. The detrimental aspect of those quasi-coupe lines rears its ugly head here again I'm afraid, as the view out of the rear and 3/4 is shocking, with c-pillars like elephant's legs that at least one articulated lorry could lurk behind.
Wide range of petrol and diesels – just not this one.
The DS 4 is available with a wide range of petrol and diesel engines with power outputs ranging from 120 all the way up to 211ps. Our test car is powered by the only engine to keep the DS 4's price under £20K – the ubiquitous 1.2l, 3 cylinder, 130ps petrol unit that finds its way into so many Citroen and Peugeot models, mated to their 6 speed manual 'box. Cost aside, I feel that one of the more powerful engines, maybe the 165ps petrol or 150ps diesel would do the DS 4 more justice. This 3 cylinder engine – usually such a capable thing – feels out of its depth here and the gearing is constantly struggling, forcing you into a lower gear than you'd warrant.
The Ds 4's been set up to handle properly, and it does, hardly giving an inch of understeer at the limit. Inevitably, though, there's a but, in fact, there's a few buts; the ride isn't exactly harsh, but it's stiffer than you might expect in something with a DS badge, and the steering wheel jostles around in your hands over every bump or uneven bit of tarmac, also under hard acceleration and keen braking. That decent handling I mentioned? – sadly spoiled by a complete lack of feel or feedback from an over-assisted steering setup.
I like what Citroen have done with the DS marque: the DS 3's had well deserved success and the DS 5 should sell more, just for daring to be different. Unfortunately, though, the DS 4 is something of a fly (with an identity problem) in the DS ointment.
By Ben Harrington
Specifications; DS 4 Prestige PureTech, Engine – 1.2l, 3 Cylinder petrol, Transmission – 6-speed manual, Layout – Front engine, FWD, Power – 128bhp, Torque – 230Nm, Emissions – 120g/km CO2, Economy – 54.3 mpg combined, Maximum Speed – 123mph, Acceleration – 9.9s 0-62mph, Price – £20,845 OTR
The DS 4 is available now from £19,595, for full details go to; www.dsautomobiles.co.uk