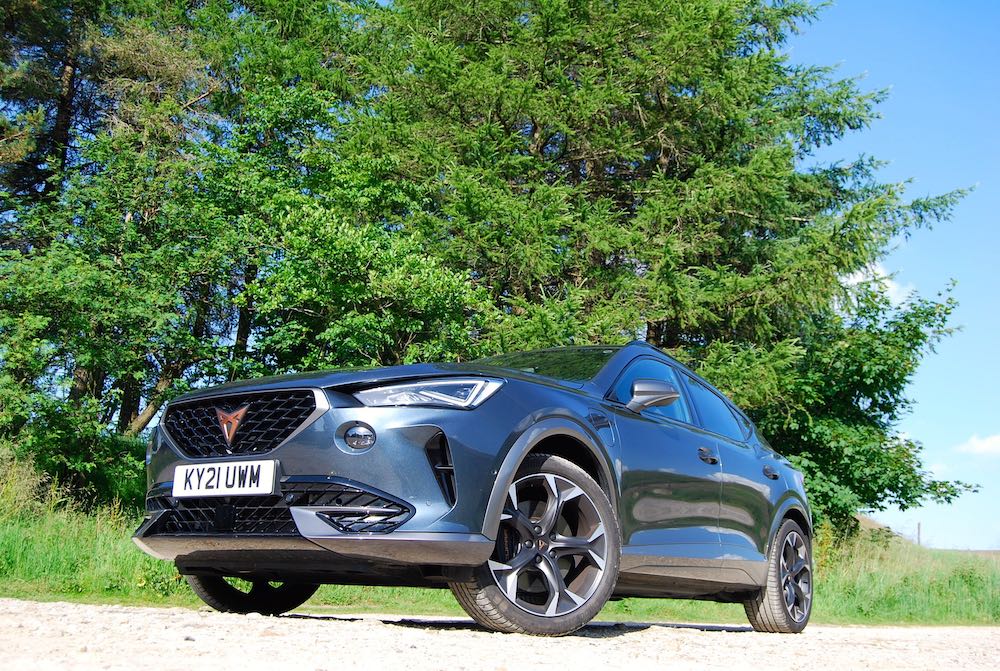 Cupra Formentor
Seat has slapped a Cupra (Cup Racing) badge on their performance models for decades now, and on the whole they've held up well to scrutiny. It made perfect sense, then, to take advantage of an established reputation when launching a stand-alone performance line; Cupra is now more than a spec, it's a brand. They may have lost their Seat badges but the Cupra range still includes Leons and Atecas. This, however, is the first Cupra that you can't buy with a Seat badge and it's called the Formentor.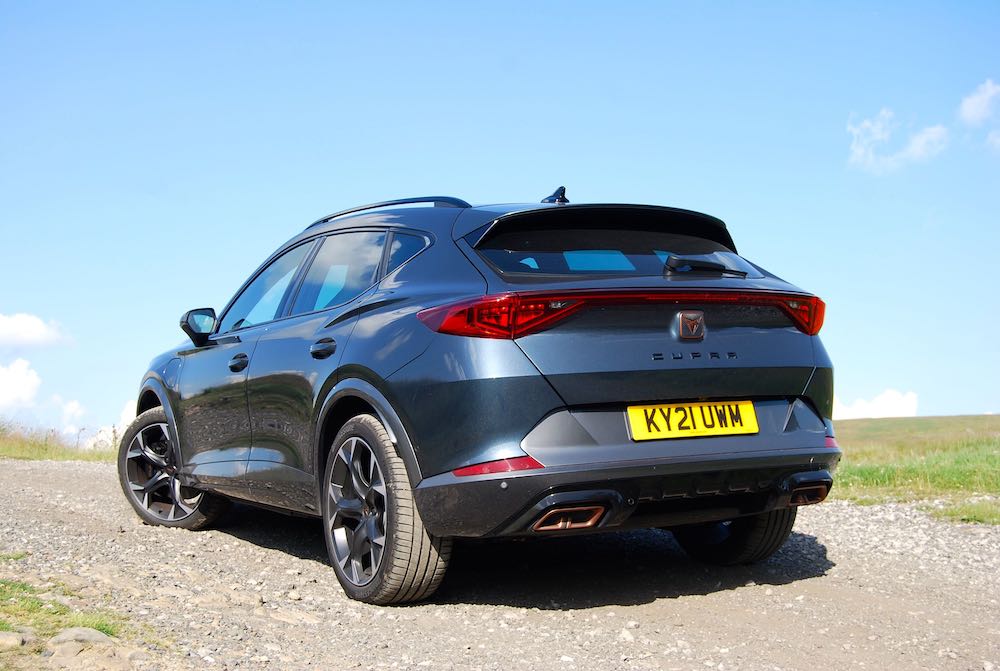 Formentor?
Ok – Formentor isn't the snappiest name we've ever heard. Say it quickly and it sounds like it's into home brewing, but as is usual for Seat, sorry – Cupra, it's a region of Spain. Looks-wise the Formentor is fairly out on its own. The line between SUV, estate car and hatchback are about as blurred as we've come across. But that's definitely part of the initial attraction. Being a Cupra, it's got an angular, aggressive air about it. Combine this with its smorgasbord of potential body shape labels and it grabs attention. I've not driven many new cars that have made people ask after its identity the Formentor did, but there's obviously still some mystery attached to the copper badge too.
Anyone who's sat inside a new Seat recently will be familiar with the Formentor's interior layout and technology – a bespoke interior would be taking things a bit far. That said, all Formentors come with sports seats and you can even spec them in a natty petrol blue leather should you want. There's copper stitching and matte copper highlights spread liberally around the cabin; not real copper, obviously and it can be hard to make copper coloured plastic look genuine.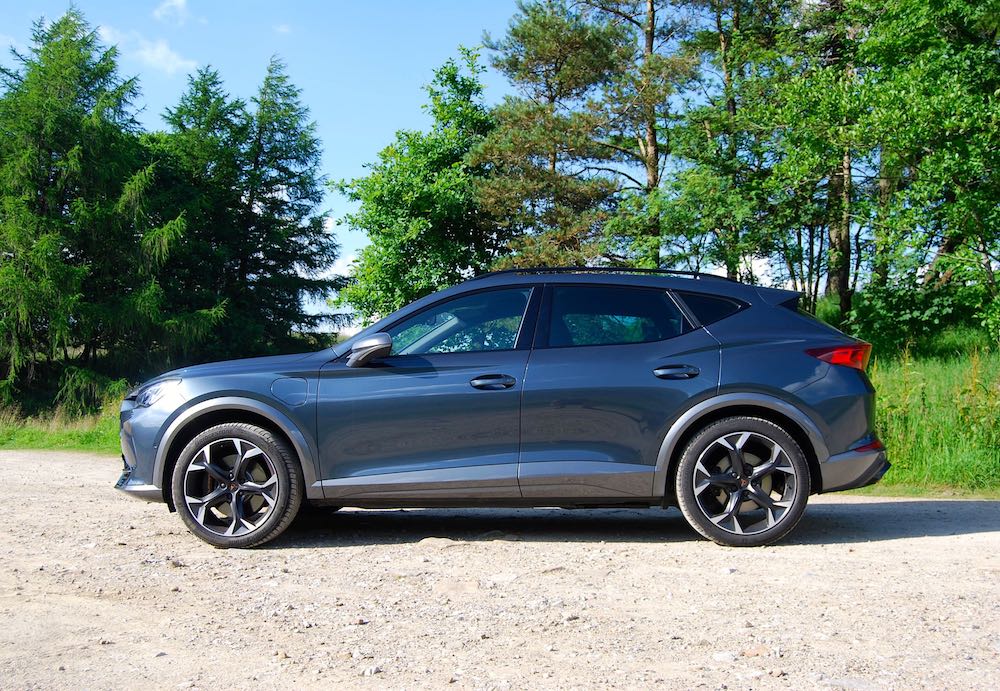 More attitude
The difference in attitude between accessible Seats and performance orientated Cupras is clear when you open the door; there's no 'Hola' puddle lamps – you get that sharp, almost violent looking Cupra logo illuminating the ground instead. The rear doors aren't the first word in accessibility but once you're in, there's plenty of room in the back seats.
What specs does it come in?
The Formentor comes as either a V trim or a VZ trim; the latter being the higher powered versions. V spec Formentors then get a number 1 or 2 – 1 being the cheaper – VZ specs get a 1, 2 or even a 3. Not the simplest range to get your head around, admittedly, but if you remember that V1 are the lowest spec and VZ3 are the highest, that makes things a tad easier to understand.
Internal combustion if you wish……
Powering your V-spec Formentor is pure internal combustion in the shape of either a 1.5 TSI, 148bhp petrol engine or a 2.0 TSI with 188bhp. The 1.5 litre engine powers the front wheels and comes with a manual or DSG transmission, the 2.0 is DSG only, as well as 4WD. Go for a VZ spec and it's the same 2.0 litre engine with either 243 bhp or 307bhp – that essentially makes it a Golf R underneath.
……..or hybrid
It may come as no surprise that you don't have to run your Formentor on fossil fuel alone, though. There's also the Formentor e-Hybrid; a plug-in hybrid that combines a 1.4 litre petrol engine and an electric motor. Specs are V1 & V2 that come with 202bhp, then there's the VZ1 & VZ2 specs that get 243bhp. Both have the DSG 'box providing drive to the front wheels only.
How much is the Formentor?
This is the VZ2 spec e-Hybrid version of the low-slung SUV. The cheapest Formentor will cost you £28,270, this one is £40,260, and that's a subtle difference. If that price makes the eyes water slightly, you can have an e-Hybrid Formentor for £36,170, it just won't be as well equipped and might not be quite as much fun.
How far is the electric range?
One advantage of the lower powered hybrid Formentors is their increased electric range. This VZ version manages a claimed 34 miles without calling on the petrol engine, the V spec could save you some range anxiety related stress with its claimed 36 miles range. Downsides to having a hybrid? Well, there's the price, obviously, but you also lose nearly 100 litres of boot space (345l) to accommodate the electrics. You also get some pretty nasty fake exhausts at the back.
Get yourself settled into the Formentor's impressively comfortable driver's seat and you'll be staring down the length of a reassuringly macho bonnet bulge. If you bought your Formentor because it's an SUV, the next thing you'll probably notice is that you're not actually sat that high up. That's the thing with the Formentor – it's a coupe SUV really and it's more about performance than lording it over lesser mortals.
Start the Formentor and it defaults to electric only mode – standard for hybrids. That's fine but if you want it to run in hybrid mode you have to flick through a couple of screens which inevitably gets interrupted when the system diverts to CarPlay or Android Auto.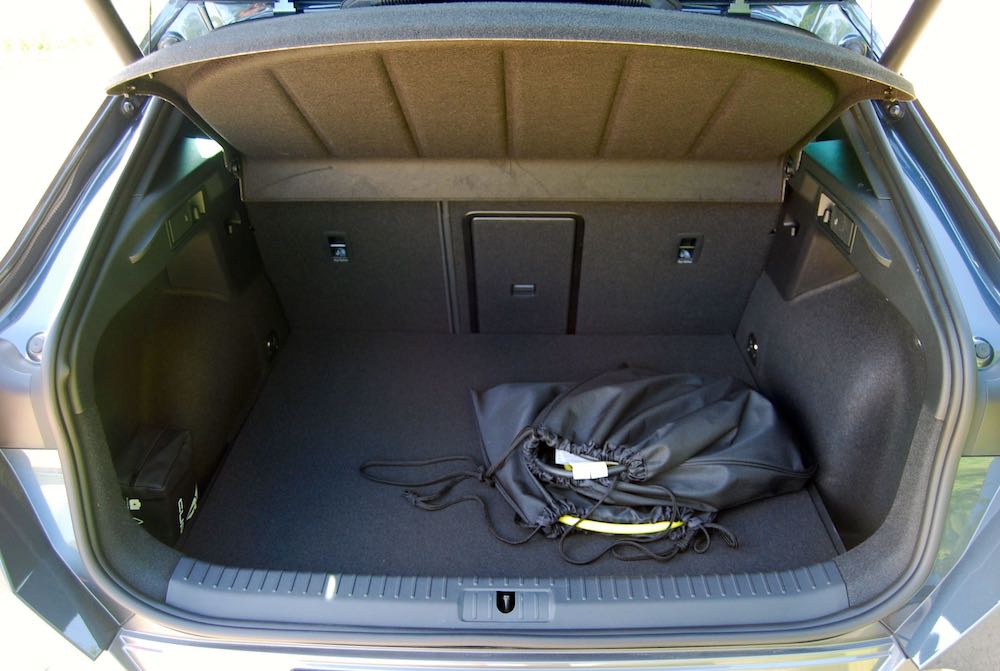 Is the Formentor a stiff ride?
Once you're actually on your way, though, the Formentor feels well set up. Not overly stiff or jiggly, just as if some real attention has been paid to satisfying handling. Yes, there could be a bit more feel to the steering, but this isn't a roadster after all, it's a family car. There's a very tempting button on the steering wheel with an illuminated Cupra logo on it. Press it – and you will – and the suspension firms up, suspension which is specially set up to handle the extra weight of the Formentor e-Hybrid's electrical gubbins. You'll also get some engine noise piped into the cabin – it definitely doesn't come from the 1.4 litre, four-cylinder under the bonnet but it all adds to the effect.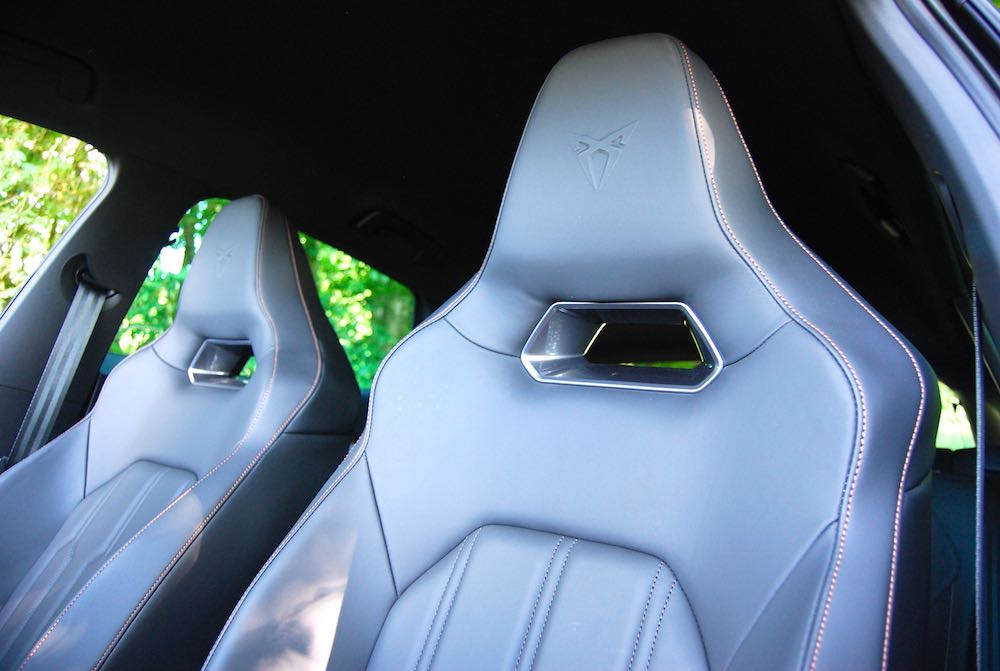 And how quick is it?
Performance is sprightly without being explosive. 0-62mph comes around in 7.0 seconds – only the VZ spec petrol Formentors will beat it. Despite it being FWD only, the Formentor e-Hybrid's levels of grip are right up there with the keenest of sports SUVs and there's a total lack of body roll and understeer. The brakes are reactive enough, but they're a dual electrical/mechanical setup and they do get a wooden feeling when the regenerative system stands down and leaves it to the mechanical brakes.
Should I buy a Cupra Formentor?
Not only is the Cupra brand refreshingly exclusive as yet, there's nothing on the road quite like the Formentor. Yes, if you look closely it's a Seat, especially inside, but is that such a bad thing?
By Ben Harrington
Cupra Formentor e-Hybrid VZ2 Specifications:
Engine – 1.4l TSI petrol & electric motor, Transmission – 6-speed auto, Layout – Front engine, FWD, Power – 243bhp, Torque – 400Nm, Emissions – 33g/km CO2, Economy – 188mpg combined, Maximum Speed – 130mph, Acceleration – 7.0-s 0-62 mph, Price – £40,260 OTR
The Cupra Formentor is available now, priced from £28,270. For full details go to: www.cupraofficial.co.uk