Cupra Ateca
Cupra's a name that's been attached to performance Seats in the UK since performance Seats in the UK were a thing, but now it's on its own. The breakaway was announced in 2018 and since then they've expanded their range to, well one – this, the Cupra Ateca.
Their is another Cupra available to buy on their website, but that's actually a Seat Leon Cupra. So, until Seat have sold all of their current stock and can relaunch it as a Cupra Leon, this is your lot.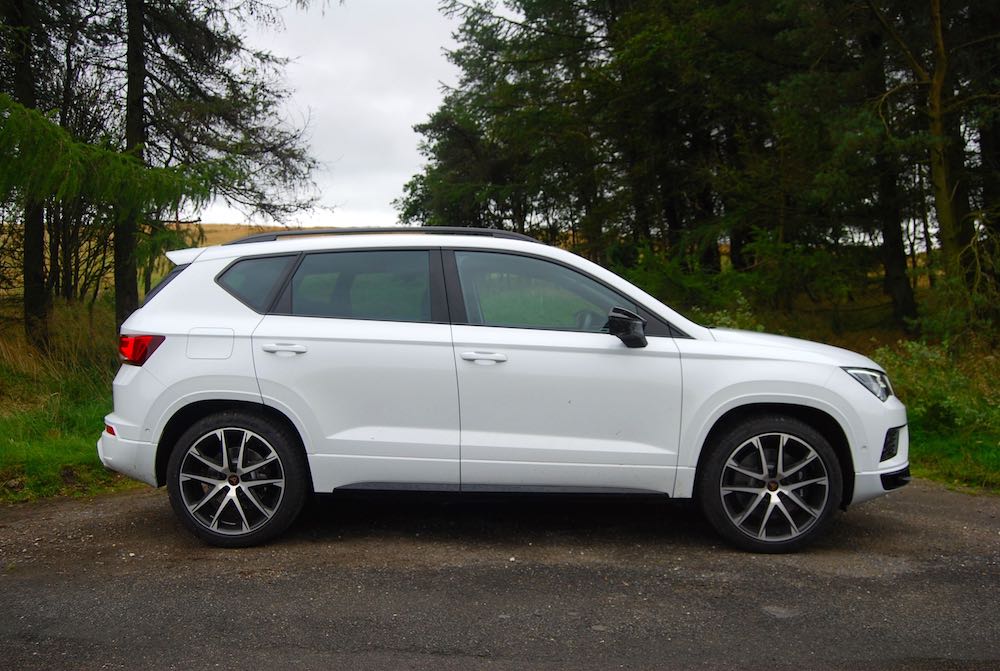 Which Engine?
Let's not downplay the Cupra Ateca, though. This is no half-baked, luke-warm version of their mid-sized SUV. Look past the wolfy, copper Cupra legend with liberally splashed matching copper bits (Cupra/copper?) and under the surface you'll find the engine from a Golf R.
That's right, it's the 2.0l TSi unit that's found in all fast Golfs these days. They've not messed around, putting it in in 241hp, GTI Performance tune, though. Oh, no, Cupra have gone for the full-fat, in-yer-face Golf R setup, complete with 298hp & 400Nm torque.
4WD, DSG…..
Inevitably, that also means the rather excellent, 7-speed DSG transmission because, well, why wouldn't you? It would be a bit silly putting all of that performance in an SUV-type vehicle and then driving the front wheels, so it's 4×4 only, too.
It might be a mid-sized SUV, but an SUV the Cupra Ateca still is. It weighs in at 1615Kg and the genre is aerodynamically hampered somewhat, so 0-62mph comes around in 5.2s. That's slightly more ponderous than the Golf R, but only by half a second, and that's quick, really quick. It's worth noting that there is a Tiguan R on the horizon, by the way, but the VAG group have given the Cupra brand a sporting head-start.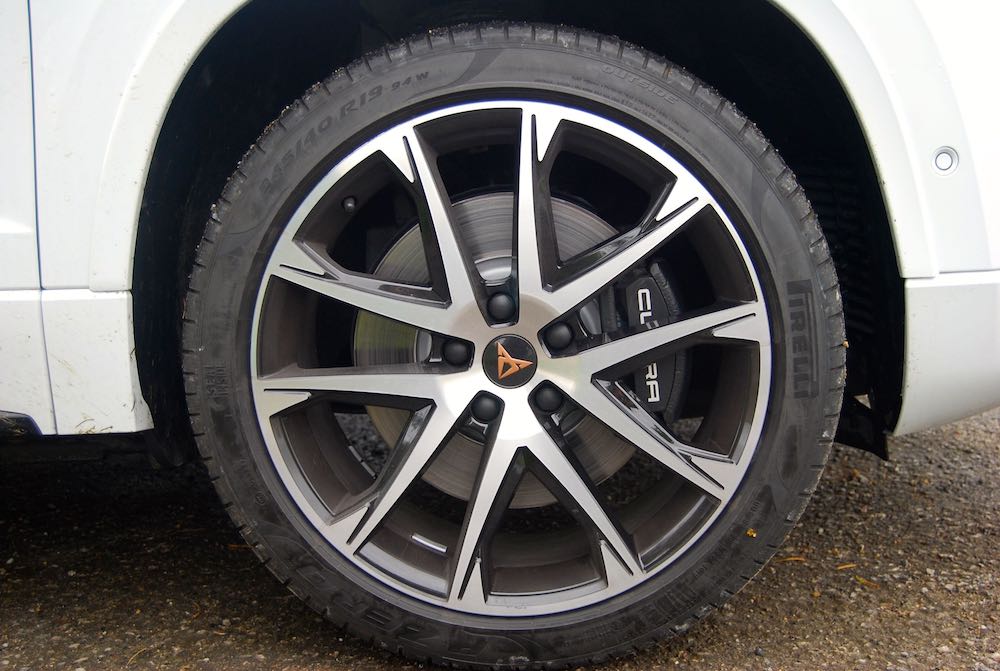 Quad Exhausts
The Cupra Ateca comes with adaptive suspension as standard, as well as 19" wheels in either silver or black and, you guessed it, copper. On the one hand you'll be grateful that the ride comfort hasn't been compromised entirely, on the other, you could well be wishing that the arches were a bit less airy. The quad-exhausts are real, by the way, and they emit some very satisfying pops and crackles.
Even with adaptive suspension and 4WD, selecting a driving mode from a choice that ranges from off-road to sport to full-blown Cupra does feel slightly alien.
To give the sportier settings the handling you might expect, not only is the suspension adaptive, the engine is mounted nice and low in its bay, keeping the centre-of-gravity as close to the tarmac as possible.
There is still a little bit of body-roll and that 4×4 system does lean more towards front-wheel-drive than rear. Credit where credit's due, though, an SUV/crossover isn't exactly a genre that lends itself to arrow-sharp handling, yet the Cupra Ateca keeps things neat and tidy.
Inside The Cupra Ateca
Sit inside and it's all very familiar Ateca fare, i.e. swathes of understated black plastic designed around a high-quality, high-res infotainment system that's hard to fault. The only compromise inside the Cupra Ateca is a 25 litre loss of boot space to accommodate the 4wd system, taking the capacity down to 485 litres.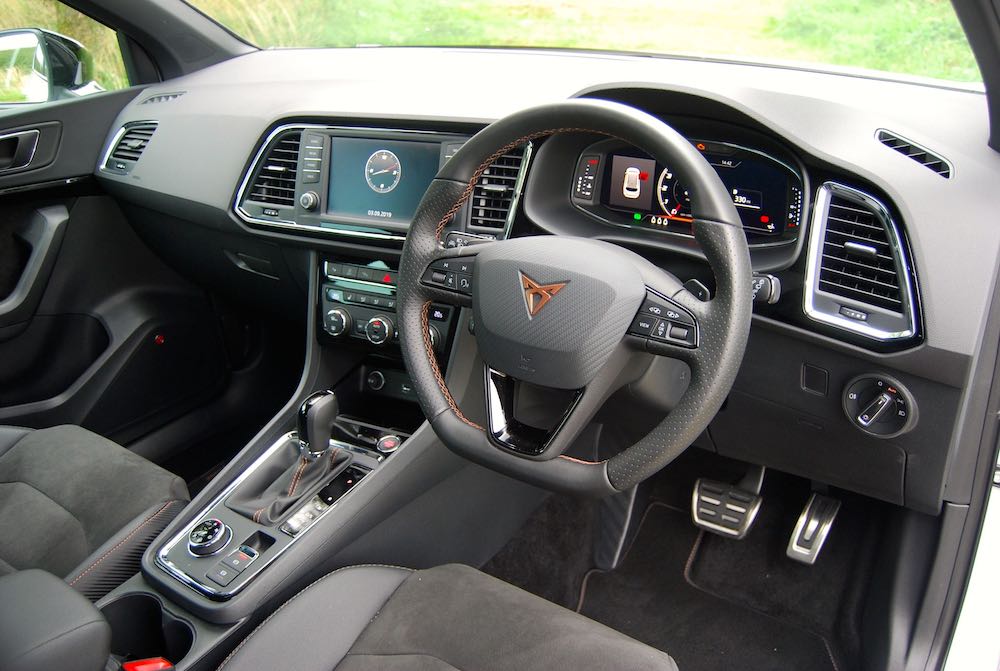 Alcantara seats come as standard, as do some colour highlights in, yep – copper. If you really want to feel planted in your Cupra Ateca, bucket seats are a £1,620 option. Do you need them? – probably not, but since when has actual need had the last say on optional extras?
A 'Comfort & Sound' pack is a cost option that brings, surprise, surprise, an uprated sound system. It's not the usual B&W or Bose system, though, it's Dr. Dre's Beats, which was immediately noticed by my youngest daughter. See how the Cupra Ateca is aimed at more of a youthful set?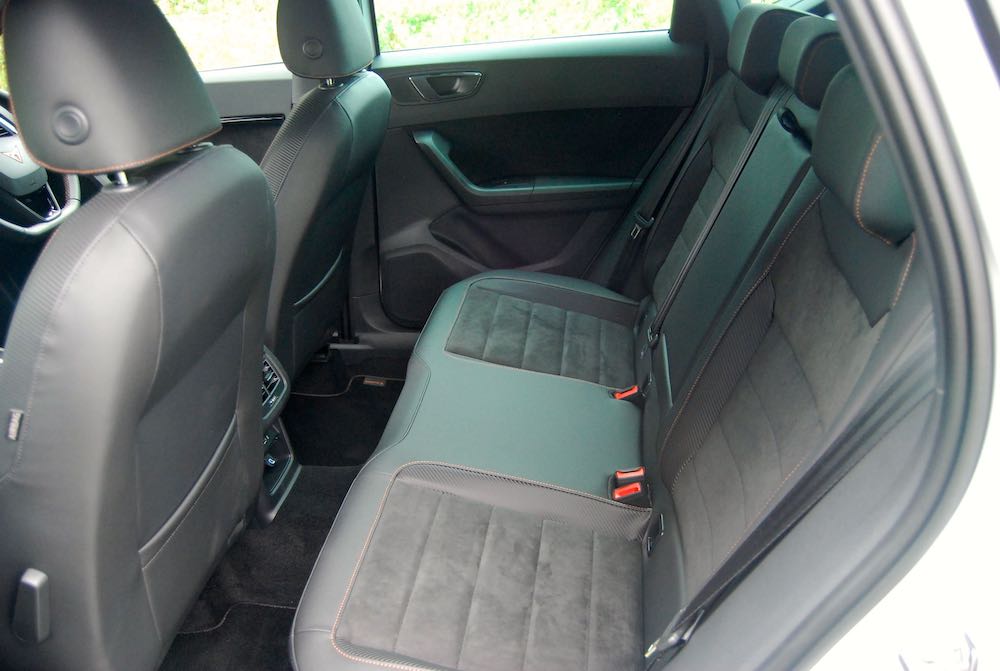 Should I Buy A Cupra Ateca?
There's two ways of looking at the Cupra Ateca. One is that it's essentially a jacked-up Golf R, which is an excellent car, but the translation to SUV loses a touch of the Golf's sparkle.
Another way of looking at it is that, for now at least, it's something of a performance SUV bargain. As incredulous as the idea once was, quick SUVs are becoming more and more commonplace, but to get anything that comes close to the Ateca, you'll be looking at the likes of Porsche's Macan or Audi's SQ5. Both of these wear more premium badges and offer more power, but you'll be paying upwards of £50K for the privilege.
By Ben Harrington
2019 Cupra Ateca 300 Specifications:
Engine – 2.0l 4-Cylinder Petrol, Layout – Front engine, 4WD, Transmission – 7-speed DSG, Power – 298hp, Acceleration – 0-62mph – 5.2s, Maximum Speed – 153mph, Maximum Torque – 400Nm, Economy – 32.5mpg combined, Emissions – 168g/km CO2, Price – £38,600 OTR
The 2019 Cupra Ateca is available now, priced from £36,695. For full details go to: www.cupraofficial.co.uk