Leon e-Hybrid
Until internal combustion is banned altogether (or not, as the case may well be), there's a serious case for the plug-in hybrid, especially as their range increases and so does the prevalence of charging points. This is Seat's new Leon in plug-in guise; the Leon e-Hybrid. Perhaps unsurprisingly it shares its essential bits that make it move with its hybrid stablemates; the Golf GTE and Audi A3 TFSIe. Equally as unsurprising is the fact that this Seat is a bit cheaper than the VW & Audi, but do the savings add up?
'What does a Seat look like?' is a question the brand's worked hard to answer since it became part of the all-encompassing VW group, and it has managed to carve out a certain image, mainly involving sharp creases and acute angles. Despite having creases an angles in all the right places, plus a bit of retro charm in the rear which harks back to Leons of old, this new Leon has gone a bit generic. That's especially the case from the front – more than one person approached me to comment on how much it now resembles a Mazda. That's not to say that's necessarily a bad thing, it just doesn't stand out as a Seat.
A Diesel?!?
Dig deep enough into the online configurator and you'll even find the option to order your new Leon with – shock, horror – a diesel engine. You'll probably end up going for a petrol one, though, and if you really want to save the environment/your money from the taxman you may well opt for this – the e-Hybrid. It's only available from FR spec upwards, so no bargain basement SE for you, I'm afraid, so the least you'll spend is £32,945. That's quite a lot for a Leon, but for your money it does manage over 200mpg (201.8) and it emits just 32g/km CO2.
Leon e-Hybrid electric range
Providing power to the Leon e-Hybrid is a 1.4 litre, 4-cylinder petrol engine, driving the front wheels via the VW group's rather good DSG gearbox. But if you're reading this because you're considering a hybrid, it's probably the electric parts you're more concerned with? There's a 12.8 kWh battery looking after the electric motor and that'll get you a claimed 40 miles of range before it needs recharging. We're all pretty used to taking these electric range claims with a pinch of salt now though, aren't we? – The Leon e-Hybrid managed a very respectable 34 miles with the air con making things more liveable.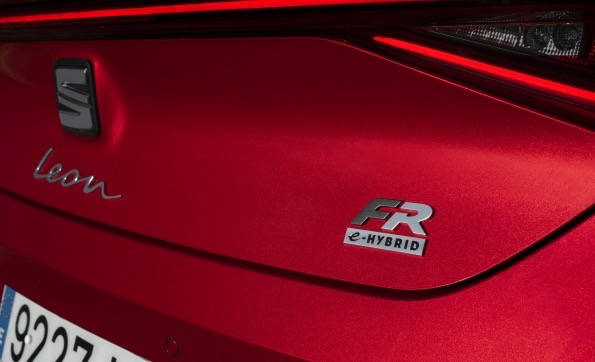 Smooth transition from petrol to electricity
There are two drive modes you can select from; electric and hybrid. The default is electric and if you want to switch to hybrid mode you have to go through a few screens on the infotainment system which is a bit of a drag. If you do leave it in electric only mode but you want that bit more performance, the petrol engine will kick in to lend a hand. In hybrid mode the engine shuts down and leaves things to the batteries when it can for optimum efficiency. You don't really notice this going on which is testament to how well the Leon e-Hybrid's been engineered. The 1.4l petrol engine is quiet and refined at low revs; things just get a bit unstuck should you push it through the rev range. 0-62mph is 7.5 seconds which, once upon a time, would have been hot-hatch territory. Not any more, though, and the Leon e-Hybrid's definitely leaving the fun side of driving to the Cupra side of the family. That's not to say the Leon e-Hybrid doesn't handle well – it does, it's just slightly lacking in feedback and feel.
Better inside than a Golf?
Recent Seats have drawn the inevitable comparison with VWs, especially inside. The Leon would go up against the Golf, obviously, and with the VW group keen to maintain a certain structure it'd lose out, if only by a small margin. The latest Golf's interior hasn't gone down overly well, though, so this could have been an opportunity for the Leon to steal a march. It's nearly as reliant on a central touchscreen as the Golf's, but not quite, and it is a cheerful, colourful system that's more similar to a smartphone than ever. It's angled towards the driver, too, and that always adds a touch of sportiness to a dashboard.
The plastics at eye level are of a high standard, they just get a bit creaky further down. The driver's seating position is excellent but the seats in this FR model at least are a bit on the firm side. There's plenty of room in the back for taller passengers, the only downside to this being a hybrid Leon is that you lose 110 litres of bootspace so it's 270 litres with the rear seats in place, down from 380. Of course, it is available as an estate too, if cavernous boots are your thing.
Should I buy a Leon e-Hybrid?
The cheapest Golf with the same hybrid powertrain as this Leon e-Hybrid only costs a couple of hundred pounds more, but it's a lower spec and, if we're honest, not as easy on the eye. Getting it into hybrid mode could be made easier, but once you're there it's as smooth a drive as you'll find in this sector.
By Ben Harrington
Seat Leon FR e-Hybrid Specifications:
Engine – 1.4l TSI petrol & electric motor, Transmission – 6-speed auto, Layout – Front engine, FWD, Power – 201bhp, Torque – 250Nm, Emissions – 32g/km CO2, Economy – 201mpg combined, Maximum Speed – 137mph, Acceleration – 7.5-s 0-62 mph, Price – £32,945 OTR – £34,160 as tested
The Seat Leon is available now, priced from £20,405. For full details go to: www.seat.co.uk