Audi e-tron GT
When Audi introduced us to the e-tron it was used in the shape of their family hatch – the A3 in plug-in hybrid guise. Since then it's reserved solely for fully electric Audi models, plug-in hybrids have lost the tron and retained just the e. There's e-tron SUVs in Sportback and regular shapes, and now there's this, the e-tron GT.
There's currently two e-tron GT variants; the £116k – £137k RS and this, the slightly more affordable Quattro that starts at £85k. All are 4WD and it's no secret that the e-tron GT shares not only a J1 platform but also many other parts with Porsche's hugely popular Taycan.
I'm not just going to compare the two, but on face value alone it's clearly 1-0 to the Audi. Where the Taycan is nice in a stretchy 911 sort of way, the e-tron GT is downright stunning, a real headturner. With its brawny arches, flowing lines and stretched snout, you can tell it's undoubtedly an Audi, but it's what the Dodge Charger should look like if life was fair. This is a modern day muscle car, it's just missing a humongous V8.
No RWD option, because it's a Quattro after all
What the e-tron GT Quattro does have is a 93kWh battery powering two motors – one on each axle. So it's 4WD only because, well, it's an Audi after all, not a Porsche. What the powertrain does share with the Taycan is its 2-speed gearbox on the rear axle to increase performance from standstill.
In real terms that equates to 469bhp & 640Nm torque and that makes for some pretty impressive acceleration, even for an electric car. Engage launch control for 2.5 seconds of 523bhp and even this 'standard' e-tron GT Quattro will get from 0-62mph in 4.1 seconds.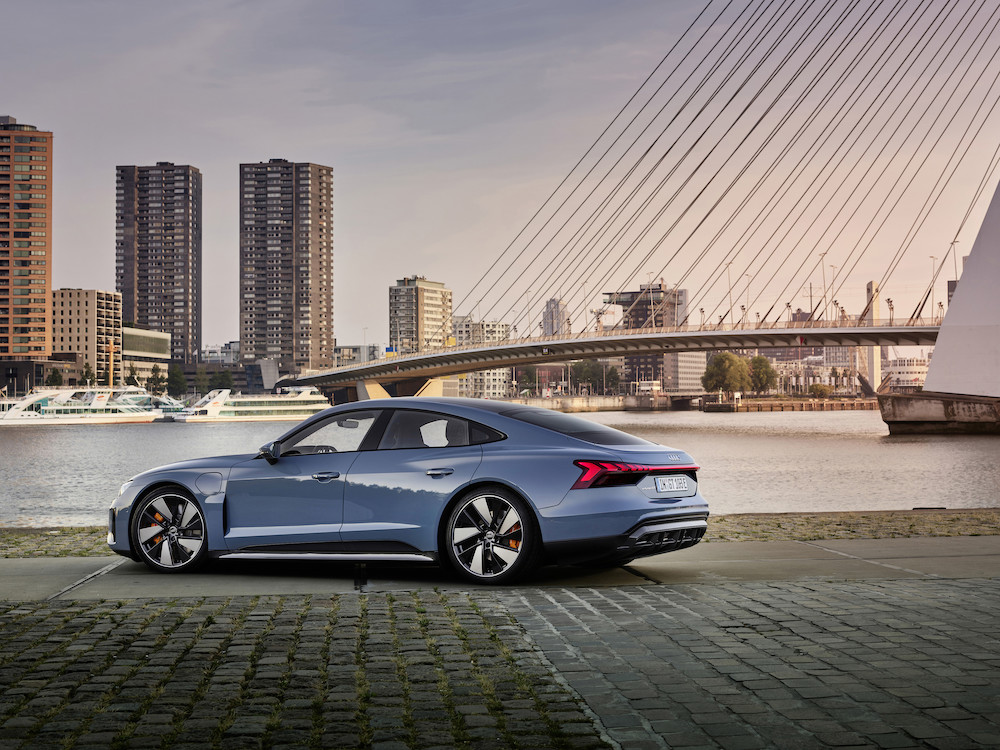 Impressive range but not Tesla levels
Keep engaging launch control, because, why not? and you'll obviously notice a bit of a dent in your available range. Drive a bit more sensibly and you'll realistically get around 240 miles between charges in Eco mode and you only lose about 8 miles in Comfort; Not bad but not quite the 298 miles claimed and nowhere near what the likes of Tesla are claiming now.
Rapid charging, if you can find it
When it does come down to charging the e-tron GT Quattro, you'll find a charging socket behind each wheel; one for standard speed, the other for rapid. All versions are equipped to charge at up to ultra rapid 270 kW speed which is capable of charging from 5-80% in 23 minutes. Impressive. The bad news is you'll still be hard-pressed to find an ultra rapid charging station in the UK so the best you can hope for is a 50 kW station that'll do the same charge in 90 minutes.
Get in the e-tron GT and it actually feels more Sports than GT. Once you've navigated past the air-vent that protrudes into the front door apertures, you're sat on top of the batteries but it's hard to comprehend as you feel so low, so cosseted. If you want, you can have your e-tron GT interior in classic, understated Audi style. If you've had your fill of piano-black plastic and leather you can spec the dashboard in a very beach-house-esque natural walnut and the soft bits in artificial leather, something called Dinamica made from recycled plastics, and good old fashioned cloth. There are three seatbelts in the back of the e-tron GT, but the middle seat really is small. It's for little people or short trips only.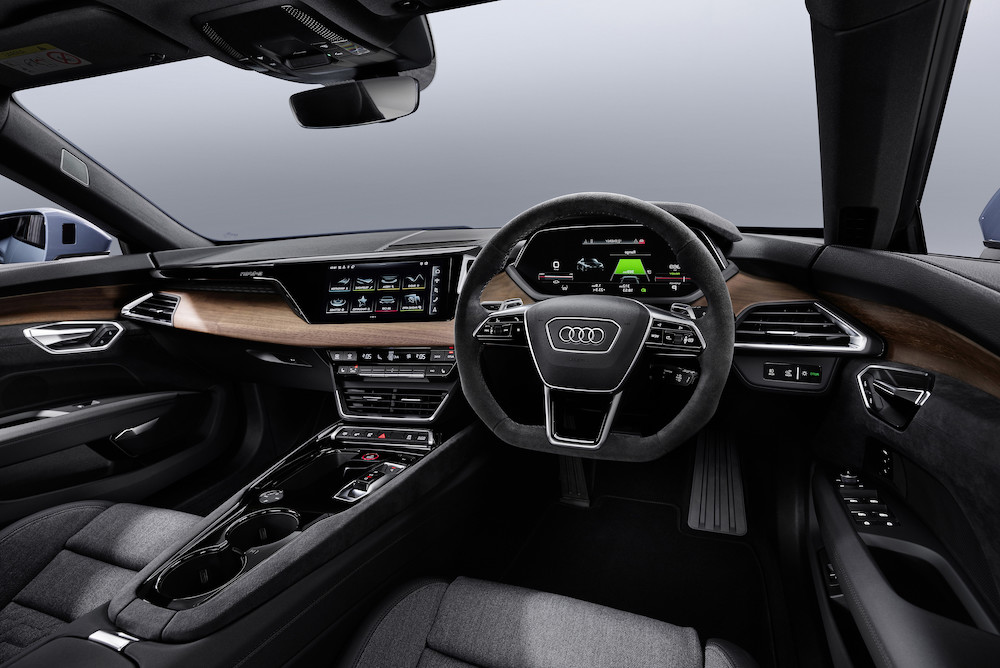 Sport Sound
Set off in the e-tron GT and the first thing to hit you is just how quiet it is, the only real noise coming from the rumble of the 245 (front) & 285 (rear) section tyres. That is, unless you've opted to shell out £500 for e-tron Sport Sound. Every electric car must make some kind of noise to alert pedestrians, so why not a sport one?
Even in this, ahem, lesser powered version, the way it hauls its 2.25 tonnes of mass around is nothing short of amazing. Doubtlessly helped by that 2-speed gearbox on the rear axle, we'd say Audi's official 0-62mph time of 4.1 seconds may be a tad conservative. There is regenerative braking, the strength adjusted by paddles behind the steering wheel, but this is by no means a one-pedal car. Lift off the 'gas' and the e-tron GT will coast and coast, which kind of makes sense when you've designed a car with just 0.24 drag coefficient Cd.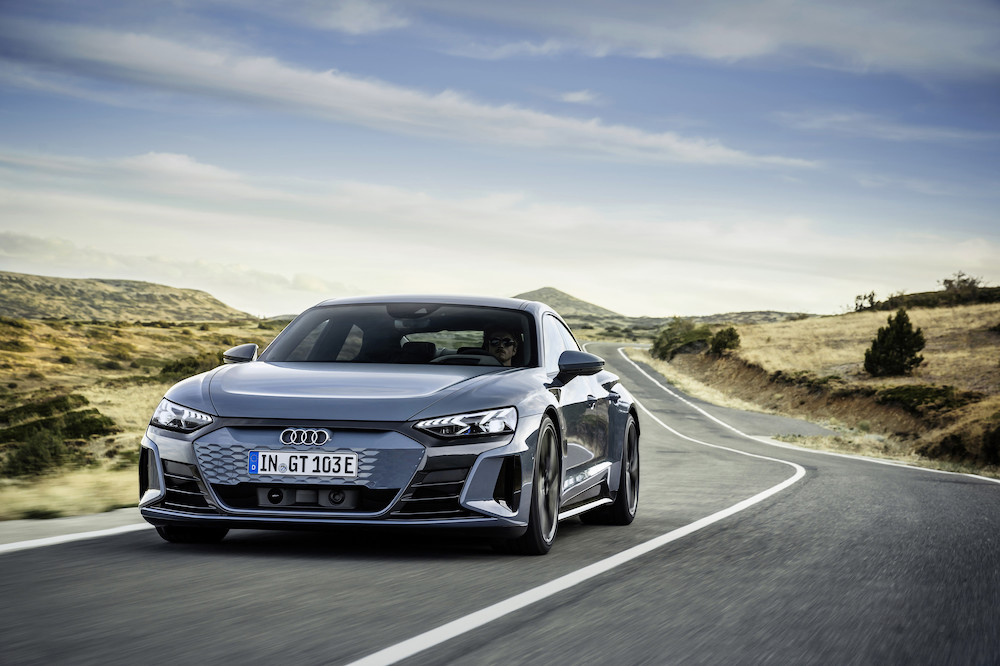 Should I buy an Audi e-tron GT?
A car based on the Porsche Taycan should be good, really. Yes, it's 4WD only and yes, I'd like a few more luxuries like a heated steering wheel and HUD thrown in for my £85K but when it looks this good and drives so well it's hard to go for the Taycan instead. Which is awkward.
By Ben Harrington

The Audi e-tron GT is available now. For full details go to: www.audi.co.uk