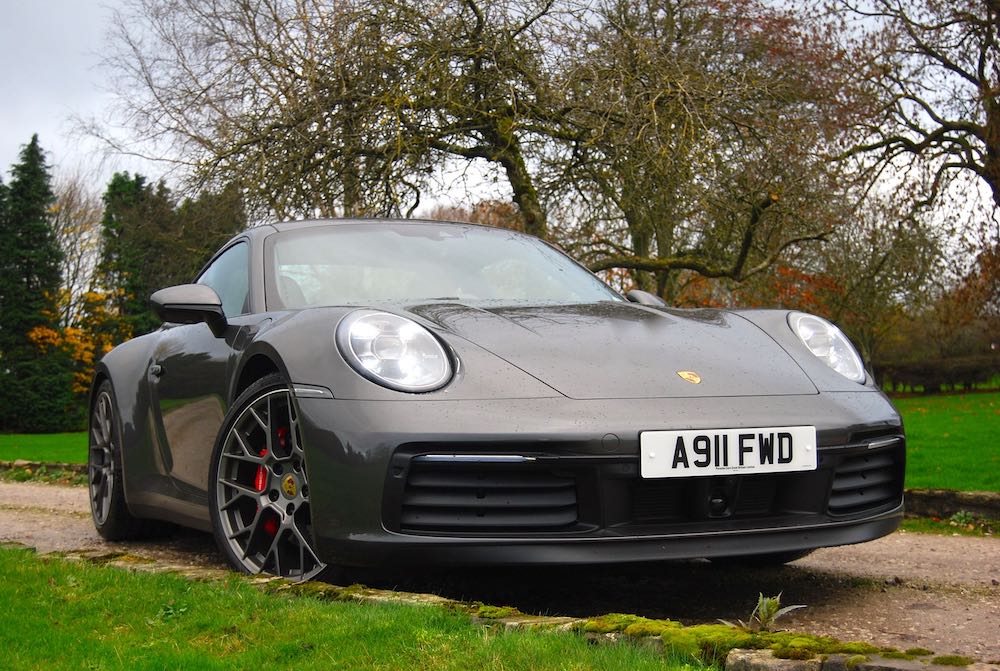 Porsche 911 992
So, the Prime Minister has decreed that the UK is to ban the sale of petrol and diesel cars by 2030 – in just over 9 years time. Good job Porsche has already taken a mightily impressive step towards the future with the Taycan, then, but for now, whilst we're still allowed to enjoy internal combustion they've given us this – the 992 generation 911 – for so long Porsche's bread and butter, or brot und butter, if you will.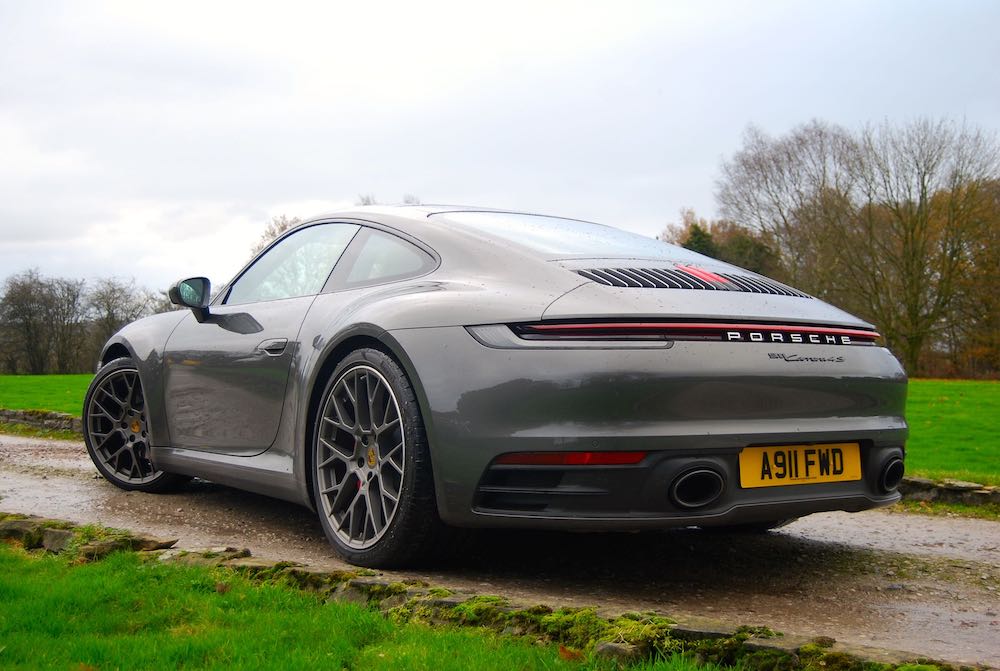 Spot the difference?
It's fair to say that Porsche's designers are slightly hamstrung when it comes down to a new 911 – there's a basic shape and some design features that they can't deviate from. Put them side-by-side and the 992 911 has seen some pretty bold changes over the last version, the 991. The first thing you'll probably notice is that it's wider, most obviously at the rear where those character haunches have adopted the kind of girth that was once reserved for 911 Turbos. All 911s are turbos now, though, it just depends whether that's turbo with a capital T or not.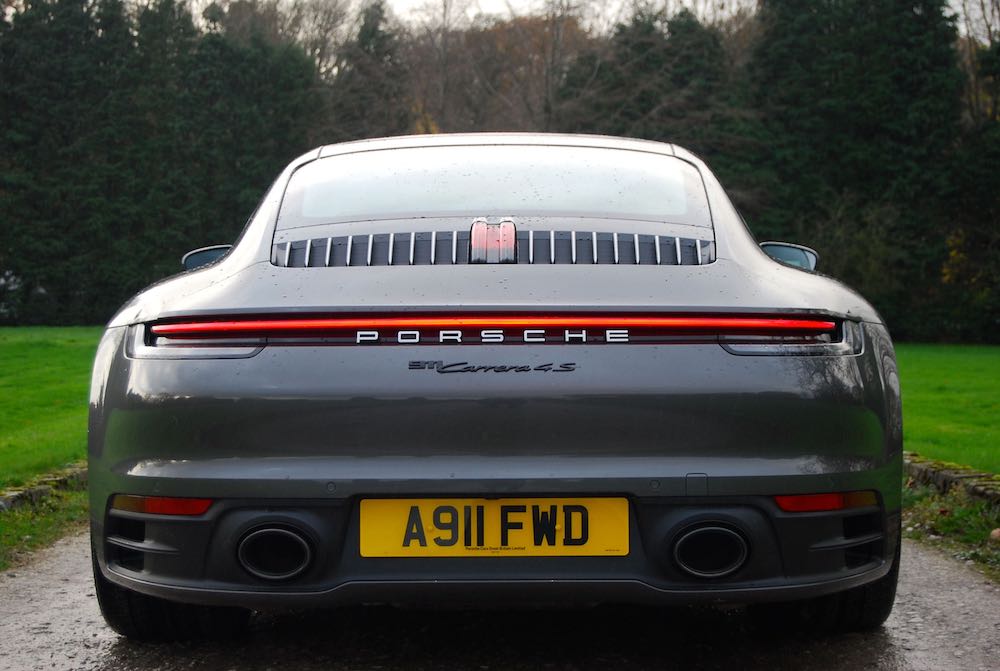 All over the new 911 there are subtle references to its predecessors. The bonnet now has a couple of creases and a central channel where the 991 was smooth, harking back to the G-series 911 from the 70s and 80s. At the back the twin exhausts have been moved apart and the engine cover's slats now run front to back, possibly to stop it looking even wider. Where some aspects look to the past, the full-width LED rear light strip brings the new 911 right up to date.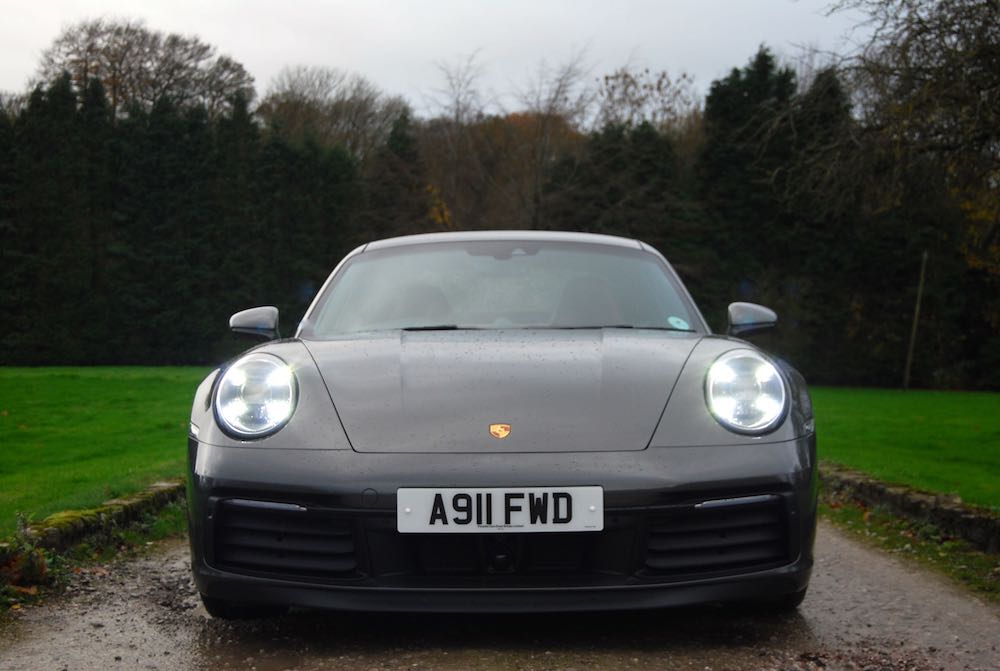 New interior
Inside there's still the iconic, flat dashboard with an analogue rev-counter and that speedo with its 25mph increments. The rev-counter may be traditional but the two intelligent screens that surround it can be adjusted to show anything from g-force to sat-nav. The infotainment system is slick, clear and easy to navigate around, but thankfully Porsche have left some options as actual buttons, for when you want them there and then.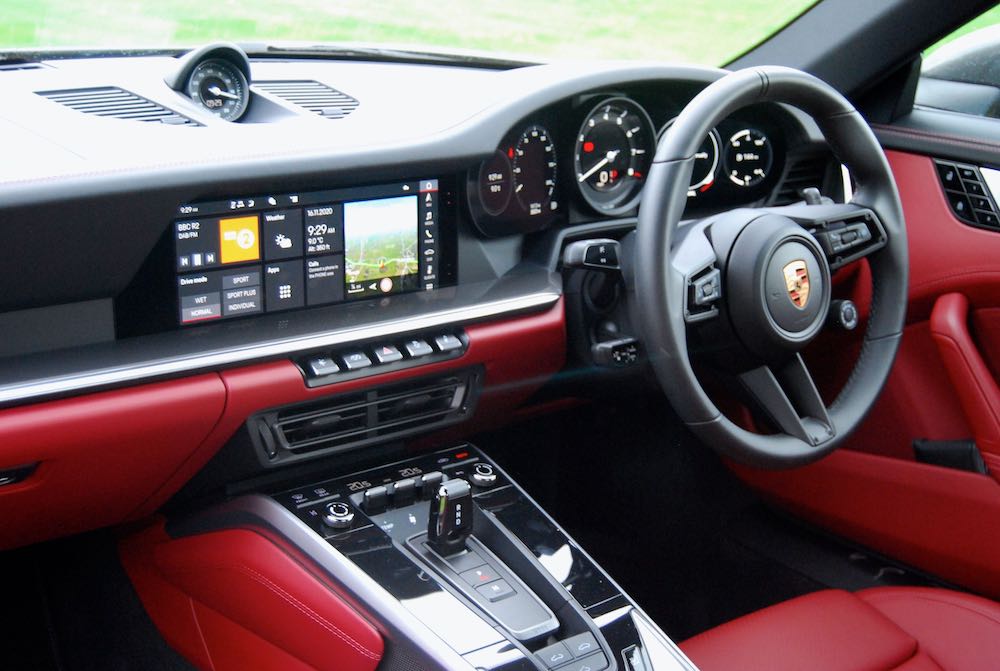 The cabin may have some traditional 911 characteristics, but it's actually a totally new design. Those who loved their 911 cupholders will notice that the driver's that previously emerged from above the glovebox has been replaced with a functional yet dull affair plonked on top of the transmission tunnel.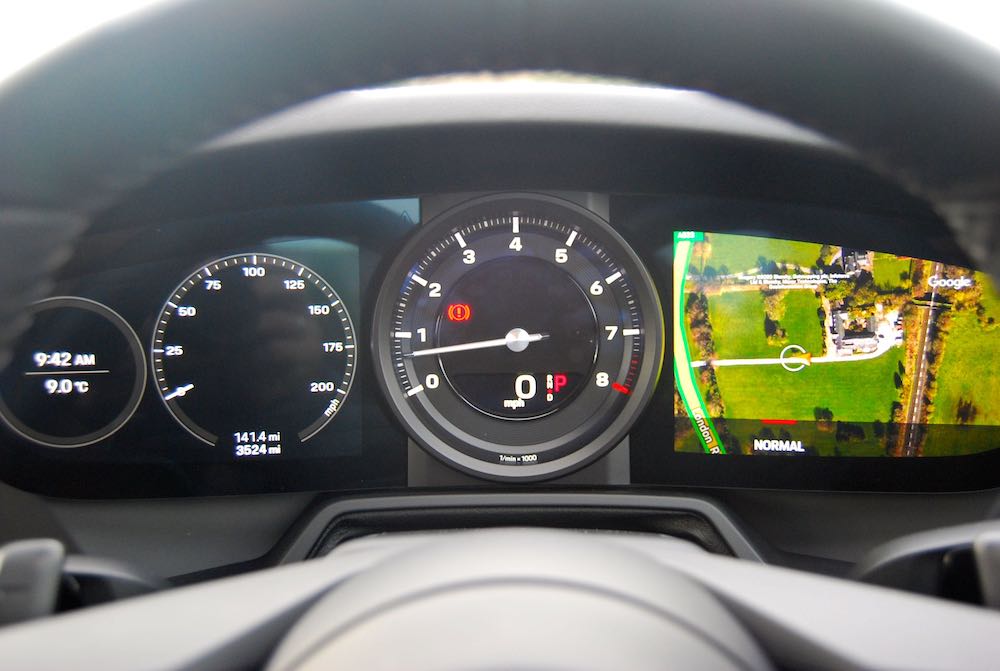 Big T or little t – it makes a huge difference
Turbo models with a big T aside, from launch there's the Carrera, Carrera 4, Carrera S and Carrera 4S, all of which are available in coupe or cabriolet guise, and the 4 & 4S also come as a targa. Prices start at £82,795 for the 2WD Carrera and top out at £109,725 for the 4S with a removable roof in either cabriolet or targa flavour. There's also a Targa 4S Heritage Design Edition that'll set you back a considerable £136,643. It's got exactly the same powertrain as a regular 4S Targa, but it does come with some nice decals.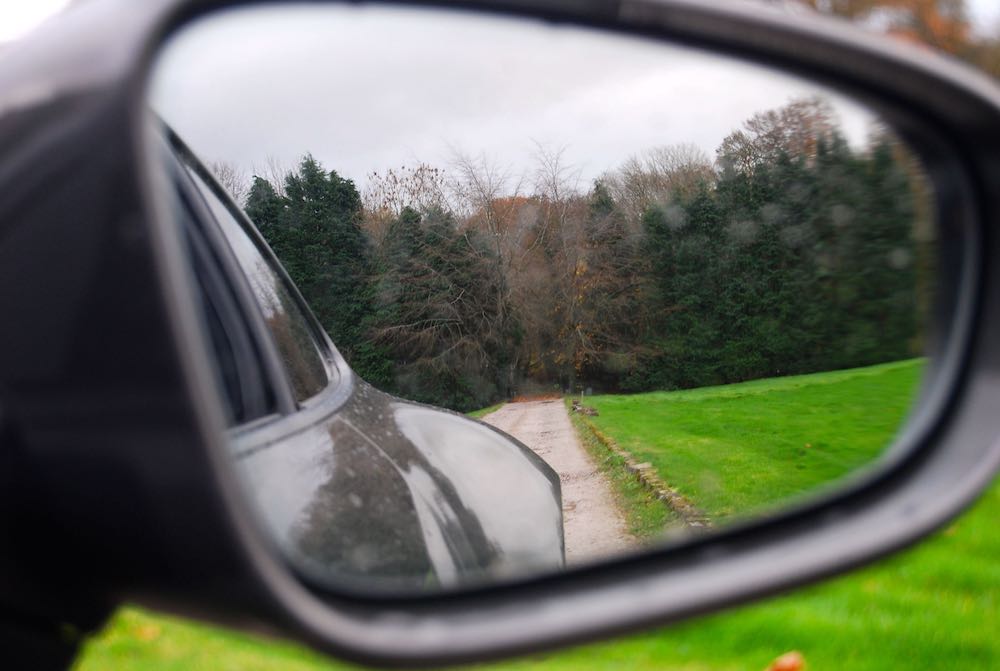 Improved 8-speed PDK……
This is the Carrera 4S Coupe; list price – £98,418 before options, of which there are plenty. What comes as standard fitment is a revised flat-6 engine producing 444-hp, 530-Nm torque at a very handy 2,300 – 5,000-rpm and drive to all four wheels. What it also comes with is an all-new 8-speed PDK transmission and, yes, Porsche has somehow improved upon the last one with even shorter, more seamless gear changes.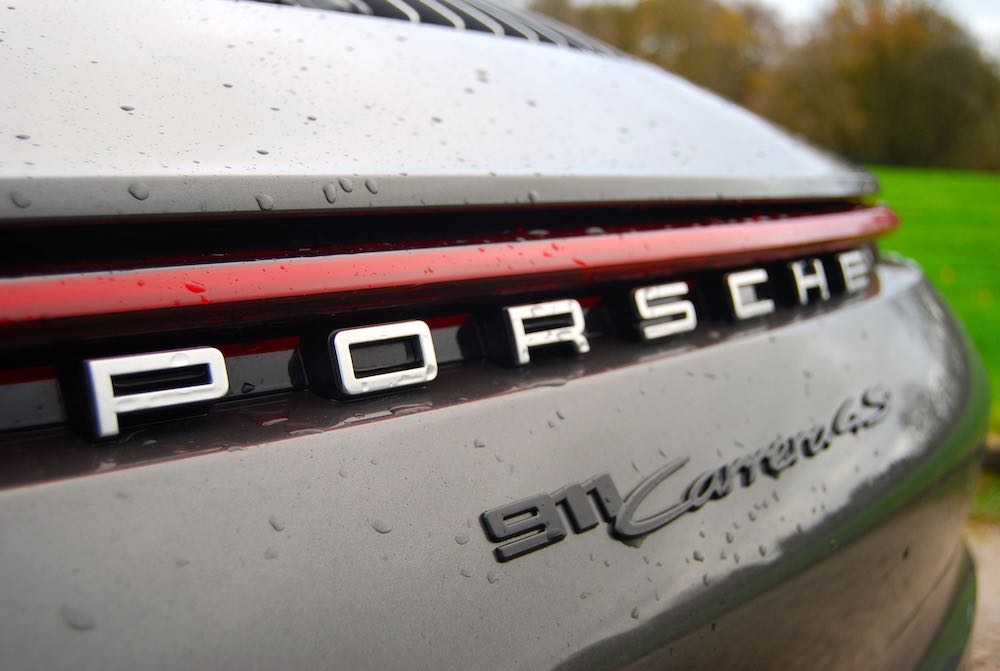 ……but you can still have a manual
Possibly by popular demand, you can now have your 992 with a good ol' 7-speed manual gearbox and an actual clutch pedal, too. Not every 992, though – it's got to be an S version. It won't save you any money over the PDK, but what you get with it at no extra cost is the Sport Chrono Package that lists at £1,683. We don't like to go on about options, but this is one you should really be ticking anyway. For not much money (relatively speaking), you get dynamic engine mounts, a dash mounted stopwatch and most importantly, a steering-wheel mounted rotary dial to switch between normal, wet, individual, sport and sport plus modes. That's not something you want to have to fiddle about in the infotainment screens for.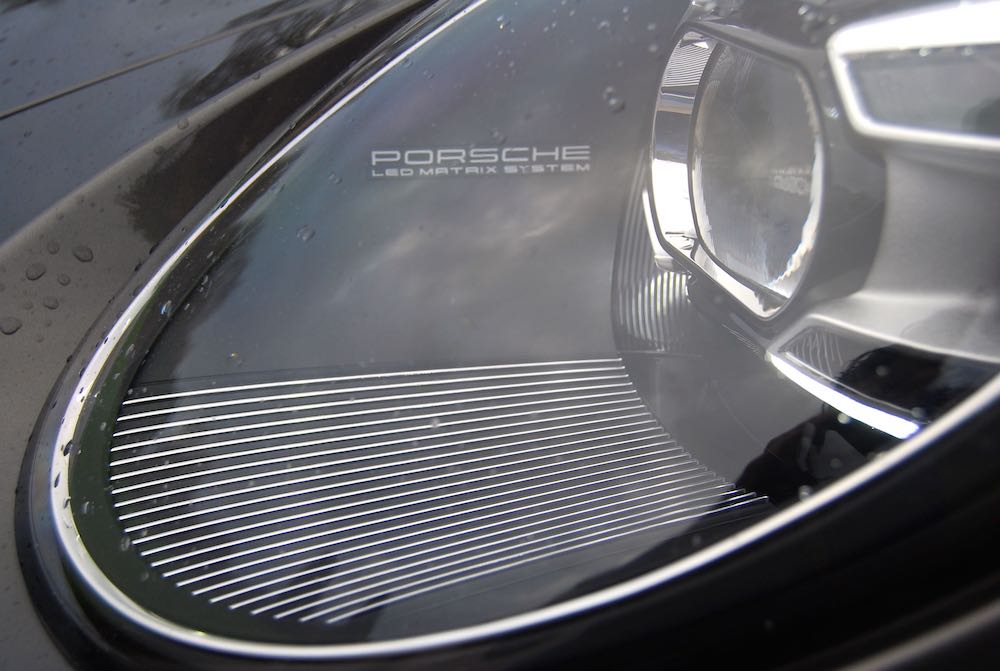 How powerful is the 992?
Go for a non-S 911 and it comes with 380 hp – this one does come with an S so it's good for 444-hp. Not quite the 572 hp of the full-fat Turbo models, but it equates to 0-62 mph in 3.6 seconds (3.4 with sport chronology pack) and a top speed of 190 mph. The purists' 911 may be RWD, but we drove this 4S in some of Britain's typically dreadful weather and, in wet mode especially, it rarely failed to find traction.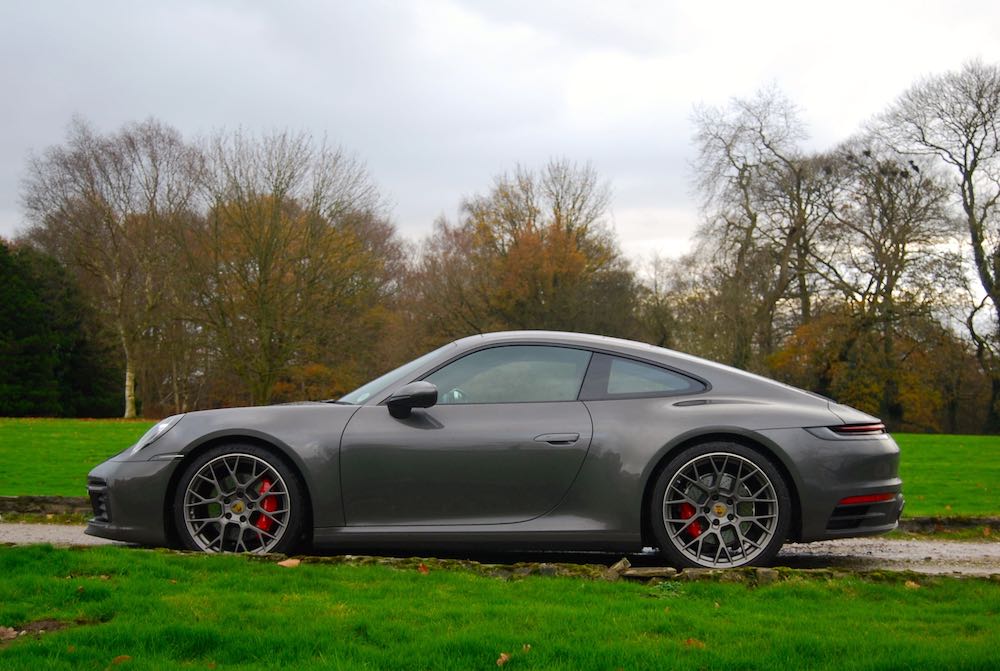 Tick the right boxes
It's when you get to a bendy bit of road that the 4S really comes into its own, though. We're going to break our own rule again here and bring optional extras into the equation, but it has to be done. For £1,592, Porsche will supply your 992 with rear-axle steering, and we wholeheartedly recommend you ask them to. With its widened track and reconfigured front end, the way the 992 turns in and grips is streets ahead of the 991 it replaces, even the AWD version. Add to this the rear-steering and the speed it can handle through a corner may mean some brain recalibration regarding a 911's capabilities.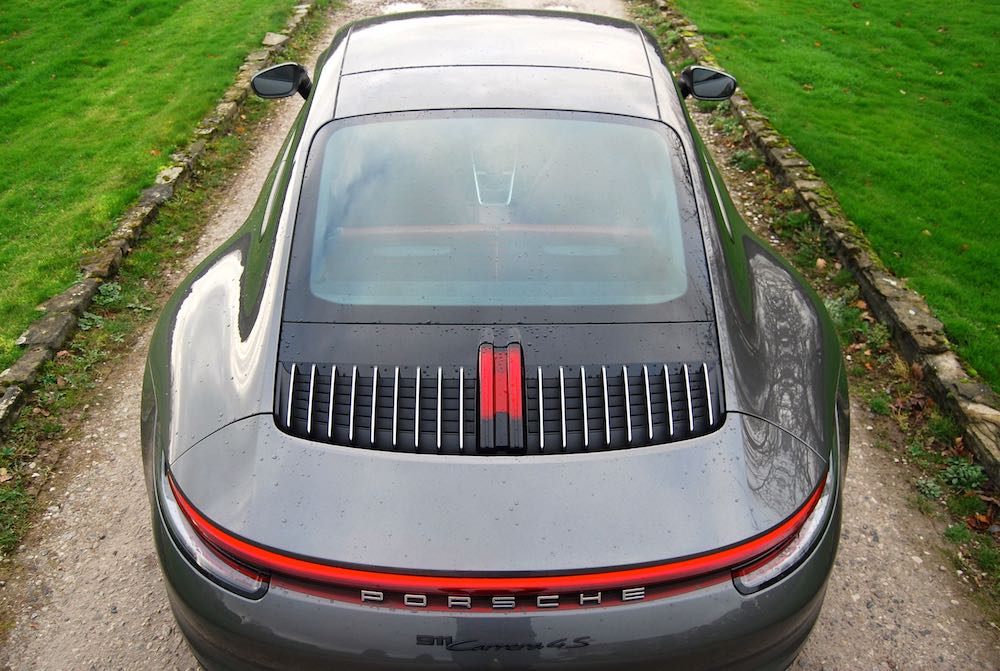 Where once you may have given a hefty stomp on the brakes before negotiating a 911 through a bend, the 992 will handle so much more and leave you smiling as you come out the other end. It does take a while to get used to these levels of grip and the rear-axle steering undoubtedly helps, but for £1,592 – less than a pair of sport seats (£1,599) – it's a no-brainer.
And how clean is it?
It's no secret that turbo charging all 911s is an effort to clean up their act and make them more socially acceptable. Even with the optional sports exhaust fitted, that characteristic chunter is muffled somewhat, and that's a shame, but when your supercar-baiting 911 4S returns circa 27 mpg, dependent on transmission and wheel size, it's probably a price worth paying. Take it on a long motorway trip and, thanks to a very long 8th gear you'll easily get closer to 35 mpg.
Should I buy a Porsche 911 992?
Every new 911 has to follow very defined guidelines, both in terms of looks and powertrain. It may look similar to the 991 and its engines have largely been carried over, but this 992 has seen some major improvements, mainly to its transmission and handling, and it keeps the 911 the go-to useable sports car.
By Ben Harrington
Porsche 911 992 Carrera 4S Specifications:
Engine – 3.0l turbocharged 6-cyl petrol, Transmission – 8-speed PDK, Layout – Rear engine, AWD, Power – 444-bhp, Torque – 530Nm, Emissions – 253g/km CO2, Economy – 27.7mpg combined, Maximum Speed – 190mph, Acceleration – 3.6s 0-62mph (3.4s with Sport Chrono Pack), Price – £98,418 OTR, £119,865 as tested
The Porsche 911 992 is available now, priced from £82,795. For more details, go to: www.porsche.com