Nissan Navara Tekna
The competition in the double-cab pick-up market has increased dramatically in recent times, thanks in no small part to the dual-purpose, family car/workhorse nature of the genre.
The likes of Mitsubishi, Ford and Toyota are the old stalwarts in the field, but these days you've got to consider VW's impressive Amarok and even the Fiat Fullback. Nissan have been making pick-ups for…….well…….forever, though, so it goes without saying that this new Navara more than merits a good amount of consideration.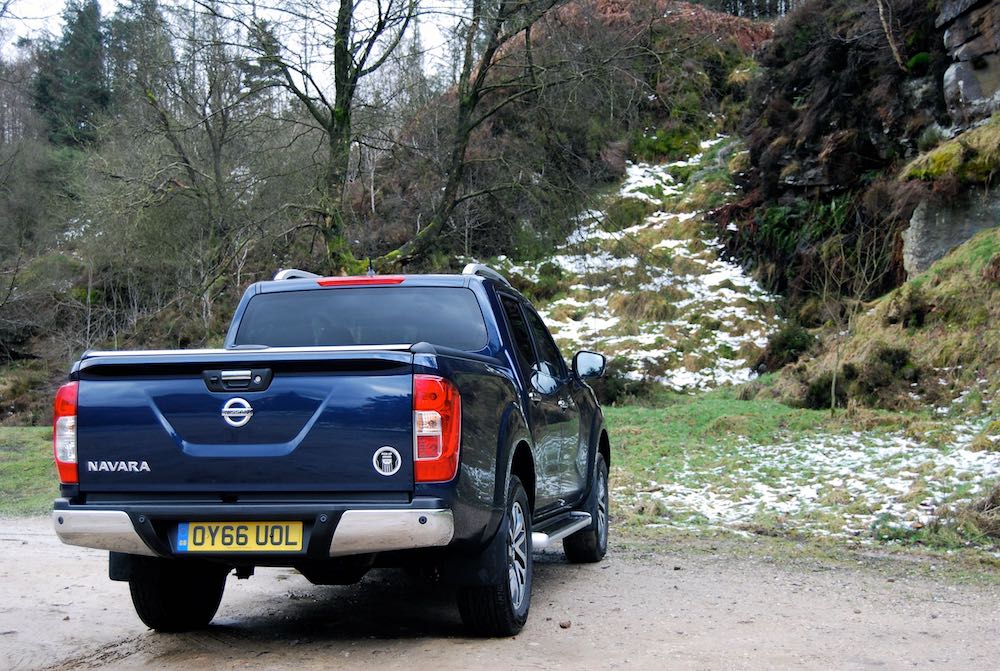 What makes the Navara different?
Where the Navara undoubtedly stands apart from the ever-increasing opposition is its use of 'proper' five-link rear suspension. Somewhat antiquated leaf-spring setups have long been the weapon-of-choice for pick-ups, thanks to their ability to cope with heavy loads. A consequence of this system, though is a lack of driving refinement which is always going to lag behind, especially when unladen.
This more cutting-edge approach's benefits are evident both at higher speeds where the Navara feels planted and on less-than-perfect surfaces where a pick-up traditionally tends to bounce around. Not so in this one; the Navara soaks up potholes and the like without deviation and there's little in the way of traction-loss as those rear tyres stays firmly in contact with terra firma.
Choice of two turbo-diesels
The new Navara comes equipped with a 2.3l turbo-diesel engine, you just choose whether you'd like one or two turbos bolted to it, producing 158hp or 187hp respectively. This is the higher output twin-turbo model and, what's perhaps more pertinent is its 450Nm torque, making overtaking and quick getaways a lot easier than you might imagine in a vehicle with a one-tonne carrying capability.
There's a choice of 6-speed manual or 7-speed automatic 'boxes, although the auto is restricted to the more powerful engine. You can also opt for 4WD or RWD, but manual gear-changes and 158hp are compulsory if you want a RWD-only Navara.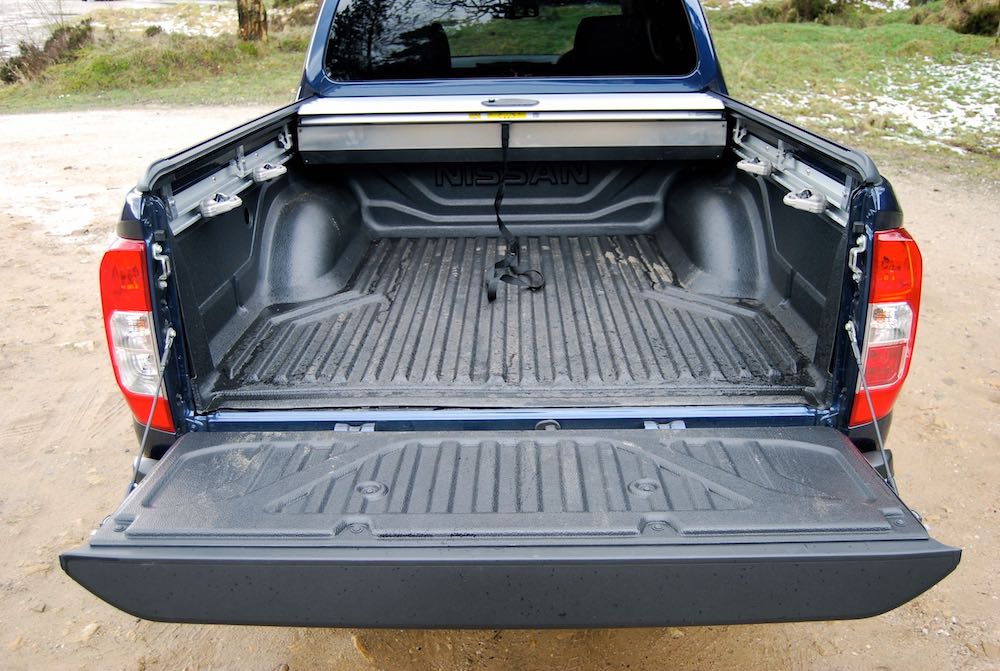 As with the suspension setup, the Navara's engine follows suit and is more quiet and civilised than the slightly agricultural efforts associated with the genre, especially from inside the cabin. The 7-speed auto 'box is also seamless until really pushed hard, and even then there's no neck-jolting changes as it moves up through the ratios.
If you do opt for the impressive automatic 'box, though, there's the usual drop in economy to consider, with mpg dropping from 44.8 in the manual to 40.4, and emissions rising from 167g/km CO2 to 183g/km. Not significant amounts, and this seven-speed auto is good enough to justify them.
Imposing Styling
To a certain extent, manufacturers do have their hands tied when designing a double-cab pick-up. They obviously must start with the prerequisite large load area and then move forwards, optimising room inside for passengers. The result is a three-box basic shape which tends to look very similar to the competition.
With the Navara, Nissan have done a good job of allowing a big ol' unit to look unashamedly that. Its large, flat grille is tall and imposing, switching back to a near-horizontal bonnet, flanked by two shoulders which follow the lines of the headlights and add to the Navara's striking overall impression of size.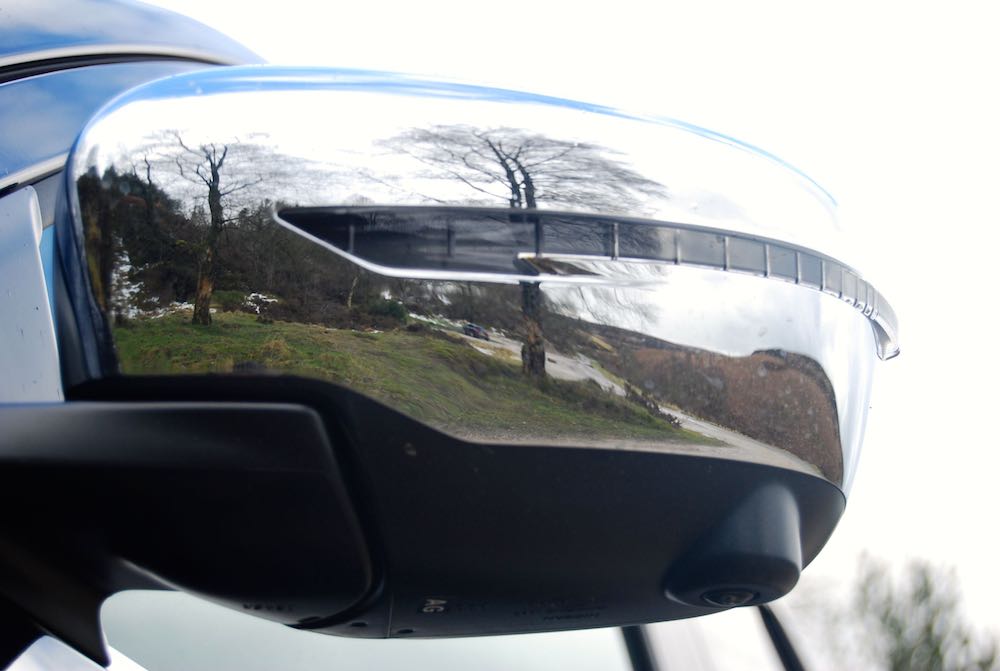 The high bonnet makes for a relatively squat windscreen, giving a more sleek look when looking head-on. The Navara's belt-line then drops down aft the door-mirrors, cleverly increasing visibility for rear passengers, especially.
Flared wheel arches continue the Navara's visually muscular look and the rear tailgate even sports a spoiler, although how much it actually does for aerodynamics is debatable!
Civilised interior
At 1.85m wide and 1.84m tall, you'd expect there to be plenty of living space inside the Navara, and you'd be right. The driving position is elevated on a wide, armchair-like seat and you'd be hard-pressed to come into contact, never mind fight for elbow space with a passenger. Just don't expect gripping bolster support etc. as this pick-up is definitely built for comfort.
It's the same story in the rear, with two tall adults fitting comfortably with no lack of head or legroom. A third adult will fit at a pinch, but things may feel cramped on longer journeys.
The Navara's interior is well laid out and furnished with plastics that are just-about middle-ground in the sector. Everything feels well screwed together and the Navara's strive for civility continues with an actual dial for switching between 2WD/4WD/Hi-Lo ratios, rather than the usual, unwieldy 2nd gear lever.
This is the range-topping Tekna model, priced at £31,070 OTR. It comes stuffed with kit including heated seats, 7" HD touchscreen and dual-zone climate control. The Navara range starts from just under £24K with 5 trim levels to choose from.
In a vehicle of this size, the box I'd always tick on the options list would be parking sensors: at over 5.3m in length, low speed manoeuvring would be daunting without them, especially as the rear window and rear corners are so far apart. Thankfully, Nissan have acknowledged this and they come as standard on every Navara, with a rear parking camera included on Accenta+ & N-Connecta specs. If the budget will stretch to this Tekna model, Nissan's very helpful bird's-eye-view camera is included.
To conclude:
There may be more competition than ever in the pick-up sector, but with their impressive new engines and some clever, neat features, Nissan are showing that their Navara is up for the fight.
By Ben Harrington
Specifications: Nissan Navara NP300 Tekna, Engine – 2.3l twin turbo-diesel, Layout – Front engine, 4WD, Transmission – Seven speed automatic, Power – 187bhp, Maximum Speed – 112mph, Economy – 40.4mpg combined, Emissions – 183g/km CO2, Price – £31,070 OTR