Since Mr and Mrs Farmer/Builder/Gardener discovered procreation and their faithful pick-ups became redundant due to having only one row of seats, the 'double-cab' has become a regular sight on our roads. In the UK, the charge was probably led by the ultra-capable Mitsubishi L200, with other Japanese manufacturers – Isuzu, Nissan and Toyota following close behind. Possibly feeling like they've missed the boat a tad, the Westerners are now eager to grab a sizeable slice of the pie. Volkswagen have recently launched their Amarok with considerable success and now Ford have waded in with their All-new Ranger which Driving Torque have been trying out for size in this range-topping Wildtrak guise.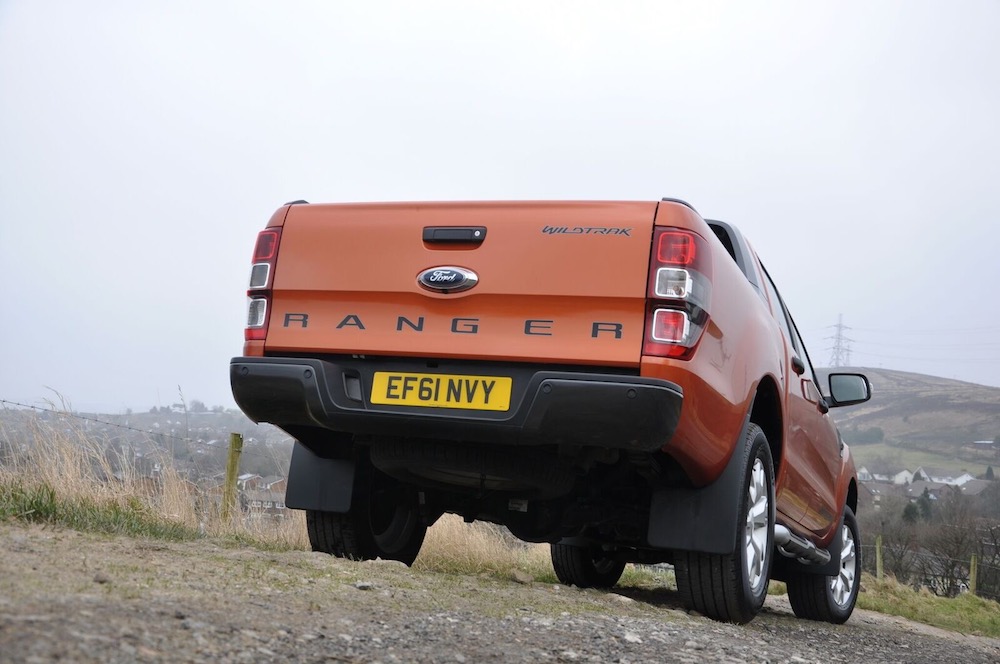 Talking of size, that's generally the thing that grabs you when you first come across the Ford Ranger Wildtrak. It's massive. By their very nature, double-cabs are always on the large side due to the need to combine a large enough cargo area with comfortable living space for five occupants inside. Scrimp on any of these factors and the result will undoubtedly be a vehicle that fails in every department – too little room for either luggage or passengers and the owner may aswell have bought a regular car or a more practical van.
Just to put things into perspective, Driving Torque recently reviewed the Mitsubishi L200 Trojan and I can confidently say, that never once felt small. This Ranger Wildtrak is 174mm longer, 35mm wider, 68mm higher and boasts a 220mm longer wheelbase than the L200 – that may not sound like a vast difference but, when combined with the Ranger Wildtrak's high bonnet and shoulder-line, and chunky styling, the two seem worlds apart, both from the outside and in. When you drive past an Audi Q7 and mutter 'it's not that big', you know you're in something sizeable.
This particular Ranger is in range-topping Wildtrak guise which includes 18" wheels and various smatterings of spoilers and chrome to add to the imposing and rugged visual effect. On the inside, there's part-leather heated seats and Ford's previous generation infotainment system with Sat-Nav and a Bluetooth enabled media interface; not a bad unit per se – I've experienced worse, but not a patch on the new Ford Sync system developed with Microsoft.
Inside the Ranger Wildtrak
The Ranger Wildtrak's appearance is deliberately striking and it certainly grabs attention wherever it goes. Combine its sheer size with visual highlights including its metallic 'Wildtrak Orange' paint and disappearing in a crowd is rendered virtually impossible. 99% of comments from onlookers were positive with only a few not appreciative of the particular hue that our test car was sporting.
On the road, the Ranger Wildtrak's ride is incredibly compliant and comfortable, as you'd expect from a vehicle with such a large wheelbase and amount of suspension travel. The rear leaf-sprung suspension on the Ranger Wildtrak harks slightly back to its industrial roots and it can make handling a little jumpy, especially when negotiating a corner on a stereotypically bumpy, weather-beaten British country road.
All the controls have been designed with a familiar car-like feeling in mind and this is where the Ranger Wildtrak really belies it's size and weight. The steering is precise and direct and even the automatic gear-selector is finger-light – Ford have gone to great efforts to make this pick-up as civilised and user-friendly as possible.
In Wildtrak format, the Ford Ranger is only available with Ford's 3.2l Diesel Duratorq engine. Producing 200ps and an impressive 470nm of torque, this relatively quiet unit also contributes towards transforming sluggish workhorse into, well, slightly nippier workhorse. It's still not exactly rapid but being able to transport over 2 tonnes of 4×4 from 0-62mph in 10 seconds is no mean feat. A word of caution though; in 2wd mode and with hardly any weight over the rear axle, this hugely torquey engine is easily capable of fish-tailing the Wildtrak when pulling too enthusiastically out of a junction, even on a dry road. Now there's an experience that leaves a mark.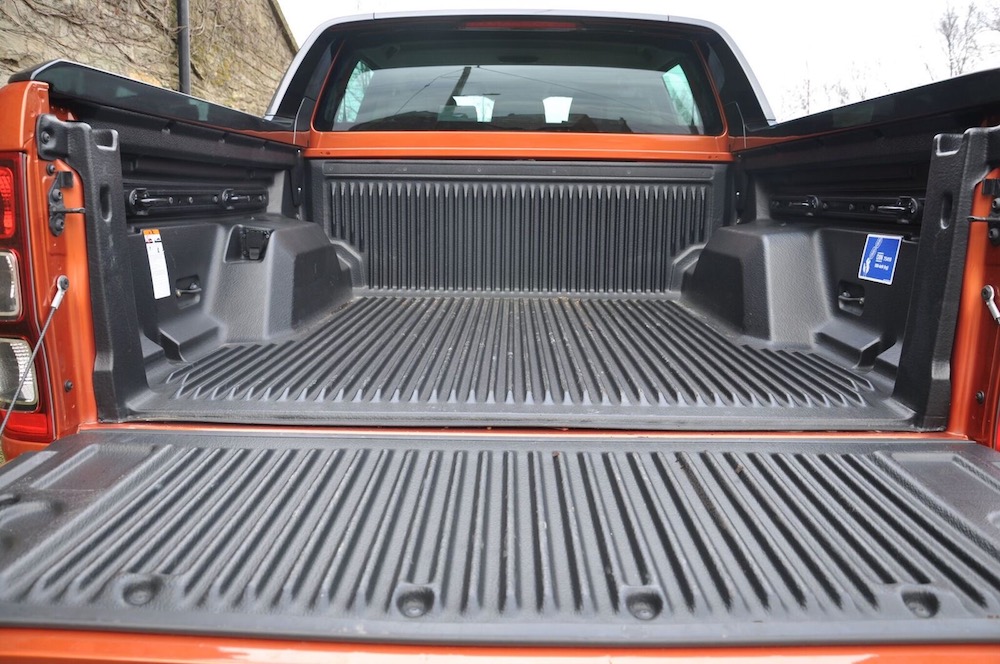 Although some of the interior plastics are a little scratchy, with its driver aides and multitude of electric motors to assist almost every aspect of operator use, it's very easy to forget that you're ultimately piloting a semi-industrial vehicle. That is, until it comes down to parking. Sometimes the laws of physics just have to be adhered to and this means that parking the Ranger Wildtrak in your run-of-the-mill parking space can get a little tricky.
The Ranger Wildtrak may not have the clever rear electric window of the L200 which was a huge help when reversing but it's got an even neater trick. It comes with a rear view camera, the image of which is displayed on a section of the rear view mirror. This may not sound like much but I found it really made a difference as the driver's gaze is still relatively upright, not staring down at a screen on the dashboard. I'd say rear parking sensors are a must on a car of this size, although I sometimes found myself wishing it had front parking sensors too, as gauging where the very front of a bonnet of this size and shape is, can be something of a guessing game.
The Ranger Wildtrak – about the size of Wales
In a strange sort of way, I couldn't help feel that the biggest problem with this Ford Ranger was also what made it so attractive; the Wildtrak element. Yes, it looks great and has many, many useful extras (although, strangely, not a load cover which I'd say is essential), but for some reason, as I stated previously, Ford have decreed that if you want the Wildtrak extras, you must also have the 3.2 litre Duratorq engine.
The sensation of driving a particularly fast block of flats is unquestionably good fun and if you really need 470nm of torque, the 3.2 is the engine for you. I'm inclined to think, however, that for the majority of Ranger buyers, the 2.2l Duratorq engine with its 375 nm of torque would more than suffice and would be far mor satisfying in the vitally important running cost stakes. Whilst I'm on the subject, the 6 speed automatic 'box that our engine was mated too is impressively smooth but I felt that it regularly held on to a low gear for too long; a fact I started to resent as the fuel tank rapidly emptied itself of its contents.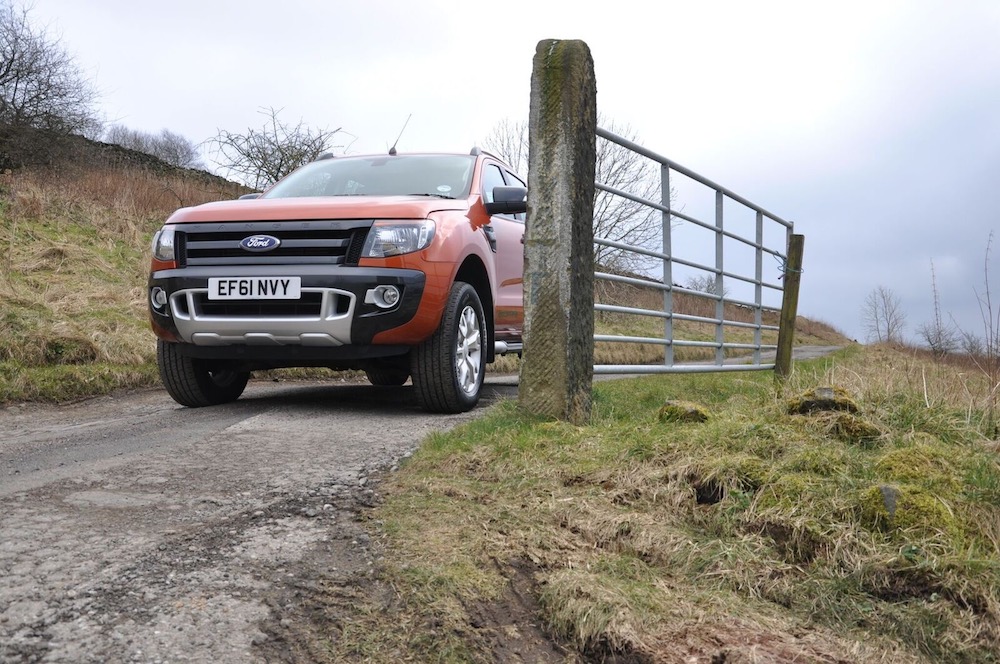 In conclusion then, overall I found the Ford Ranger Wildtrak a hugely user-friendly beast with Hollywood looks, previously unseen in this segment. For my money though, I'd stay away from the Wildtrak, save myself a couple of grand and opt for its little brother – the Limited. It may not be quite as visually dramatic or make as much of a statement, but it wins where it matters – in the wallet.
By Ben Harrington
Specifications;

Ford Ranger Wildtrak Double Cab Auto,

Price –

£30,353 inc VAT,

Engine –

3.2l TDCI,

Layout –

Front engine, 4WD,

Power –

200bhp,

Acceleration –

0-62mph – 10.4s,

Maximum Speed –

109mph,

Economy
–
26.7mpg combined,
Emissions
–
274g/km CO2
Related articles