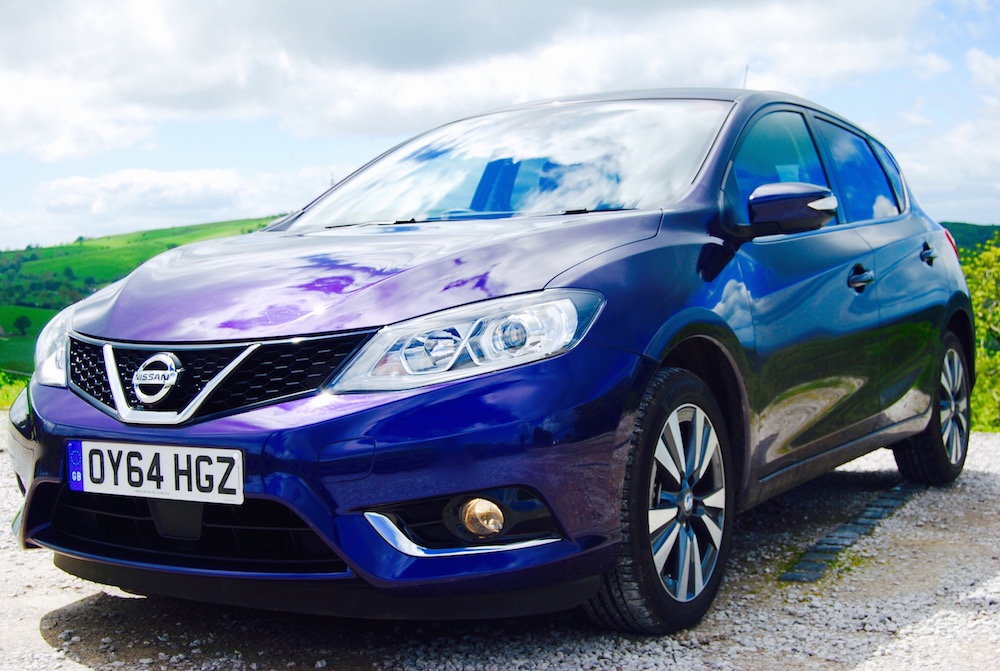 Nissan Pulsar
After Nissan pulled the plug on the, ahem, 'car they don't want you to drive' in 2006 (Almera), they've plugged the 'traditional' 5 door family hatch segment with the rather more lifestyle oriented Qashqai and Juke models. Until now.
Built in Sunny (sorry) Barcelona, as opposed to where it was originally earmarked to be screwed together – right here in Not-So-Sunny (sorry) Sunderland, Nissan have at long last brought the Pulsar name to the UK – we previously badged the Pulsar as the Cherry, Sunny or Almera. It's marketed as a direct competitor to the Golf, Focus and Astra; some stiff competition there, then.
Lifting the corporate 'eagle' face directly from the latest X-Trail and Qashqai, it's immediately obvious that this is a Nissan. Bearing in mind that the model we have on test here is no Gti – it's just an everyday Pulsar – and its strong, focussed features make it stand out from the comparatively bland competition.
Family friendly
If the Pulsar has been designed with families and ease of use in mind, then Nissan have hit the nail on the head. The rear is so easy to access and the amount of sheer space available once you're in is cavernous, to the point that you'll find yourself checking in the boot to fathom just where they got it all from.
The rest of the interior is comfortable enough, but it's nothing to write home about in terms of design. The floating centre console is a fairly standard feature on today's cars, and none of the materials used will set the world alight.
The Pulsar's friendly, congenial air continues with the driving experience as a whole. Visibility is fabulous, thanks partly to relatively slim door pillars that buck the trend of modern car design: spec your Pulsar with Nissan's 'birds-eye' parking camera and the Pulsar must surely be the easiest car to get into a Tesco's car parking space (other supermarkets are available)……..
……..or it would be, if Nissan had seen fit to fit it with parking sensors. You see, for all its driving aides and various bells and whistles to warn you of impending incidents, our test car was bereft of parking sensors – what I'd consider to be the most bog-standard, yet effective of helping hands. Strange.
Easy to drive
Again, the minimum of effort is required when it comes down to the Pulsar's steering and gearbox, but if it's feel and driver involvement you're after, I'd look elsewhere. The 1.5l diesel unit our car was equipped with is also very friendly, this time in the wallet department (78.5mpg, 95 g/km co2), but it takes an age to get going whilst the turbo wakes up, and once revving it soon runs out of power-band and needs a higher gear. Change up too early, though, and the traditionally optimistic change-up/down indicator will insist you drop a cog as the lack of torque struggles to cope.
It'll come as no surprise by now to learn that the Pulsar's ride is also soft, compliant and easy on the spine. Yet again, though, don't expect anything in the way of performance credentials as its soft, bump-absorbent suspension has a tendency to wallow and even bottom out on particularly harsh dips.
The Pulsar is undoubtedly one of the easiest, most effortless car I've driven for a while, and it beats the competition hands-down in terms of living space, especially in the rear. As much as it looks fairly striking, though, it's also one of the least involving cars I've driven, and the relationship between driver and car could best be described as 'distant'.
By Ben Harrington
Specifications; Nissan Pulsar Tekna, Transmission – 6 speed manual, Layout – Front engine, FWD, Power – 107bhp, Torque – 260Nm, Emissions – 94g/km CO2, Economy – 78.5 mpg combined, Maximum Speed – 118mph, Acceleration – 11.5s 0-62mph, Price – £21,945 OTR
For full details, go to www.nissan.co.uk